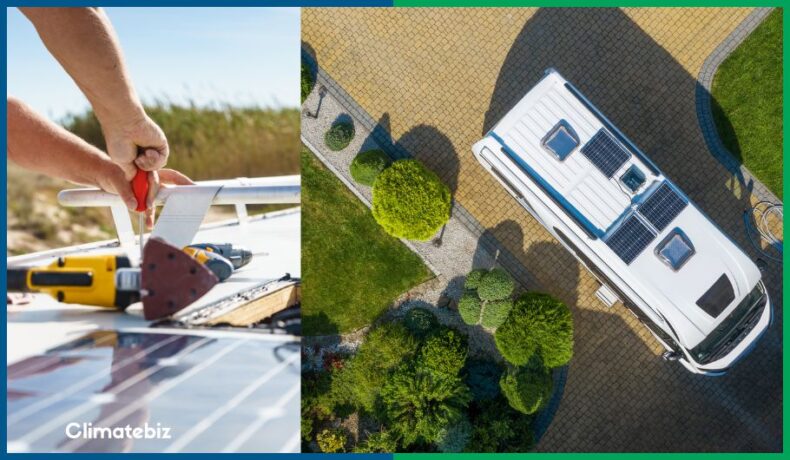 If you're yet to install solar panels on your RV, then it's about time you do. Doing so will guarantee you greater energy independence during your travels. But before you jump headfirst into this investment, you must ensure you're doing it right. Indeed, there isn't a one-size-fits-all approach to mounting solar panels on an RV. But which way works the best?

In this guide, we walk you through everything you need to know about mounting solar panels on your RV, including determining the best setup for your needs, finding the optimal mounting location, and securing your panels for safe use.
Foreword
Climatebiz experts design, research, fact-check & edit all work meticulously.
Affiliate Disclaimer
Climatebiz is reader-supported. We may earn an affiliate commission when you buy through links on our site.
Different Ways To Mount Solar Panels On An RV
There are multiple ways to mount solar panels on your RV, depending on the type of setup you desire and the design of your vehicle.
---
Flat Mounting Method With Brackets
If you're using a smaller system to power a few appliances, mounting brackets attached directly to the roof may be enough.
Mounting Solar Panels With Z Brackets
Z-bracket mounting is a standard method for mounting solar panels on an RV roof. These brackets provide a solid and secure mounting option, ensuring your panels stay in place during travel.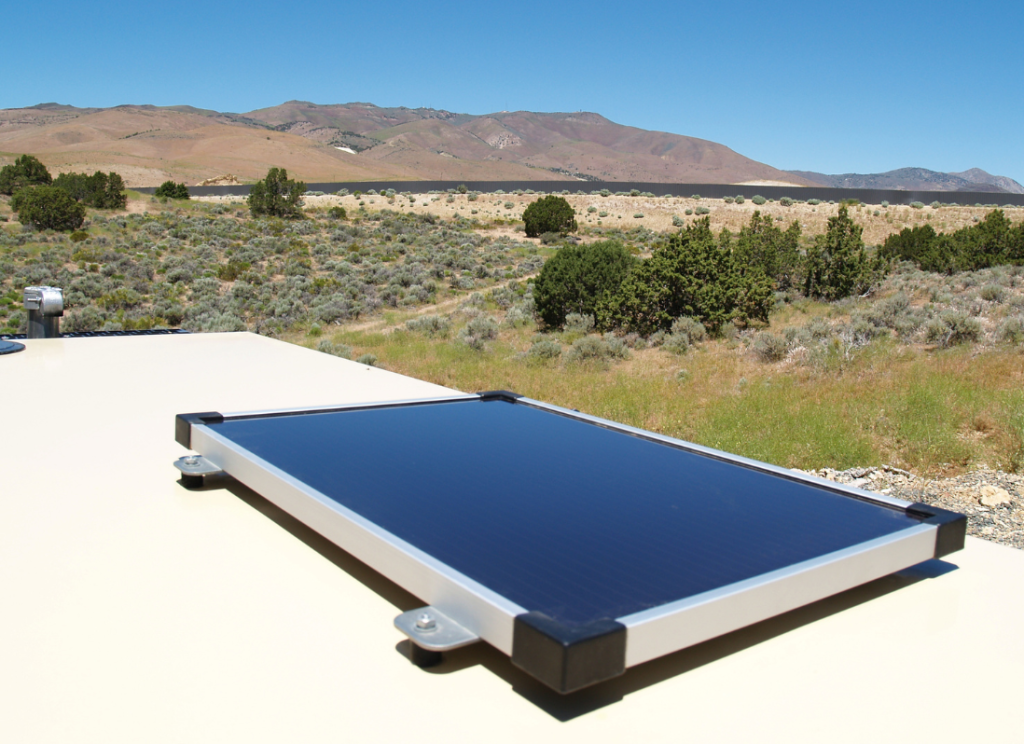 Remember, you may require additional hardware for proper installation on an RV roof. Consult a professional or carefully follow included instructions for proper mounting and safety.
Drill-Free Brackets
Another option for mounting solar panels on an RV is to use corner bracket drill-free mounting. This method utilizes adhesive and mounting brackets, allowing for quick and easy installation without the need to drill holes in the roof.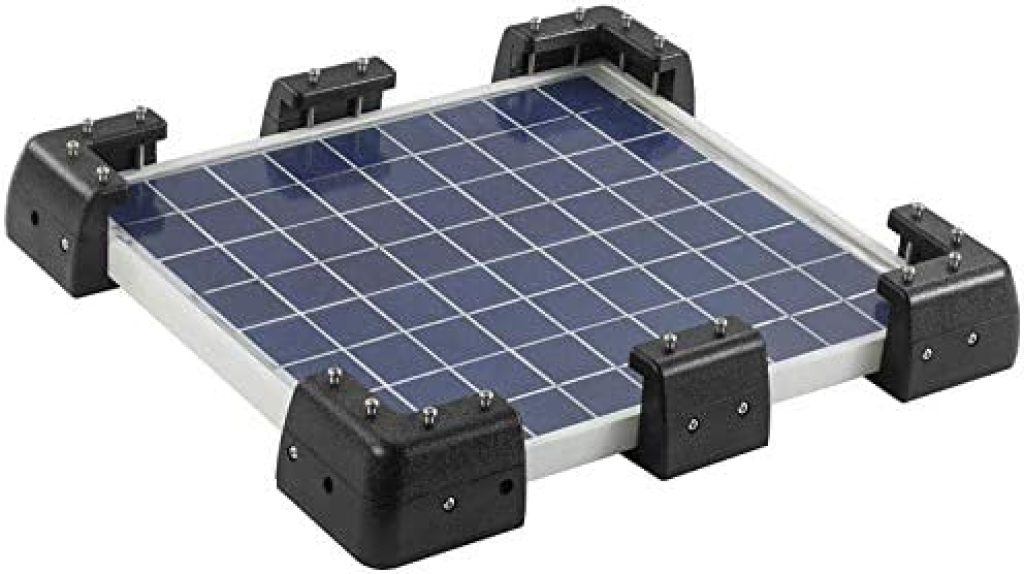 It also allows for easier removal or repositioning of panels if necessary. However, this method may not be as secure as drilling into the roof, so it may not be suitable for areas with severe weather or heavy winds.
Ultimately, it's up to the individual to determine if drill-free mounting meets their needs and safety concerns.
---
Adjustable Tilt Method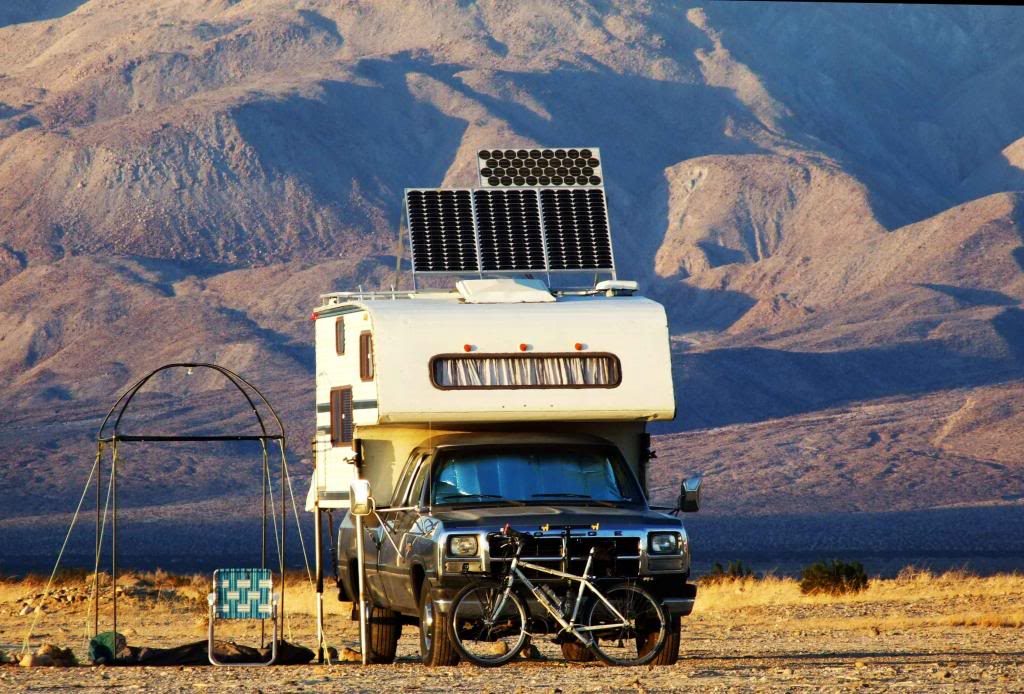 Another option for mounting solar panels on an RV is adjustable tilt mounting brackets. These allow you to angle the panels towards the sun, maximizing their efficiency and power production.
This method also makes cleaning and maintaining the panels easier, as you can adjust them for easy access. Remember that tilt mounting may not be suitable for all RV roofs, so check compatibility before purchasing mounting brackets.
Source: Renogy
---
Retractable Awning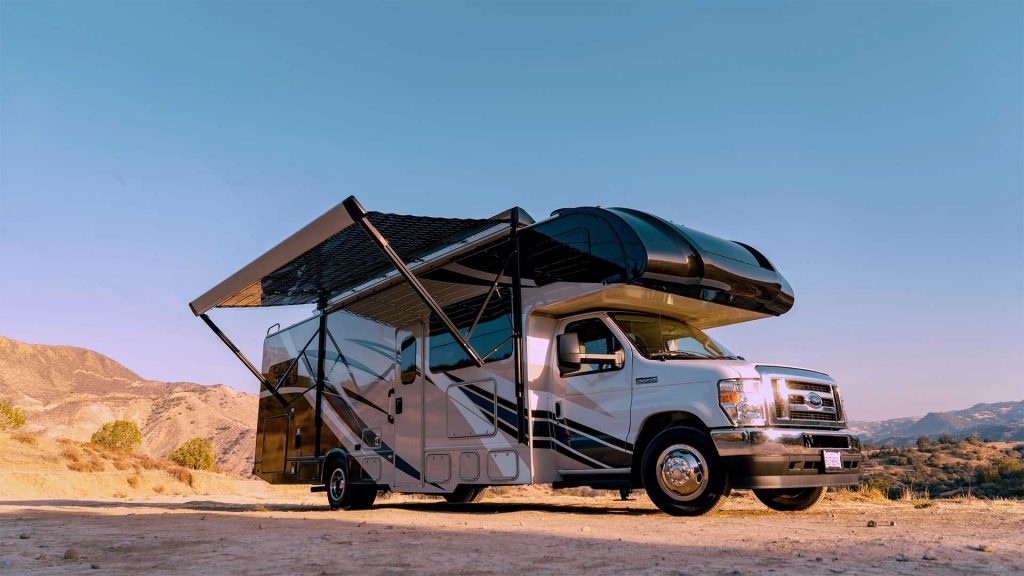 Some RV owners even mount their panels on a retractable awning.
An RV awning has an innovative design with gaps between the panels, allowing wind to pass through when slightly retracted. This not only adds to the aesthetic of the awning but also ensures stability in windy conditions.
With the push of a button, the panels can open and begin generating power. When it's time to move on, the panels retract neatly into their enclosure. Not only does this provide a reliable source of energy, but it also adds an elegant touch to your RV.
Source: Xpanse
---
Mounting Solar Panels With Strut Channel
One option for mounting your panels is using a strut channel with an adjustable tilt bracket. This method offers flexibility in positioning the panels for optimal efficiency and can also accommodate panel expansion in the future.
Start by attaching the strut channel to your RV's roof, ensuring that it is securely fastened and not prone to movement or vibration. Next, attach the tilt brackets to the strut channel at desired positions, leaving room for any additional panels you may add later. Lastly, place your solar panels onto the tilt brackets and secure them with mounting hardware.
It would be best to tighten all mounting hardware properly to avoid potential damage to your RV and the solar panels. Also, as with any roof mounting on an RV, be mindful of weight limitations and consult a professional if necessary.
With proper installation and positioning, a strut channel mounting method can provide a durable and adjustable solution for mounting your solar panels on an RV.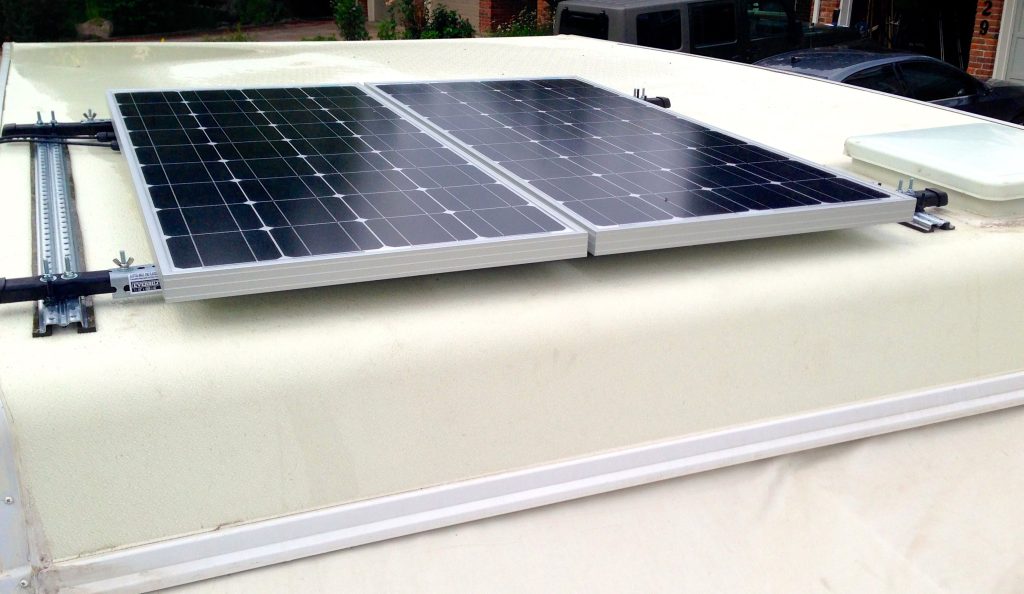 No matter which mounting method you choose, secure your panels properly for safe and efficient use.
Related Reading: How Many Solar Panels Do I Need For My RV? (Expert Advice)
---
What Is The Best Way To Mount Solar Panels On An RV?
When mounting solar panels on an RV roof, choosing a mounting system is vital to adjust the tilt angle. This maximizes the panel's efficiency by allowing you to position it at the optimal angle to capture sunlight.
A strut channel with an adjustable tilt bracket is one of the best options for mounting solar panels on an RV roof. It's sturdy and secure while also offering easy adjustment capabilities.
Additionally, a strut channel mounting system leaves room for expansion. Overall, using a strut channel with an adjustable tilt bracket provides flexibility and maximizes the efficiency of your RV's solar panel system.
---
Issues To Avoid When Mounting Solar Panels On An RV
When mounting solar panels on an RV, there are a few things to avoid to ensure optimal performance.
Keep panels clear of obstructions. Make sure you mount your panels so branches or other objects will not obstruct them. This also means keeping them away from your roof's edge. Doing so will reduce the risk of damage.
Maximize efficiency. Optimize the tilt angle of your panels so they can receive direct sunlight.
Electrical wiring can be hazardous. Be careful not to drill through any electrical wiring when mounting the panels. This could create a fire hazard.
Make maintenance easy. Mount the panels to make them accessible for maintenance and repairs.
Related Reading: RV Solar System (Complete guide to going off-grid)
---
3 Mounting Brackets You Can Use
1. Z-Mounting Bracket
Set includes:
4 x Z Mounting Brackets
4 x Split Lock Washers
4 x M6 Split Lock Washers
4 x M6-16 Hex Cap Bolts
8 x M6 Flat Washers
8 x No 11 Self-Drilling Cap Screw and Plastic Retaining Ring
Warranty: 1 Year
Explicitly designed for off-grid installations, the Z bracket mounting system is ideal for RV roof mounting.
The system comes with all the necessary fasteners for secure installation. It supports the installation of a single solar panel, and the system works best with rigid panels of less than 100W.
When mounting solar panels on your RV, you must consider the weight and durability of the mounting system. In this instance, the aluminum mounting brackets are lightweight and corrosion-resistant, making them ideal for mounting small solar panels.
These pre-assembled brackets come with bolts and washers for added convenience and ease of installation. Moreover, you can easily install them onto RVs, trailers, boats, yachts, and even on irregular surfaces.
---
2. Drill-Free Corner Mounting Bracket
Weight:

7.2 oz. (per component)

Material: UV-resistant ABS Plastic
Adhesive: Sikaflex 252 (recommended)
Dimensions (corner bracket): 5.9 x 5.9 x 2.3 in
Dimensions (side bracket): 7.0 x 4.6 x 2.3 in
Warranty: 1 Year
The corner mounting brackets, made with corrosion-resistant ABS plastic, offer a durable and long-lasting solution for mounting your solar panels. These brackets are also 100% recyclable and UV resistant to withstand the elements on your travels.
Additionally, the mounting brackets feature a drill-free installation process, making the setup more manageable. They are suitable for mounting virtually any aluminum framed solar panel on flat roofs made of aluminum, wood, or GRP material.
---
3. Tilt Mount Bracket
Weight: 3.5 lbs
Dimension (tilt bracket): 14.57×0.79×0.98 in.
Dimension (fixed bracket): 27.95×1.97×0.98 in.
Warranty: 1 Year
Tilt mount brackets allow for easy adjustment and optimization of performance, whether your vehicle is stationary or in motion. Moreover, they are suitable for any flat surface.
These RV mounting brackets are designed specifically for off-grid solar systems. They fit on the top of RVs and are adjustable. The brackets support solar panels up to 100W.

Assembly is quick and easy, with precise hole placement and stainless steel fasteners. These mounting brackets are a great addition to any RV or off-grid setup.
Related Reading: What Will A 200-Watt Solar Panel Run In An RV?
---
Final Thoughts
Mounting your solar panels on an RV can provide a reliable energy source and add a stylish touch to your vehicle. However, you must choose the correct mounting system and avoid any potential issues for the panels to work efficiently.
Properly installing and positioning the panels can ensure they perform at their best while keeping your RV safe on the road.
Happy travels!