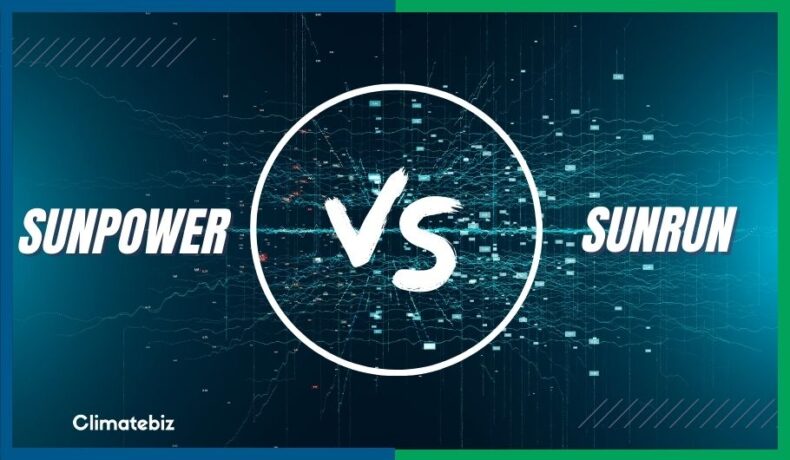 SunPower vs. Sunrun —two giants at the forefront of the U.S. solar industry.
Both are known for their quality solar panels, battery systems, and other solar-related offerings.
But who are they? Which company has superior products? And above all, which of these solar providers is right for you?
This article will help familiarize you with each of the above companies by answering these questions and more.
Foreword
Climatebiz experts design, research, fact-check & edit all work meticulously.
Affiliate Disclaimer
Climatebiz is reader-supported. We may earn an affiliate commission when you buy through links on our site.
SunPower Vs. Sunrun: Breakdown
(1 The term 'Rated Power' is the ideal solar panel output in desirable conditions. It is expressed in watts.)
---
SunPower vs. SunRun: SunPower overview
SunPower was first established in 1985 by Richard Swanson, an electrical engineering professor from Stanford, and has been headquartered in Silicon Valley ever since.
The company provides green-tech energy solutions to consumers by selling, installing, and financing solar power products such as panels, batteries, monitoring software, and mounting hardware.
A point of pride for this solar giant is the fact that they're the only U.S.-based company that's been around longer than its 25-year warranty.

Split
In August 2020, the SunPower Corporation made the decision to split into two separate public companies:
SunPower: Responsible for supplying all solar-related services to customers.
Maxeon Solar: Responsible for producing the high-efficiency solar panels that SunPower is known for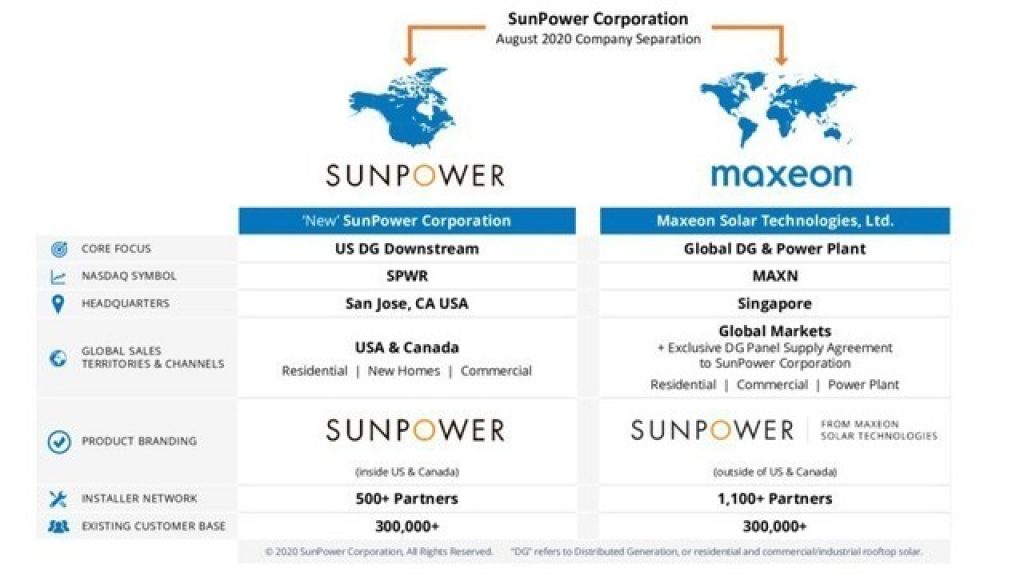 Maxeon Solar is based in Singapore, with factories in France, Malaysia, Mexico, and the Philippines. The company strategically chose these locations to help them take advantage of low-cost manufacturing processes throughout Asia.
Now don't let the idea of "low-cost manufacturing" put you off. While the split and change in locations have brought their manufacturing costs down, the quality remains the same.
Since the split, Maxeon has provided SunPower with quality products such as the Maxeon 6 AC Solar Panel — boasting an efficiency rating of 22.8%.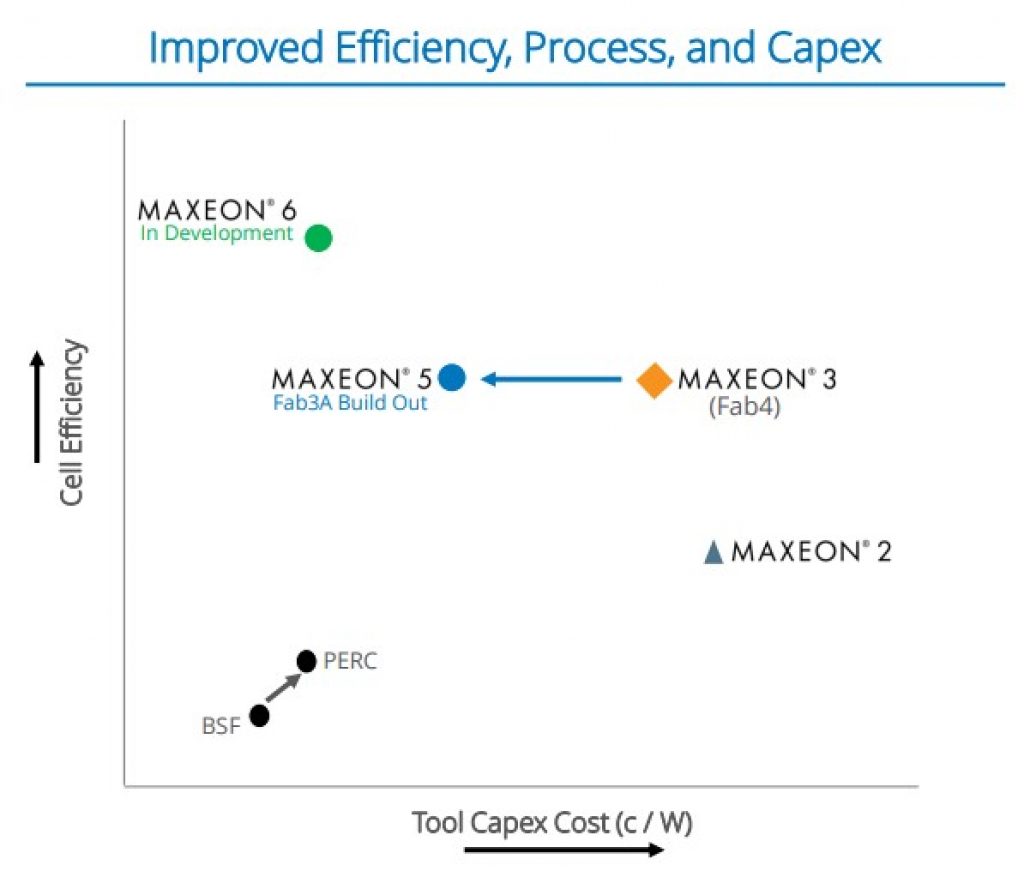 In short, the strategic decision to divide the company into two parts has paid off for both them and their consumers.
Are you struggling to size your solar system? Our in-house experts have created a solar calculator to help make things easier for you!
---
SunPower vs. Sunrun: Sunrun Overview
Sunrun was first established in 2007 by founders Lynn Jurich, Nat Kreamer, and Ed Fenster.
The company engages in the design, development, installation, sale, ownership, and maintenance of residential solar energy systems throughout the United States.
They offer these solar services both directly to their customers and through their partners, including installation, sales, and strategic partners (retail partners included).
Solar Service Pioneers
A significant difference between Sunrun and other solar companies (SunPower included) is their solar service model. Right from its inception, Sunrun pioneered this model to create a low-cost solution for customers seeking to lower their energy bills.
So, what is this solar service model?
The core service offering comes in the form of Sunrun's lease and power purchase agreements — the company refers to these agreements as "Customer Agreements."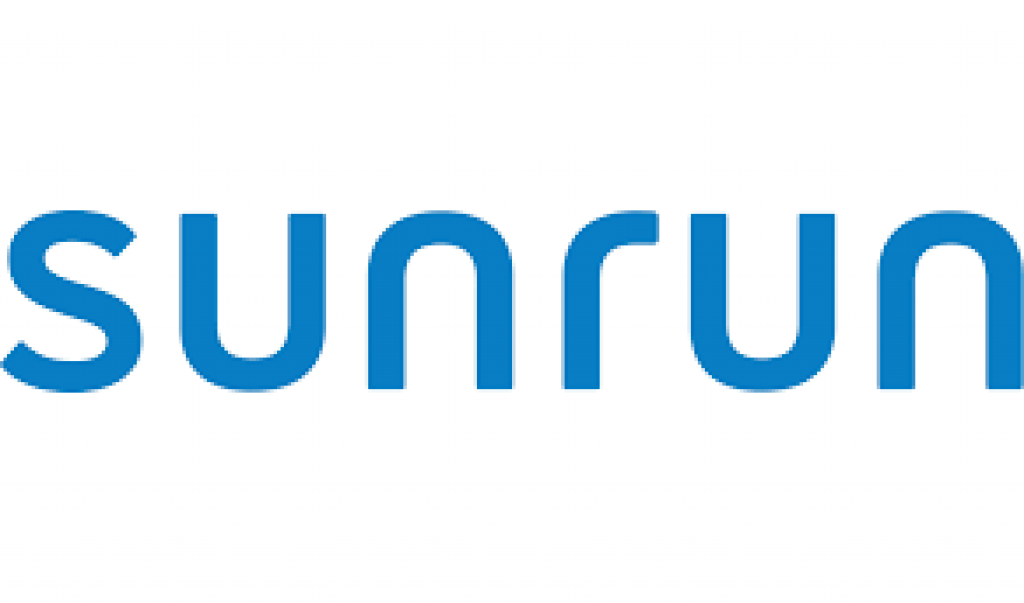 How It Works
While SunRun allows customers such as yourself to purchase one of their solar systems, 80% – 90% of their business comes from "solar as a service."
Essentially, a customer will enter into an agreement with Sunrun, which allows the company to lease out and install a solar system on your home — typically over a 20 to 25-year period.
Sunrun provides daily system monitoring, free maintenance, repairs, and comprehensive insurance throughout this period. In exchange, they receive a steady cash flow from a high-quality customer with good credit. Ultimately, this allows the company to qualify for tax (and other) benefits.
If you're interested in SunRun's leasing options, click here.
What's In It For The Homeowner?
By entering into a lease agreement with Sunrun, you can acquire a solar system for little to no money upfront. Instead, you pay a monthly fee. You save money when this fee is less than the local utility's electricity rates.
But remember, Sunrun still sells solar systems. As such, you can choose from several flexible solar financing options or pay outright.
Moreover, you can purchase a leased solar system after the contract period is up.
---
SunPower vs. Sunrun: Which Company Produces Better Quality?
As a prospective solar panel buyer, it's only natural for you to gravitate toward a company with superior solar panels.
Solar Panel Comparison
SunPower
Right off the bat, SunPower has the advantage. You know who produces their solar panels (Maxeon) and where they are manufactured.
Together, SunPower and Maxeon have developed an incredibly strong following due to the quality of their offerings. What's more, you know (even before you purchase) where your solar panels are coming from and who's manufacturing them.
For reference, here are some examples of SunPower's offerings.
| Specifications | SPR-P6-395-BLK | SPR-P6-400-BLK | SPR-MAX3-410-BLK |
| --- | --- | --- | --- |
| Wattage | 395W | 400W | 410W |
| Efficiency | 20.1% | 22.6% | 21.6% |
| Product and Power Warranty | 25 years | 40 years | 40 years |
| Guaranteed Output % At 25-Year Mark | 86% | 92% | 92% |
Warranty
Quality-wise, SunPower stands confidently behind its products. The company offers a comprehensive 25-year warranty covering its Performance Series offerings.
Additionally, it offers an industry-leading 40-year warranty on its Maxeon panels.
Sunrun
Sunrun does not manufacture its own products. While the company did have a partnership with LG, the South Korean tech giant has since decided to stop manufacturing solar products. Instead, the company uses multiple equipment suppliers.
Here's the issue — you won't know which panels you'll be provided with until going through the purchasing process.
With this in mind, it's difficult for us to provide you with a concrete answer as to the overall quality of their panels.
Warranty
Because Sunrun doesn't manufacture its solar panels, those who purchase solar arrays from them must rely on manufacturer warranties.
However, the company provides a 10-year workmanship warranty against damage to your roof or installation problems.
Energy Storage Comparison
SunPower
SunPower offers its SunVault storage. This energy storage solution (ESS) acts as a seamless backup power option during power outages. Though it's also suitable for general use.
You can easily integrate these units into existing SunPower solar systems. Unfortunately, SunVault systems are incompatible with third-party solar equipment.
Sunrun
Sunrun does not manufacture its own ESS solution. Instead, it offers the Tesla Powerwall.
The Tesla Powerwall is a home battery system that stores energy generated from solar panels or the grid. Moreover, it can provide backup power during power outages.
The Powerwall is designed to be simple and easy to install, whether on the ground or wall-mounted. Moreover, it's designed to be scalable, so you can install multiple units together to increase your total storage capacity.
Most importantly, you can integrate it into an existing solar system or use it as a standalone backup power source.
Now let's take a look at these companies' respective energy storage options:
| Specifications | Powerwall 2.0 | SunVault |
| --- | --- | --- |
| Usable capacity | 13.5 kWh | 13 to 26 kWh |
| Continuous power rating | 5.0 kW | 6.8 kW |
| Depth of Discharge (DoD) | 100% | 100% |
| Round-trip efficiency | 90% | 85% |
| Warranty | 10 years (unlimited cycles) | 10 years (unlimited cycles) |
| End of warranty capacity | 70% | 70% |
Sources: Tesla Powerwall 2 Datasheet – North America/ SunVault Specs
Verdict
Solar panel-wise, SunPower takes the cake. The company's comprehensive 25 and 40-year warranties and the fact that its panels are known entities make it an absolute no-brainer!
Looking at energy storage, the winner is not so clear. Sunrun offers the Tesla Powerwall, which edges out SunPower's SunVault in terms of round-trip efficiency, although its continuous power rating is not as high.
However, the SunVault is not compatible with third-party solar systems. Therefore, we give the advantage to Sunrun.
In need of some solar blueprints? Click here.
---
SunPower Vs. Sunrun: Which Company Is Cheaper?
Price Of Residential Solar In The U.S.
To get a better sense of where each company stands price-wise, it's important to know the price of residential solar.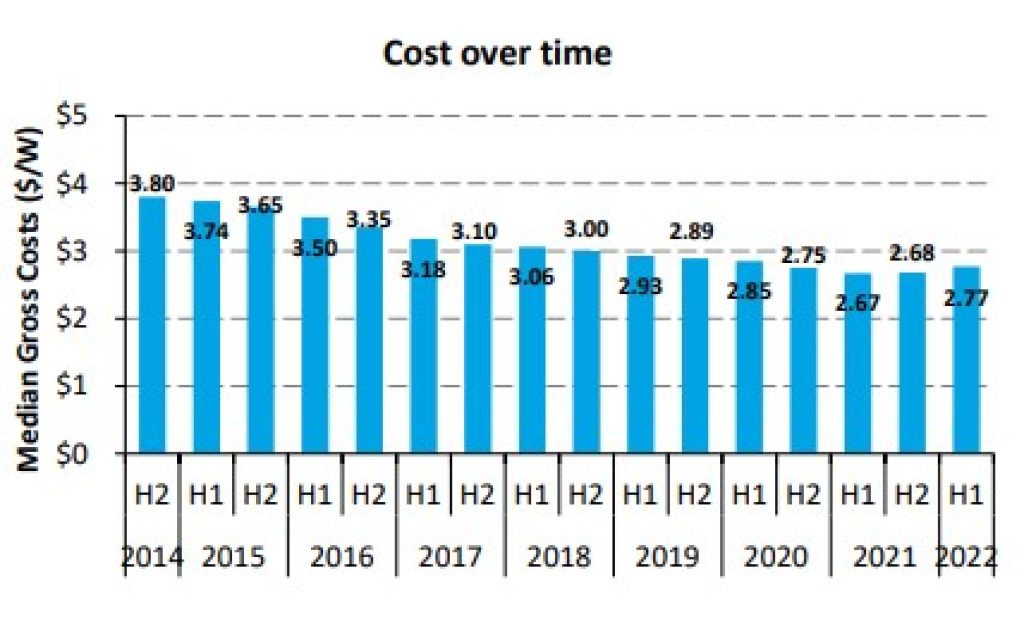 As per the above graph from the NREL's latest solar industry update, the median gross price of residential solar in H1 2022 is $2.77 per watt.
SunPower
According to the NREL, SunPower's residential solar panels cost around $3.92 per watt.
Taking this figure into consideration, a 5kW solar panel system in the United States will cost you around:
$3.92 per watt x 5,000 = $19,600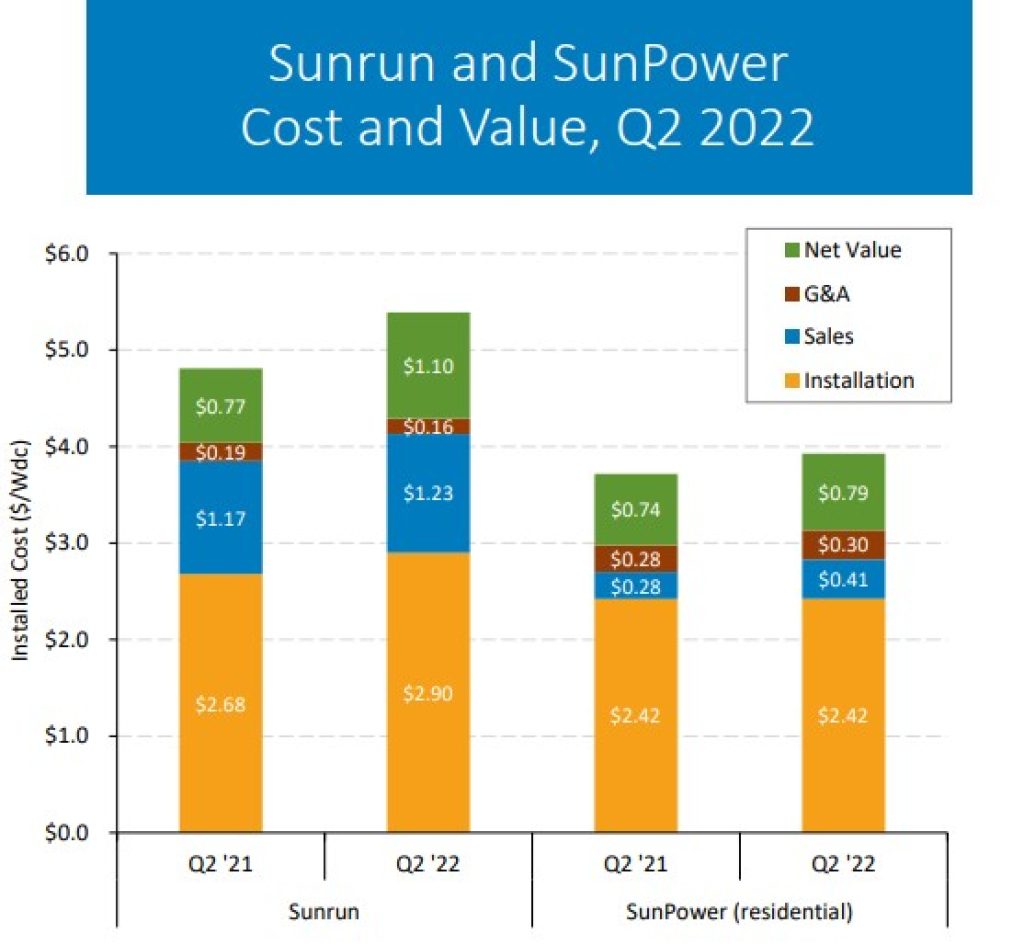 Sunrun
Sunrun's solar panels tend to come in at a more expensive $5.39 per watt.
Looking at these figures, a 5kW solar panel system in the United States will cost you around:
$5.39 per watt x 5,000 = $26,950
Note to our readers: the above values do not consider system efficiency. While we'd like to account for efficiency to give you more accurate estimates, it simply isn't possible due to Sunrun sourcing its products from multiple third-party suppliers.
Verdict
Both SunPower's ($3.92) and Sunrun's ($5.39) costs per watt are well over the $2.77 average.
But again, it's clear that the second round of the SunPower vs. Sunrun duel goes to SunPower, with the former having a significantly cheaper cost-per-watt average.
---
Which Company is Right For You?
This part of the SunPower vs. Sunrun debate comes down to your needs.
If you're looking to purchase a solar system outright, we highly recommend SunPower. There's a reason they've become a juggernaut in the solar industry — their service and products are well renowned and of high quality.
However, if you don't want to commit to purchasing a system and would prefer to lease one, Sunrun is a solid bet.
Yes, we know that SunPower leases out their systems too, but Sunrun has been at the forefront of solar leasing agreements for a long time. After all, they did pioneer the model.
Reviews
Reviews exist for a reason. Sure, inherent bias does exist, but it'd be silly to ignore the value of reviews entirely.
Here are some links to each company's reviews on Consumer Affairs and Best Company with the above in mind.
SunPower
Sunrun
Related Reading: SunPower vs. Tesla (Which brand should you choose?)
---
Final thoughts
There you have it, the SunPower vs. Sunrun debate!
By now, we're confident that you have a much better idea of each company and what they entail. But remember, additional research can only benefit you. So before you commit to anything, be sure to investigate as much as possible.
In closing, we hope you've found this resource to be of use. Should you have any further questions or insights into this (or any other topic), we encourage you to follow us on Twitter.