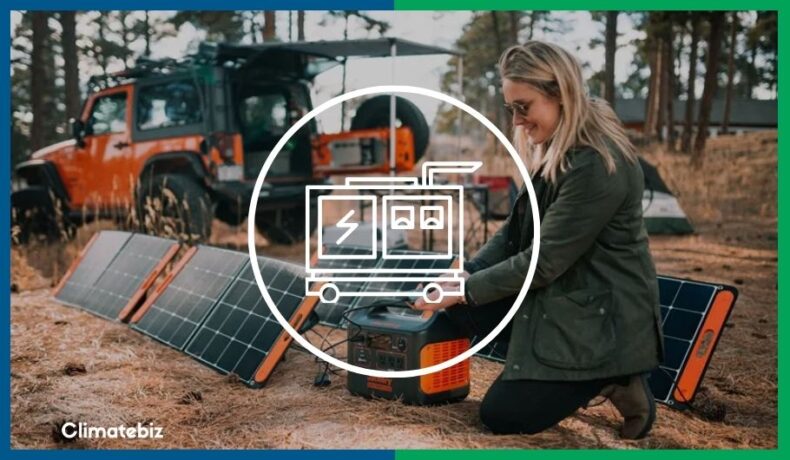 Are you looking for a way to power your portable devices on your next camping trip? Small portable solar generators are the perfect solution for you! They are easy to carry, and you can charge them with free and clean solar energy.
Portable solar generators are a great way to store and use the free energy produced by solar panels. You can use generators to power various devices, including lights, laptops, smartphones, drones, and small appliances.
These features make them a very versatile option for camping, emergency preparedness, or powering small devices on the go.
They're also a great way to reduce your reliance on fossil fuels and help you become more environmentally friendly.
In this article, we'll present the 12 best small solar generators. Additionally, we'll demonstrate what they can power and for how long.
Finally, we'll discuss the types of batteries that portable generators use and their respective lifecycles.
---
What Defines A Portable Solar Generator?
In short, a portable solar generator is a compact and portable device that you can use to power small appliances and electronic devices.
These devices are all-in-one power systems consisting of solar panels, a battery bank, and an inverter of 12V, 24V or 48V (depending on the purpose of this energy system).
The solar panels convert the energy from the sunlight into electrical energy (direct current, DC). This energy is then stored in a battery bank in the form of chemical energy.
Finally, the inverter converts the DC output from the battery into AC output, which you then use to power several appliances that require AC power.
Of course, you can have the same system if you buy all of these components (solar panels, battery, and inverter) separately and set up a custom solar power system. However, the major drawback with this method is that your system will be heavy and stationary.
The great thing about solar generators is that they offer this entire system (although the solar panels are often sold separately) in a compact and portable design.
---
Output Options And Charging Options
Usually, portable solar generators offer the following power output options:
12V DC output
110V AC ouput
USB-A and USB-C ports
12V DC car sockets (cigarette lighter outlet)
LED flashlight
Moreover, you can charge most solar generators via an AC wall outlet or a 12V DC carport in addition to solar panels.
Despite these features, what really defines small solar generators is their portability. They offer endless possibilities as an energy system while being very compact and portable— most are small enough to fit into a backpack! What's more, you can charge them from anywhere, as long as there's sunlight.
This way, you can take your portable solar generator with you anywhere, whether you're going on a long hike, a camping trip, a long road trip, or even traveling in your RV or campervan.
---
Primary Limitation
The main limitation of small portable solar generators is their limited power output. A small solar generator typically has a power output of less than 1,000 watts. This may not be enough to power larger appliances or devices.
However, they are the perfect energy solution for those who like to explore the outdoors without sacrificing the comfort that only electricity can provide.
---
12 Best Portable Solar Generators
Here we present the 12 best portable solar generators (organized in ascending order of energy capacity):
---
1. Jackery Explorer 160 Portable Power Station | 167Wh
This power station offers affordable, lightweight, reliable, and clean energy and is specially designed for charging phones, tablets, laptops, GoPros, and other smaller electronics.
It features one AC outlet, one USB-C port, two USB-A ports, and one standard DC 12V port to provide you with free and clean energy during your outdoor adventures.
It can charge your phone around 10 times per battery cycle. And if you deplete the battery, don't worry, pair a 60W solar panel to your Jackery Explorer 160, and it should be fully charged in 4.5 hours (with direct sunlight).
Tech Specs:
---
2. T-CORE Portable Power Station | 195Wh
Tech Specs:
---
3. EcoFlow RIVER Portable Power Station | 288Wh
Double the capacity from 288Wh to 576Wh with an Extra Battery, the modular design of EcoFlow RIVER is the power that grows with your needs.
Now, if you agree that this is an excellent solar generator but still wish it had a larger capacity, worry not. You can easily double the capacity of the EcoFlow RIVER from 288Wh to 576Wh by integrating with an Extra Battery.
Tech Specs:
---
4. PryMAX Portable Power Station | 296Wh
What's more, it comes with a built-in emergency light, which has 4 light modes to choose from bright, super bright, SOS, and flashing mode.
Its easy-to-carry, sturdy design allows you to take it anywhere and is perfect for outdoor trips.
Tech Specs:
---
5. AIMTOM Rebel 440 Portable Power Station | 403Wh
Left for a camping trip and forgot your flashlight? The Rebel 440 comes with a bright 4-function LED light built-in.
It can power 8 devices simultaneously and be charged in 4 different ways: solar panel, AC plug, carport, and USB-C PD. You'll take only 1.7 hours to achieve 80% SoC by combining AC Wall and USB-C Inputs.
Tech Specs:
---
6. VATID Portable Power Station | 518Wh
You can simultaneously charge it from 0 to 100% in 3.5h with USB-C PD and AC input. Conversely, you can use solar energy to charge it in 6h (up to 80% state of charge).
It comes in the following color schemes: white and orange (like shown in the image) or yellow and grey.
Tech Specs:
---
7. BLUETTI EB55 Portable Power Station | 537Wh
With 537Wh of capacity and a 700W robust inverter, the EB55 can run most of your essential outdoor appliances and electronics.
It can run 13 devices simultaneously and supports 4 charging ways: AC wall outlet, generator, car outlet, and solar panels.
You can also purchase it in blue and orange.
Tech Specs:
---
8. Shell Portable Power Station | 583Wh
It offers 10 different ports and can be recharged in 5 ways: USB-C PD, solar panel, AC adapter, car socket, and a fast-charging mode combining USB-C + AC adapter to reach full charge in 4.5 hours.
This solar generator comes with LED lights in the shape of a warning triangle so you can warn drivers in a road emergency. The LED lights function in several modes: low, high, flashing, SOS, red, and flashing red.
Tech Specs:
---
9. ALLPOWERS 500W Portable Power Station | 606Wh
You can use up to 9 outlets simultaneously and fully recharge it in 3h using one of the fast-charging modes: AC 100W + USB-C PD or solar panel 100W + USB-C PD (in addition to the usual 4 charging options).
Tech Specs:
---
10. OUKITEL Power Station | 614Wh
Overall, this is an incredibly reliable, safe, lightweight, powerful, and cost-effective solar generator.
Tech Specs:
---
11. BLUETTI EB70S Portable Power Station | 716Wh
The BLUETTI EB70S offers 12 output ports, four of which are AC 110V 800W outlets. This means it can power many medium to large appliances, not only small portable devices.
You can charge many devices simultaneously, from mini-refrigerators to LED lights. Additionally, it comes with a 15W wireless charging pad at the top to facilitate the charging of smartphones.
It can be easily lifted and moved with just one hand. And if you like having options, this model is also offered in the colors red and blue.
Tech Specs:
---
12. EcoFlow RIVER Pro Portable Power Station | 720Wh
EcoFlow offers a patented X-Stream technology that enables you to charge the RIVER Pro from 0%-80% within one hour and 0%-100% in just 96 minutes. You can also charge it with up to two 110W solar panels to get a full charge in 4 to 8h.
You can easily expand the 720Wh capacity with a RIVER Pro Extra Battery, which doubles the system's capacity from 720Wh to 1440Wh. This makes it ideal for traveling and camping outdoor activities where you need more power for more devices.
Tech Specs:
---
What Can Small Portable Solar Generators Power?
It depends on the solar generator's rated continuous power output.
For example, a 300W solar generator can only power devices that require less than 300W to work.
Additionally, when powering many devices simultaneously, the sum of wattages (of every device being charged) must not exceed the generator's power output.
All things considered, it's safe to say that practically every small solar generator can power common portable devices. After all, they are designed for this purpose: powering small portable devices on the go, anytime, anywhere.
Here are some of the devices a small solar generator can power:
Phone chargers
Laptop chargers
Camera chargers
Lights
Small portable fan
Portable mini fridge
To avoid any damage to your solar generator and your other devices, you should always consider the power output of your solar generator and the power rating of your devices to see if they are compatible.
Another important factor is knowing how long you'll be able to power your devices, so you don't get caught by surprise when your solar generator's battery dies.
This way, you can plan the time to recharge your solar generator, always keeping it charged and prolonging its lifespan.
---
How To Calculate The Working Time
It's important to understand that the actual "usable" capacity is a bit smaller than the rated capacity of solar generators due to conversion inefficiencies (ohmic losses).
As a rule of thumb, consider an efficiency of 90% for DC output and 85% for AC output.
Now you just need to know the rated power of your device and use the formula below to calculate the working time:
Working time = Rated capacity x efficiency rate (0.9 for DC or 0.85 for AC) /
your device's rated power
For example, if the rated power of your device is 60W (AC) and the rated capacity of your small solar generator is 240Wh, then:
Working time = 240Wh x 0.9 / 60W = 3.6 hours
In this example, you'll be able to run your device for 3.6 hours.
Conversely, suppose you're using the energy stored in your solar generator's battery to charge another battery (your phone's battery or your laptop battery, for instance). In that case, you can use the capacity of this other battery to calculate the number of times you'll be able to charge it, by using:
Number of Charges = Solar generator's rated capacity (Wh) /
your device's battery capacity (Wh)
For example, if your laptop's battery capacity is 45Wh and your solar generator's capacity is 300Wh, then you'll be able to charge it 6 times:
Number of Charges = 300Wh * 0.9 / 45Wh = 6 times
---
Working Time Chart
To make this process easier, we prepared a table with an estimation of running times. For this, we used the average rated power of common portable appliances and examples of the usable capacity of small solar generators (ranging from 200Wh to 700Wh).
---
What Types Of Batteries Do Portable Solar Generators Have?
In general, small solar generators use lithium-ion batteries, specifically, LiFePO4, LiPo, and Li-ion NMC batteries.
Lead-acid batteries are rarely found in small solar generators, although a few models on the market still use this type of battery.
For instance, the Goal Zero Yeti 400 Portable Power Station uses an AGM lead-acid battery.
After comparing lead-acid batteries and lithium-ion batteries, we can clearly see why lithium batteries are used more frequently in small solar generators:
Given that the main feature of small solar generators is portability, it's easy to understand why lithium-ion batteries are most commonly used.
Not only are they lightweight, but their charging and discharging processes are more efficient. This feature comes in handy when using solar panels to charge your solar generator.
---
Average Life Cycle Of Portable Solar Generators?
The life cycle heavily depends on the battery used in your solar generator. Lithium Iron Phosphate batteries (LiFePO4) have the longest life cycle. They usually last up to 2500 cycles before their usable capacity starts dropping.
Other lithium-ion batteries — like lithium polymer (LiPo) or lithium nickel manganese cobalt oxide (NMC) — can last 500 to 800 cycles.
Alternatively, lead-acid batteries have shorter life cycles. They last from 300 to 500 cycles.
It's important to note that a battery's life cycle depends on more than just a battery's chemistry.
Maintaining certain practices such as respecting the recommended DoD, using the recommended charging voltage and current, storing it properly, and keeping it in a safe temperature range can help prolong your battery's lifespan.
---
Final Thoughts
When it comes to renewable energy sources, solar power is king. And when it comes to solar generators, there are plenty of options on the market.
These generators can provide enough power to run small appliances and electronic devices, making them an excellent option for camping or emergency preparedness.
When choosing a solar generator, there are a few things you should keep in mind.:
First, consider the power needs of your devices and appliances.
Second, think about how portable you need the generator to be.
And third, consider the price. Solar generators can really vary in price, so it's important to find one that fits your budget.
Once you figure out these factors, you can find the perfect small solar generator for you, so you'll never have to worry again about running out of power on your camping trips.