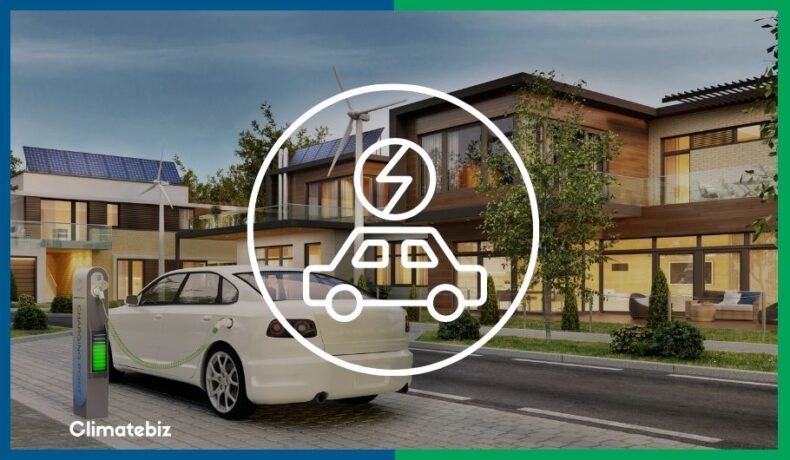 It's no secret that climate change is one of today's biggest challenges. The ever-increasing concern and realization of the consequences have shaped modern-day production's mindset — bringing about the birth of electric cars in places like the UK.
With the UK's commitment to a zero net carbon goal by 2030, the electric vehicle market has taken off with mighty speed!
Government schemes and incentives are plentiful, and EV encouragement is at an all-time high.
The choice of electric cars in the UK is certainly not a problem, especially with over 137 models. However, it becomes rather daunting to find the best out there.
Worry not, for that is where we come in with tires blazing, ready to help!
This article will help guide you between the top 20 electric cars in the UK today.
Foreword
Climatebiz experts design, research, fact-check & edit all work meticulously.
Affiliate Disclaimer
Climatebiz is reader-supported. We may earn an affiliate commission when you buy through links on our site.
Top 20 Electric Cars In The UK
Before you decide whether or not an electric car is worth the investment, you should probably look at what is out there in the UK.
---
1. Tesla Model 3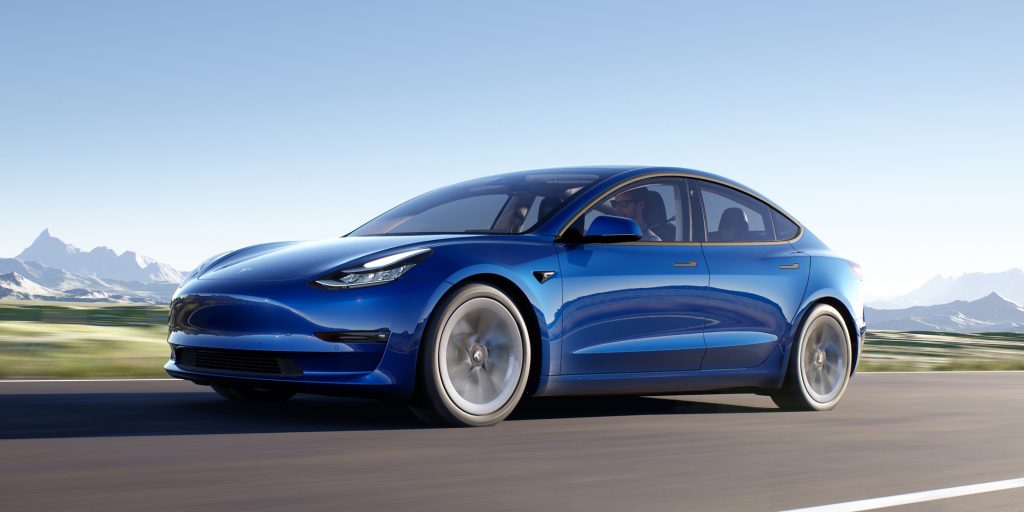 Range: 325-300 miles
Battery: 60.0 kWh
Top Speed: 140 mph
0 – 60: 3.1 seconds
Horse Power: 321 hp
Price: From £45,990
The Tesla brand has gained massive popularity in the field of electric vehicles!
Initially launched in 2017, the Tesla 3 has since been revised and updated a few times. This vehicle has a five-star safety rating for adults, pedestrians, and safety assist.
The Tesla 3 resisted its weight four times, making it incredibly sturdy and reliable upon testing. What's more, the Tesla 3 has the option of being purchased in all-wheel drive, Ubetturbine Wheels, and Performance brakes for optimal control during a range of weather.
This EV comes In both standard and long-range models.
---
2. Kia e-Niro EV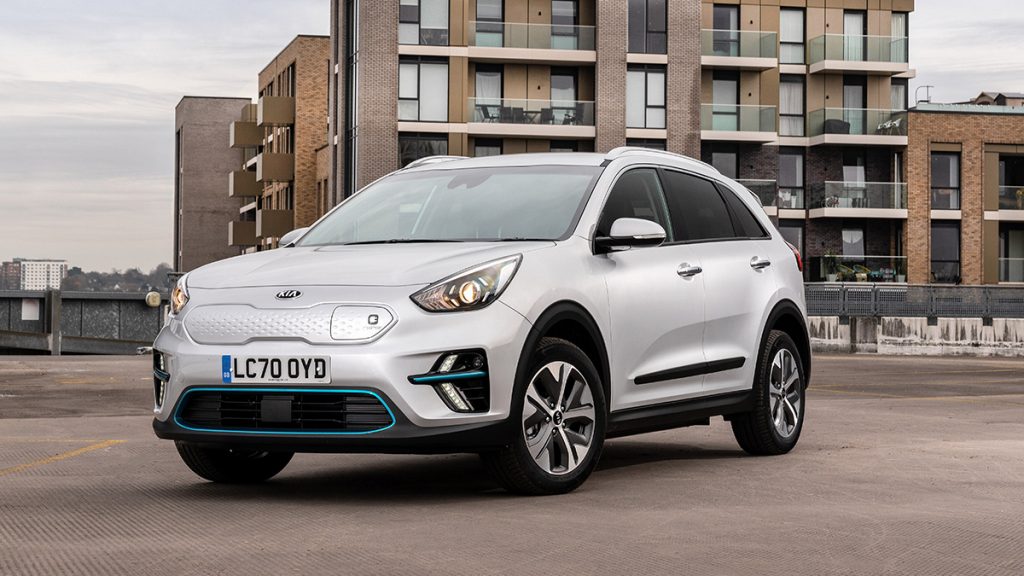 Range: 370 miles
Battery: 68.0 kWh
Top Speed: 167 mph
0 – 60: 7.2 seconds
Power: 150 kW
Price: £32, 995
You can't go wrong with the Kia e-Niro EV!
This buzzing beauty comes packed with features such as Blind-Spot Collision-Avoidance Assist, Parking Collision-Avoidance Assist, Remote Smart Parking Assist, Forward Collision-Avoidance Assist, Navigation-Based Smart Cruise Control, and many more.
To top it all off, the Kia e-Niro EV has its own interactive Kia Connect mobile application to schedule your charge sessions, for navigation, and to locate your car.
The Kia e-Niro EV comes with a solid warranty of 7 years (vehicle) and 12 years (anti-perforation).
A nifty no-nonsense choice for electric cars in the UK!
---
3. Volkswagen ID.3 (Pro Performance)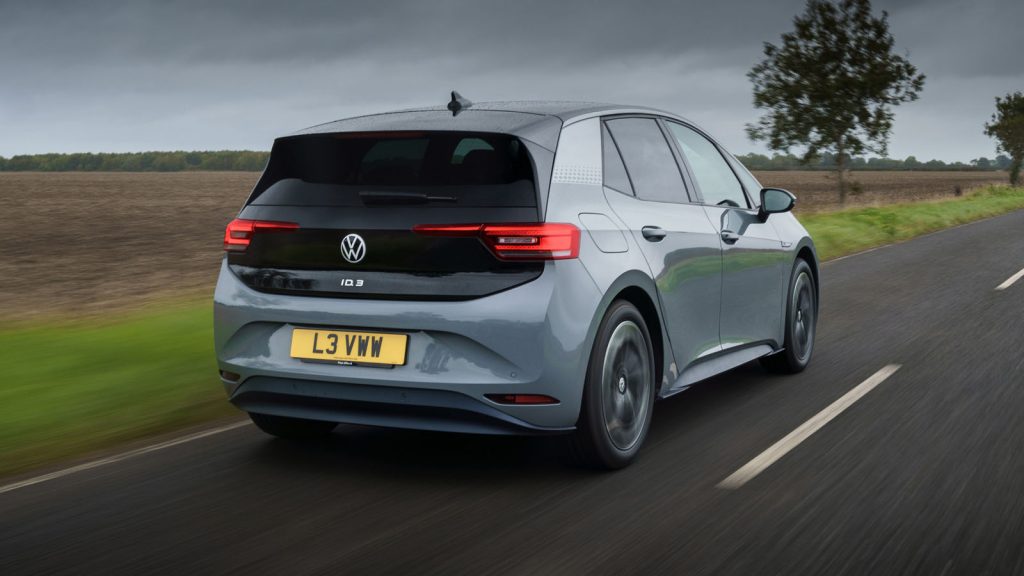 Range: 215 miles
Battery: 62.0 kWh
Top Speed: 99 mph
0 – 62: 7.3 seconds
Horse Power: 201 hp
Price: £35, 835
The VW ID.3 brings both a personal and professional feel to it.
With the Hello ID function, where the car recognizes you upon approach and comes with a keyless advance, you can't help but feel personally connected to your four-wheeled force! Not to mention, the car greets you when you leave too.
The car that loves to see you come and hates to see you go!
The VW ID.3 has incorporated the intelligent lighting concept, which maintains constant communication with you and ensures visual ease as you swiftly sail through traffic.
You can expect fast charging anywhere in the world with this net carbon neutral model.
---
4. Nissan Leaf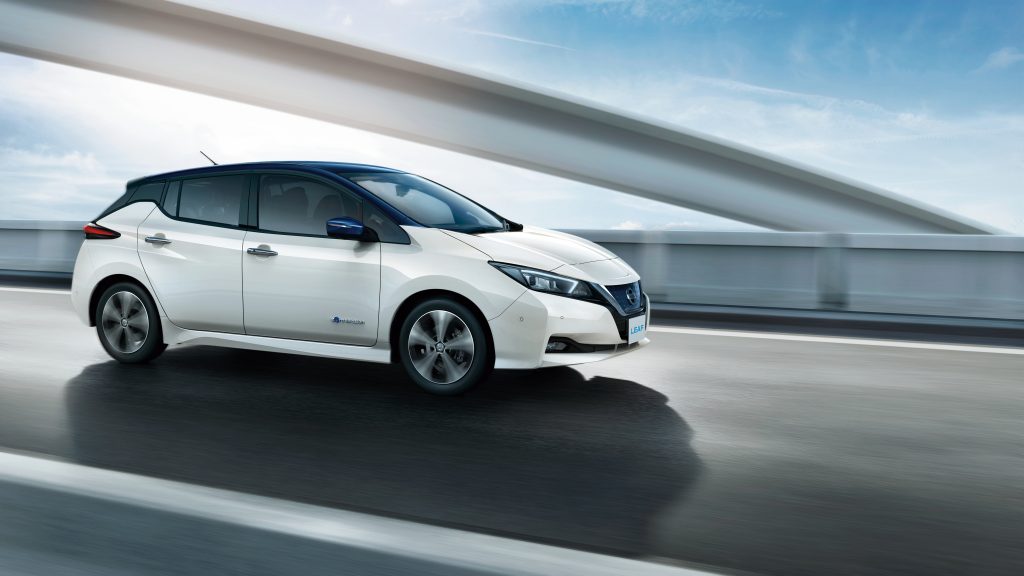 Range: 145 miles
Battery: 40 kWh
Top Speed: 89 mph
0 – 62: 7.9 seconds
Horse Power: 148 hp
Price: £26, 995
The Nissan Leaf is well-known as the electric family car.
Equipped with state-of-the-art driving technology such as the ProPILOT, you can expect intelligent mobility and sharp senses.
This car makes you feel both at ease and in control on the road, especially since it comes with intelligent emergency braking, a range of driving alerts and warnings, ISOFIX child anchorage points, and a range of warranties.
If an ideal family car is what you're looking for, you can't go wrong with the Nissan Leaf!
---
5. Audi e-Tron (Standard)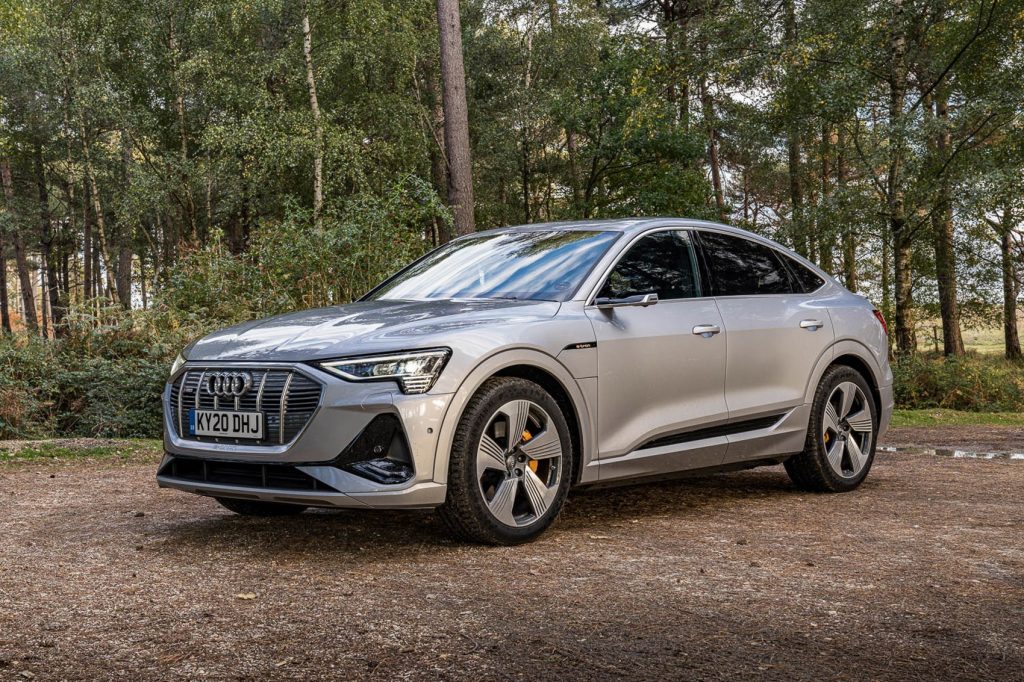 Range: 175 miles
Battery: 71.0 kWh
Top Speed: 118 mph
0 – 62: 5.7 seconds
Horse Power: –
Price: £61, 275
The standard Audi e-Tron is the first fully-electric SUV vehicle released by Audi.
This car —designed with efficiency and distance in mind — is the ideal choice if you plan on taking longer journeys.
With this Audi, you can expect a spacious interior with that first-class feel. Furthermore, this model offers driver assistance technology and absolute agility.
Here's a bonus: you can charge your Audi through the myAudi app across the UK and Europe!
---
6. Hyundai Kona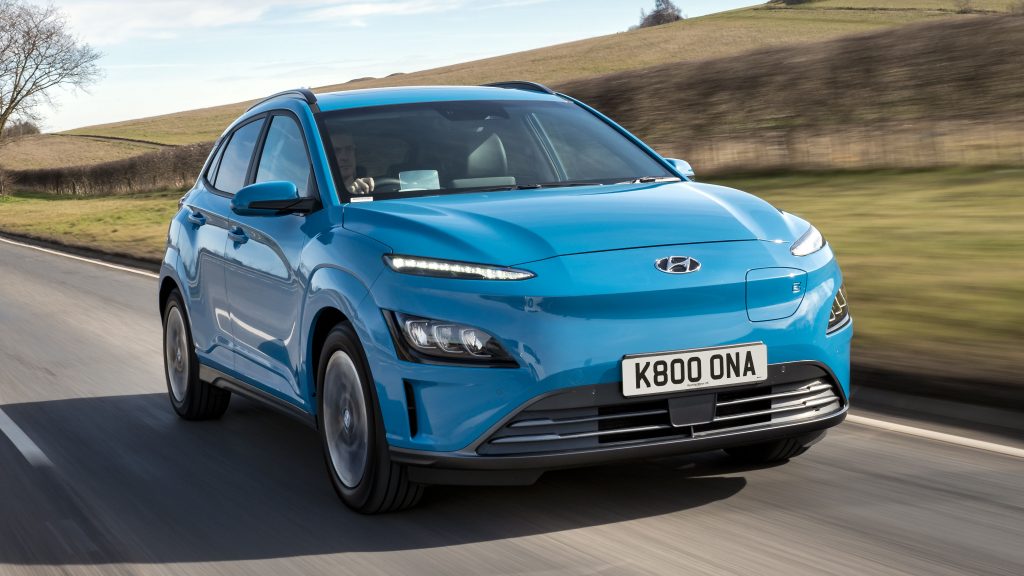 Range: 245 miles
Battery: 67.5 kWh
Top Speed: mph
0 – 62: 7.9 seconds
Horse Power: 201 hp
Price: £35, 050
The Hyundai Kona Electric is all about regenerative charging and rapid braking.
In other words, this EV will charge your battery while you brake!
Coupled with Apple CarPlay and Android Auto, you can expect seamless syncing between your smartphone and car with the added bonus of wireless charging.
This model comes with the Bluelink Connected Car Service, which helps you find suitable charging stations, set a charging schedule, navigation, navigation for your last miles to a charging point, and the ability to find your car.
---
7. Renault Zoe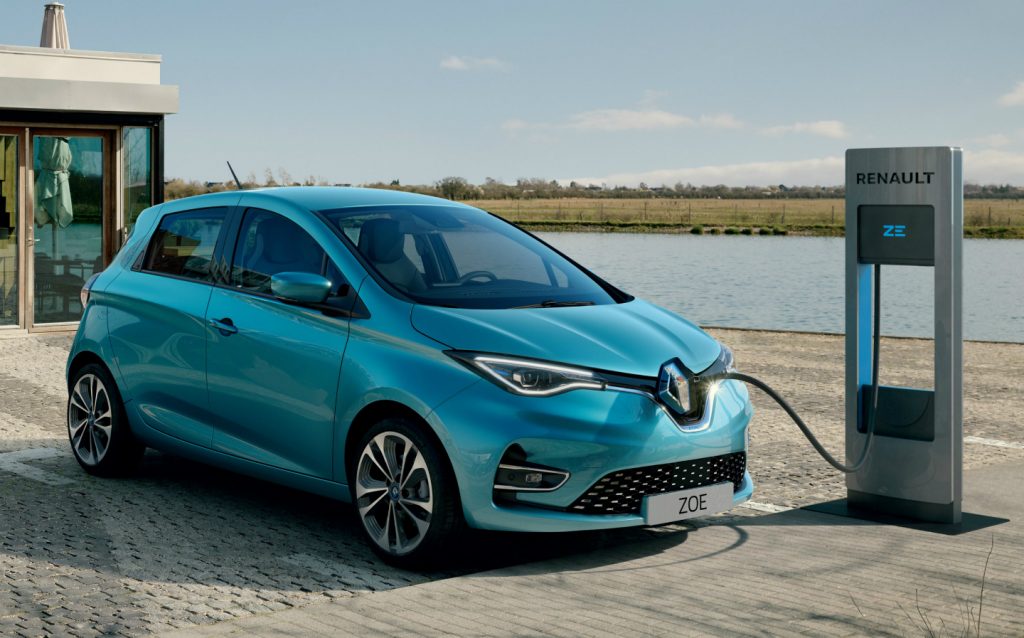 Range: 195 miles
Battery: 54.7 kWh
Top Speed: mph
0 – 60: 11.4 seconds
Horse Power: 107 hp
Price: £27, 600
T 2021 award-winning Renault Zoe scoops the prize for the best small electric car for value!
The Renault Zoe Electric might come with simpler features such as driving assist and basic driving modes such as reverse, neutral, and drive, but it comes in at the best value for money in smaller EVs.
Here you will find a small car packed with a powerful punch, ideal for zipping around town as you run your errands or find yourself off to work.
---
8. MINI Electric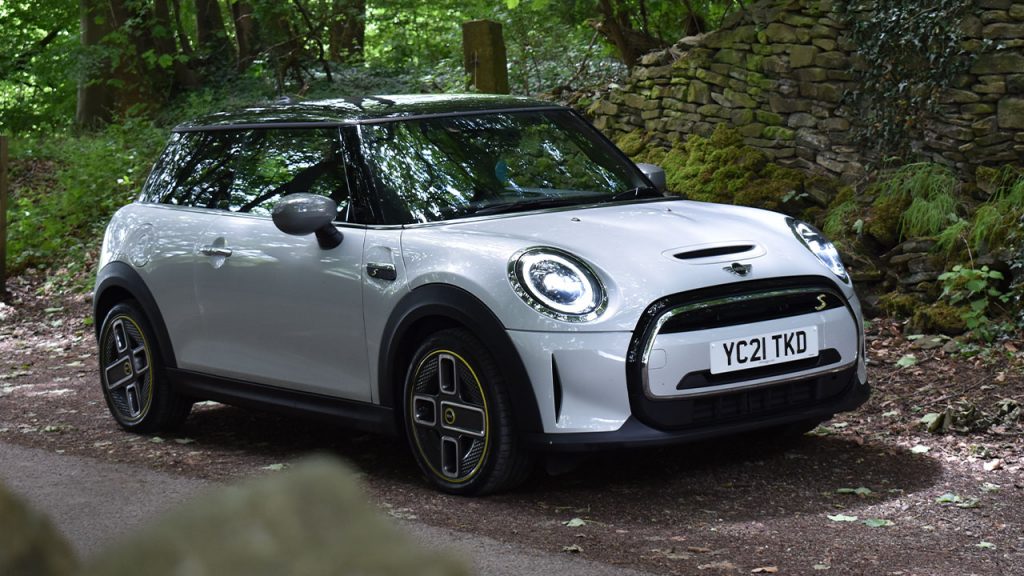 Range: 140-145 miles
Battery: 32.6 kWh
Top Speed: mph
0 – 62: 7.3 seconds
Horse Power: 181 hp
Price: £27, 000
Coupled with carbon neutrality, the Mini Electric walks the walk and talks the torque (we couldn't resist).
The latest release is swift, sharp, sleek, and sustainable.
Here you can expect a car compatible with AC and DC charging and home and public charging capabilities with access to more than 15 000 UK charging points with a range of providers that can be found at your fingertips.
This EV sure is packed with a powerful punch!
---
9. MG ZS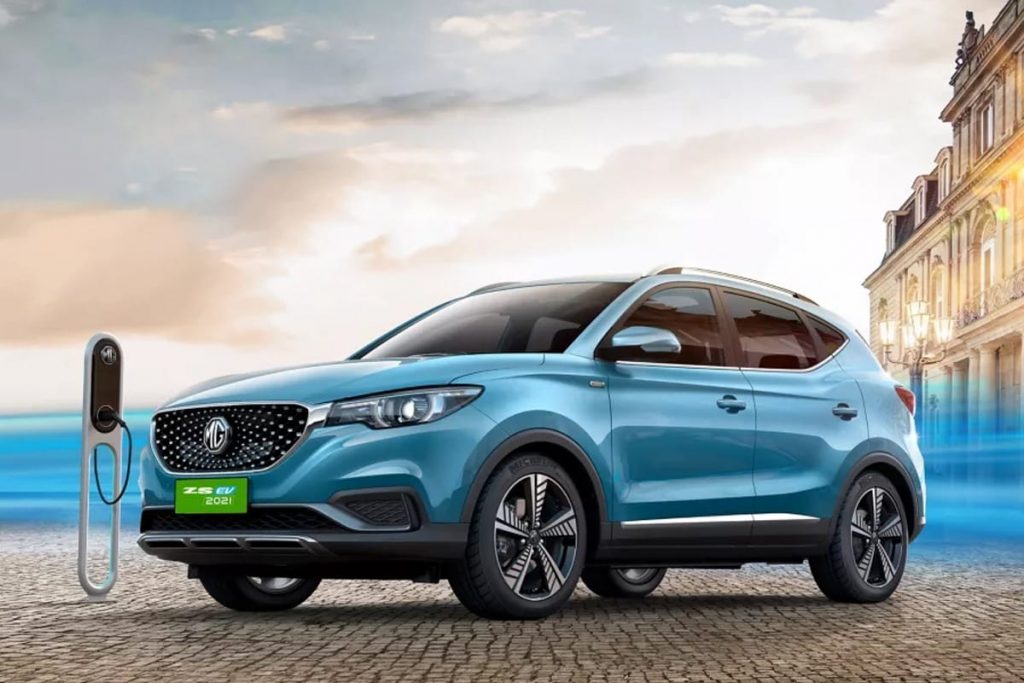 Range: 165 miles
Battery: 51.1 kWh
Top Speed: mph
0 – 62: 8.6 seconds
Horse Power: 174 hp
Price: £16, 995
The MG ZS is a fitting family car, a state-of-the-art SUV.
Alongside its sporty and dynamic look, this EV comes with all-around cameras and sensors for security, a safe trip, and service plans.
This model offers the convenience of connecting to Apple CarPlay and Android AutoTm, making carbon-neutral car rides more straightforward than ever.
If it's simplicity you're after, you can't go wrong here.
---
10. Vauxhall Corsa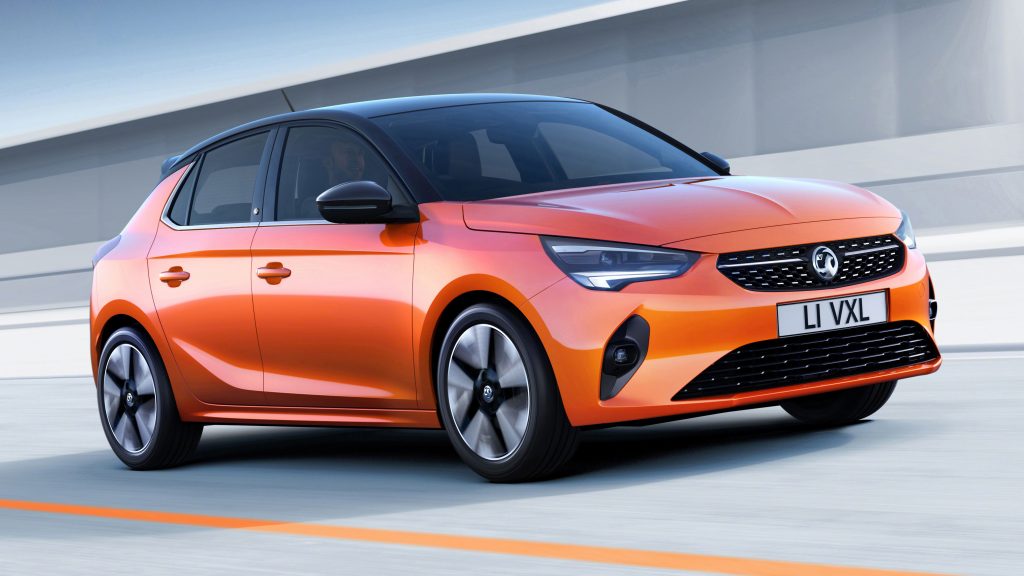 Range: 175 miles
Battery: 45 kWh
Top Speed: mph
0 – 60: 7.6 seconds
Horse Power: 134 hp
Price: £17, 330
The Vauxhall Corsa swooped the title for the value car of the year in the 2021 Motor Awards. Not to mention, owner ratings come in a strong 4.6 out of 5 stars!
Performance is the name of the game here, a true leader of the pack.
You can expect an 80% charged level at just 30 minutes at a 100 kW charging station, with an 8-year free battery warranty and roadside assistance.
This Vauxhall comes with three drive modes and zero carbon emissions.
---
11. Polestar 2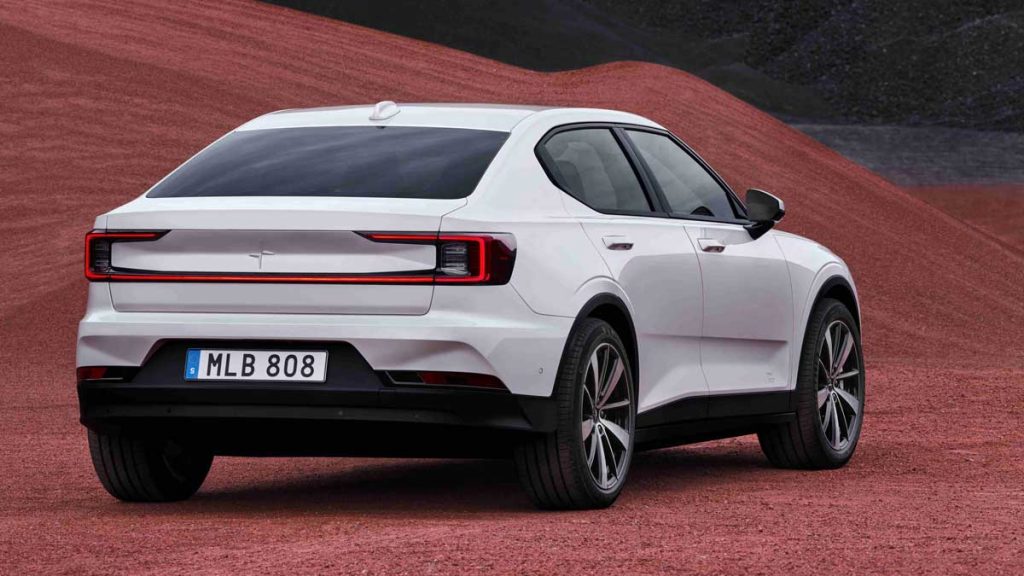 Range: 240 miles
Battery: 69.0 kWh
Top Speed: mph
0 – 60: 7.4 seconds
Horse Power: 228 hp
Price: £41, 900
The Polestar 2 is all about performance in the post-petrol period!
Safety is the name of the game here, with safety assistance (Pilot Assist, Adaptive Cruise Control, camera visibility), inner-side airbags, and protective battery features.
More than that, the car emits recognizable sounds for pedestrians and cyclists while remaining unobtrusive.
The range also comes with optional safety extras, such as the performance pack, including Brembo brakes and Ohlins dampers.
How is that for optimal safety?
---
12. Skoda Enyaq iV (60-80)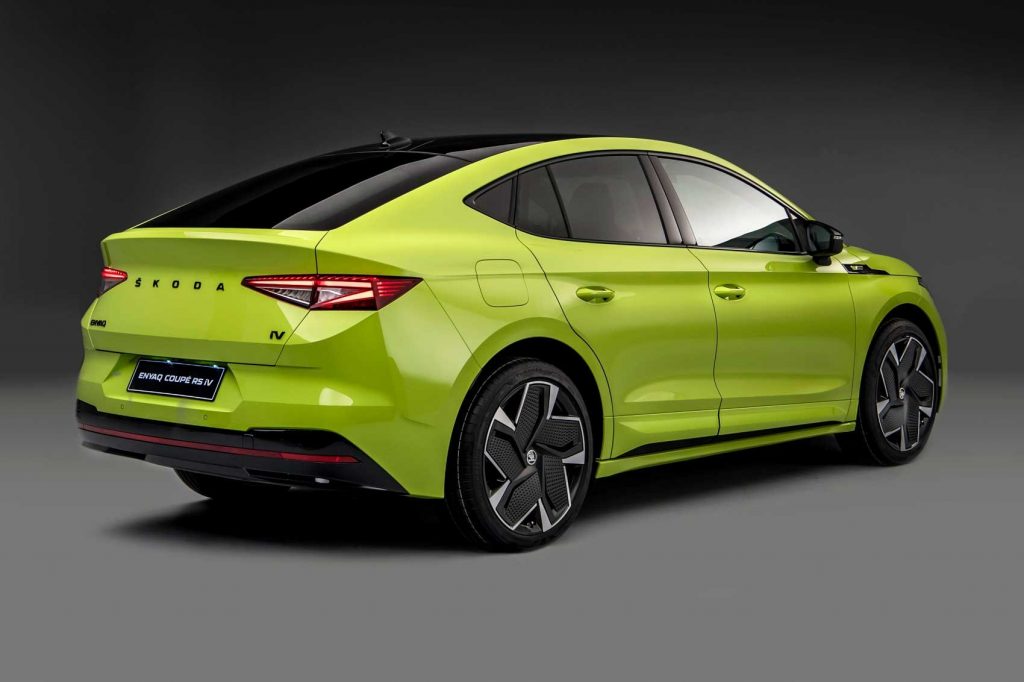 Range: 205 miles
Battery: 62.0 kWh
Top Speed: 99 mph
0 – 60:

8.7 seconds

Horse Power: 177 hp
Price: £34, 850 – 40, 970
In addition to regular electric vehicle car parts, the Skoda offers reliability both inside and outside.
Ambient lighting and a virtual cockpit ensure you experience a calmer drive while enjoying the leather heated multi-functional steering wheel and dual-zone climate control.
This Skoda comes with a 320 A (49 Ah) battery packed with power alongside its safety and driver-assist features.
You can set your speed limit, automate your braking and feel assured with airbag activation control.
---
13. Hyundai Ioniq (All Wheel Drive)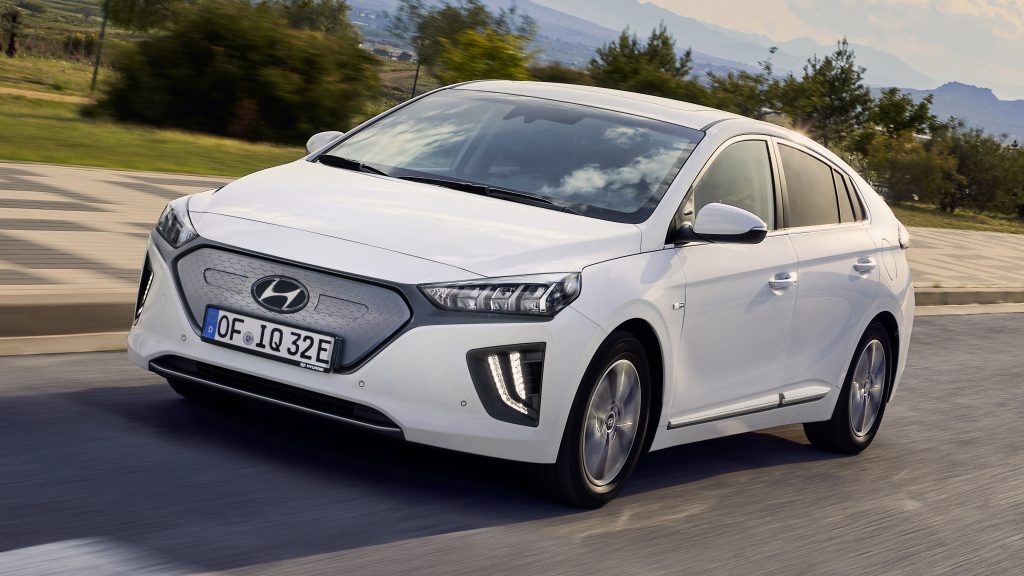 Range: 298 miles
Battery: 40.4 kWh
Top Speed: mph
0 – 62: 5.2 seconds
Horse Power: 134 hp
Price: £32, 050
Want to feel relaxed while driving? Then the all-new Hyundai Ioniq 5 is for you!
This vehicle offers two reclining relaxation seats in front for optimal chill while charging both your car and your laptop.
Safety is a priority, too, and you can be assured of an advanced windshield virtual information display showing you lane departure warnings and surrounded by seven airbags.
But the car is so much more than that —this Hyundai model is innovatively constructed through the use of environmentally friendly materials such as eco-processed leather.
---
14. Honda e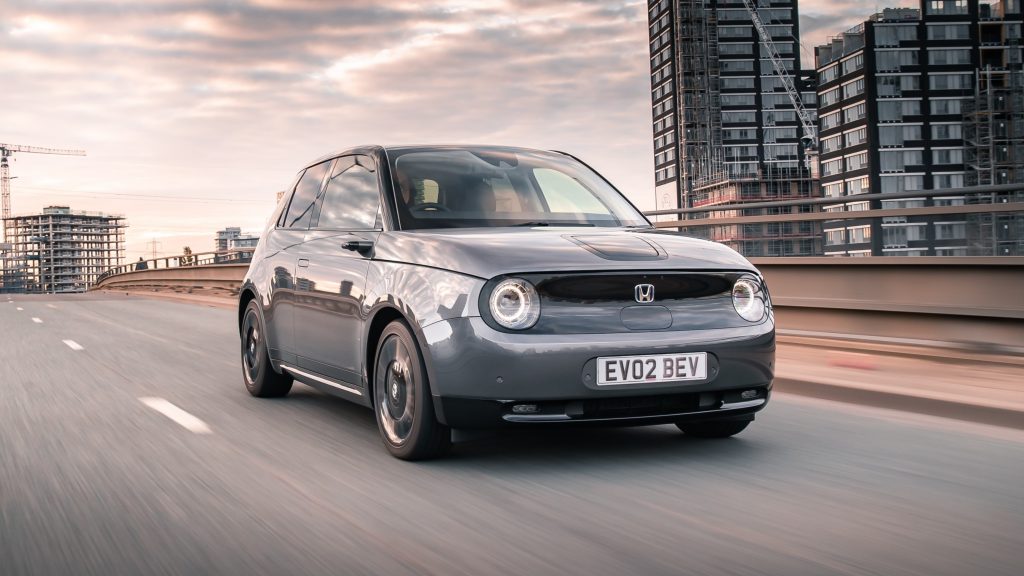 Range: 105 miles
Battery: 35.5 kWh
Top Speed: mph
0 – 60: 8.3 seconds
Horse Power: 134 hp
Price: £34, 365
The Honda e is all about exceptional experience and carbon neutrality.
By speed, we mean fast charging (80% in 31 minutes on a 50 kW charger) and zippy acceleration and deceleration.
This car is all about the future feel with a mobile app incorporated digital key and an array of car functions that you can also control remotely.
Compact class and futuristic feel are what you will find with the Honda e.
---
15. Kia EV6 (Long Range)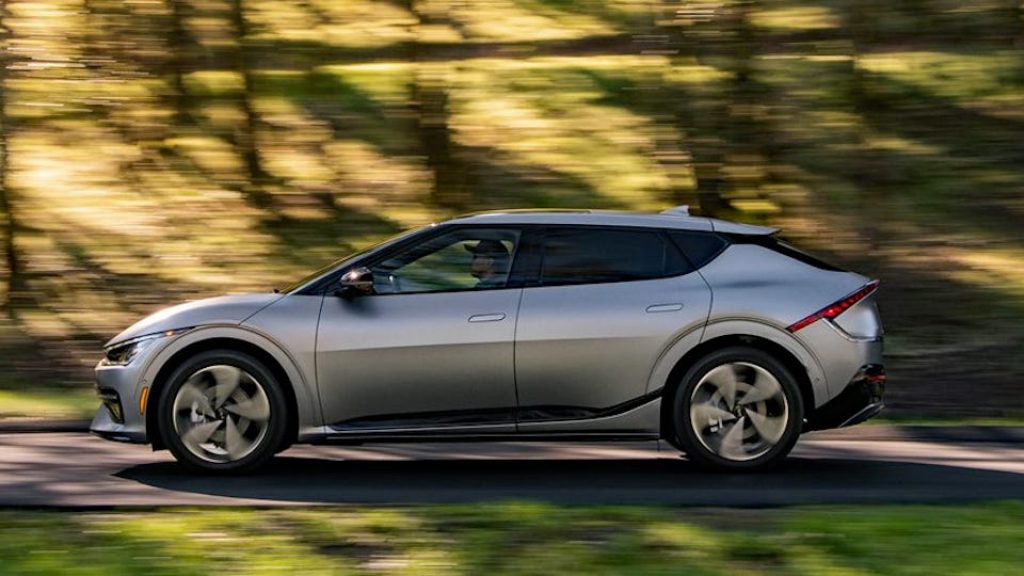 Range: 328 miles
Battery: 77.4 kWh
Top Speed: 115 mph
0 – 62: 7.3 seconds
Horse Power: 225 hp
Price: £41, 695
The Kia EV6 won is an absolute winner. No, literally! This car won the "WHATCAR?" Car of the year awards this year.
Coupled with a 7-year warranty, you will find an all-wheel-drive vehicle with a towing capacity of up to 1 600 kg!
Not to mention the home and public charging capabilities.
A fantastic added feature is the capability to charge your electric bicycle directly from your car. So if you're an avid adventurer, this car might just be the one!
---
16. BMW i4 M50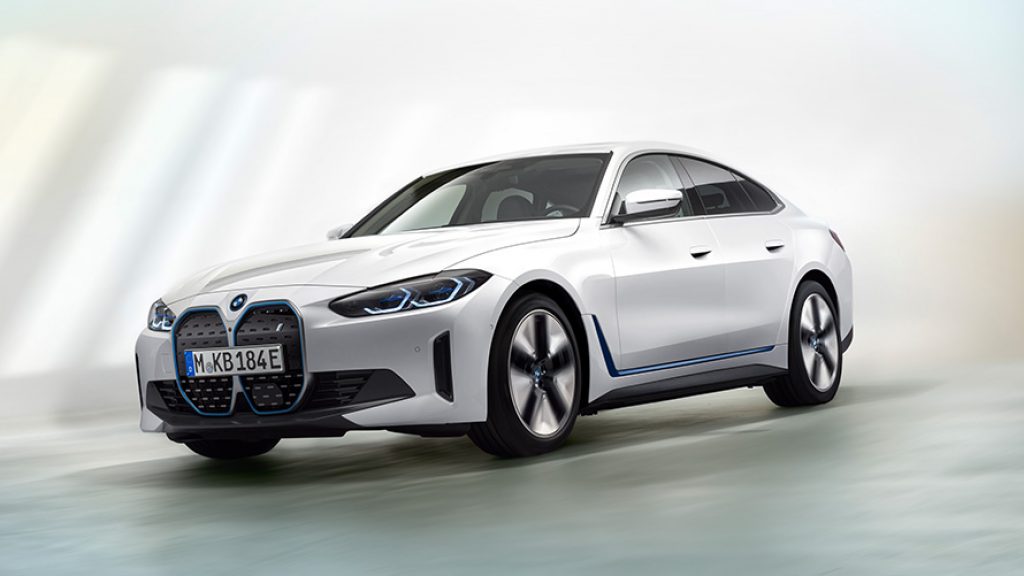 Range: 318 miles
Battery: 83.9 kWh
Top Speed: mph
0 – 62: 3.9 seconds
Horse Power: 544 hp
Price: £63, 905
The BMW i4 M50 is designed with precision and tranquility in mind. This includes the immensely silent ECO PRO mode.
The car's design is based on BMW Drive technology with two powerful motors on the front and back axles.
Sport brakes and a large battery offer you an athletic feel and pleasurable long-distance driving, and safety on wet surfaces.
---
17. Porsche Taycan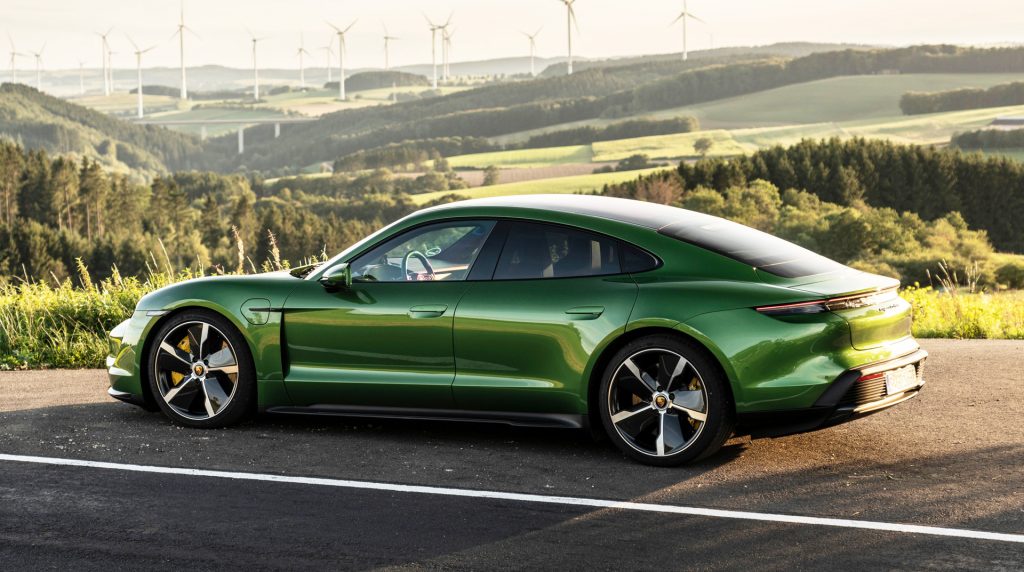 Porsche — engineering at its finest.
The Porsche Taycan comes in a range of model body shapes, but the luxurious feel stays the same no matter what you choose.
In addition to being environmentally friendly, the Porsche Taycan offers many safety features such as ParkAssist and keyless starting. What's more, it comes with driver personalization for ergonomic excellence.
This Porsche model will give you the safety satisfaction you're looking for while securing a sporty feel.
---
18. Jaguar I-Pace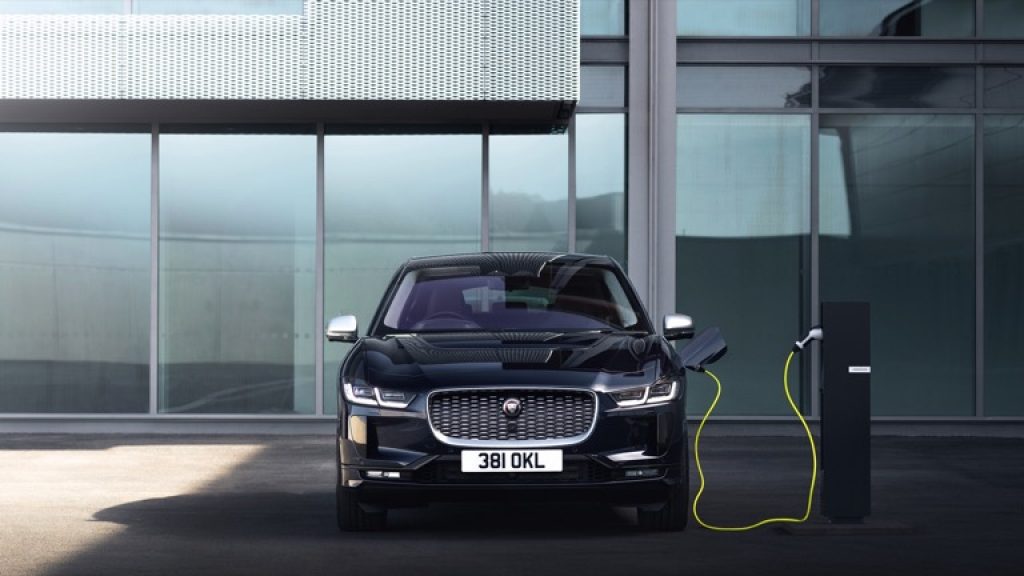 Range: 235 miles
Battery: 90 kWh
Top Speed: 124 mph
0 – 60: 4.5 seconds
Horse Power: 394 hp
Price: £65, 620
When it comes to electric cars in the UK, performance and cutting-edge technology can be expected with the Jaguar I-Pace!
The car is fitted with linkage to the Jaguar Remote App, wireless charging capabilities, Apple CarPlay, and Android Auto.
Coupled with driver assistance perks, including driver condition monitoring, you can be sure to experience performance like no other.
Zero emissions are a point of pride with this car, and you can expect a full charge on a 7 kW AC charger in just under 13 hours.
---
19. Volvo C40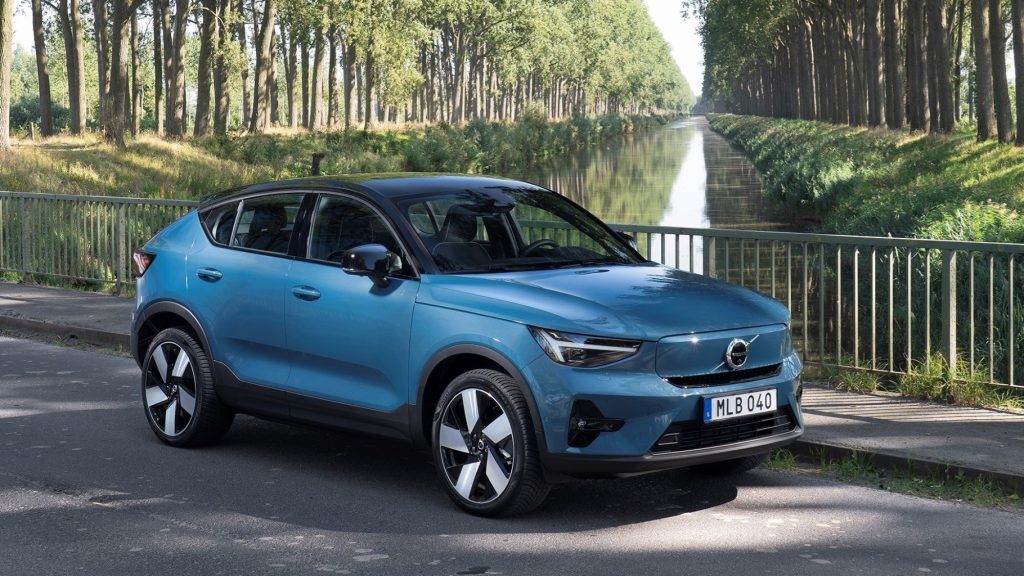 Range: 205 miles
Battery: 69.0 kWh
Top Speed: 99 mph
0 – 60: 4.7 seconds
Horse Power: 228 hp
Price: £44, 800
Volvo's first pure electric crossover is here!
The Volvo C40 recharge simply shouts sophistication in a slim silhouette.
With built-in Google, you can expect a connection to the latest technology and no compromise between speed and safety.
Smooth driving and zero carbon emissions are the name of the game — you can enjoy a sustainable future and ultimate comfort here.
---
20. Mercedes EQS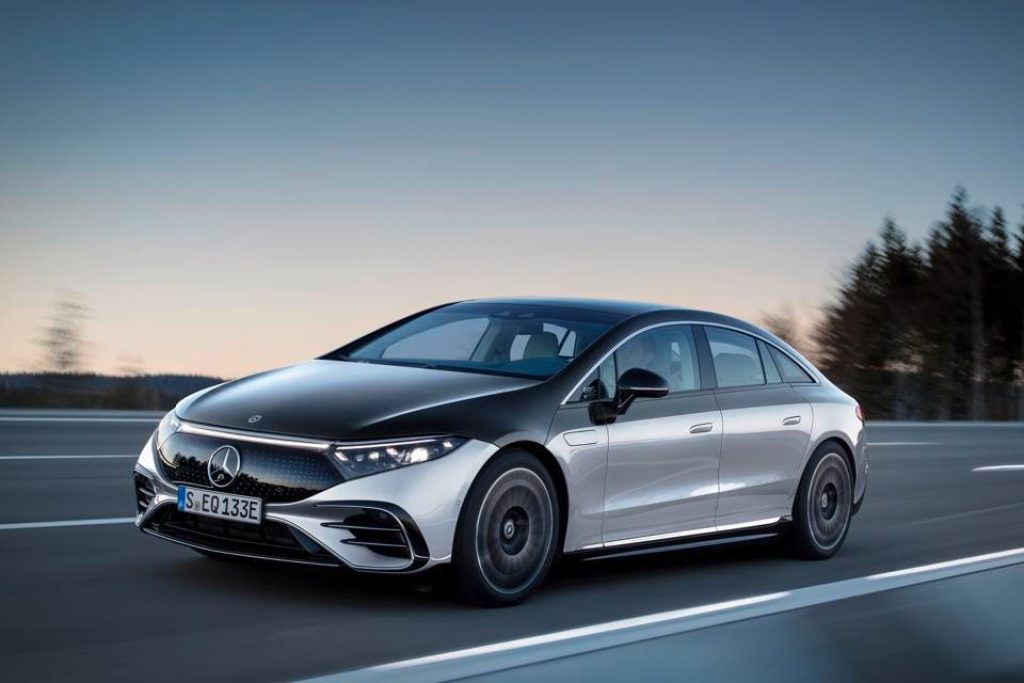 Range: 380 miles
Battery: 120 kWh
Top Speed: 130 mph
0 – 60: 4.3 seconds
Horse Power: 516 hp
Price: £120, 000
Breathtakingly beautiful, the Mercedes EQS is the first of the new sustainability age of electric cars in the UK.
Typical for the make, Mercedes offers the choice of individual options to suit your every need.
This includes a luxury lounge package, and an MBUX augmented reality head-up display.
The Mercedes EV model prides itself on the feeling of being immersed in digitized surroundings while maintaining comfort with the AIRMATIC air suspension and safety with driving assistance and rear-axle steering.
Luxury, comfort, and safety in one!
Click here
to learn more about building your own DIY solar EV charging station!
---
Final Thoughts
So there you have it, the top 20 electric cars in the UK!
Reading about the absolute advanced capabilities of these electric vehicles and the idea of zipping around in a carbon-neutral way is nothing short of inspirational!
You may be figuring out which electric car to buy, or perhaps you simply find yourself exploring what is out there.
Either way, the crucial choices you will take lie with the car that best suits your needs.
Each EV comes with different perks — some with ultimate comfort, others with optimal pricing for their capability.
Whichever you decide to choose, rest assured you are taking strides in committing to sustainable technology and the protection of the planet we call home!
If you want to share your thoughts or ask us a question, please feel free to reach out to us in the comments section below! Alternatively, visit our forum and share your thoughts with us!