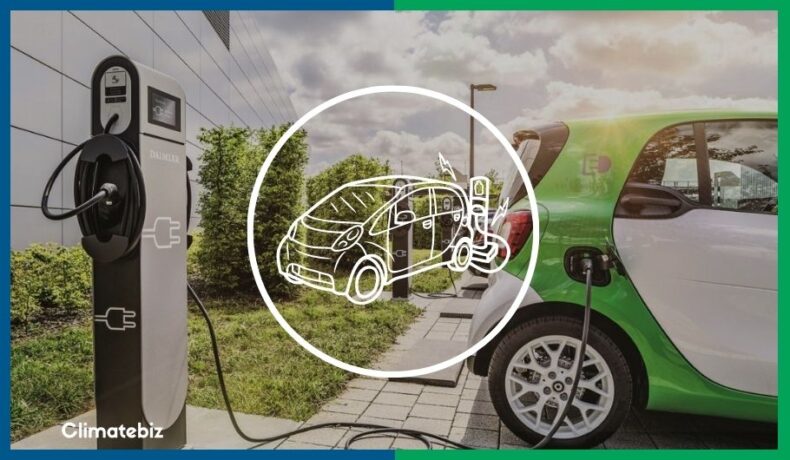 EVs continue to prove themselves as viable alternatives to petrol and diesel cars, but how do EV charging stations compare to the ease of gas pumps?
EV charging stations are becoming more and more available as greater EV adoption is taking place. In fact, the global EV charging station market was reportedly expected to increase 17% from 2020 to 2021 (from 5.8 to 6.8 billion USD), despite the COVID-19 pandemic. By 2025, the market is expected to reach 20.5 billion USD.
What's more, currently in the USA there are over 46 thousand charging points available according to the US Department of Energy.
Let's delve deeper into EV charging stations by understanding how they work and deciding whether or not they're ready for us!
Foreword
Climatebiz experts design, research, fact-check & edit all work meticulously.
Affiliate Disclaimer
Climatebiz is reader-supported. We may earn an affiliate commission when you buy through links on our site.
---
What Is An EV Charging Station?
An EV charging station is a piece of equipment that connects your EV to a power supply. Charging stations are fundamental for EVs, as they are what provide the "fuel" for the vehicle; just like gas stations do for conventional vehicles.
Types of Charging Stations
You'll find charging stations both in people's homes and at car parks. The key difference between home and public charging stations is the type of power that they supply to your EV.
Specifically:
Home charging systems supply AC power. Therefore, your EV will use its onboard AC-to-DC converter to charge the battery
Public charging stations may supply both AC or DC. For higher power charging, charging stations will have a much larger AC-to-DC converters already installed in them. This power bypasses your EV's converter and supplied pure DC power
Charging Station Components
Charging stations consist of various key components which now have standardized names. According to the European Automobile Manufacturers Association (ACEA), these components are:
Vehicle inlet – The socket on the EV which receives the charging power.
Connector – The end of the charging cable which plugs into the EV.
Cable – A flexible bundle of conductors which connect the EV to the charging station.
Plug – The end of the cable which plugs into the charging station. This can vary per region – in the U.S., the plug and socket outlet are permanently connected.
Socket outlet – The socket on the charging station in which the cable is plugged.
Types of EV plugs
Similar to plugs around the globe, EV connectors also have different designs per region. This is generally not a problem for EVs as conventional charging stations will let you use your own charging cable.
However, with DC fast-charging stations, cables are normally fixed because of the power, cable price, weight, and security reasons.
In the image below, you'll see a summary of plug types per region. All plug types are defined according to the IEC 62196.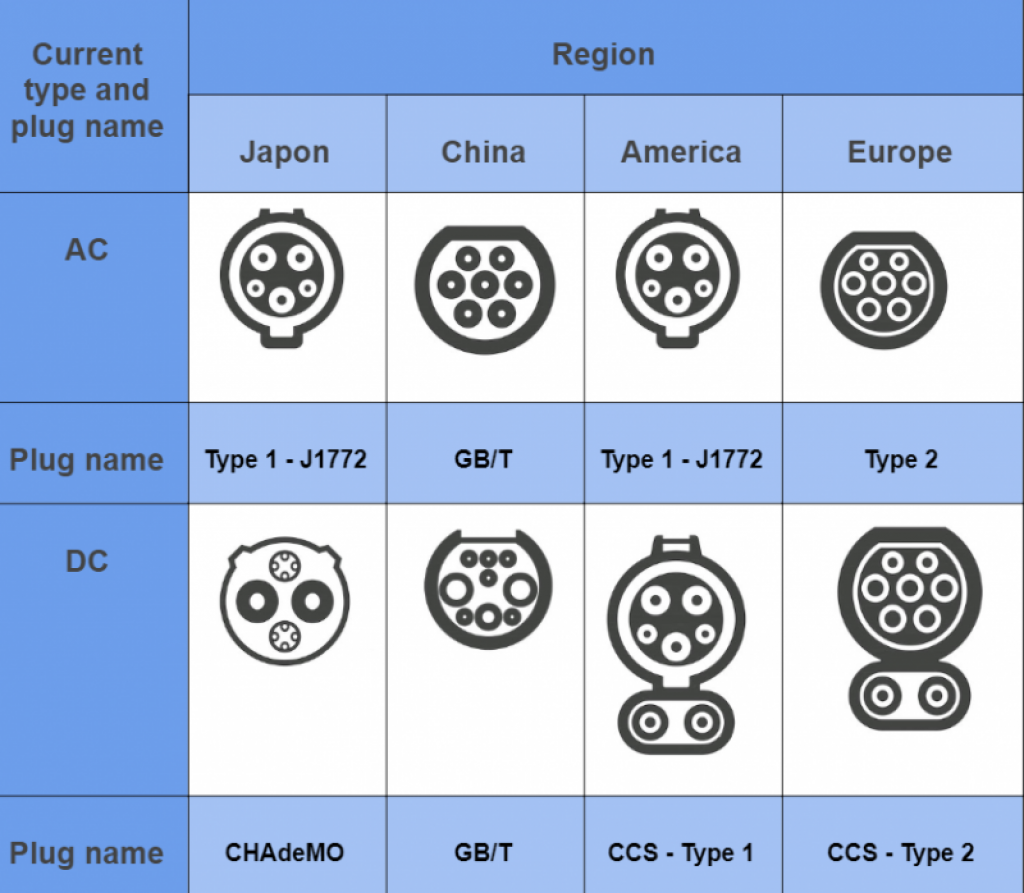 Tesla EVs also have a proprietary charging port in the USA. The Tesla Supercharger is a 480V DC fast-charging station, which can reportedly provide up to 200 miles in 15 minutes.
If you are interested in learning about EV batteries, check out our
dedicated article
.
---
How Does An EV Charging Station Work?
There are three accepted types of charging stations, as seen below. Each level has a different power capacity and thus charging speed. Currently, level 2 is the most common and charges at the same rate as a system found in your home; around the same power as a hairdryer or oven. Level 3 chargers are also referred to as "fast chargers".
| | | | |
| --- | --- | --- | --- |
| | Level 1 | Level 2 | Level 3 |
| Plug power | 120V | 240V | 480V |
| Power type | AC | AC | DC |
| Charging rate | 5 miles/hour | 10-20 miles/hour | 40 miles / 10 minutes. Not compatible with all EVs. |
Comparison of charging levels.
---
How To Use An EV Charging Station
In general, the majority (80%) of charging will take place at home, so it's likely you will use a home charging point. For an at-home charging station, you simply need to plug in your car.
A public charging station would require more checks before using. You would need to:
Determine the charging level – You should aim to use either a level 2 or 3 charging station. Level 2 charging stations are, in general, readily available. Level 3 may be used, but are more expensive; better for when you need a quick top-up.
Check the plug type – This should not be an issue, as these are typically consistent across EVs; unless you have a Tesla and you would need to use Tesla's superchargers.
Check the provider – Charging stations are operated by private companies, local governments or public-private partnerships. You may need a physical card for some, or just use your mobile phone. Many providers collaborate, and stations can be easily found via online maps, such as at PlugShare and ChargeMap. Some users did find issues with public charging stations, such as poor charging station design, charging cables not reaching ports and poor station maintenance.
As mentioned previously, Tesla has their own charging networks, so charging may differ.
---
How Much Does It Cost to Use An EV Charging Station?
As seen in our previous post, charging costs can differ depending on the charging level required and type.
In summary, for at-home charging stations costs can vary depending on charger level/ material costs, connection type, installation, and brand manufacturer.
You can purchase a charging station for your home for between $1,000 and $1,600. Costs for Level 3 chargers are in general greater than those for Level 2.
For public charging stations, there are three pricing models:
Pay as you go – This model depends on time of use, location, length, charger level and commercial electricity price.
Subscriptions – While the majority of EV drivers don't want to get tied down with more regular subscription fees, this is worth studying for your region. According to Electrify America's membership you'd save $0.12 per kWh.
Public charging rates – These rates are established by the host. The site-host may offer free charging to encourage use of their retail stores. In saying this, a "by the minute" approach is typically the most common, or "per session" or "per kWh".
You must also keep in mind that public charging stations can charge idle fees, which range from $0.40 to $1.30 per minute.
If you're wondering whether an at-home station or use of public stations would be better – it's vital that you install an at-home one.
However, public stations are great for on-the-go charges.
Additional info
: If you're looking for a comprehensive guide that compares the public EV charging networks, check out
My EV
.
---
How Do EV Charging Stations Make Money?
EV charging stations generally make money according to the previously described business models. The profit EV charging station providers can make also depends on the region and demand.
A survey from E Source found that EV owners were willing to pay up to $3 per hour of charging. 12% were willing to pay up to $4 per hour – despite costing only $0.75 at home. Additionally, 7% of EV users stated that "price did not matter" when they needed a charge out and about.
There are however many free charging stations available as seen via PlugShare. These free stations are available in general as some stores want to entice EV users (and make them stay longer). Also, some cities may provide free EV charging facilities to further support reduced pollution.
---
Which States Have the Most EV Charging Stations?
In the United States, California is by far the state with the most charging stations available, followed by New York and Florida.
It should come as no surprise that California is leading in this regard, given they are also leading the number of EV sales. In fact, plug-in EVs account for around 8% of vehicle sales in 2018.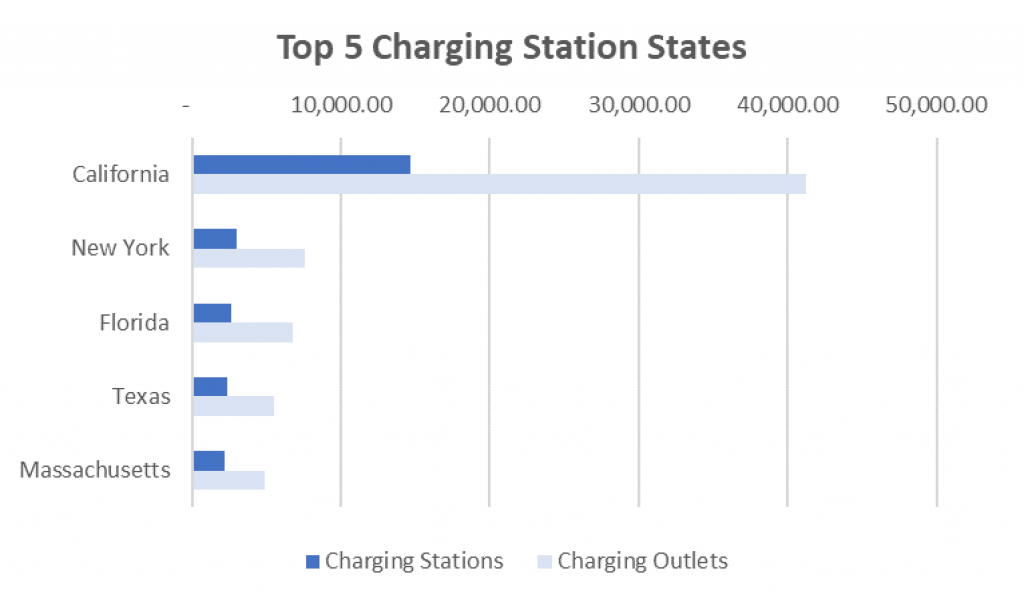 ---
Are EV Charging Stations Safe?
Safety is of paramount importance for the use of charging stations, so users must be aware of the potential safety hazards.
Fire
Fire is the primary hazard for charging stations. The key fire hazard is due to outdated electrical wiring and power supplies within the building where the charger is installed. Thus, it is essential that the building meets the charging station's technical requirements.
Without the proper electrics, the charger could overheat and cause a fire. Some EV chargers may have a temperature sensor to detect overheating.
Ground Fault Circuit Interrupter Failure
Standard EV charging stations are connected to their power source via a GFCI, in order to prevent electrical shock occurrences. However, reports have revealed a 57 percent failure rate for GFCIs, around the globe. Reasons for this are understood to be associated with lightning, age, wear, and ineffective inspection policies.
Note: It is important that you speak with your home provider on these topics, so you may better understand and prevent any risks.
How do Tesla cars work? Learn about the science in
this article
.
---
How Reliable Are EV Charging Stations?
Charging station reliability is key as EVs continue to gain support.
Reliability is a key factor for even the most environmentally committed users. In a 2019 survey, three of the four top reasons for not converting to EVs were found to be related to reliability: how long can an EV go without recharging, lack of station availability, and recharge time.
Generally, limited user satisfaction has been found in this regard. If you were to undertake a road trip you would need to use various providers' charging stations, having to mix between payment and charging methods. Thus, you would need to be a member of various charging networks and have to sign up to them prior to your trips (you can't just sign up on the spot). Think of it as having to have a different payment card for each store you go to.
On the other hand, Tesla does seem to be leading user experience and also claims that "The chances of not being able to charge at any location at any given time are close to zero".
Tesla's DC network is currently the world's largest fast-charging network. Additionally, almost all of the Supercharging stations globally had over a 50 percent daily capacity fully functional all year round. Moreover, Tesla chargers are some of the easiest to use, given that users just need to plug-in.
This topic is one we must pay attention to, as it could either get much better or be confusing. Rivian, an upcoming name in the EV space (backed by Amazon), has not stated that its charging stations will be "initially" only open to Rivian customers. From a social perspective, this could rather complicate charging experiences for other brand users.
---
EV Charging Stations Problems & How to Fix Them
Let's run through some typical EV-related questions that you may have.
Key questions that may arise with your EV may be:
Will I Have To Wait Around For My EV To Charge?
This is very unlikely, given that cars are on average parked for 95% of the time, so when parked they should be charged (for example overnight).
What If I Can't Find A Charging Station?
On average, 80% of charging takes place at home, so day-to-day this should not present itself as an issue.
Can I Use Any Charging Station?
In general, yes, unless you have a Tesla. But you need to check whether or not you need to sign up before use. Make sure you also check that you have the right plug for the station (for Level 2 and Level 3).
Can I Charge My Car For Free At Public Stations?
In some places, you can charge your car for free. You can check here for stations.
---
Final Thoughts
While EV charging may not offer the same ease as gas pumps just yet, the technology is very developed for current EV users. Just make sure that before you travel around, you have done your research on which stations you can use and their types (such as plugs and levels).
Your best bet is home charging. While this may have a high initial investment, it is absolutely necessary and cheaper in the long term compared to fossil-fuel-based cars. Level 2 charging stations are, in general, readily available. Level 3 may be used, but are more expensive; better for when you need a quick top-up.
Keep in mind parking in cities, as parking may already be an issue and charging station reliability still needs improving.