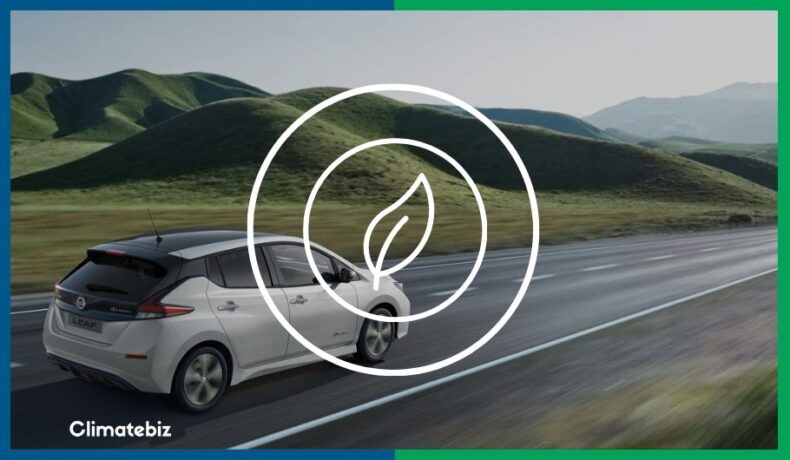 The Nissan Leaf's range has come a long way since its original launch in 2010!
What started as a very basic model, the ugly duckling of Nissan Leafs, if you will, has now been coined as Nissan's leading environmentally-friendly family car, and that it certainly is.
This EV line comes with a range of mileages, an affordable price listing, and various charging capabilities.
Sit back, relax, and enjoy your coffee — you're about to learn everything there is to know about the Nissan Leaf's range today!
Foreword
Climatebiz experts design, research, fact-check & edit all work meticulously.
Affiliate Disclaimer
Climatebiz is reader-supported. We may earn an affiliate commission when you buy through links on our site.
Nissan Leaf's Range Explained
Nissan commits to a comfortable drive with a zero-emitting breath of fresh air across all their Leaf models.
But did you know that there are five variations of the Nissan Leaf electric vehicle model?
They might all look the same, but don't let yourself be fooled; each of these models varies in battery capacity and price and offers a difference in mileage
Let's take a closer look at what is on the market.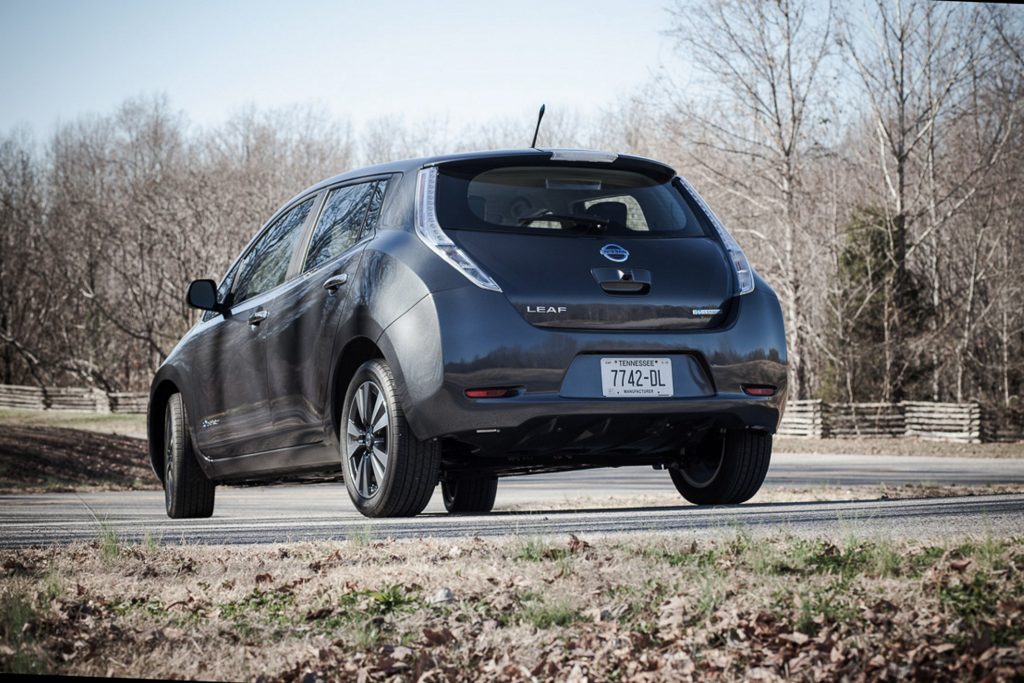 | Nissan Leaf Model | Battery Capacity | Starting Price |
| --- | --- | --- |
| Nissan Leaf S | 40 kWh | $27,400 |
| Nissan Leaf SV | 40 kWh | $28,800 |
| Nissan Leaf S Plus | 62 kWh | $32,400 |
| Nissan Leaf SV Plus | 62 kWh | $35,400 |
| Nissan Leaf SL Plus | 62 kWh | $37,400 |
Components of the Nissan Leaf model ranges
The cheapest Nissan Leaf is the Leaf S and Leaf SV, coming in with a battery capacity of 40 kWh.
Next up are the Nissan Lead S Plus, the SV Plus, and the SL plus.
These models will have you spend $32,400-$37,400 and come with a 62 kWh battery capacity.

---
How Many Miles Will A Nissan Leaf Do On A Full Charge?
You may think that mileage is directly dependent on kWh per Km (or a mile in this case), but the truth is that several factors influence what you can expect from your Nissan Leaf.
Here is the average Nissan Leaf's range (by model) in calm and clear weather conditions:
| Nissan Leaf Model | Average Range |
| --- | --- |
| Nissan Leaf S | Up to 150 miles |
| Nissan Leaf SV | Up to 150 miles |
| Nissan Leaf S Plus | Up to 226 miles |
| Nissan Leaf SV Plus | Up to 215 miles |
| Nissan Leaf SL Plus | Up to 215 miles |
Table depicting the average range per Nissan Leaf model.
---
Nissan Leaf S
The Nissan Leaf S gives you up to 150 miles on a fully charged battery.
Meaning you can comfortably travel from Dallas to Beverley Hills in no time!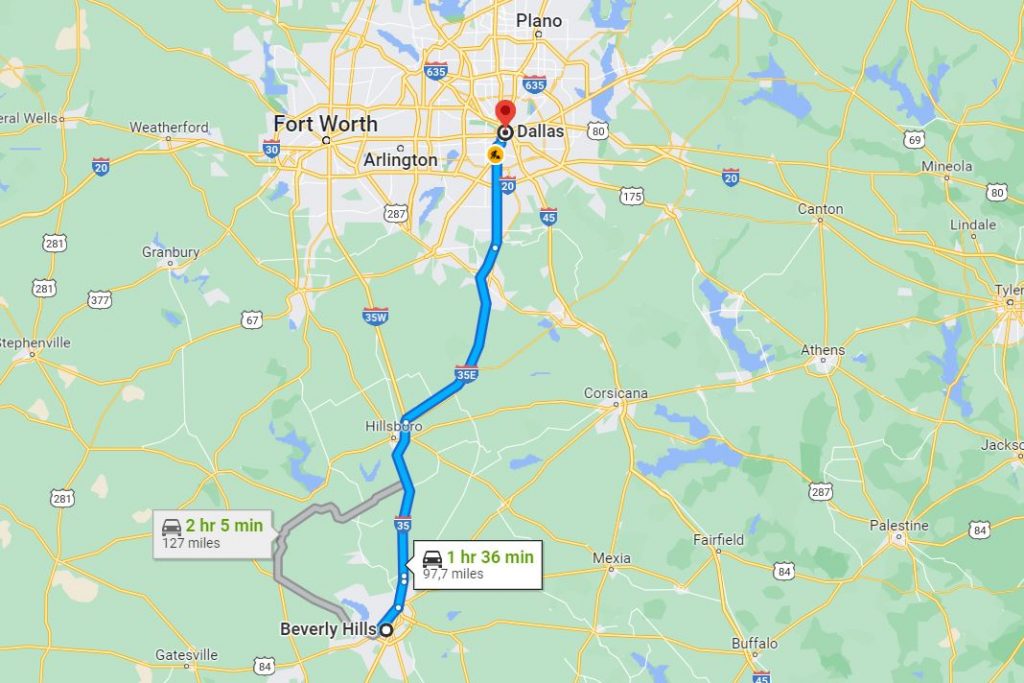 ---
Nissan Leaf SV
The Nissan SV offers you a promising 150 miles from your full charge — Atlanta to Columbus; here we come!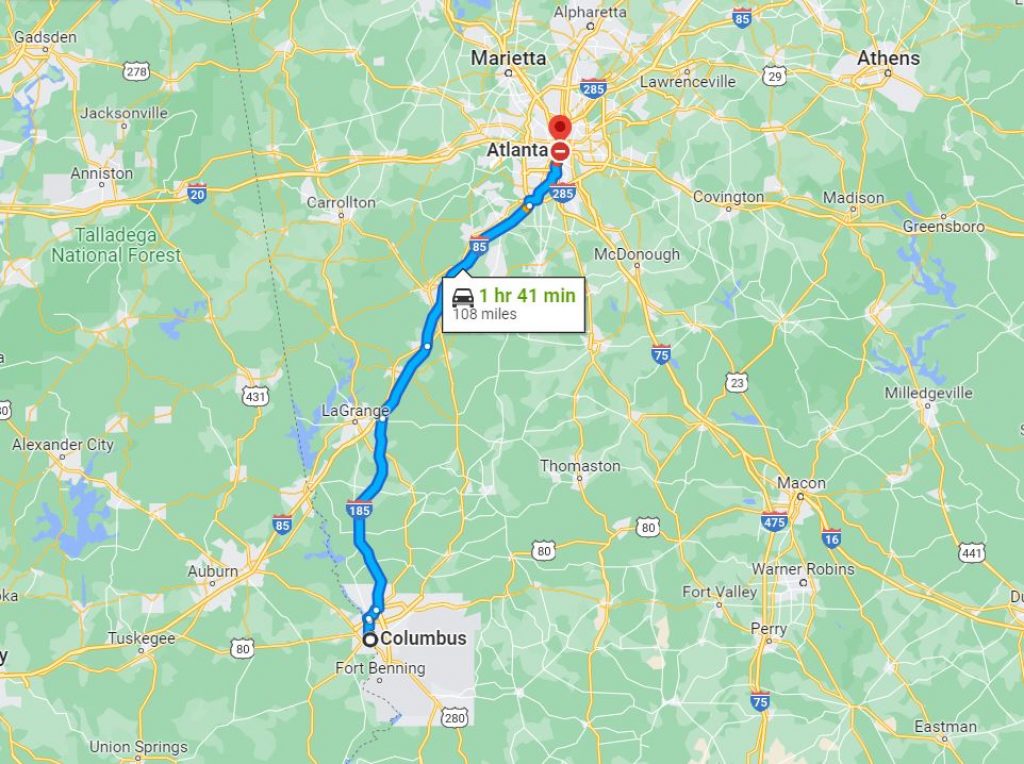 ---
Nissan Leaf S Plus
Thinking of traveling between Jacksonville and Tampa, Florida? Well, the Nissan Leaf S Plus provides you with 226 miles capable of doing just that!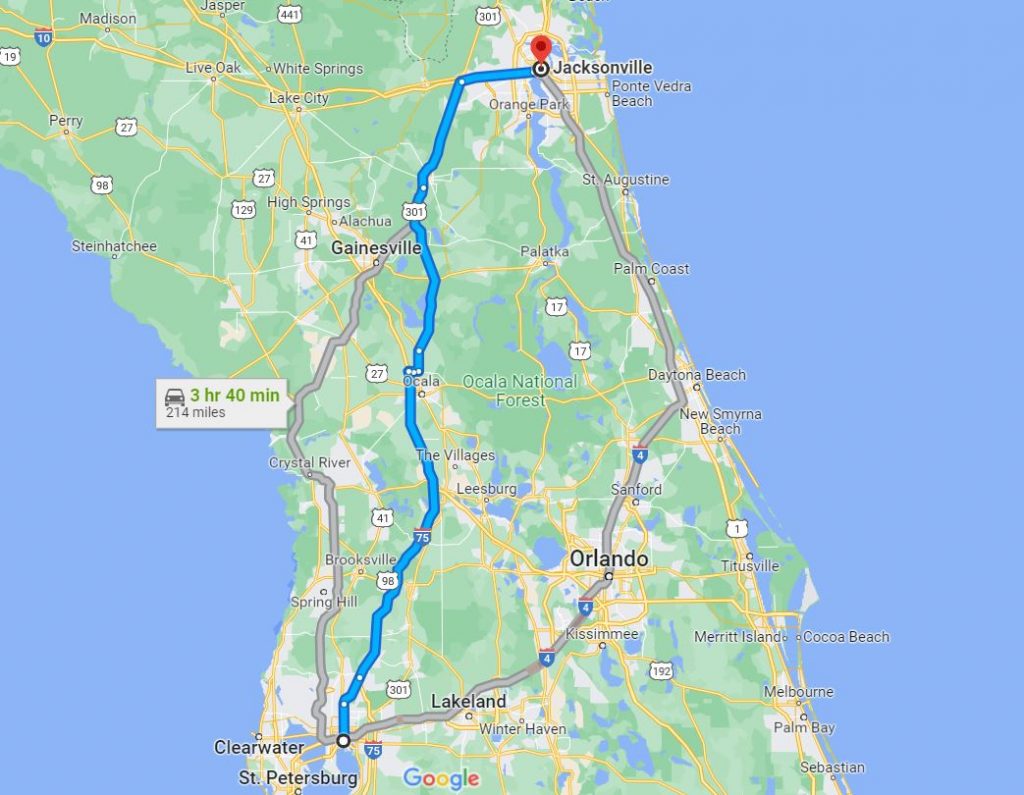 ---
Nissan Leaf SV Plus
With a range of 215 miles, you can be sure that the Nissan Leaf SV Plus will take you where you need to be.
Perhaps this is the time to take that long-standing vacation you've promised yourself for the last year!
How about traveling from Portland to Seattle? You could even stop for a visit at the Gifford Pinchot National Forest along the way!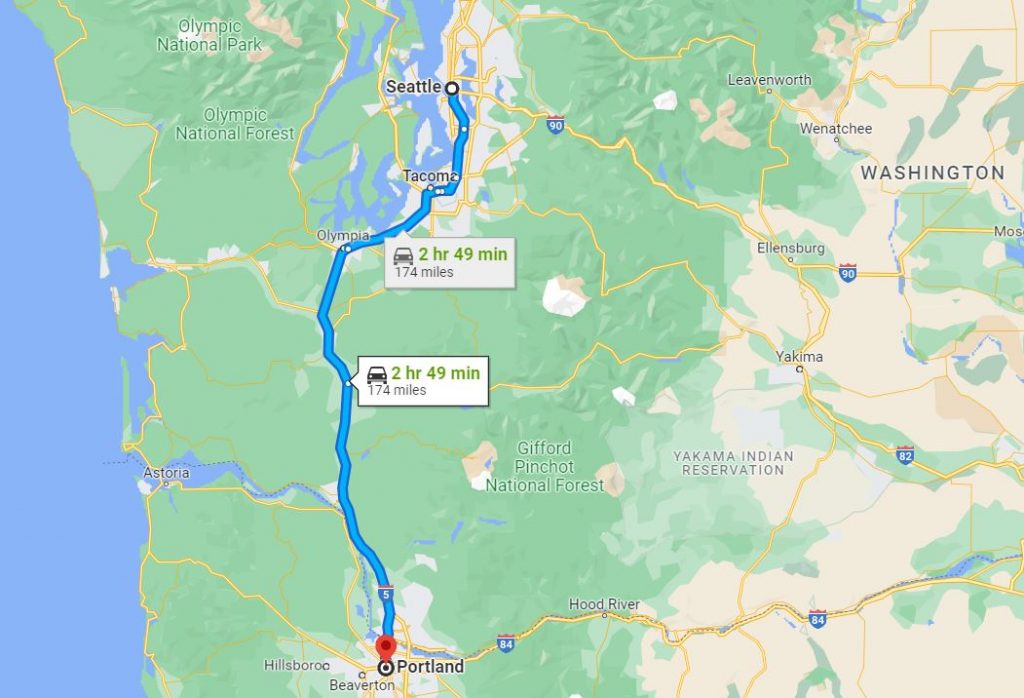 ---
Nissan Leaf SL Plus
Like the Nissan Leaf SV Plus, the Nissan Leaf SL Plus offers a sturdy 215 miles.
With this range, you can comfortably find yourself traveling between Minneapolis and Rochester in one go.
Yes, you read correctly — without needing to charge once!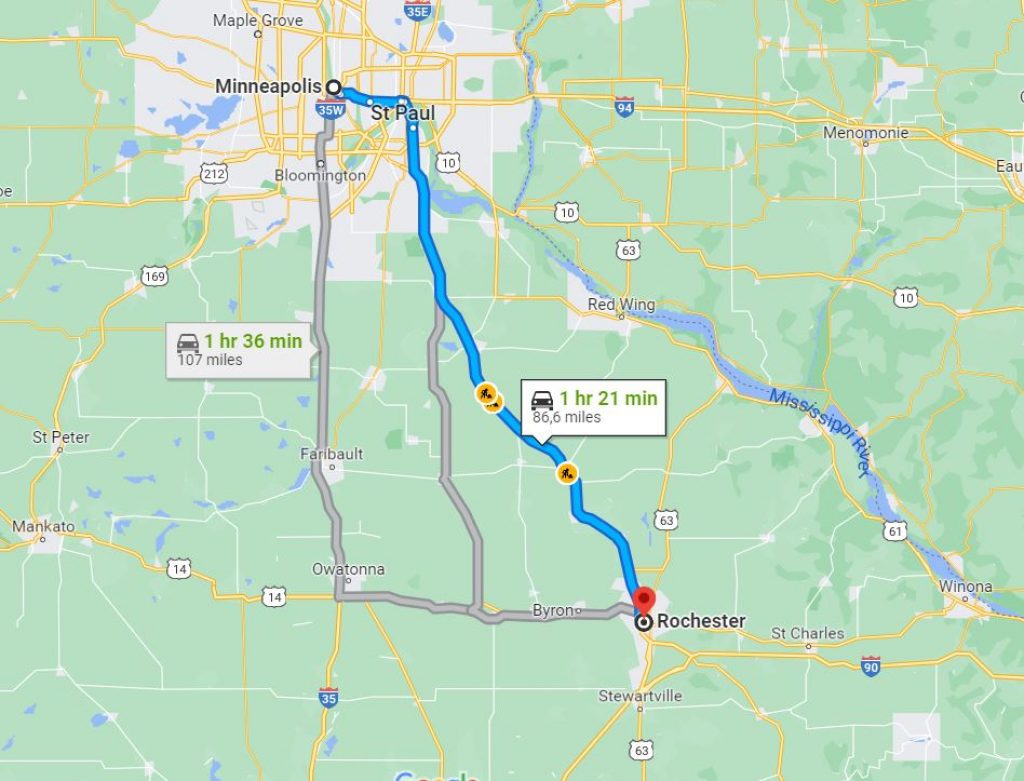 All in all, it's safe to say that the Nissan Leaf sure can take you places!
---
Which Nissan Leaf Has The Longest Range?
The Nissan Leaf S Plus is the model with the longest range, giving you around 226 miles from a full charge.
Coming in second place with 215 miles are Nissan Leaf SV Plus and Nissan Leaf SL Plus.
The Nissan Leaf S and Nissan Leaf SV tie for last place, offering you a solid 150 miles.
---
Is A Nissan Leaf Good For Long Range?
In general, the Nissan Leaf's range is pretty decent, but it is very much model-dependant
---
In Comparison
While the Nissan Leaf S Plus can give you up to 226 miles, it doesn't come nearly as close as its Tesla competitors, which offer you over 100 miles more.
We think it's safe to say that the Nissan Leaf is better suited to medium-range return trips of around 100 miles away.
Unless, of course, you have guaranteed charge facilities along your way to your long-range destination. In that case, there is no reason that you can't take a "Leaf of faith" over a long distance!
---
How Can I Extend My Nissan Leaf's Range?
So you can't control the weather conditions, and you certainly can't control the micro-movements you make as you drive, but you can control a few aspects that may extend your range a little more.
Here's what you can do that'll make a difference:
Use what is in front of you! Yes, the dashboard. A great tip is to use your dashboard for driving guidance.
Be aware of the temperature conditions. Excessive heat can compromise your EVs battery, so park it in the closest shady spot.
Embrace your e-pedal. Your e-pedal is designed to help you accelerate and slow down in the best possible manner for your most efficient drive. Using it might help conserve a few extra miles on your charge.
---
Can You Plug A Nissan Leaf Into Any EV Charger?
Charging your Nissan Leaf correctly is mission-critical!
It might seem like a lengthy process to charge your EV, but the good news is your Nissan Leaf isn't necessarily limited to one type of charger! In fact, charging time ranges across many options.
But before getting to where you can charge your Nissan Leaf, let's look at the three chargers you can use.
---
120 V Standard Outlet
The Nissan Leaf range comes with a 120 V charging cable that you can plug into a standard 120 V outlet plug for a slow but secure charge.
---
240 V Home And Public Charging
You can use a 240 V home charger as a faster charging point to restore your battery to full.
With over 30,000 of these publicly available in the US, this is a suitable public charger for your Nissan Leaf when you're EVs in need of a boost.
---
480 V Public DC Quick Charger
The 480 V DC Quick Charger is perfectly suitable for rapid recharge in a public parking lot.
These chargers are available across the country, and you don't have to worry about compatibility here.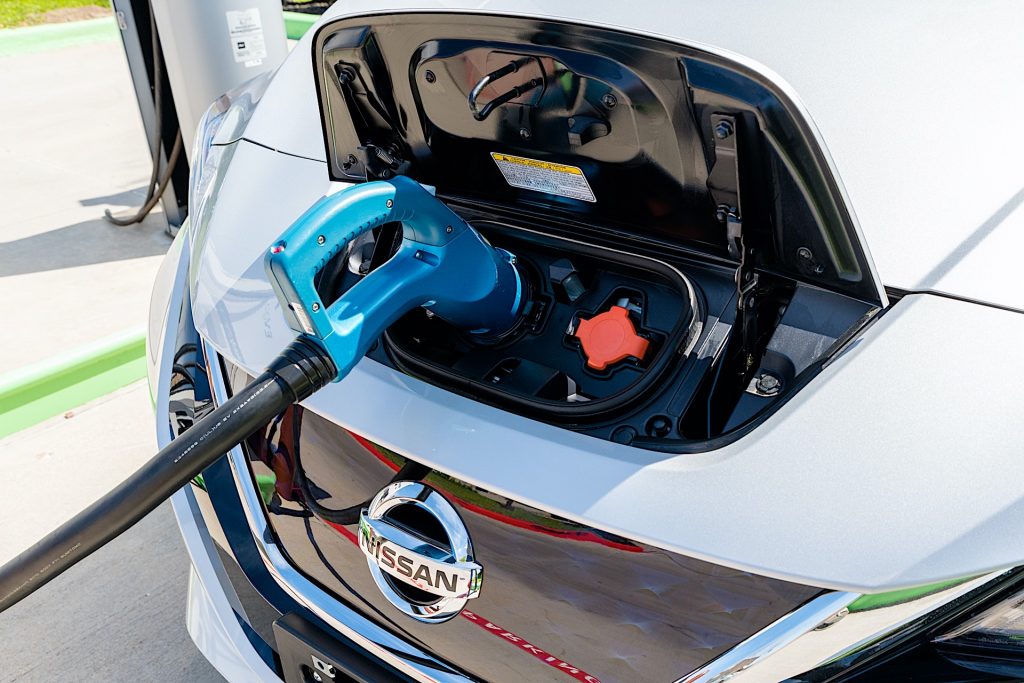 ---
Can You Charge A Nissan Leaf In Public And At Home?
Although charging an EV in public is often easier and better understood, you can most certainly charge your Nissan Leaf at home!
There are three types of charging when it comes to the Nissan Leaf.
---
Level 1 Charging
This type of charging is most often done at home.
A level 1 charger is portable and doesn't need specialized installations.
They use the standard 120-volt outlet and can utilize standard AC power from a three-point plug with a 15 amp circuit in the comfort of your own home.
Level 1 charging is the slowest option taking, on average, about 2.5 days to reach a full charge.
---
Level 2 Charging
Level 2 charging is an excellent option for charging both in public and in the comfort of your home!
Should you choose to charge at home, you'll need a 220-240 V, a 50 amp circuit, and the installation of specified charging equipment.
A little more complicated compared to level 1 charging; however, there are over 35,000 public chargers available in the United States for your convenience!
You can expect 8-11.5 hours to reach full charge with Level 2 charging.
---
Fast Charging (Level 3 Charging)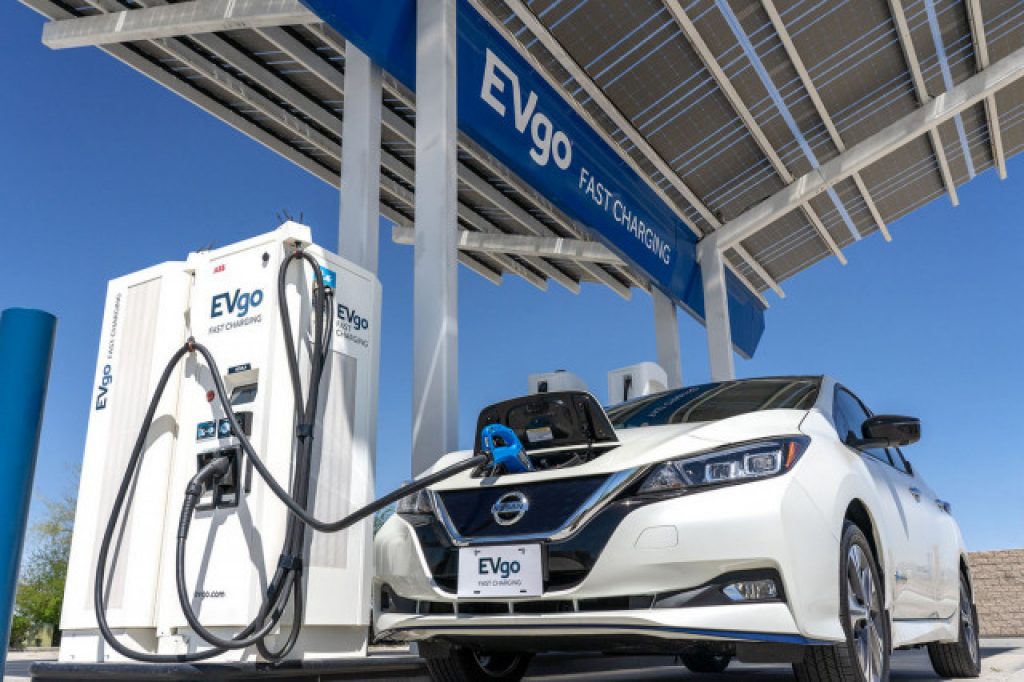 Fast chargers are only available in public and not at home.
Here you can expect a boost of 80% battery charge in half an hour! To reach a full charge, you can expect a charging time of 60-80 minutes.
Level 3 charging is only compatible with specific types of electric cars, but thankfully most of them are indeed compatible with the Nissan Leaf range.
Buying an electric vehicle is worth it, no matter where on the globe you might be!
---
What To Do If Your Nissan Leaf Runs Out Of Battery
Battery life is possibly the most critical factor in getting you from A to B!
Thankfully, when your Nissan Leaf's battery starts running low, the car will warn you with a pop-up turtle warning light on your dash, going into "crawl mode."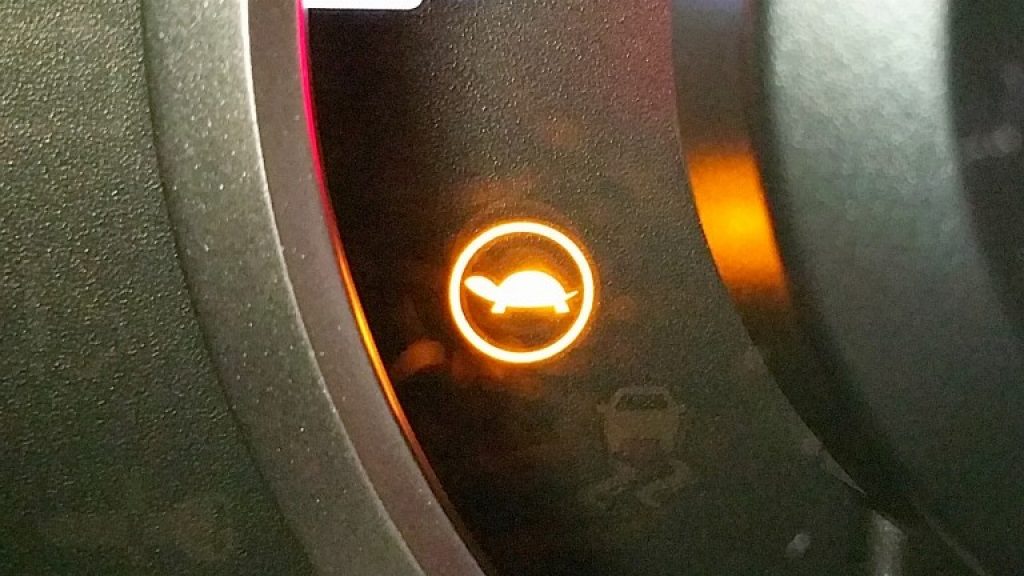 This means that your car will slow down for you to preserve whatever battery life is left.
However, there's absolutely no need to panic if this happens. Simply turn on your signal light and pull off where it's safest. From there, you'll need to call a friend or roadside assistance and have your car towed to the nearest charging point (or your charging point at home).
A word of warning: try not to make this a regular occurrence, as allowing your battery to fully discharge regularly reduces its performance in the long run.
---
Final Thoughts
After reading this, you can firmly beLEAF (we couldn't resist) that your Nissan Leaf will take you where you wish to be!
Whether it's from A to B in your city or a longer trip such as a well-deserved vacation you've been putting off for ages — you can rest assured that your zippy EV is more than capable.
But before you decide on which one to buy, consider what you truly need from the vehicle.
Analyzing the cost, battery capacity, mileage, and charging points available to you will take you one step closer to where you want to be!
If you want to share your thoughts or ask us a question, please feel free to reach out to us in the comments section below! Alternatively, visit our forum and share your opinions with us!