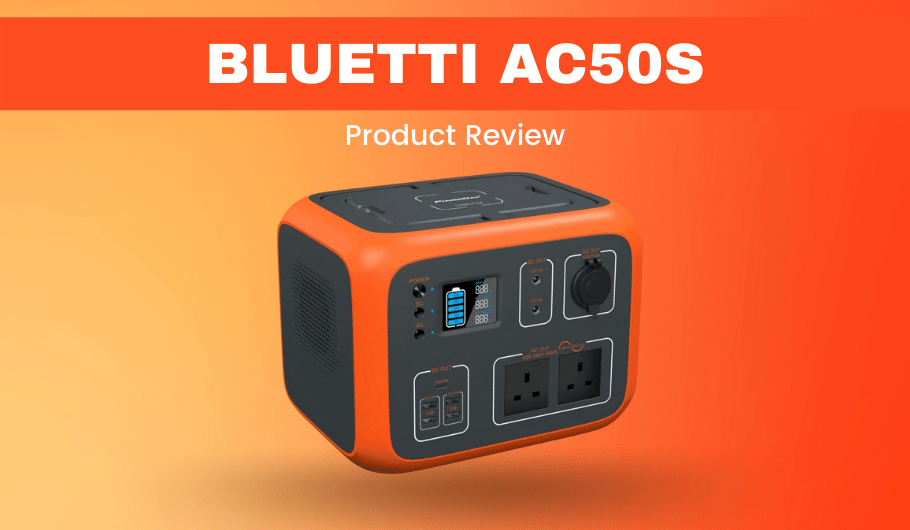 Please note
Our reviews are not endorsed by any third parties, meaning we do not get paid by anyone to review this product. For this reason, you can trust our reviews to be unbiased, objective, accurate, diverse, and fair. All products are tested for 2 weeks before being reviewed.
Bluetti AC50S Review
The compact design of the Bluetti AC50S makes it the ideal solar generator for campers and RVers going on short weekend trips.
Positives
Compact and portable
Easy to operate
Simple setup
Pure sine wave inverter
MPPT Charge controller
Negatives
Handle feels flimsy
Our version had a faulty 12V seal
Buttons don't feel secure
AC50S Technical Details
Capacity
500Wh/300W
Cycle Life
1000+ Cycles
Cell Chemistry
Lithium
Dimensions
259.5 × 191 × 196mm
Weight
13.6lbs
Colors

●

●

●
Warranty
2 Years
Bluetti AC50S Full Review
The Bluetti AC50S was shipped to us with the SP120 solar panel. First impressions, the packaging was robust, and I was thankful that both the panel and generator were boxed together.
Upon removing the products from their packaging I was quite surprised with the overall weight, it felt heavier than I'd anticipated, especially with the AC50S being one of their smaller solar generators.
However, once the product was completely free from its cardboard shell the true weight became apparent. It was just the right weight. Definitely too heavy to take hiking, but perfect for camping trips.
I immediately lifted up the two top handles to test them out, as it isn't the most comfortable carrying the AC50S (or pretty much any square object with weight) like a box.
My first thought upon lifting the handles was: rickety.
The handles seemed somewhat frail for being the main thing responsible for ensuring that your device makes it safely from a to b.
However, it is worth noting though that after some time of testing, the handles have held up quite confidently and for us have not been any cause for concern.
---
Materials and Aesthetics
I ran my hand over the top of the AC50S and down the side. The first feature that stuck out in terms of touch, was definitely the orange silicone finish. It gives the generator a feeling of quality craftmanship.
Moving on to the shape, I think Bluetti did a great job in shaping the AC50S. It was perfect to pack away neatly into the trunk of my car and allow other camping gear to fit around it nicely.
What Can The Bluetti AC50S Power?
Bluetti states that the AC50S can power the following items:
Mobile
Laptop
Camera
Drone
Projector
Mini-cooler
Bluetooth Speaker
Lamp
CPAP Machine
With that being said, we decided to put the product to the test and see if their claims met up with reality. For the test, we decided to see how many times the Bluetti AC50S could recharge the DJI Mavic Air 2 Drone.
These were the results: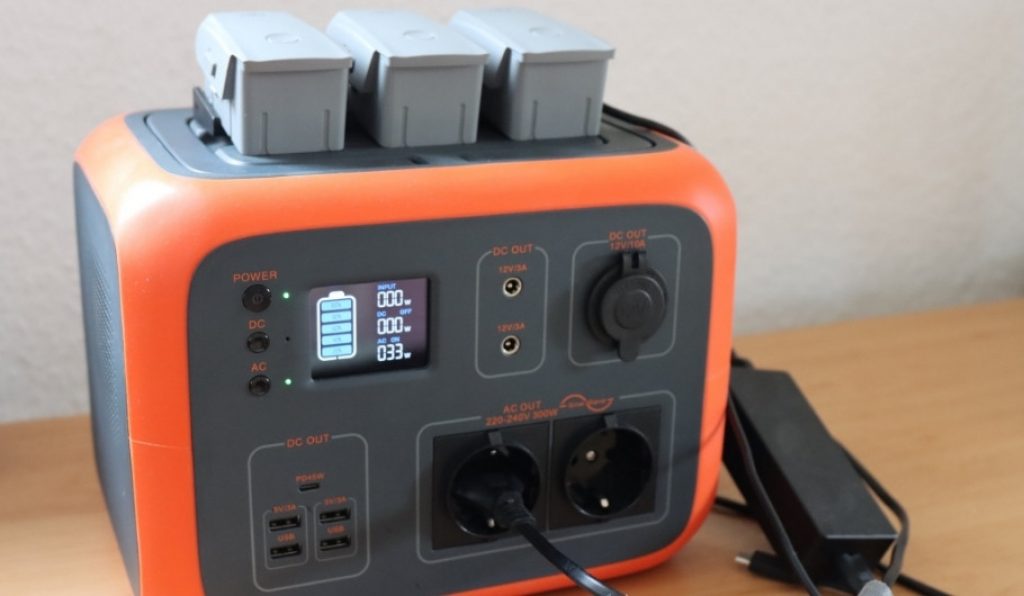 I started charging the DJI batteries at 3:00 pm, as you can see, the generator is at 100% capacity and charging each 3500mAh battery (individually) between 33 – 39 watts.
(Please note, the batteries are not being charged through the touchpad charging at the top, but are rather just being placed there for ease of use.)
After one full round of charging (that is 3 DJI Mavic Air batteries), the AC50S was sitting at 80% capacity.
In total, we charged our Mavic Air 9 times, that is 3 rounds of charging 3 batteries at a time. Right now the AC50S is sitting at 40% capacity!
It should be known that with each drone flight we never drained the batteries 100% (too risky). Instead, we had them down to 13% each time.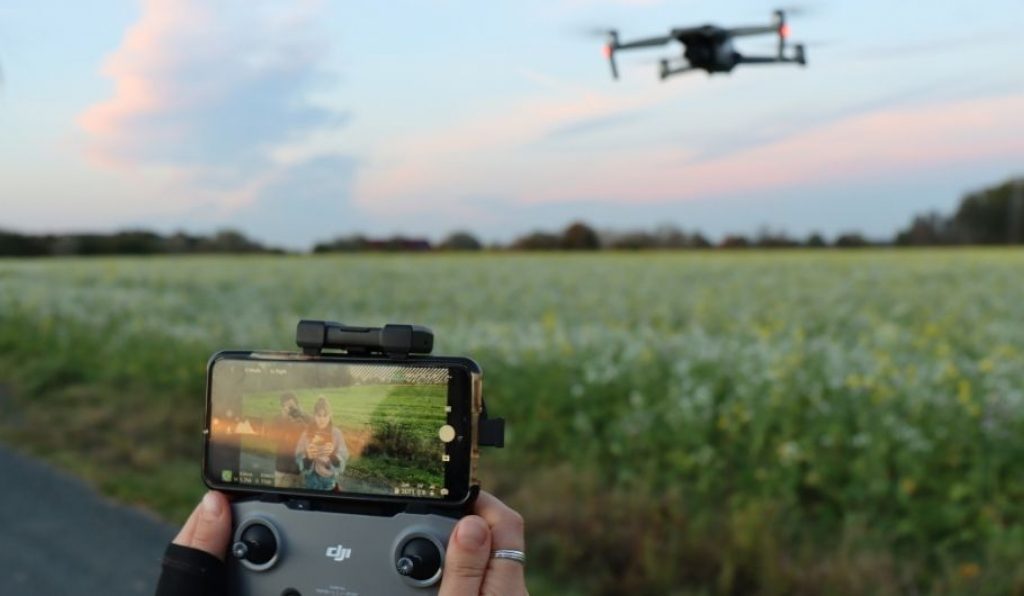 Regardless, the fact that the AC50S is still at 40% capacity is quite amazing in our opinion. Nevertheless, we feel this does represent reality as most drone pilots I know, never fly their drone until 2% capacity before landing and recharging. 10% – 15% is a much more realistic test.
So, in essence, the AC50S went over and above the Bluetti specifications, and instead of charging the drone batteries for 7 cycles, it completed 9 and still had a ways to go before being completely depleted.
---
How Do I Charge My Bluetti AC50S?
The AC50S can be charged by the following methods:
Solar panels
Car (12V Cigarette lighter)
AC (Mains electricity)
Lead-acid battery
---
How Long Does It Take To Charge A Bluetti AC50S With Solar Panels?
This test is pending due to bad weather, we will update this review as soon as possible.
---
How Long Does It Take To Charge A Bluetti AC50S With AC Outlet?
This test is pending we will update this review as soon as possible.
---
Can You Use a Bluetti AC50S While It's Charging?
The Bluetti AC50S has a battery management system (BMS) that enables short circuit protection, voltage control, temperature control, and more.
So yes, you can safely charge and discharge at the same time.
---
Can I take The AC50S On An Airplane?
This is a good question, and it seems a very popular one (for obvious reasons).
Here are the current guidelines:
Less than 100Wh – no restrictions. This covers most personal items that passengers are likely to have eg. phones, drones, laptops, etc
Between 101Wh and 160Wh – You will need prior approval from the airline before they can be carried. This makes allowances for larger equipment for example various types of tools.
Over 160Wh – Anything over 160Wh is banned on all passenger aircraft.
Since your Bluetti AC50S is 500Wh, it will not be allowed on a plane.
---
What Colors Can I Get The Bluetti AC50S In?
The Bluetti AC50S comes in a variety of colors:
As you can see from the pictures we got ours in orange. We think the grey interface complements the orange covering quite nicely.
---
Final Thoughts
In terms of capacity, design, and mobility, we are really impressed with the Bluetti AC50S.
It went above and beyond in terms of charging capacity, being able to charge 9 drone batteries and still be at 40% capacity, that's pretty amazing in our opinion.
Once the weather conditions clear up and we get some sunny weather, we will begin to test its charging capabilities with the SP120 solar panel.
We will update this review as soon as those tests have been done.