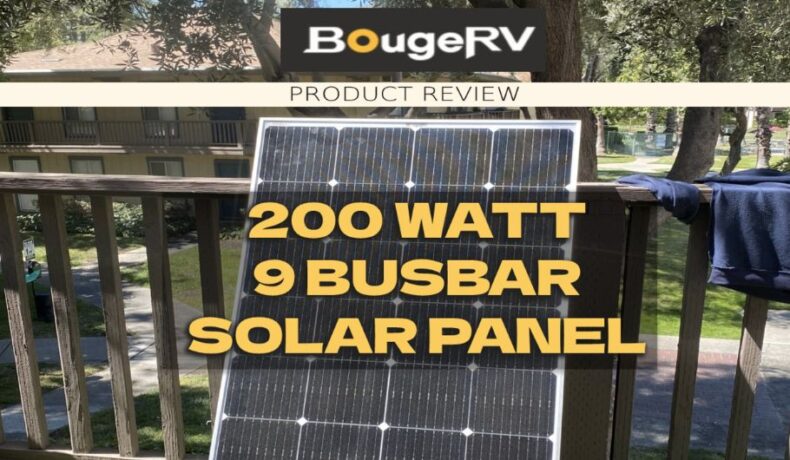 The BougeRV 200W 9BB Solar Panel proves that solar harvesting technology is continuously evolving.
New solar tech integrated into PV architecture aims to serve the climate change initiative through green energy transition while catering to all the green energy consumers with diverse lifestyles.
One example is the value some of us find in owning lightweight and compact solar panels for our recreational activities.
It is not apparent to all, but a growing number from the green energy community are beginning to find value in solar panel portability. This group of adventure-seeking types prefers to have their solar panels on the go, either mounted onto RVs, trailers, or boats or plugged into their portable power stations.
BougeRV 200W 9-Busbar Solar Panel
It is a good buy for people with limited roof space for solar panels, whether on their home or a vehicle.
Portability (Relative to other 200W Panels)
9.6
Post-Purchase Customer Care
9.6
What We Liked
Compact and Relatively Light
Quality PV architecture
Reliable Post-Purchase Assistance
Good Output
Considerations
Needs Advanced Technical Knowledge to Maximize Output
Slightly Pricier Than Typical 12V 200W Panels
Rare Occurrences of Poor Package Handling
If you are interested in purchasing the BougeRV 200-watt solar panel we recommend using our once-off coupon code.
Foreword
Climatebiz experts design, research, fact-check & edit all work meticulously.
Affiliate Disclaimer
Climatebiz is reader-supported. We may earn an affiliate commission when you buy through links on our site.
Bouge RV 200W 9BB Technical Details
Today's product review, the BougeRV 200W 9-busbar solar panel, focuses on multi-busbar (MBB) technology, a promising solar cell-stringing technology. Implementing MBB tech into PV panels offers multiple benefits such as:
Increased Reliability
Increased PV Panel Portability
---
9BB Panel Benefit #1: Increased Portability
To demonstrate the increased portability benefit of 9BB panels, we took popular solar panels you can buy online and compared their weight and dimensions side-by-side (see Table below.
Notice that the BougeRV 200W 9BB panel is 11% to 12% smaller and 14% to 15% lighter than its 5BB busbar peers. We could say the same thing for the Rich Solar 9BB panel except for the weight.
| Specifications | BougeRV | Renogy | NewPowa | Rich Solar |
| --- | --- | --- | --- | --- |
| Rated Power Output | 200W | 200W | 210W | 200W |
| Multi-busbar Type | 9BB | 5BB | 5BB | 9BB |
| Dimensions (inches) | 54.72 x 27.8 x 1.38 | 64.96 x 26.38 x 1.38 | 64.57 x 26.57 x 1.38 | 58.7 x 26.8 x 1.4 |
| Total Area | 1,521.22 sq. in. | 1,713.65 sq. in. | 1,715.63 sq. in. | 1,573.16 sq. in |
| Weight | 22.93 lbs. | 26.5 lbs. | 26.9 lbs. | 26.5 lbs |
| System Voltage | 12V | 12V | 12V | 12V |
Table Comparing 5BB and 9BB Solar Panels in the Market
---
9BB Panel Benefit #2: Increased Reliability
Another 9BB tech advantage we "might" demonstrate is increased PV panel reliability by reducing peak power losses from microcracks.
Solar cell microcracks occur when the solar panel experiences an external force beyond its capacity. These could be from dropping the panel, placing heavy loads, or people walking on the panels.
Are microcracks invisible to the naked eye? Yes, it is hard to instantly verify if this is a source of reduced PV panel output.
So how does the 9BB tech reduce the impact of microcracks? By providing more alternate routes for the current to flow. Busbars serve as the road for electricity to travel to the PV panel junction box (see the lower left picture in the image below)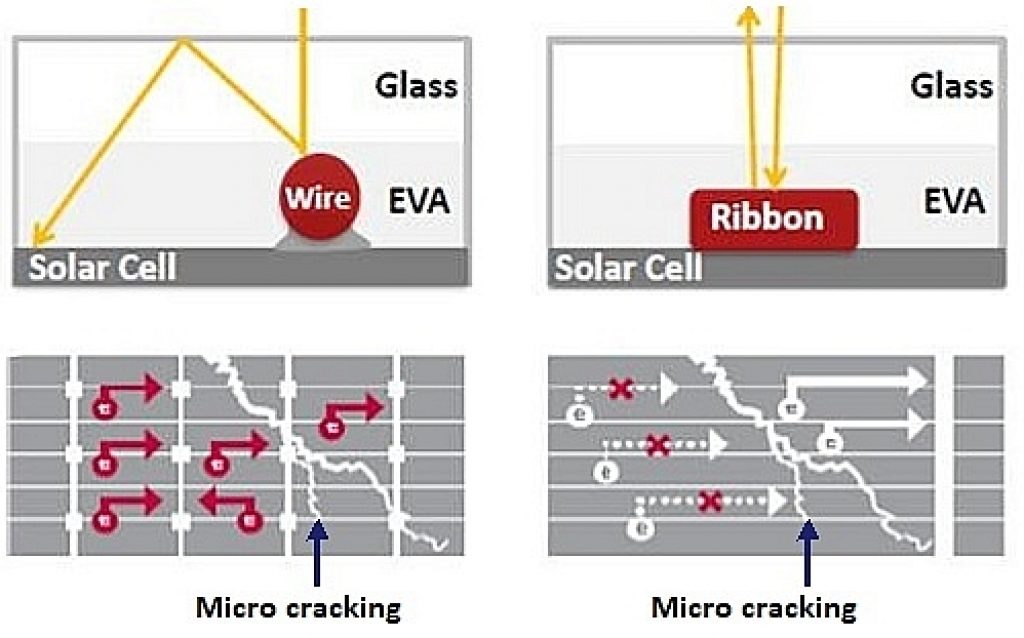 ---
9BB Panel Benefit #3: Increased Efficiency
Lastly, 9BB Solar Panels have round-shaped busbars in them. These scatter sunlight more effectively for "secondhand use" (see the upper left picture in the image above), boosting PV panel output power compared to flat ribbons (see the upper right picture in the image above).
More busbars also lower the overall resistance between solar cells, leading to less loss (Recall that Power = Current2 x Resistance).
---
If you are interested in purchasing the BougeRV 200-watt solar panel we recommend using our once-off coupon code.
BougeRV 200W 9BB First Impressions
There you have it — three reasons why 9BB panels have upped the game in the solar industry, specifically in the residential arena.
Let's talk about our first impressions of the product, but feel free to view the pictures below to see what we did with the BougeRV 200W 9BB panel.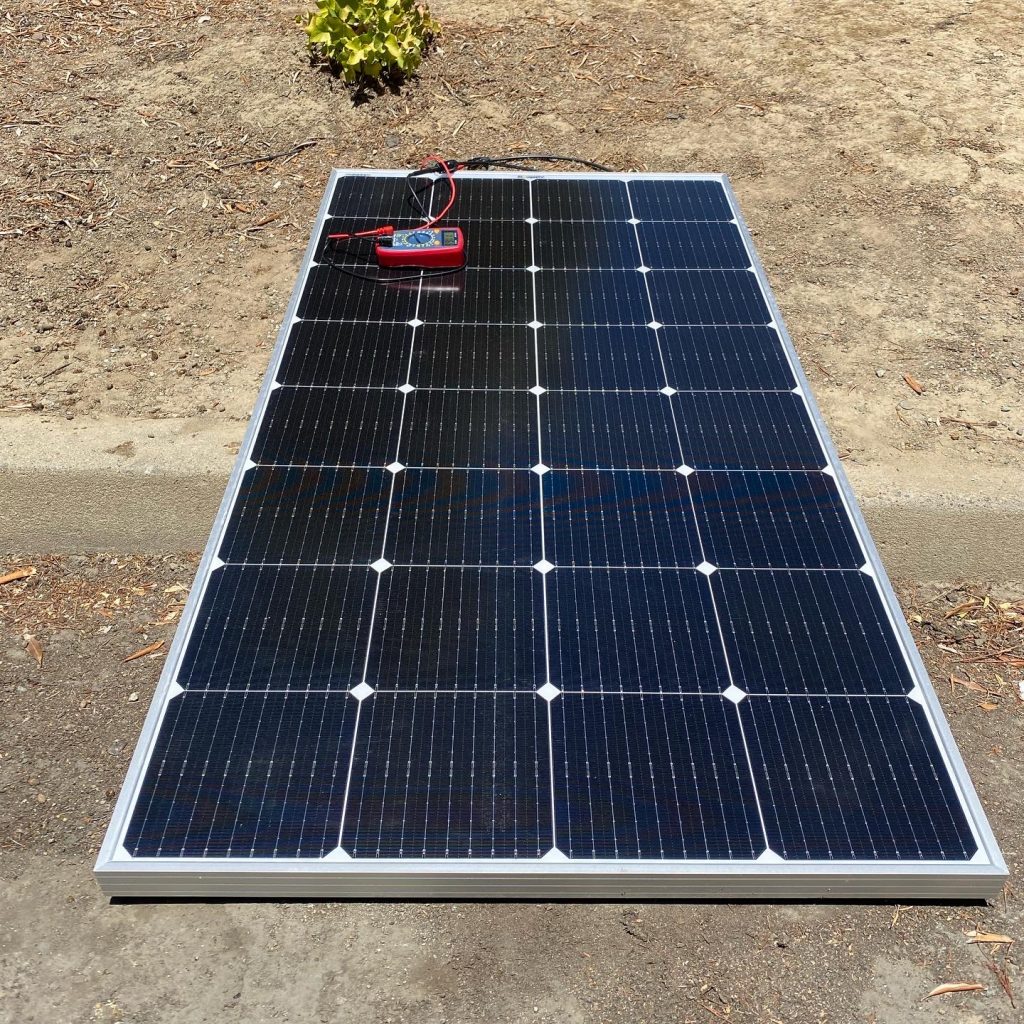 Everyone loves a company that aims to please customers. But sometimes unfortunate things happen with your parcel. Scrolling through the image gallery below, you'll notice that our package has some shoe prints.
From a consumer standpoint, this could raise concerns since solar panels have delicate components.
Still, we proceeded with the unboxing and hoped for the best (see the image gallery below).
We must be honest; we felt relieved that there were no cracks on the solar cells, given the number of boot marks we saw.
Microcracks can't be ruled out entirely but are less likely to happen since we read that BougeRV solar cells are Class A types.
We also have standard operating tests to check if the panel works as intended but more on that later.
---
BougeRV 9BB 200W Materials and Aesthetics
The box contains your BougeRV 200W 9BB panel, complete with:
IP67 waterproof junction box;
Pre-drilled holes for quick installation on RVs, trucks, trailers, and boats;
Integrated 3-foot solar cables; and
User's Manual (see image gallery above)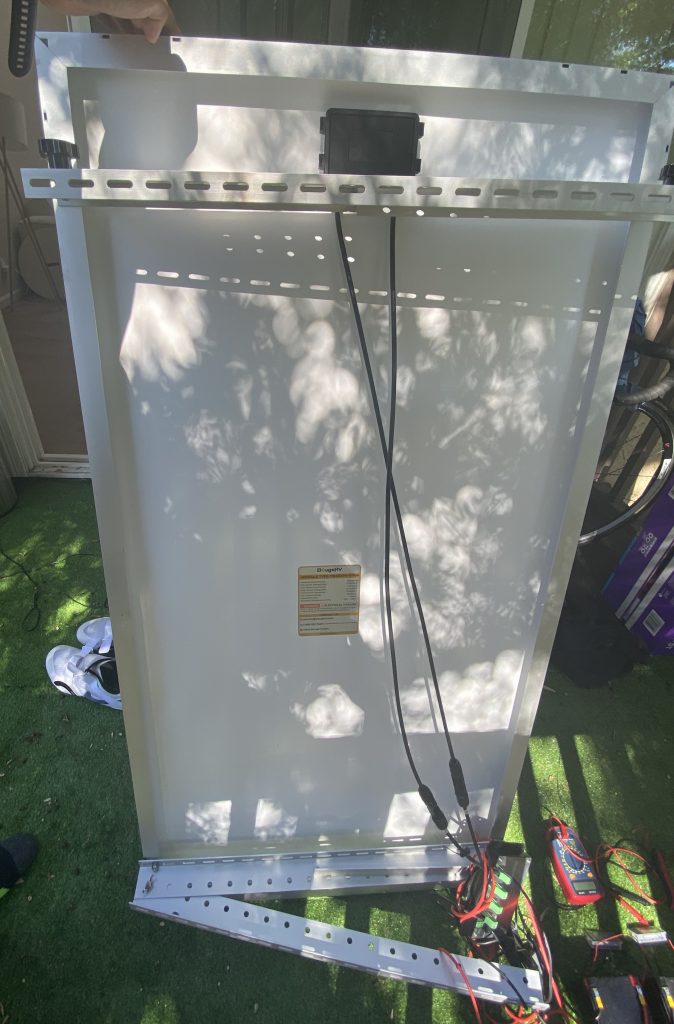 ---
What Can the BougeRV 200W 9BB Power?
Knowing what electronics can the BougeRV 200W power up depends on your solar panel setup and location.
As a standalone, a 200W solar panel is best for powering smaller devices like cell phones, LED lights, and laptops. However, regular patrons of Climatebiz know that this setup can be enhanced with a solar charger, battery for energy storage, and an inverter to convert 12VDC to 120VAC (see images below).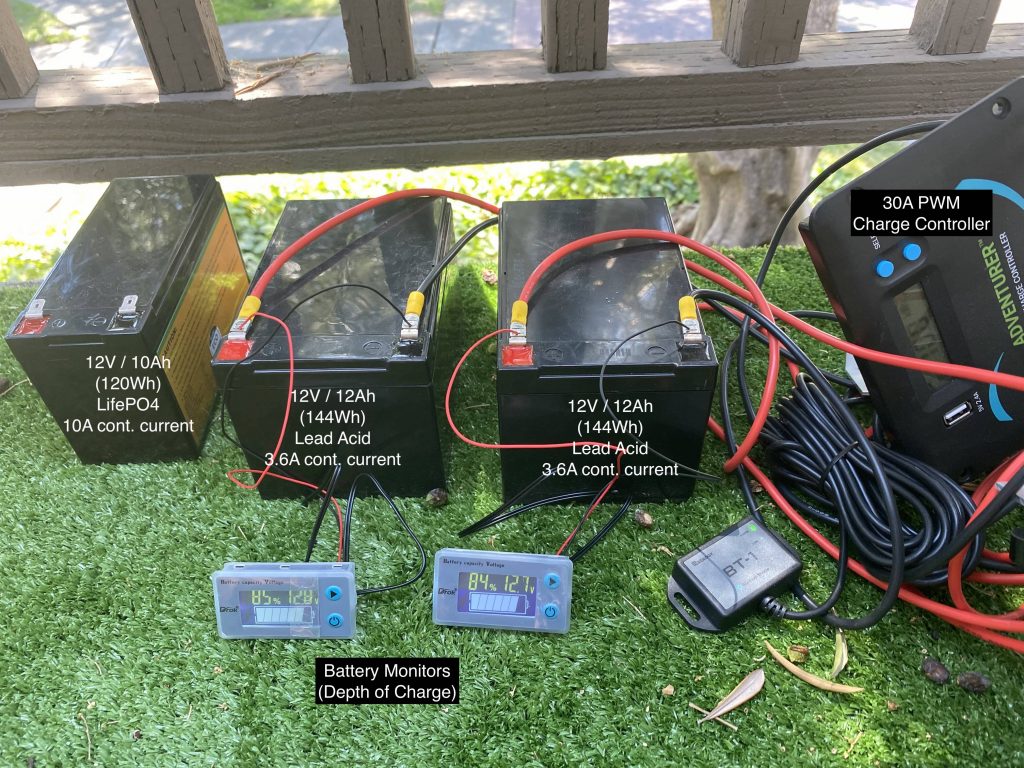 We used two (2) 12V 12Ah lead acid batteries and a 12.8V 10Ah LifePO4 battery. We believe they are the best way to demonstrate how to utilize a solar panel without blowing our budget.
In the sample application shown below, we tried plugging in a laptop charger rated at 65W along with an Airpod and an iPad drawing 15W each (5V @ 3A). 95W is drawn from the solar-charged battery via a 500W inverter.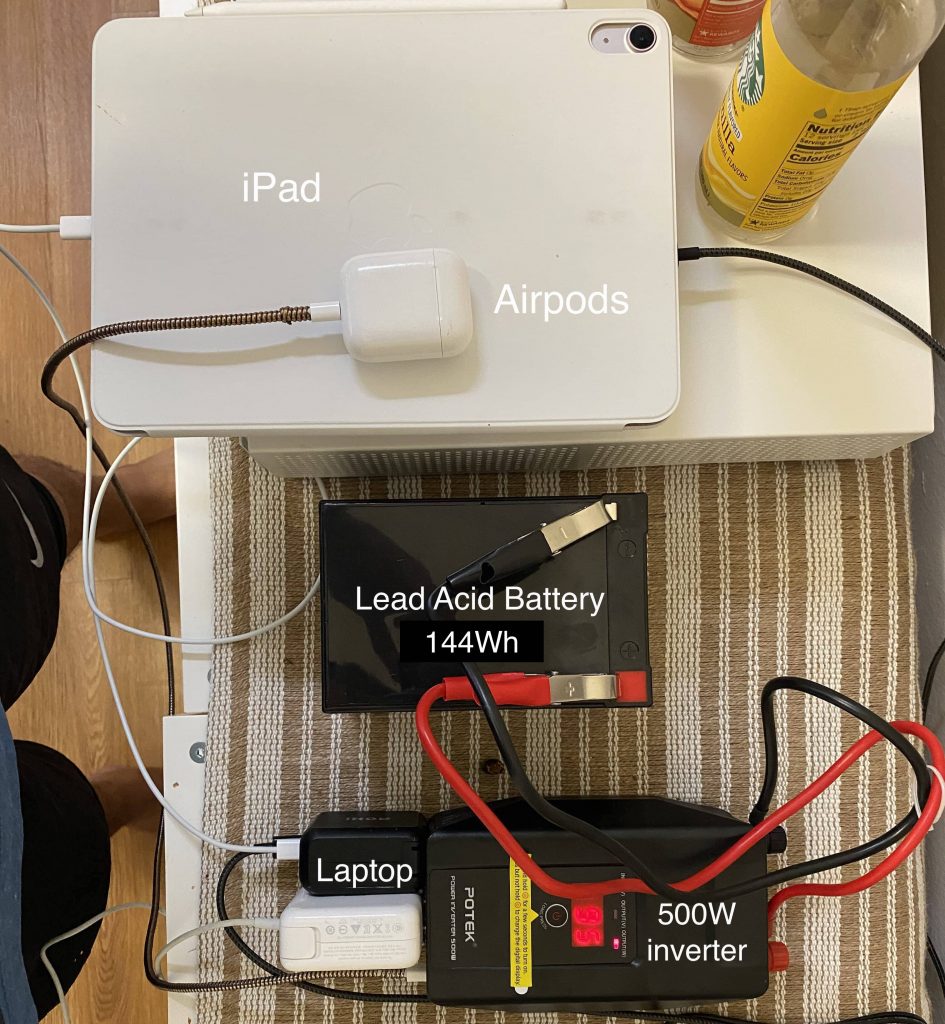 ---
Practical Application of BougeRV 200W 9BB Solar Panel
So how did we charge the 144Wh lead acid battery using the BougeRV 200W 9BB solar panel? Let's break down the process by looking at the components.
We already discussed essential solar system components in our articles about off-grid cabins and RV solar systems, but let's recap: solar panels, batteries, inverters, charge controllers, cables, terminals, multimeters, and tools are the essential solar system components.
---
1. Solar Panel (BougeRV 200W 9BB)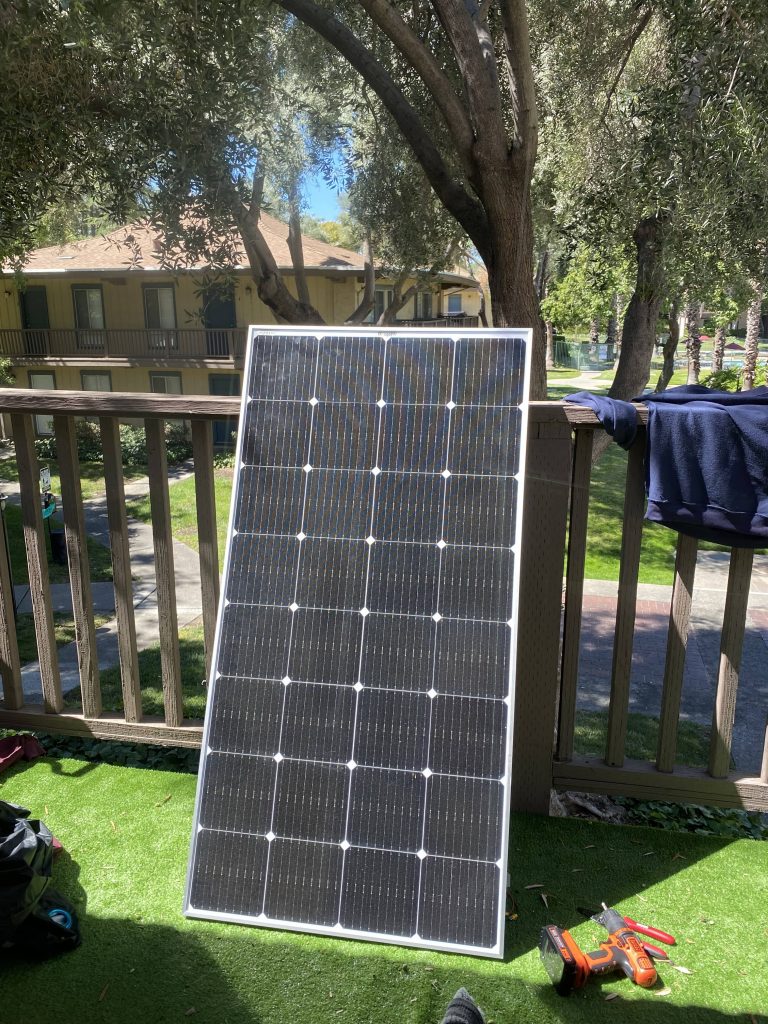 ---
2. Charge Controller (30A PWM Charge Controller)
Charge controllers act as protective devices between the solar panel and the battery. Based on the voltage and current output of the BougeRV 200W 9BBpanel (17.98V and 11.12A at maximum output), we decided to go with a Renogy 30A PWM Charge Controller.
If you're wondering why we chose a 30A PWM Charge Controller to moderate a 200W panel generating 11.12A at max power, we agree it is slight overkill. But allow us to explain our reasoning.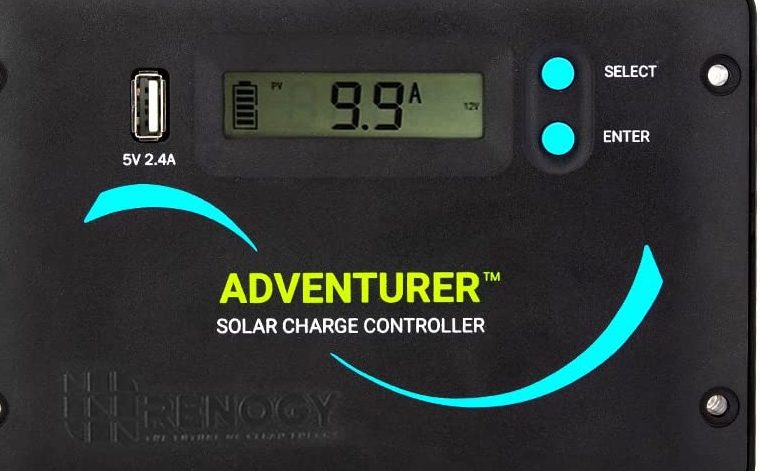 Our 30A 12V/24 PWM Solar Charge Controller
Our main criteria for going with this product are:
Budget — not enough for an MPPT controller (see PWM vs. MPPT);
Safety — charge controllers act as safety devices as long as their specs can handle the current input (in our case, 30A>>11.12A); and
Reputation — Renogy is a trusted brand for PV equipment and has a good track record of post-purchase assistance;
---
3. Battery (Lead Acid and LifePO4)
A charge controller won't function if it doesn't have a battery to protect it. We also know that batteries help you store solar energy for later use. However, they are expensive to own.
For the sake of this demonstration, we got entry-level batteries rated at 12V / 10Ah to 12Ah.
If you are looking for heavy-duty batteries, we suggest getting 100Ah up to 200Ah batteries rated at 12V or 24V, depending on your system.
---
4. Inverter (500W Inverter)
Inverters allow your electronics to receive 110V to 240V AC from a DC source such as solar panels or batteries (see image below).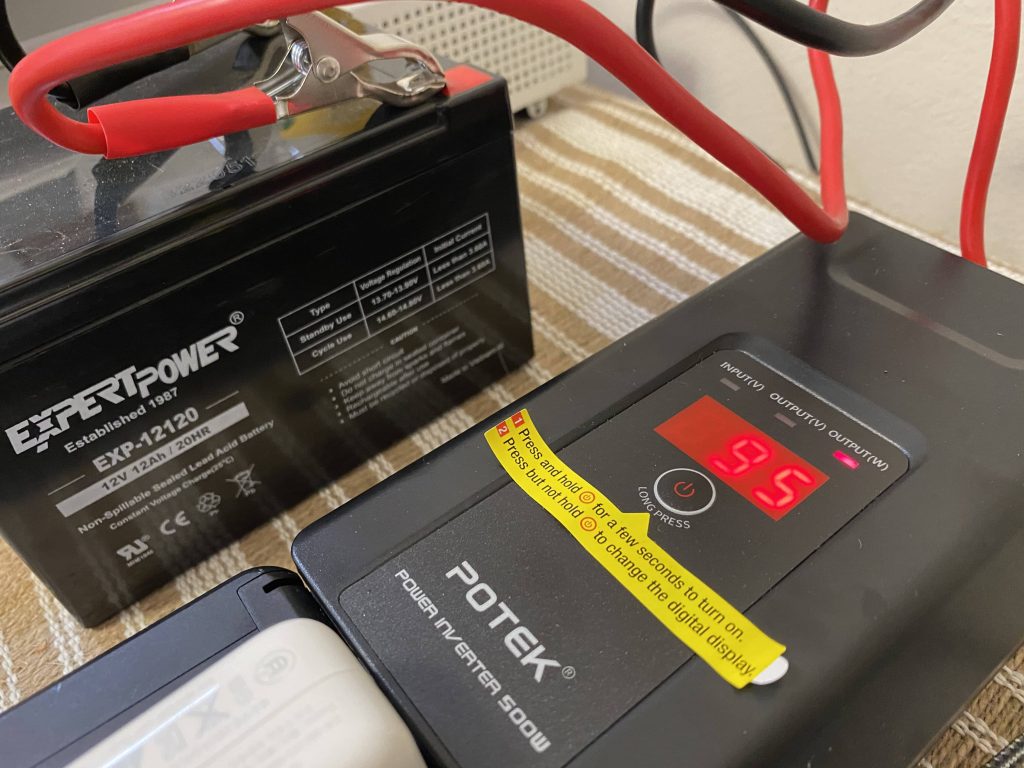 A 500W inverter is enough to power essential electronic equipment. Still, more serious appliances such as microwaves, toasters, coffee makers, and air fryers require more extensive ratings and cleaner AC sine waves. We recommend 2000W to 3000W Pure Sine Wave AC inverters for those applications.
Advice: although this demonstration's 10Ah or 12Ah battery can provide 500W to 3000W of power, it can only do so for a short period considering the depth of discharge and energy storage capacity limits.

Actionable Advice: study your power and energy requirements when designing your solar system.
---
5. Tools and Cables
Of course, you will also need some tools and extra accessories to complete your setup.
Here is our checklist for this BougeRV demonstration:
Multimeter — to check the voltage and current of the solar panel, batteries, or the inverter
Cables — we used 12 AWG (red and black) wires to connect the batteries to the charge controller and inverter
Solar Cable Adapter — connects the solar panel to the charge controller
Battery Terminal Adapter — we used T2 terminal adapters suitable for the batteries we bought (the ones with yellow insulation sleeves)
Wire Crimper And Stripper — we bought a 2-in-1 tool that strips insulation from our electric wire and crimps the battery terminal adapter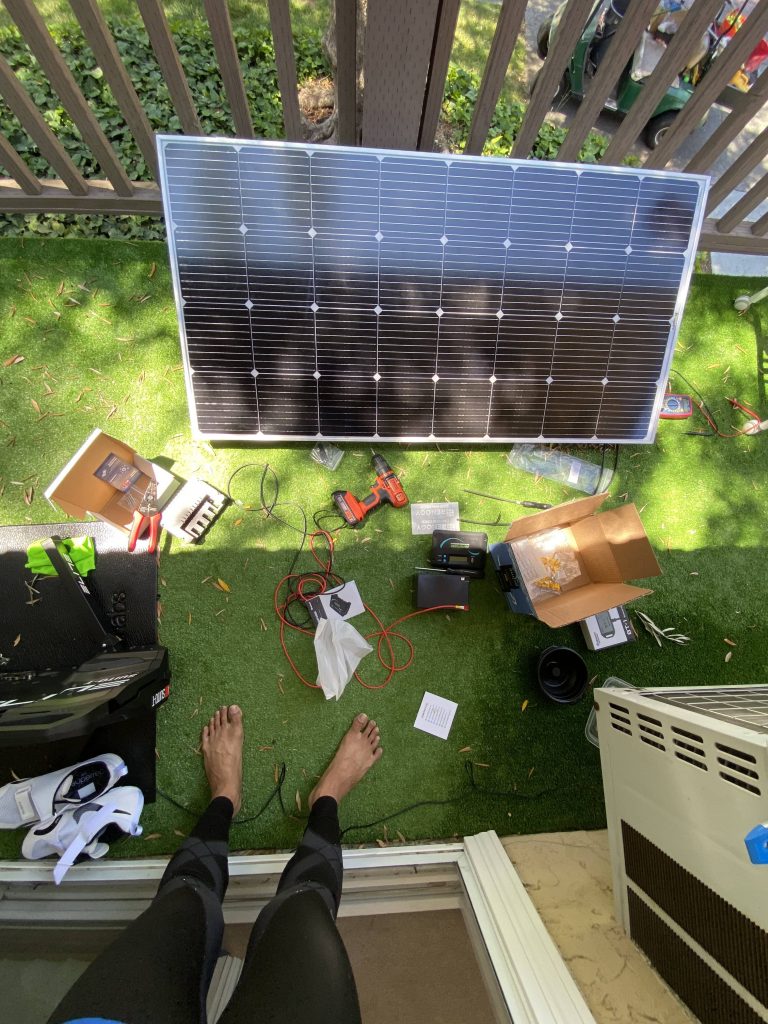 If you are interested in purchasing the BougeRV 200-watt solar panel we recommend using our once-off coupon code.
---
Theoretical Planning for Solar System Setup
Let's look at the ideal BougeRV setup using our analysis:
The BougeRV 200W 9BB Solar Panel produces 17.98V and 11.12A at peak power.
Batteries are commonly rated between 12V and 24V and have a daily charge/discharge cycle for hybrid grid-tied residential applications. Therefore, we prefer getting an MPPT charge controller, which is more efficient than the PWM.
MPPT vs. PWM Comparison for BougeRV 200W 9BB Panel
So here is our thought process: the solar panel produces 17.98V and 11.12A while our battery is rated 12V and can handle up to 14V.
---
PWM Solar Charge Controller
If we use the PWM solar charger, it will reduce the solar panel output to 14V; therefore, it will get
14V x 11.12A = 155.68W of maximum power to charge the battery.
---
MPPT Solar Charge Controller
On the other hand, the MPPT solar charger will take the full output of the BougeRV 200W 9BB solar panel (17.98V) and then converts it down (DC-DC) to match the voltage of the battery while maintaining the rated power output.
14V x 14.29A=200W of maximum power to charge the battery.
That is 28.5% more power from the MPPT than the PWM! But that assumes the battery we bought can take 11.12A to 14.29A of current.
What We Did
We bought two (2) 12V 12Ah lead batteries for our demonstration that can handle 3.6A of continuous current. We connected both parallel to the charge controller, increasing the battery current capacity to 7.2A.
We also used one 12V 10Ah LifePO4 battery with a 10A continuous input current rating as an alternative test.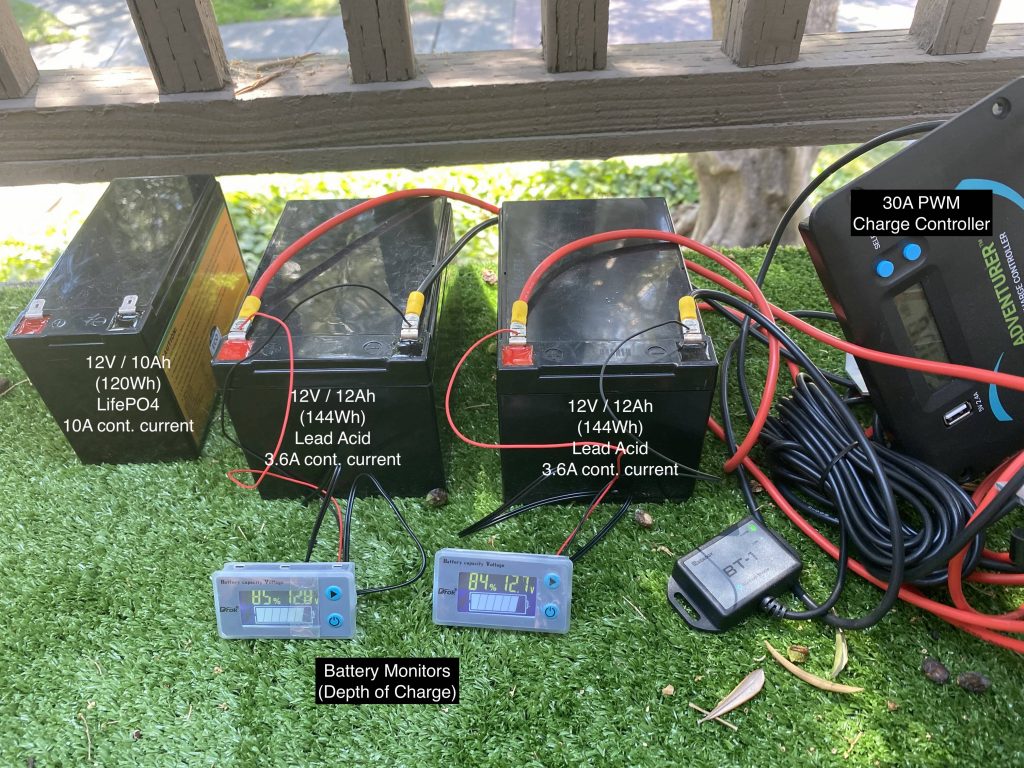 Using the PWM charge controller, here is the theoretical operation of the entry-level system we made:
BougeRV 200W 9BB: 17.98V and 11.12A
PWM Charger Controller: Limits voltages around 12V or 24V and has a 30A limit
Lead as an alternative test Acid Battery Setup: 12V to 14.5V and 7.2A
Expected Maximum Power Drawn: 14.5V x 7.2A = 104.4W
LifePO4 Battery Setup: 12.8V to 14.5V and 10A
Expected Maximum Power Drawn: 14.5V x 10A = 145W
---
Results
We got these results on a sunny day in San Jose, California. Clear skies, no clouds during peak hours.
Lead Acid Batteries In Parallel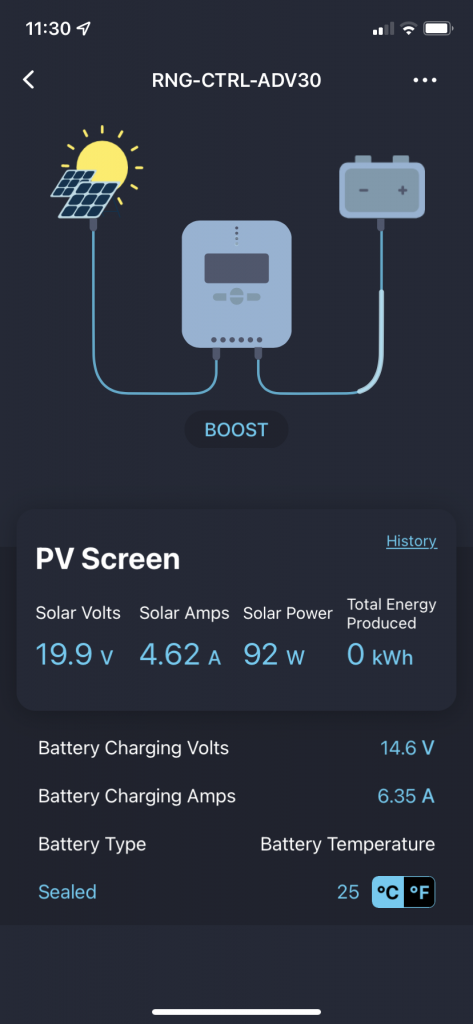 LifePO4 Battery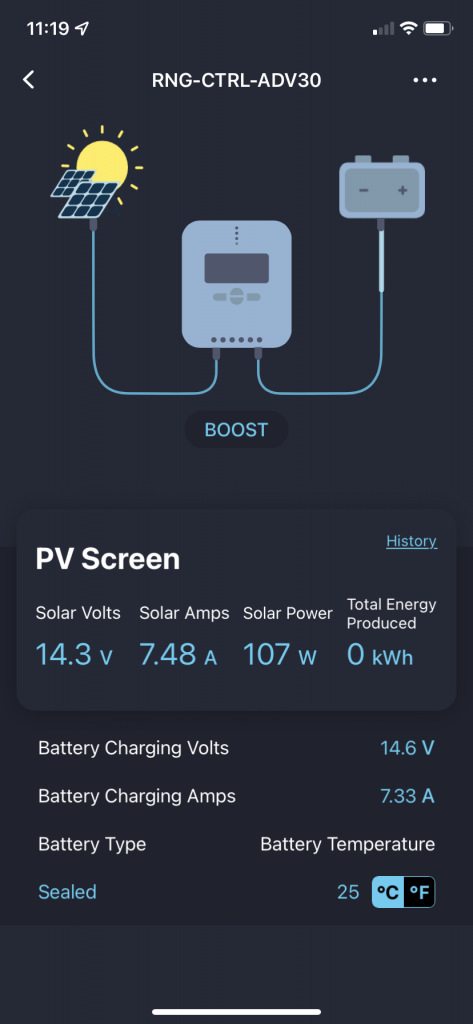 The 12V system with LifePO4 battery stores 107W to 145W during peak hours.
One thing we noticed during the data gathering process is that the "PV Screen" interface of the app always seems to follow the limit of the battery.
This makes us wonder whether these data are the actual output of the solar panel or if the charge controller is suppressing the solar panel output. But there's a way to verify if the BougeRV solar panel is working correctly.
Using PV Panel Tests (VOC & ISC)
The Open Circuit Voltage (VOC) test and Short Circuit Current (ISC) test are standard testing procedures to help verify the performance of solar panels. You'll need a multimeter to conduct these tests; ideally, you want to see VOC and ISC values near the product specifications.
For the case of the BougeRV 200W 9BB solar panel, the VOC and ISC are 21.62V and 12.09A, respectively.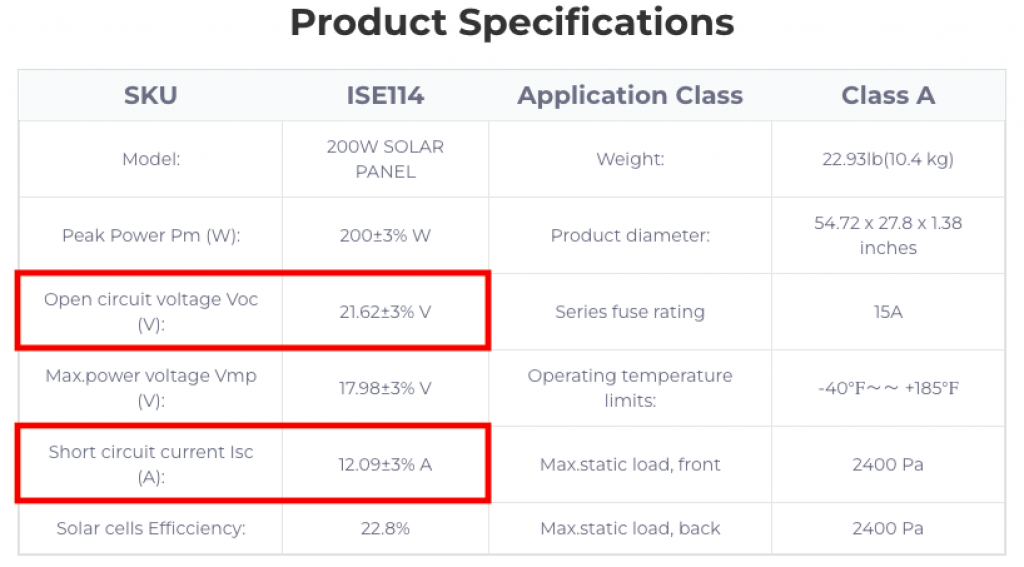 To carry out the tests, you need to:
Have the solar panel face the sun
Disconnect the solar panel completely
Measure the DC voltage between the positive and negative terminals using a multimeter
Measure the current of the solar panel too.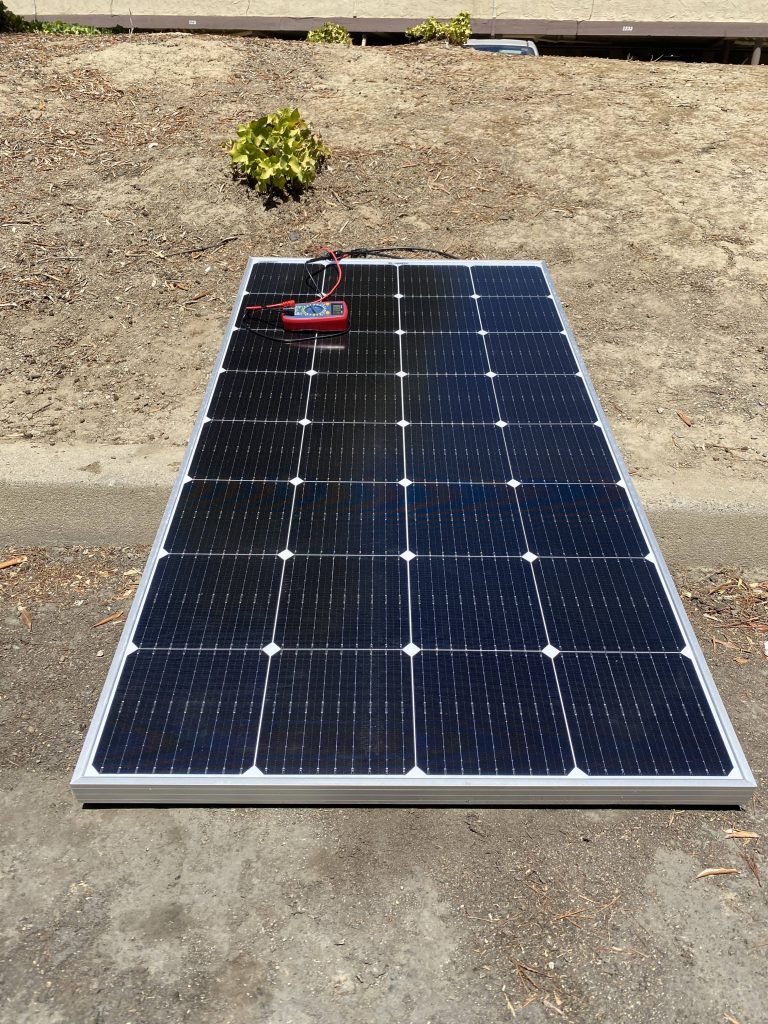 Given the results of the VOC and ISC tests, we can conclude that the solar panel is in good condition.
Sure it did not meet the exact values, but we think this is because we do not meet some, if not most, of the solar panel Ideal Standard Testing Conditions.
---
Final Thoughts
There you have it! A full review of the BougeRV 200W 9BB solar panel and how to turn it into a solar panel system.
This review has been bittersweet. We always appreciate green energy companies pushing the limits of solar tech. The nine busbar innovation is a game-changer since it offers substantial value to the solar and decarbonization movements.
---
Who is This For?
We recommend the BougeRV 200W 9BB solar panel primarily for mobile applications such as solar RVs, trailers, and boats — at least one 200W solar panel coupled with a 100Ah/200Ah battery that can handle large continuous charging currents.
It is also for residential homeowners looking for the middle ground between 400W solar panels and 100W solar panels.
The compact build of the BougeRV 200W 9BB solar panel shines if you want large power output from your roof but have little shingle real estate to work with.
It is not for backpackers or trail techies. A lightweight 100W panel tied to a portable power station is more suitable for you.