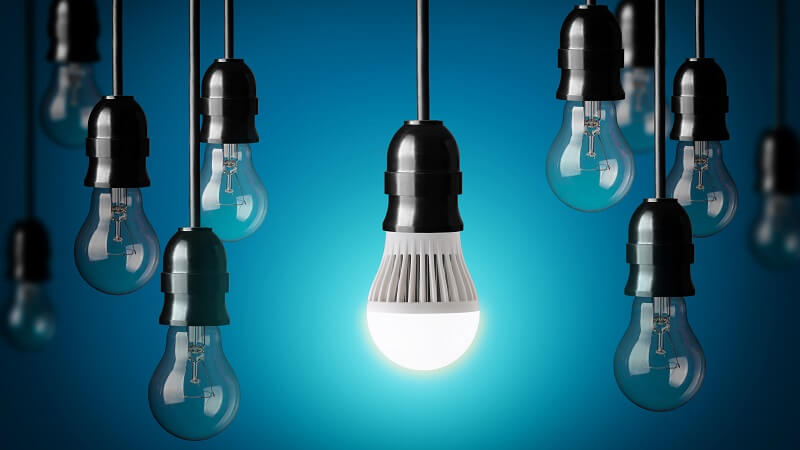 A workspace needs at least 8,000 to 10,000 lumens to be sufficiently lit and in my opinion, LED garage lights are the best technology out there to do this.
A poorly lit garage is not only difficult to work in, but it can also become a potentially serious health hazard.
The best LED garage lighting can transform a hazardous workspace into a well-lit room of creation with unlimited possibilities.
Aside from the obvious visual benefits LED lighting provides, it also has many energy-saving benefits. Most of which you'll be thankful for when receiving your utility bill at the end of the month.
This article will share with you the best LED garage lights on the market and how they can help you save on costs and benefit the environment at the same time.
Foreword
Climatebiz experts design, research, fact-check & edit all work meticulously.
Affiliate Disclaimer
Climatebiz is reader-supported. We may earn an affiliate commission when you buy through links on our site.
Our Recommended LED Garage Lights
Below we've listed what we believe to be the best LED lighting for your garage/workspace.
This is an affiliate link
This is an affiliate link
This is an affiliate link
This is an affiliate link
---
---
8 Best LED Garage Lights
Now that you have a better idea surrounding the ingenious technology that is LED lighting, we thought it's best to share with you our 8 favorite LED garage lights.
These LED garage lights were carefully selected based on life span, design, quality, ease of installation, total lumens, and customer feedback.
This LED garage light from Kernowo is fantastic. It has an impressive 18,500 lumens of brightness and a 50,000-hour life span (This should last you a good 15 years).
Aiding this long lifespan is the ABS material and die-casting aluminum mounting which allows for efficient heat dissipation.
Another really handy attribute of the Kernowo is the ability to fold up each of the three light panels, this will light your garage up 360°.
Positive
50,000 Hour lifespan
360-degree lighting
Made from high-quality material
Easy to install
90 Day money-back guarantee
Negatives
Higher price tag
Not many reviews
---
If you have a larger budget and a very large workshop, we recommend investing in these extremely efficient lights from Lightdot.
They are similar lighting to what you'll spot in supermarkets. So yes, only get these if you have a very large garage or warehouse to light up.
The color temperature is 5000k and the luminous flux is 18,000Lm. The material used to design these lights is aeronautical aluminum.
Positive
18,000Lm
5000k color temperature
Best for lighting up large areas
High-quality materials
Negatives
Slightly harder to install
Not good for small areas
---
3. Axcelight LED Garage Light – (Budget Choice)

If you are on a strict budget looking to invest in some of your first LED lighting, we recommend going with the Axcelight.

They're easy to install and will provide you with 50,000 hours of lighting (something incandescent lighting could never do).

These lights have 12,000 lumens flux and a color temperature of 6000k which mimics the sort of light you get from the natural sun at around 12 pm.

The material used in these lights is aluminum and ABS.

Positive
Very affordable
Long-lasting at 50,000 hours
Very easy to install
12,000 lumens flux
Negatives
Casing not waterproof
Can only be used indoors
---
When it comes to customer feedback, there is no other LED garage light brand that comes close to the Tanbaby.
They have a staggering 15,000 + reviews on Amazon with a rating of 4,8 stars. So many people just cannot be wrong.
This LED lighting will last for 50,000 hours and has a color temperature of 6000k with 6000Lm (lumens flux). These top-quality diodes produce 100 lumens per watt.
Tanbaby also uses heat-resistant aviation aluminum material. The structure of this light is adjustable so you are able to shine light in all directions.
Positive
Over 15,000 reviews
Easy to install
6000k color temperature
100 lumens per watt
360-degree lighting angle
ETL certification
Negatives
Motion detection is not the best
May interfere with the garage door opener signal
---
This LED garage light delivers bright, high-quality light and is completely hands-free.
It has an integrated PIR motion sensor, which means the light will turn on automatically once you enter the garage.
It emits a bright white color temperature of 4000k and has a lumens flux of 5000Lm.
Additionally, this brand is UL certified in the USA and Canada, Energy Star Rated, and suitable for damp locations.
Positive
High-quality materials
PIR motion detector
UL certified
Safe to use in damp locations
Negatives
High price tag
Intense white light
Tricky installation
---
Pathbreaker LED lighting is recommended as Amazon's Choice, it's a popular light with an average price point.
What sets this light apart from many of the others listed in this article is the IP65 waterproof grade. Additionally, it is also able to withstand temperature extremes from -22 to 122F.
So if you are looking for LED garage lighting able to withstand nature's elements, then this is your choice.
The color temperature is 5000K and the luminous flux is 15,000L.
Positive
IP65 Waterproof grade
Withstands temperatures -22 to 122F
Amazons choice
50,000-hour lifespan
Negatives
Light angle is not adjustable
Not many customer reviews
---
This particular model from Barrina is the perfect low-hanging light. So if you'd like to light up your workbench for precise work, then we recommend this LED garage light.
They are super easy to install, simply plug and play. You can also connect these lights in a series of up to 8 if you are looking for more illumination.
Color temperature sits at 6500K and luminous flux at 2200 lumen (which is quite a bit lower than the rest mentioned).
Positive
Able to connect lighting in series
Comes with connector cables
Easy to install
50,000 life span
Negatives
Luminous flux is lower than most
Unable to change light angle
---
Like all LED lighting this model from Airand is mercury-free and produces no UV or IR Radiation, which means it's completely safe for your home and the environment.
This light is recommended for areas that need a little less lighting, as the light emitted from this model is not as strong as the rest on our list. However, you are able to connect these tube lights in a series of up to 18.
Color temperature is 5000K and the luminous flux is 1800L.
Positive
IP66 grade waterproof
Low price point
3-year warranty
Negatives
Not very bright
Made from cheap plastic materials
---
What Is An LED Garage Light?
LED lighting is made up of semiconductor devices that can produce visible light when electric currents pass through them.
This is also a result of the one-way narrowband space (as seen in the picture) that the current has to move through.
The combination of the positive anode and the negative cathode and the semiconductor crystal is what makes LED garage lights so super-efficient.
So efficient in fact, that there are some LED lights that have lasted up to 20 years!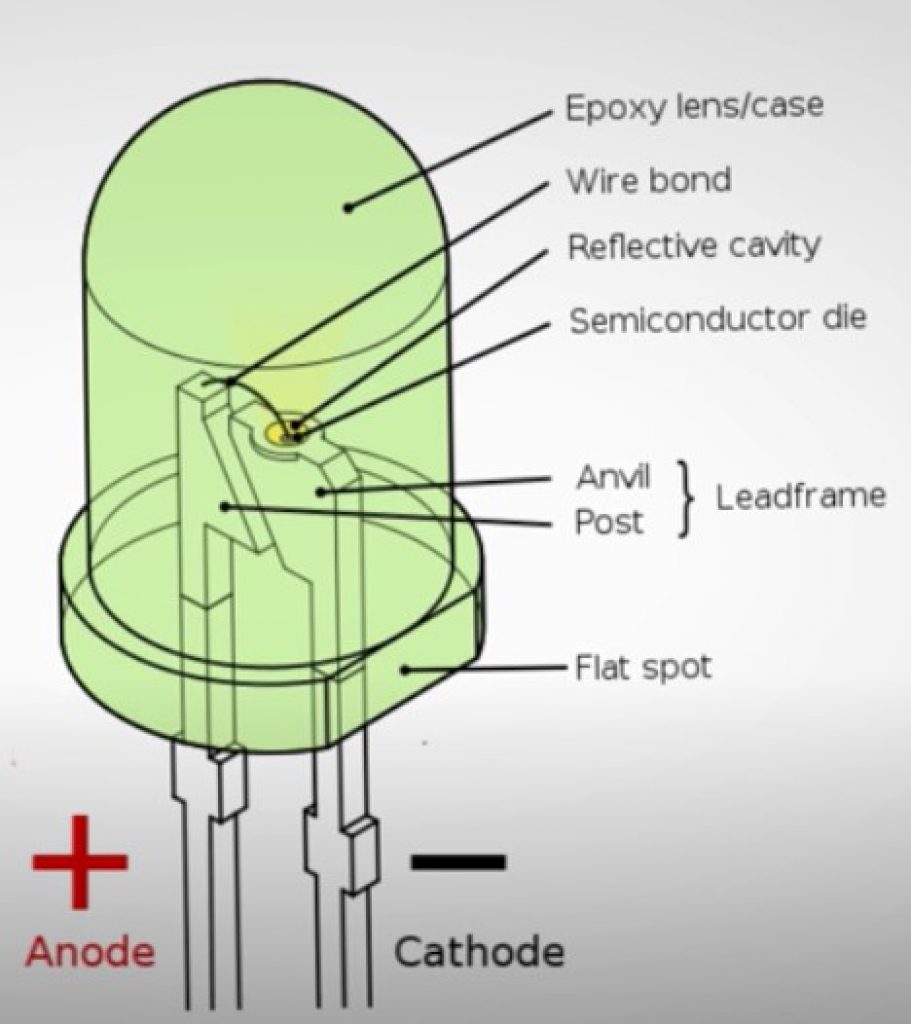 Why Are LED Garage Lights More Efficient Than Incandescent Light Bulbs?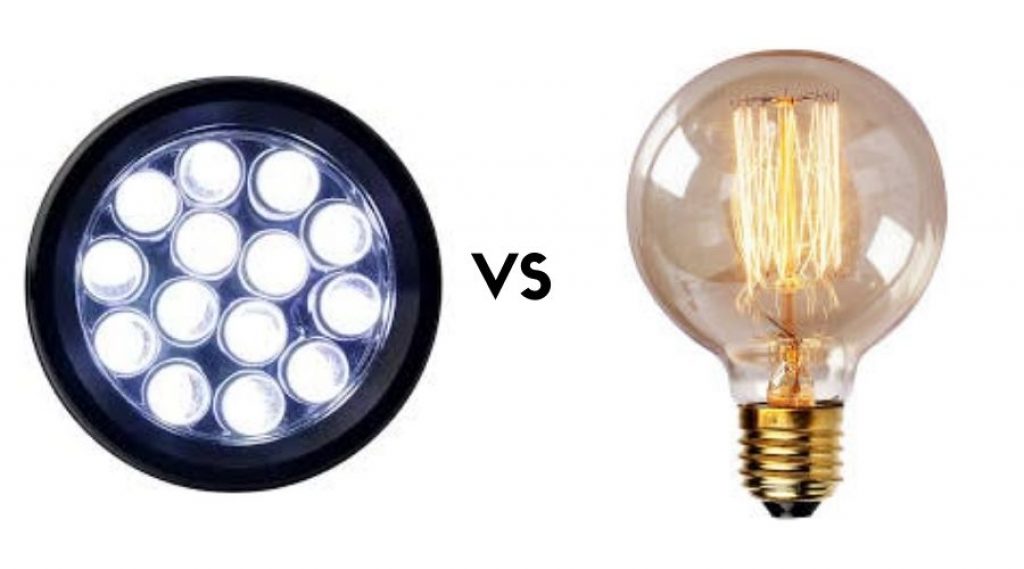 Incandescent light bulbs are the brainchild of the famous Thomas Edison. Inside the bulb is a piece of metal called Tungsten which gets incredibly hot when electricity flows through it.
The metal is essentially burning it's so hot and this emits light. 95% of the power emitted in incandescent light bulbs is heat, not light.
That's why traditional light bulbs are so inefficient, so much so that they are actually illegal in the European Union and Australia.
LED lights are typically 10 to 20 times as many lumens per watt as an incandescent light. They have good quality light, are super easy to use, are extremely efficient, and have fewer toxins than the standard electronics used in your phone.
---
How Many Lumens Do I Beed For A 20×20 Garage?
You should aim for at least 50 lumens per square foot for good ambient lighting. For task lighting, we would recommend 300 lumens per square foot, and for accent lighting about 75 lumens per square foot.
So to give you an example.
In your garage, you would require 300 lumens per square foot for task lighting. Task lighting is lighting that lights a specific area which allows you to complete a task easier.
An area requiring task lighting would be your workbench. Average-sized workbenches are 4 square feet.
300 lumens x 4 square foot = 1200 lumens.
This means you would need to install an LED light above your workbench that gives off at least 1200 lumens in order to have sufficient task lighting.
If you would like to light your entire 20 x 20-foot garage with ambient lighting you'd need the following.
20 x 20 = 400 square foot.
400 square foot x 50 lumens (ambient lighting) = 20,000 lumens.
You would need 20,000 lumens of LED lighting to light your 20 x 20 garage with ambient light.
---
What Is The Lifespan Of LED Garage Lights?
Most lighting products typically burn out or fail. With LED lighting it is in fact different. Instead of burning out, LEDs experience 'lumen depreciation.
This means the brightness of the LED gets less and less over time. Unlike the standard incandescent light bulb, LED lifespan is determined by the prediction of when the light emitted gets less than 30%.
In general, LED garage lights usually last approximately 50 times longer than a typical incandescent light bulb. Compared to halogens they last 20 – 25 times longer, and 8-10 times longer than a CFL.
If you were to switch your 50,000 LED garage lighting on for 8 hours a day, it would last you 17 years.
---
Do LED Garage Lights Really Save Money?
Although LED garage lights still cost more than traditional lighting, they have a much lower energy use – up to 25 to 30% less.
Not only this, but they will also last 8 to 25 times longer than halogen incandescents. When you take energy usage and lifespan into consideration, there is no doubt that LED lights will save you money in the long run.
As with most new green technology, prices are expected to drop significantly in the near future. Take solar panels, for example, the price of solar electricity has dropped a staggering 89% in the last 10 years!
So, just like solar panels are worth installing, LED lighting is just as worth it!
---
How Much Will Switching To LED Garage Lights Save?
Feel free to use our LED lighting calculator to calculate your overall savings.
(Please note: The USA national average is $0.12 / kWh)
In 2009 fewer than 400,000 LED lights were found in U.S. homes.
Fast forward 5 years to 2014 that number has risen to 78 million LED lights installed throughout U.S homes.
Although LED lights have already dropped in price by about 85%, they are still considered expensive at around double the price of traditional incandescent or halogen light bulbs.
---
LED lights VS Incandescent Light
| | LED Light Bulb | Incandescent Light Bulb |
| --- | --- | --- |
| Watts | 10 | 60 |
| Initial Cost | $1.50 | $1 |
| Lifespan | 50,000 Hours | 1000 Hours |
| Cost to purchase and operate 3 hrs/day for 1 year: | $2.81 | $8.89 |
| Cost to operate for second year: | $1.30 | $8.89 |
---
LED Garage Lights VS CFL
| | LED | Compact Fluorescent |
| --- | --- | --- |
| Watts | 8.5 | 13 |
| Initial Cost | $1.50 | $3.33 |
| Lifespan | 50,000 Hours | 1000 Hours |
| Cost to purchase and operate 3 hrs/day for 1 year: | $2.81 | $5.04 |
| Cost to operate for second year: | $1.30 | $1.70 |
---
LED Spotlight vs Halogen Spotlight
| | LED Spot Light | Halogen Spot Light |
| --- | --- | --- |
| Watts | 10 | 50 |
| Initial Cost | $4.30 | $7.00 |
| Lifespan | 50,000 hours | 2000 hours |
| Cost to purchase and operate 3 hrs / day for 1 year: | $5.61 | $13.57 |
| Cost to operate for second year: | $1.30 | $6.60 |
---
What Is The Energy Star Qualification?
The Energy Star is an international standard on energy-efficient products. Electronics that bear the Energy Star service mark are verified products that use at least 20–30% less energy than required by US standards.
In order for LED lighting to qualify for the Energy Star certification, the bulb has to meet strict efficiency, quality, and lifetime criteria.
LED garage lights need to meet the following criteria in order to qualify for the Energy Star certification:
The light mut be equal to or brighter than existing lighting technologies such as incandescent and fluorescent. Additionally, the light must be well distributed over the area illuminated by the fixture.
Light output mut remain constant over an extended period of time. It is only allowed to decrease in lighting towards the end of its rated lifetime (at least 35,000 hours or 12 years based on 8 hours of usage every day).
It must have an excellent shade of colour quality and appear consistent over time.
Efficiency must be up to par or better than fluorescent lighting.
The bulbs light must come on instantly when the switch is flipped.
There must be no flicker when the light is dimmed.
There cannot be any off-state power draw. Additionally, the fixture cannot draw any power whilst it is turned off. With exception of external controls (whose power draw should not be more than 0.5 watts in the off state.
---
Final Thoughts
LED lights are the newest most sustainable technology to hit the market in the last 10 years. They have countless benefits which include energy efficiency, reliability, low radiated heat, long life span, incredible color range and so much more.
In 2022 it is not a question of should you switch to LED garage lighting, it is a question of when will you switch to LED's.
We hope you found this article useful, please free to ask any of your questions in the comments section below and we'll be sure to get back to you.
Further Reading: