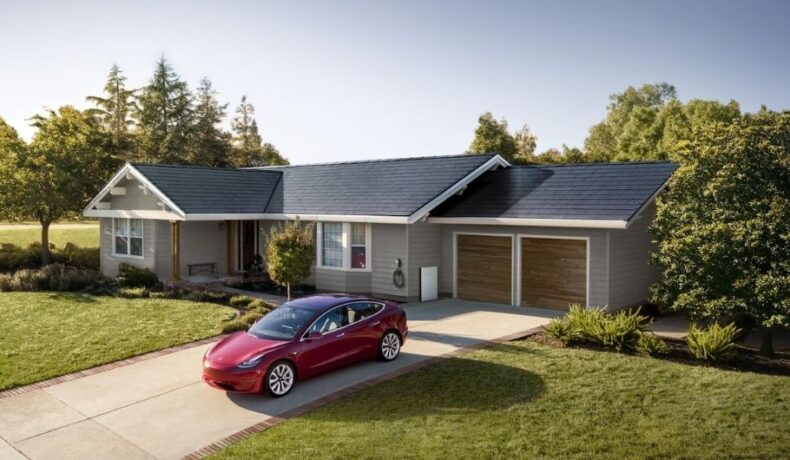 What are the best Tesla Solar Roof Alternatives?
CertainTeed Apollo II Tile
Luma Solar Roof
SunTegra
Ennogie
GB Sol
Thanks to great marketing, Tesla Solar Roofs are slowly gaining popularity in recent years. However, the warm acceptance of the more attractive cousin of solar panels is also thanks to the product's added value for green energy consumers who value visual appeal.
And like all savvy investors, it is always good practice on our part to look for better alternatives before purchasing.
Indeed, solar roof tiles are a recent addition to Tesla's product line. However, for the rational investor, getting the desired benefits of a product without paying for the name slapped on it means quicker returns on your investment.
But before we get into the nitty-gritty of Tesla solar roof alternatives, let's talk a bit about the leading contender first: Elon Musk's Tesla.
After the brief introduction, we'll compare the general pros and cons of solar roofs with conventional solar panels. Our readers need to know what they are getting into aside from higher costs.
Foreword
Climatebiz experts design, research, fact-check & edit all work meticulously.
Affiliate Disclaimer
Climatebiz is reader-supported. We may earn an affiliate commission when you buy through links on our site.
What is a Tesla Solar Roof?
So what is a Tesla Solar Roof? Who is it for, and how does it differ from the more traditional solar panels?
For those encountering this product for the first time, Tesla solar roof tiles are simply roof tiles with embedded solar cells that convert solar energy to electricity.
Suppose you are the type of person who values green energy while maintaining the look of your rooftop for whatever reason. In that case, you are part of the target niche of this product by Tesla and other manufacturers.
Although Tesla is arguably the most popular company that offers solar roof tiles, there are a lot of alternative companies that also provide the same promise of a slick glass-faced solar roof that generates green energy.
It is no secret that Tesla's marketing team knows what they are doing when creating positive emotion around their products, such as electric vehicles and power walls. This aspect of their brand marketing has contributed phenomenally to building loyal supporters.
Tesla solar roof is a relatively new concept that merges solar panel cells directly with your roof. Most of you might not know this, but Tesla is not the original pioneer of the solar roof concept. Instead, it built the necessary emotional appeal for niche audiences to patronize this innovation.
The First Solar Roof
According to lead-innovation.com, Albert Joseph Antoine Laumans, Reinhard Lepsien, and Heinz Müller invented solar roof tiles. Subsequently, Gasser Group and ZEP patented the idea and turned it into a business.
These companies benefited from the massive promotion of Tesla on these solar roof tiles, expressing their delight that Elon Musk has shed light on this innovation.
Tesla's solar roof consists of two types of textured glass tile shingles:
Active solar shingles
Inactive, non-solar shingles
Non-solar shingles are added to the mix when you choose to install Tesla solar glass roof because chances are, you won't be needing to put up solar cells in each tile. Only active solar tiles contain solar cells, while inactive ones serve as fillers once you replace your roof with the sun singles.
Tesla Solar Roof V3 is 114 cm long by 43 cm wide, and it can produce about 58 watts at the cost of about $6.49 per watt.
---
Solar Panels vs. Solar Roof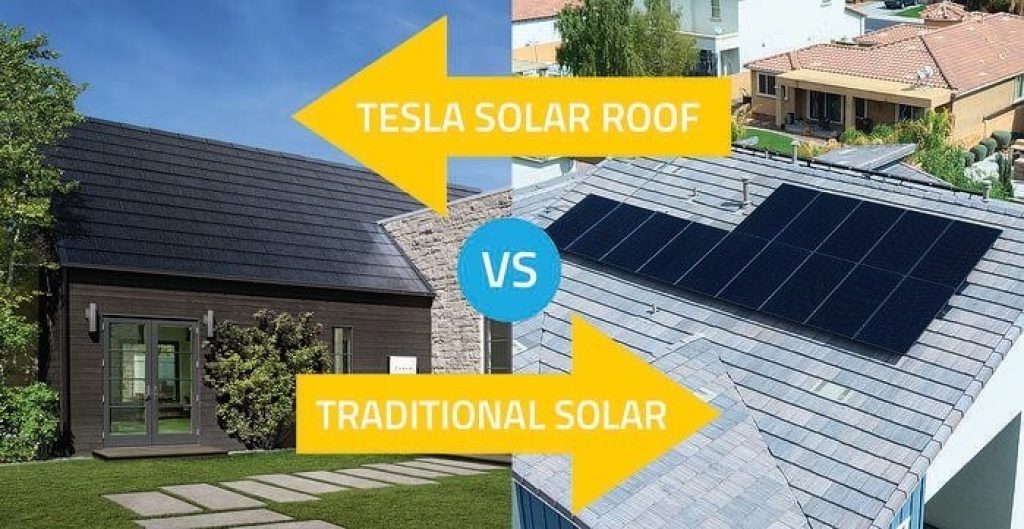 Before you buy into solar roofs, let's consider some considerations first and compare this new market product to traditional solar panels.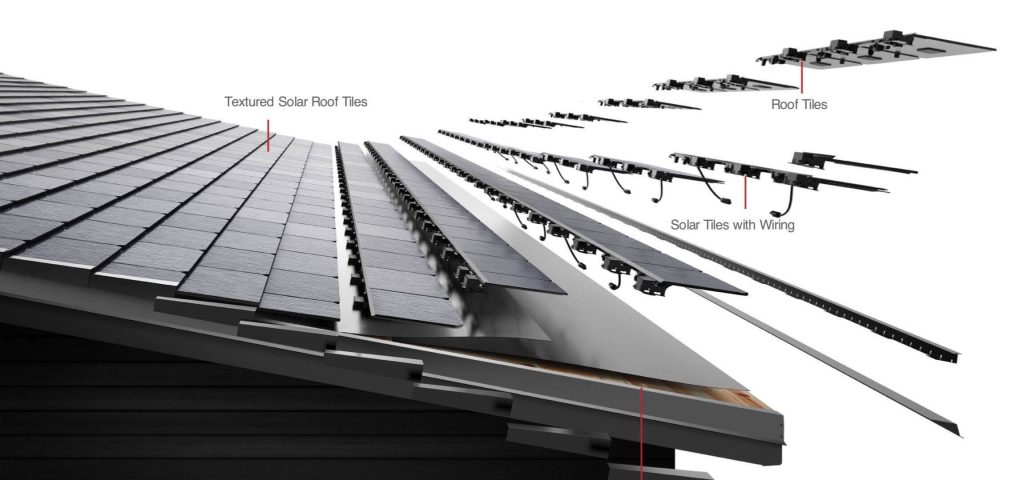 1. Looks
This is the main selling point of Tesla's solar roof tiles. According to Tesla, its Solar Roof version 3 is a glass-faced solar tile that uses hydrographic printing to make the tile look remarkably like slate, clay tile, or a dark shingle from afar.
On the other hand, solar panels are available only in the traditional black/blue colors. Solar installers place them on brackets on existing or finished roofs. In effect, it is obvious who owns solar panel systems in an area, which may be unappealing to some.
2. Installation
Green energy enthusiasts going for solar panels have more chances to choose from various solar installers since many contractors are familiar with installing conventional panels.
On the other hand, solar roofs are specialized products perfect for owners looking for roof replacement. They are a part of the roofing material and typically need to cover the entire roof.
3. Efficiency
However, solar cell production depends on orientation and tilt, so solar roofs are less efficient and often require more consideration when placed on flat rooftops.
Also, PV Magazine USA estimates that the Tesla Solar Roof efficiency falls between 4-11%. This is relatively low compared to solar panels that operate between 15% and 25% efficiency.
4. Cost
In terms of price, going with the Tesla Solar Roof will incur three cost components:
Solar Roof Base Price
Solar Roof Tile Cost
Roof Replacement
Upon checking the Tesla Solar Roof online calculator, it is clear that going with this option will cost more than solar panels.
Not to mention you are limited to Tesla for maintenance as well.
---
Is It Worth Buying A Tesla Solar Roof?
The main reason to go with Tesla Solar Roof is for visual appeal. However, we want to point out that solar roofs are not as commercially matured as solar panels. Therefore there is an ample opportunity that the cost will go down some more in the future.
Now, is it worth buying a Tesla Solar Roof?
For us, this option only makes sense if you are entirely sold into great aesthetics and completing your Elon Musk product fleets such as the Tesla Cars and Powerwalls. Aside from those reasons, we think that solar panels are still the best choice for those looking to get their investment back as soon as possible.
Either way, you are still choosing to use solar for your electricity, which counts as something.
5 Tesla Solar Roof Alternatives in 2021
Now that we have a basic grasp of how a solar roof works let's look at our top 5 alternatives to Tesla Solar Roof.
1. CertainTeed Apollo II Tile
CertainTeed is a North American company that manufactures roofing, insulation, wallboard, and more products.
Today, the company offers two product options. The first product is the Apollo II solar cell wafers you can directly slap on your present rooftop.
On the other hand, the Apollo II Tile is more similar to the Tesla Solar Rooftop, entirely integrating solar cells to roof tiles.
What about cost? Well, this is the tricky part. As it turns out, CertainTeed doesn't put out its price point for installing Apollo products. However, our good friends over at Undecidedmf report that the price is around $6.54 per watt.
Assuming this is the price for solar cells alone, we believe this is feasible since we still have to consider other solar components and installation labor.
Bottom line, when you decide to go with CertainTeed products, you pay less than the Tesla brand in exchange for a reduced solar roof eye-candy factor, as shown in the image below.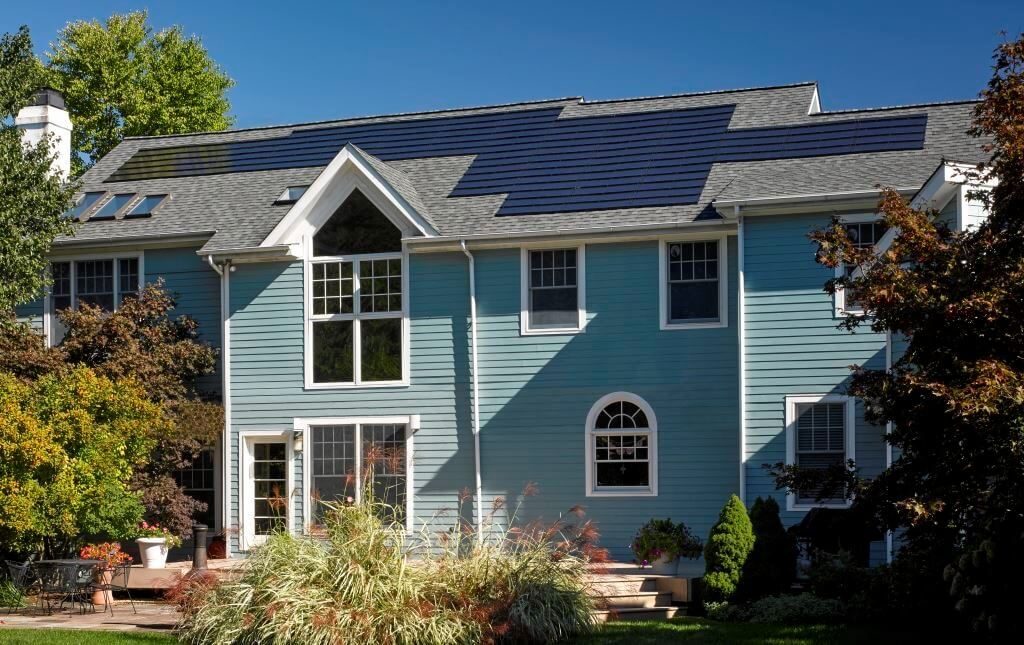 2. Luma Solar Roof
Luma solar is another US company in the market that produces 60-watt solar roofs made of thin polycrystalline cells with dimensions of 138.6 x 38.7 cm. Like Tesla, they come with a 25-year warranty and guaranteed 80% output. The solar roofs alone cost $4.50 per watt.
3. SunTegra
Another Tesla solar roof alternative to consider is the SunTegra solar roof. These are also two-in-one solar roof tiles that offer solar energy production and home protection.


The company attempts to separate itself from the competition by offering an innovative design that allows each tile to be integrated directly with standard American tile roofing systems. Each tile is about 134 x 43 cm and is made out of premium monocrystalline solar cells and patented TegraVent technology to ensure enhanced solar efficiency. This value proposition aims to hit the sweet spot of cost, aesthetics, and performance for their patrons.
Each tile costs about $6.16 per watt and comes with a 25-year limited power warranty and a 10-year limited product warranty.
4. Ennogie
Ennogie is a green energy solutions company based in Denmark. Their main product line at the moment is solar roof tiles and panels.
Ennogie's Take on Going Solar
Now, before we proceed to Ennogie's solar roof offerings, let's take a moment and appreciate a simple point they made on why it is beneficial to have solar rooftops.
On their website, Ennogie justifies the price of solar roof tiles by arguing that rooftops are bound to get replaced sooner or later. Therefore, why not make it earn you money than depreciate and incur costs. Ennogie drives this point home well using the illustration below.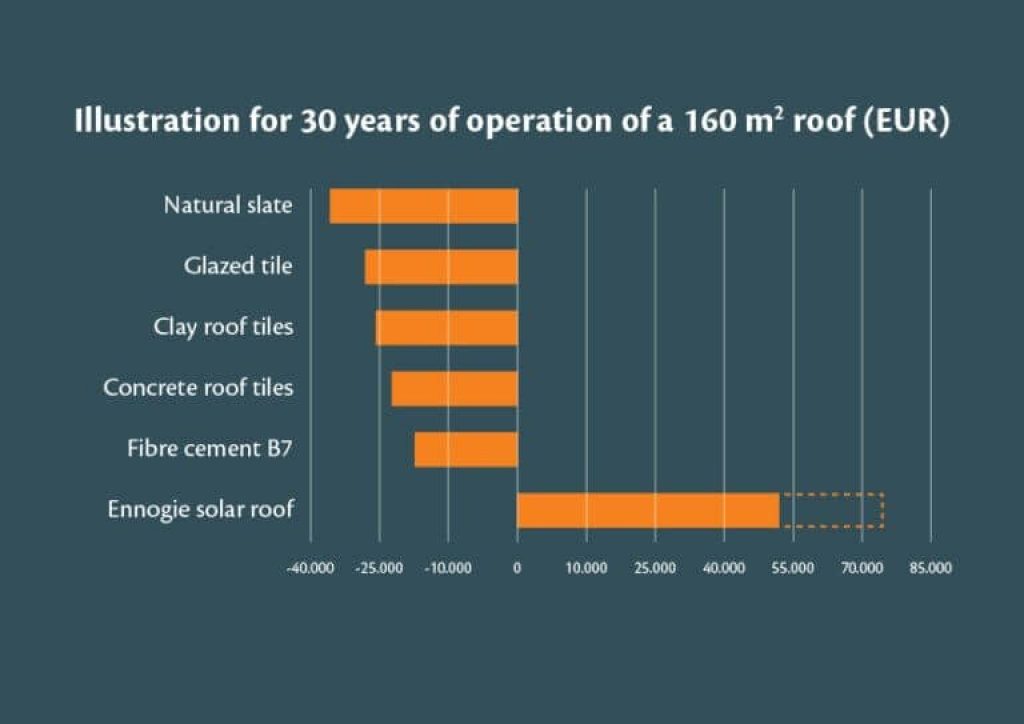 In hindsight, this cost-benefit analysis may seem to be common sense. However, it is a good reminder that it is better to earn back investment through solar panels or solar tiles rather than just losing money through simple roof depreciation.
Ennogie Tesla Solar Roof Alternative
Now, let's talk about the Tesla Solar Roof alternative that Ennogie offers.
Currently, the company presents two panels as solar roof tile options – a 55W panel and a 130W panel. Based on your roof construction, Ennogie offers different tiling methods that maximize the active production of solar energy.
This example is worth discussing since the solar production principles (tilt and angle) also apply to other previously mentioned solar roof products. It shows that complex roof constructions will require different solutions such as "adjustment panels." These adjustment panels serve as fillers in areas that are not optimal for solar energy production.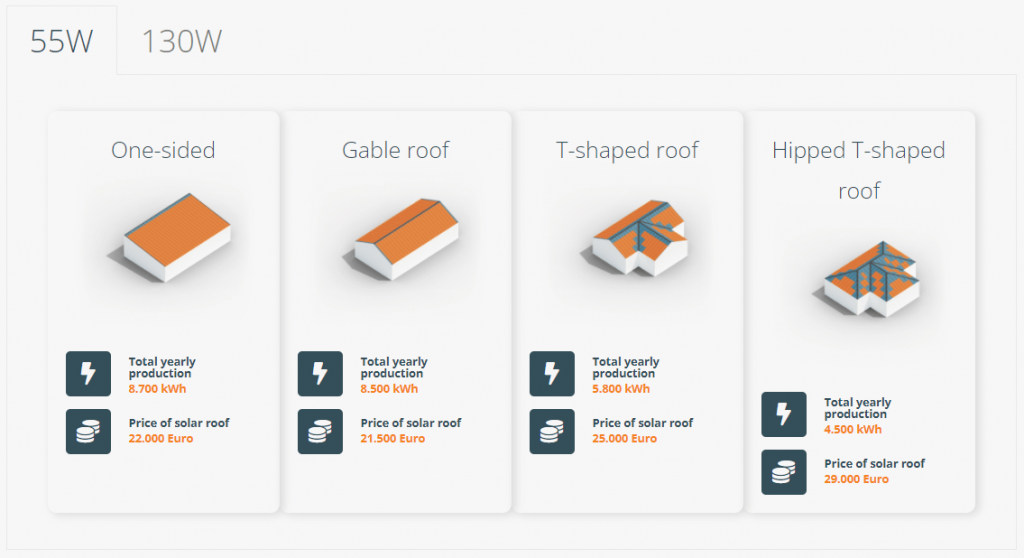 The illustration of roofing constructions above shows the composition of "active" and "passive" panels in the various buildings based on a sample 1700 sq. ft. roof area.
Areas highlighted in orange indicate the "active solar production" portion of the solar roof.
Based on the examples and online information we found, Ennogie's solar roof will cost you about $ 4.19 per watt. It is the cheapest among this curate bunch.
5. GB Sol
GB Sol is the most popular solar roof manufacturer and installer for our readers based in the UK. It is an excellent solar roof alternative for Brittons looking to install solar roof tiles and is unwilling to wait for Elon Musk to follow through with his promise to make Tesla solar roofs available in the UK.
GB Sol' offers blue-ish solar tiles that weigh 3.5 kg. Each tile is rated 27.5W and has a 25-year warranty on the product, its solar performance, and its weatherproofing abilities.
Based on the estimate of theecoexperts.co.uk, a 4kW solar tile system will cost you up to $21,263. Dividing $21,263 by 4kW yields us $ 5.32 per watt.
Now, throughout the years, plenty of solar roof companies have inched their way into the main stage along with Tesla. However, there is a lack of substantial information to create comprehensive comparisons. Until we get more data, we are putting these companies here for future reference:
SunFlare – PowerFit 20
Exasun – X-Tile and X-Roof
Hanergy – HanTile
Final Thoughts
Solar roofs, at their core, serve the same purpose as solar panels, which is to produce solar energy. They are for people who value slick and low-key rooftops that contribute to the green movement, but they don't come cheap.
Considerations when Choosing Solar Roof Alternatives
Choosing a solar roof means more extended returns on investments. We are talking at least a decade here, roughly speaking.
It is also not surprising that companies are having difficulty generalizing prices because of varying specialized labor rates, building conditions, and needed electrical work.
Solar roof tile technologies are still relatively young in the market, and it will take time to have more detailed information for consumers to make more convenient investment decisions. We did mention in a previous article that it took solar panels decades of development and economies of scale to experience significant price reduction.
Why Tesla Solar Roof Alternatives are Viable
Despite being the most popular brand, Tesla still has a long way to dominate this market due to high price points, broken promises, and limited service area. These gaps are why other solar roof companies still have a shot at competing in the solar roof space.
As a summary, here is a table illustrating the estimated cost per company that offers solar roofs:
| | |
| --- | --- |
| Company / Product Name | Cost ($/watt) |
| Tesla Solar Roof V3 | $ 6.49 per watt |
| CertainTeed Apollo II Tile | $ 6.54 per watt |
| Luma Solar Roof | $ 4.5 per watt |
| SunTegra | $ 6.16 per watt |
| Ennogie | $ 4.19 per watt |
| GB Sol | $ 5.32 per watt |
Summary of the estimated cost of Tesla and alternative solar roof manufacturers
However, please note that these calculations are based on limited information and general housing conditions that Climatebiz could grasp. There will be price variations from project to project due to supplier-specific materials, services, and jurisdiction adjustments.
But the critical factor remains. As Ennogie showed, the goal is to enjoy savings for solar roofs. It is an investment rather than a liability.
The development of this technology highly depends on demand and mass production. Once the green energy consumers and manufacturers both satisfy these conditions, we can all expect significant price reductions and slick solar rooftops in the future.