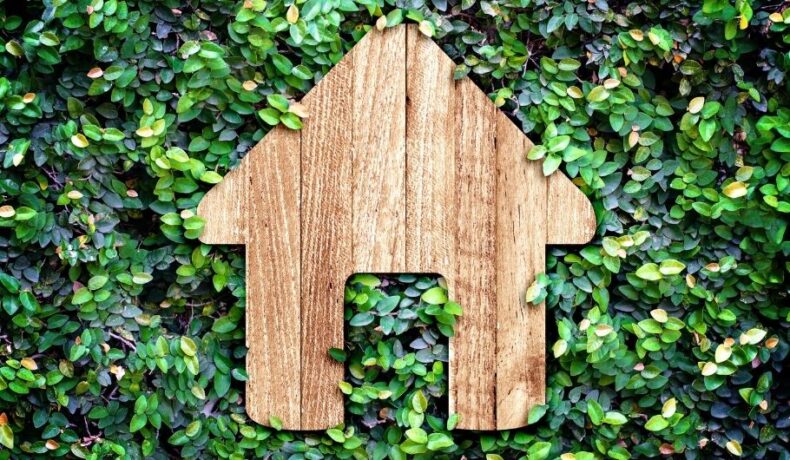 The way that you run your household has a significant impact on the environment which is why green housing ideas have become such a talking point in recent years.
Some of you out there may be well on your way to establishing a green home of your own, while others may not know where to start.
Fortunately enough, the methods through which you can go about changing your home from an emission-producing powerhouse into a more eco-friendly mecca are relatively easy and simple to carry out.
Some may be more costly than others – at least initially – but in the long run, you'll be helping out your family and the environment while running your home in a more cost-effective and efficient manner.
In this article, we'll be looking at 17 green housing ideas to help you along your journey to establishing a green home.
---
Sustainable Building Materials
Overview
Green housing ideas that make a home run in a more eco-friendly manner are important, but what about the materials that actually make up your household?
If you truly want a green home, you'll want to make sure that the materials used to build it are responsibly sourced and environmentally friendly.
Benefits
Here are some of the benefits of using sustainable building materials:
Materials that are recycled or responsibly sourced protects the environment in a major way.
Building in a "green-friendly" manner can reduce the cost of building operation time.
Examples
If you're unsure about what construction materials are considered eco-friendly, here are some examples:
Bamboo
Cork
Straw Bales
Recycled Plastic
Reclaimed Wood
Reclaimed Or Recycled Steel
Plant-based Polyurethane Rigid Foam
As you can see, there is no shortage of alternatives to traditional construction materials such as wood and lime
---
Natural Interior Lighting
Overview
Current LED lights are 80% – 90% more efficient compared to their incandescent cousins. On average, they are 20% more efficient than fluorescent lights.
These are fantastic, energy-saving lighting options for your home. But an eco-friendly house can take this one step further by adding in solar tubes/sun tunnels or traditional skylights.
As you may have already guessed, solar tubes make use of the sun's rays to light up darkened spaces. As such, these tubes are a great alternative to conventional, electricity-based lighting systems.
Benefits
Here are some of the benefits that natural interior lighting provides:
An alternative lighting source like a solar tube is non-obstrusive in nature. This allows you to easily integrate them into into any of your rooms.
Natural lighting saves on energy costs.
It's far more environmentally friendly.
---
DIY Cleaning Products
Overview
Do you find yourself with excess vinegar, bicarb, or even essential oils in your home? If so, you have all of the necessary ingredients needed to make a homemade cleaning solution.
These homemade cleaning products are a must for any of you wanting a green home.
Sure, the thought of doing this may put a fair few of you off as it seems like a bit of a hassle. Truthfully though, it really isn't.
Benefits
Here are some of the benefits that DIY cleaning products provide:
Homemade cleaning products tend to have less harmful chemicals in them. This protects both you and the environment.
You'll reduce the amount of plastic and throw-away containers that you usually purchase.
Most cleaning products from the supermarket are branded, making them more expensive. Going homemade means you'll pay less over the longrun for your cleaning products.
---
Green Up Your Roof
Overview
Okay, this idea may not be accessible to every – it can be very pricey – but it doesn't mean it isn't a great idea.
Green roofs are without a doubt the future of modern, sustainable architecture. From residential homes, all the way through to commercial buildings.
What exactly is a green roof though?
Green roofs – also known as eco-roofs, living roofs, or vegetated/vegetative roofs –are systems involving the use of various types of vegetation on top of buildings.
Benefits
Here are some of the benefits that green roofs provide:
Enhancing storm-water management.
Helps with building-related energy savings.
Local habitat conservation.
Reducing air pollution.
Psychologically beneficial to humans.
---
Go Hydro
Overview
And some more green housing ideas – hydroponics. Hydroponic growing is the use of a nutrient-rich, water-based solution in place of soil as a growing medium for plant propagation.
With this method, nutrients are fed directly from the solution into the roots of the plants Additionally, plants can access ample amounts of oxygen, allowing for greater quality products and noticeably less time between yields.
Benefits
There are numerous other benefits to utilizing hydroponic systems over traditional soil-based cultivation techniques.
Some of these benefits include:
Increases and maximizes grow space.
Saves on water
Produces higher quality food.
Produces higher yields.
---
Heating Alternatives
Overview
Household heating requires a significant amount of energy, especially over an extended period of time.
In parts of the world where it gets particularly cold – think UK, Canada, and parts of the U.S – this heating accounts for a large part of one's electrical bill.
This is where alternative heating methods such as air source heat pumps come into play.
Benefits
Here are some of the benefits that heating alternatives provide:
Savings on your monthly electrical bill.
Heat pumps are generally much safer than systems that are based on combustion.
Less maintenance than combustion heating systems.
Less air pollution.
---
Reduce, Reuse, Recycle
Overview
Reduce
Nowadays, many of us can order whatever we'd like at the click of a button – food, clothing, electronics, etc.
While that is very convenient, the practice also lends itself to over-consumption. In fact, a fair amount of people purchase things that they barely even use, or actually forget about.
Reuse
With a little bit of thought and creativity, you'd be surprised at the number of items in your home that can be repurposed.
Reuse your household items and you'll find that your wastage dramatically decreased. Not only that, you'll be saving money too.
Recycle
This is a staple for any green home.
Most of us have been taught about the importance of recycling, and there's a reason for that – it helps, a lot!
If you're struggling to reduce the number of items that you purchase, and you've reused as much as possible, it's time to recycle.
Here's the catch though – not everything is recyclable. So, when you do go shopping, try to purchase items that are more easily recyclable.
Benefits
Recycling materials and objects helps out our planet – it's a no-brainer.
Reusing reduces wastage and saves you money.
Reducing helps to cut down on needless spending/purchasing and therfore reduces wastage.
---
Invest In An HVAC System
Overview
HVAC stands for heating, ventilation, and air conditioning.
This system provides heating and cooling to residential and commercial buildings by using fresh air from the outdoors to provide good quality indoor air.
Benefits
Here are some of the benefits of an HVAC System:
Provides a better quality of air indoors.
Removes moisture, smoke, odors, heat, dust, airborne bacteria, carbon dioxide and other gases.
Helps to control temperature.
---
Rainwater Catchment
Overview
Ever found yourself wondering how much rainwater goes unused? The answer would probably frighten you.
A 2019 article from the Los Angeles Times stated the following:
"California wastes most of its rainwater, which simply goes down the drain. California's wet winter has dumped an estimated 18 trillion gallons of rain in February alone. But much of it is simply going down the drain."
That is a truly horrifying statistic. Think of the impact 18 trillion gallons of rainwater could have if it were collected and used properly.
Well if you want a piece of the pie, then you best think about installing a rainwater catchment system. To do this, install roof gutters and downspouts that direct rainwater to a tank for reuse.
Benefits
Here are some of the benefits of a rainwater catchment system:
You can use your rainwater for irrigation purposes.
Keep your pool topped up.
If you have the means, you can install a filtration system to purify your water so that it becomes drinkable.
---
Energy Efficient Windows
Overview
The fundamental principle behind any good green housing idea is that of efficiency. Why bother making use of a method if it isn't efficient and doesn't yield results?
Well if efficiency is what you're after then it's time to install some passive house windows into your green home.
So what exactly are these windows? Knowing the function they perform will help you to understand the concept behind them
The windows in a passive house perform two functions:
They help to reduce heat loss in and around glass areas.
They allow for heat gain throughout a home via solar irradiation.
Benefits
Passive house windows come with a number of very valuable benefits. These include:
Passive house windows help to optimize solar energy consumption by regulating your households internal temperature.
Standard windows don't deal with condensation related issues very well. Areas with plenty of condensation build up are at risk of mould, and no one likes mold. Passive windows are fantastic at reducing this risk.
The ability of passive house windows to regulate your home's internal temperature means that you'll be saving on your heating and cooling costs.
---
Install A Smart Thermostat
Overview
Household heating is a major contributor to energy usage.
We've all experienced how easy it can be to forget about turning our heaters off, especially during the cold winter months.
Neglecting to turn off your heating can lead to a lot of wasted energy and sky-high electrical bills, neither of which is ideal.
For this reason, it's a good idea to have a smart thermostat installed in your home. You can program this meter so that your heating system only turns on for a selected period of time.
Benefits
A smart meter will allow you to reduce your homes carbon footprint.
You'll save on your monthly energy bills.
---
Outdoor Lighting Alternatives
Who doesn't love a good set of outdoor lights? They add that little "something extra" that we all want around our garden and outdoor areas.
But the cost of powering these lights adds up, particularly around the festive season when you're really wanting to go big with your lighting display.
Enter, solar lights. These solar-powered LED lights come in all shapes and sizes. Deck lights, fence lights, Christmas lights, whatever you need, these lights will deliver.
Benefits
Outdoor lighting alternatives come with the following benefits:
Monthly electricity savings, especially around the festive season.
Reduced carbon footprint due to a reduction in electricity usage.
---
Greywater System
Overview
Next on our list of green housing ideas is this handy system that helps you to recycle water.
Greywater is defined as water that has been used but doesn't contain any harmful chemicals or excrement (such as blackwater).
Many people aren't aware of the fact that they can use recycled greywater in and around their households. As such, millions of liters get wasted on a daily basis.
By installing a greywater system, you help to divert used water to other parts of your home that may need it, as opposed to just flushing it down the sewers.
Benefits
Here are some of the benefits of a greywater system:
Water your garden.
Flushing your toilet
If treated properly, the water can be used to fill up your swimming pool and even to wash your laundry. However, these systems are usually very expensive. As such, most homes with a greywater system can't do this.
Saves you money on your water bill.
---
Alternative Energy
Overview
We're all very aware of the negative effect that traditional fossil fuels have on human health and the environment.
That awareness is the main driving force behind the growth of alternative energy sources such as solar and wind power.
Residential solar systems have become more commonplace as a result and for good reason – They provide you with a fantastic source of clean, green energy.
The best part, you can get a company to install one at your home or you can create your very own system yourself.
There are two types of solar systems suitable as a green housing idea:
On-Grid: your system is connected to the local utility grid.
Off-Grid: you are totally autonomous, and don't need to be connected to the utility grid.
Benefits
Solar systems come with many benefits. Some include:
Energy independence – if you have the means, you can go completely off-grid, so you don't have to rely on anyone but yourself for your energy needs.
You'll reduce the carbon footprint of your household, aiding the environment.
Electricity bill getting a bit too pricey for your liking? Having your own solar system can save you on energy costs in the long run.
---
Backyard Structures With A Twist
Overview
Thinking about adding an outdoor structure to your property? How about one that generates power while looking pretty, all at the same time?
Hello, solar pergola.
A pergola is an outdoor structure that can provide your garden or outdoor space with shaded areas, sitting areas, or walkways.
A solar pergola adds an integrated solar system to the equation. These are mounted on top of your pergola, at an angle so as to receive the maximum amount of sunlight possible.
Depending on the size, these structures can provide you with enough energy to power certain elements of your property, or the property as a whole.
Benefits
You can power the following with a solar pergola:
Outdoor lighting.
Water pumps.
Swimming pool lights.
Charging of battery powered devices.
If the structure is big enough, you may even be able to power large sections of your household.
---
Smart Irrigation
Overview
Did you know that households with poor irrigation systems can waste up to 25,000 gallons (94,635 liters) of water annually?
Do you really want to be part of that statistic? If not, then we advise that you look into smart irrigation
The setup usually involves a combination of advanced technology such as sprinklers with nozzles that are able to improve the range and coverage of water flow.
Perhaps the most important part of this system is the integration of a smart controller.
This device monitors the weather, soil conditions, evaporation, and plant H20 use. By monitoring these details, the system is able to automatically sense and adjust the watering schedule to the exact conditions needed on the site.
Benefits
Here are some of the benefits associated with smart irrigation:
Saves you time and effort with automated watering.
Helps you to conserve water by limiting water usage.
You'll be saving on your monthly water bill.
Keeps your plants healthy and happy.
---
Sun-Powered Hot Tub
Overview
Who doesn't love a good hot tub? Better yet, who wouldn't love to have one that doesn't cause their electricity bill to skyrocket – Green housing ideas 101 (reduce energy consumption).
The good news is that it's totally possible with a solar hot tub.
A solar hot tub is essentially a conventional hot tub that's powered by either electric PV or solar thermal – sometimes even both.
Solar thermal tends to be the much more efficient/cost-effective option of the two – in warmer climates. This is because solar thermal collectors can almost absorb the entirety of the solar spectrum.
Benefits
Here are some of the benefits associated with solar hot tubs:
Reduce expensive running costs.
Harness free sunlight.
You can lower your carbon emissions, helping out the environment.
You can integrate your solar hot tub into the hot water system for your home.
---
Final Thoughts
As you can see, there is no shortage of green housing ideas out there to help you transform your living space into an efficient, eco-friendly green home.
All it takes are baby steps. You don't have to jump into building yourself an entire solar system right away to show that you care about helping the environment. Getting started with solar energy can be pricey and change takes time.
Instead, start off small. Collect rainwater, reduce wastage, recycle, grow your own vegetables, make your own cleaning products – each of these simple ideas go a long way towards making a positive impact on our planet.
In short, implement each of these ideas where possible and do the best you can to help leave the world in a better space than when you found it.