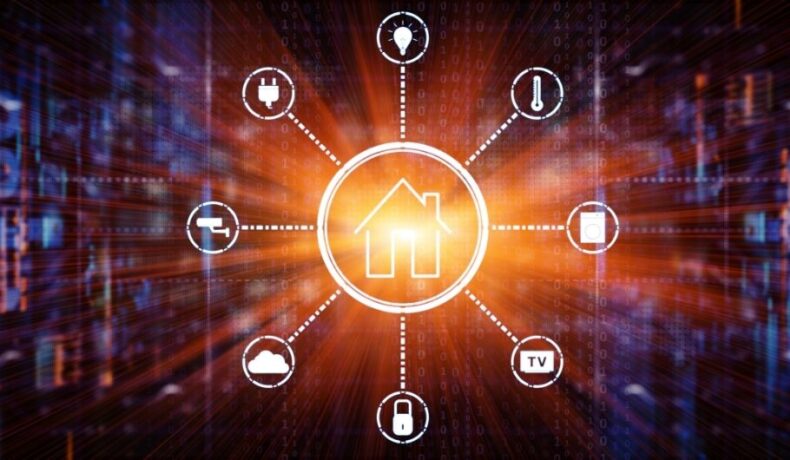 Environmental consciousness is at an all-time high. More and more people are looking to "go green" and truthfully speaking there isn't a better way to do so than to create an eco-friendly house for you and your family.
But creating such a house can seem quite challenging and tedious to most. Honestly speaking – it isn't.
That's why we've decided to create an article that'll guide you through ways in which to transform your ordinary home into an eco-friendly haven.
Additionally, you'll learn about tax credits related to eco-friendly houses, the pros and cons of green home construction, and lastly, you'll be provided with some book recommendations to assist you on your journey.
Foreword
Climatebiz experts design, research, fact-check & edit all work meticulously.
Affiliate Disclaimer
Climatebiz is reader-supported. We may earn an affiliate commission when you buy through links on our site.
---
What Is An Eco-Friendly House?
At this point, chances are you're very familiar with the term eco-friendly. But how does this way of living/thinking apply to a household – in other words, what exactly is an eco-friendly household?
Well, to put it simply an eco-friendly house is a household that's designed to operate in such a way that it has minimal impact on the environment.
Why is this important? Think about all of the contributors to global warming – cars, planes, boats, factories, etc. The last thing this planet deserves is us negatively affecting our environment by the way we run our households.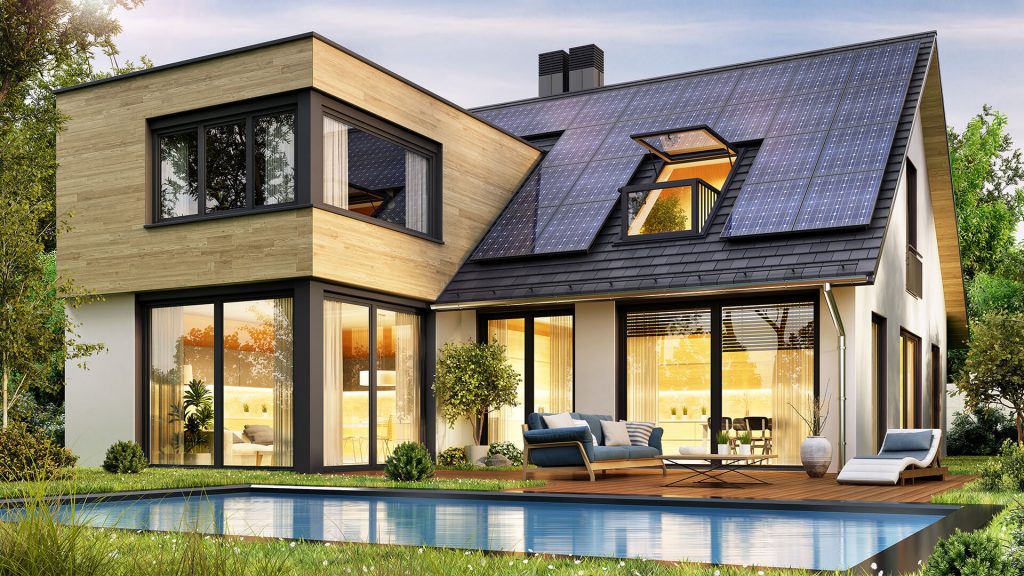 What Constitutes An Eco-Friendly House?
Now that you've been given a basic idea of what an eco-friendly house is, let's elaborate a little, shall we?
The following are key elements that form part of every eco-friendly home:
Renewable Energy Sources
Non-renewable sources of energy have become part and parcel of our daily home lives. Without them, many people would struggle to power or even simply heat up their homes.
With that being said, fossil fuels are a massive contributor to the increased rate of global warming taking place.
As such, many people are turning to renewable energy sources such as residential solar systems for their energy needs. This popular form of renewable energy has made great strides in recent years, with battery storage technology developing at a rapid rate.
Aside from solar, those who are fortunate enough to have the land and budget available may even turn to wind turbines. These are also a fantastic alternative to fossil fuel energy.
Whichever option is used, renewable energy is a non-negotiable factor when it comes to an eco-friendly home.
Sustainable Materials
Having a household that runs in an eco-friendly manner is a win-win for you and the environment. But what about the actual house itself? Have you considered the following questions:
What materials has the house been built from?
Have they been sustainably sourced?
Are they natural materials?
Those truly wanting an eco-friendly home will make sure that whatever materials used to build it were responsibly sourced. Recycled materials are great too.
We understand that this is not possible for everyone. After all, it may be difficult to source the materials in the first place. You may even have difficulty finding contractors that are experienced with building homes out of these kinds of materials. Nevertheless, if it's possible, it's advisable.
If you're unsure about what construction materials are considered eco-friendly, here are some examples:
Bamboo
Cork
Straw Bales
Recycled Plastic
Reclaimed Wood
Reclaimed Or Recycled Steel
Plant-based Polyurethane Rigid Foam
As you can see, there is no shortage of alternatives to traditional construction materials such as wood and lime.
Insulation
This is an element of an eco-friendly house that some may overlook.
The quality of insulation in a home is a key factor for a home of this nature. Why? Because it's directly linked to the energy efficiency of a home.
Energy efficiency is a vital component of any eco-friendly human. It's all well and good to produce your own electricity via renewable sources, but you also want to make sure that you retain the power being generated.
So how exactly do these homes achieve this? Well, this first order of business is to make sure that there are no draughts and leaks present in the home.
Double or triple glazed windows, airtightness, and other forms of insulation play a big part in offsetting these issues. In doing so, they help contribute towards a more sustainable home design.
---
10 Ways To Make Your Home Eco Friendly
1. Save water
Here's a not so fun fact for you, courtesy of the U.S. Environmental Protection Agency:
"Turning off the tap while brushing your teeth can save 8 gallons of water per day and, while shaving, can save 10 gallons of water per shave. Assuming you brush your teeth twice daily and shave 5 times per week, you could save nearly 5,700 gallons per year."
Combine that statistic with water scarcity and aging water infrastructure, and this one becomes a no-brainer.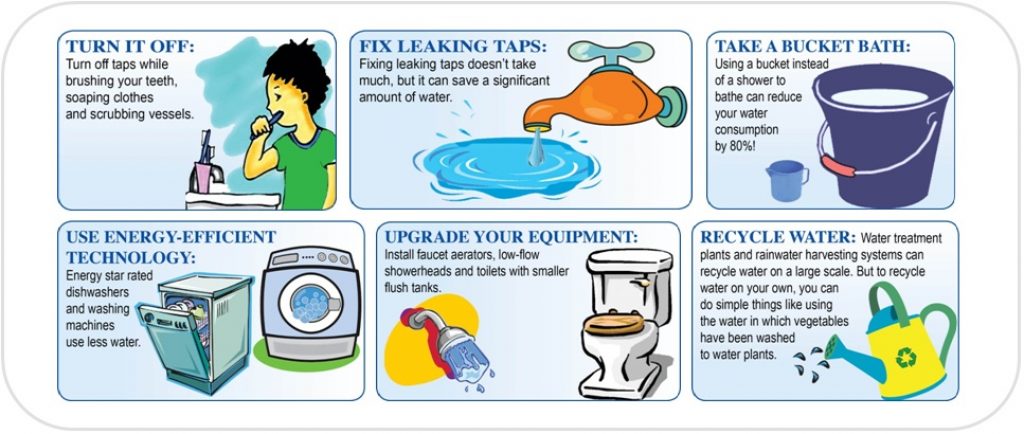 So how do you save water?
The U.S EPA makes the following recommendations, amongst others:
The average family can save 13,000 gallons of water and $130 in water costs per year by replacing all old, inefficient toilets in their home with WaterSense labeled models.
Replacing old, inefficient bathroom faucets and aerators with WaterSense labeled models can save the average family $250 in water and electricity costs over the faucets' lifetime.
For those of you who may not have the money to replace household plumbing, here are some common-sense tips:
Shorter showers
Minimize bathing
Fix household leakes
Only flush the toilet when necessary
Harvest rain water/greywater
2. Reduce
Nowadays, many of us can order whatever we'd like at the click of a button – food, clothing, electronics, etc.
While that is very convenient, the practice also lends itself to over-consumption. In fact, a fair amount of people purchase things that they barely even use, or actually forget about.
Ever bought too much fruit or vegetables only to throw half of it away? Almost every person has been guilty of that at some point in their life. The trick is to not get caught up in the guilt but rather to do something about it.
So before you go about purchasing anything, ask yourself:
Is this an impulse purchase?
Will I use this item?
Will there be wastage?
Just asking yourself those 3 simple questions can go a long way in reducing the amount of wastage in your life and therefore your household.
3. Switch Heating Source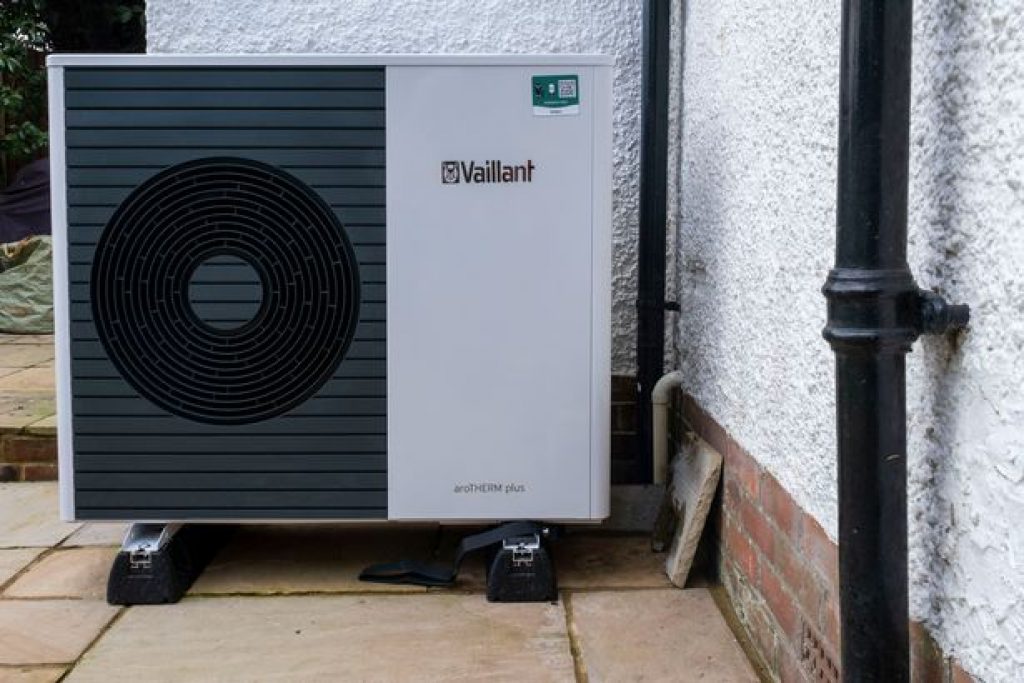 Do you live in an area with particularly cold winters? If you do, then it may be time for you to invest in a more environmentally-friendly heating source – think heat pumps.
Whether it be a geothermal, air source, or water source heat pump, these contraptions are fantastic alternatives to more traditional heating sources.
Not only are they more eco-friendly, but they also eliminate the need for appliances such as oil tanks and gas pipes.
4. Reuse
With a little bit of thought and creativity, you'd be surprised at the number of items in your home that can be repurposed.
Reuse your household items and you'll find that your wastage dramatically decreased. Not only that, you'll be saving money too.
Here are some ideas that'll come in handy when next you're looking for items to reuse:
If you're taking notes or doing some writing, be sure to use both side of the page.
You can reuse old containers for school projects, or storing miscellaneous items.
Reuse wrapping paper, plastic bags, boxes, and lumber.
Carry a reusable bag with you when going shopping
These are just some examples but there are plenty more. Again, get creative and try to make use of whatever is available to you.
5. Homemade Cleaning Products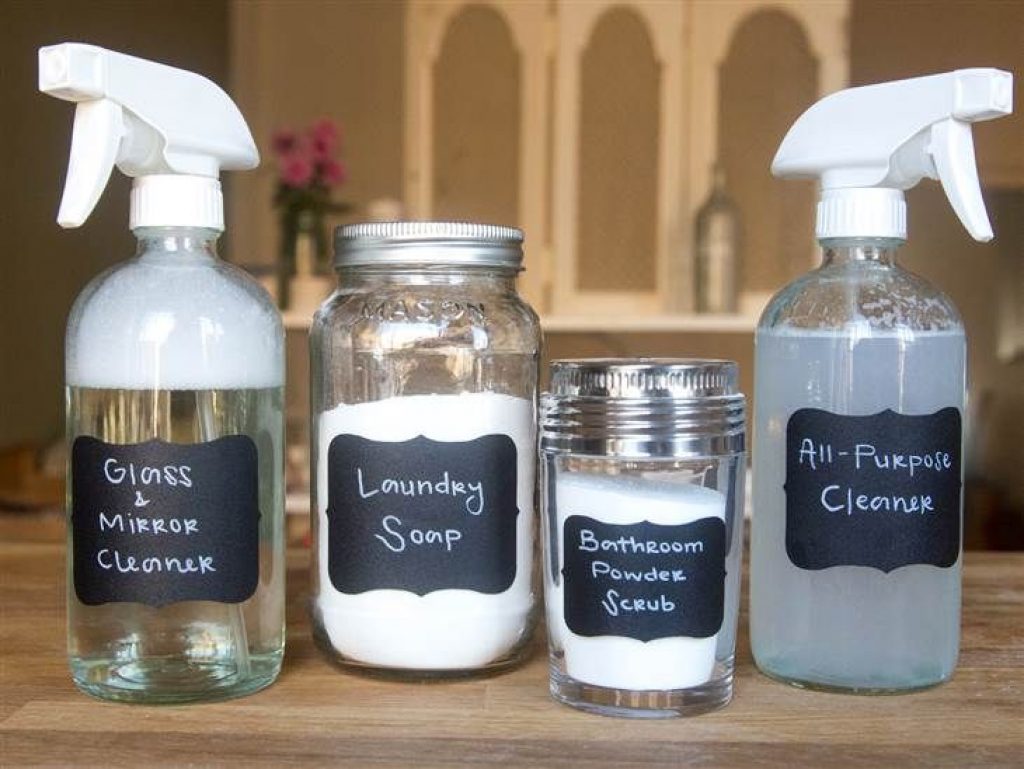 The thought of doing this may put a fair few people off as it seems like a bit of a hassle. But here's the good news – it really isn't.
In doing this, not only will you move towards a more eco-friendly way of living, but you'll also be saving money.
Think about it for a second – how many times have you had to purchase new cleaning products whenever you run out?
Every time you do, you're purchasing more plastic packaging. And let's be honest, you also have almost no clue about the ingredients in those products.
So essentially, you're doing the following:
Continuously buying plastic.
Spending money on new containers.
Using products with potentially harmful chemicals.
Doesn't seem like a great idea now does it?
Alright, well how do you address this? Here are some basic household cleaning product recipes:
Window Cleaner: 1/4 cup of white vinegar, 2 cups of warm water, and tea tree oil.
Anti-Bacterial Cleaner: 1/4 cup of white vinegar, 1 tbsp of baking soda, 1 liter of hot water, and orange essential oils.
Room Spray: 2 cups of warm water and lavender essential oil. Alternatively, use whatever type of essential oil that strikes your fancy.
6. Recycle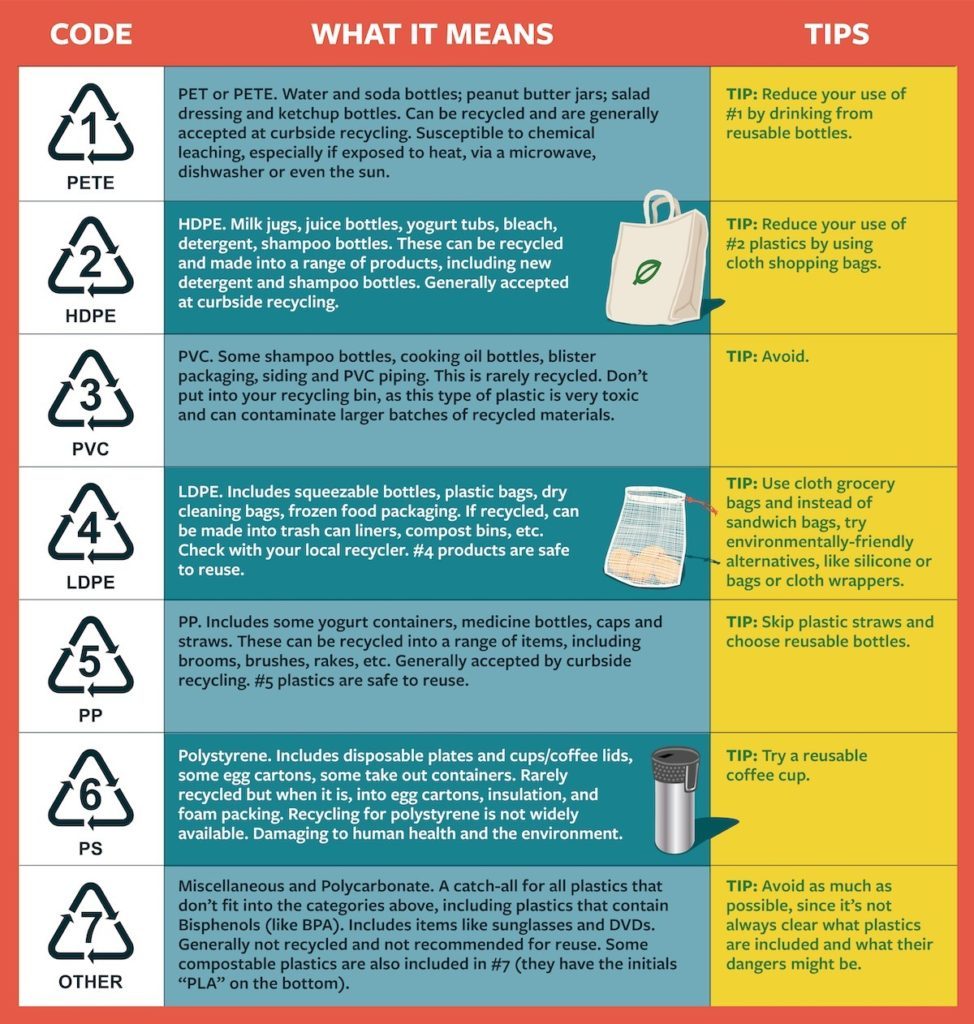 This is a staple for any eco-friendly house.
Most of us have been taught about the importance of recycling, and there's a reason for that – it helps, a lot!
If you're struggling to reduce the number of items that you purchase, and you've reused as much as possible, it's time to recycle.
Here's the catch though – not everything is recyclable. So, when you do go shopping, try to purchase items that are more easily recyclable.
7. Turn Off Your Electronics
This one is really quite simple – if you're not making use of an electronic piece of equipment, turn it off. The same goes for lights throughout your home.
Please, don't leave your lights on in a room that you aren't using. It consumes unnecessary energy, and at the end of the day, it also ends up costing you more money.
Reminder: Even if your appliances are switched off, be sure to switch them off at the wall too. Wall plugs that are turned on still leech smaller amounts of energy, even if the appliances themselves aren't turned on.
8. Alternative Lighting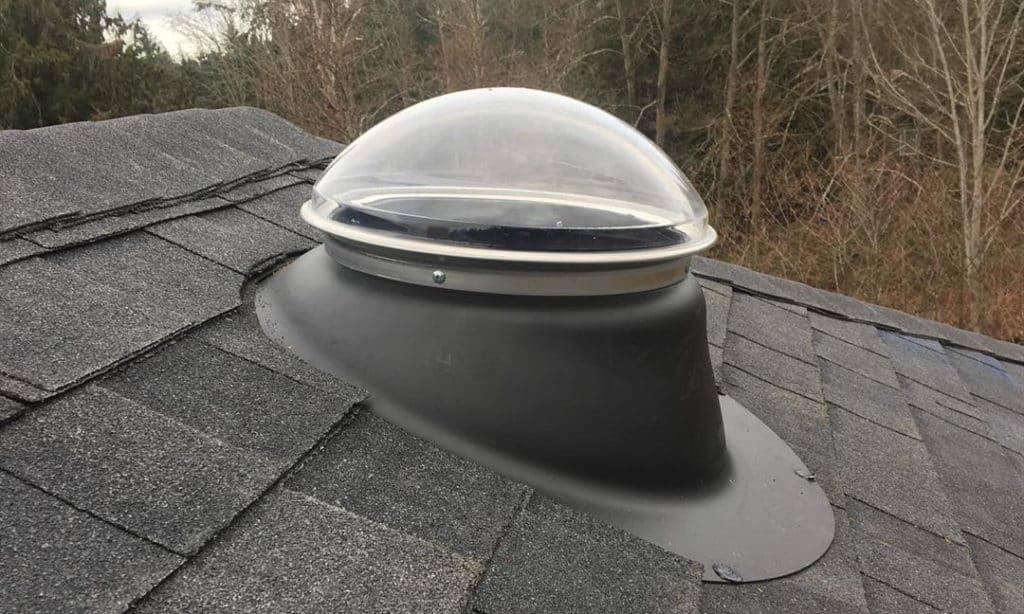 Current LED lights are 80% – 90% more efficient compared to their incandescent cousins. On average, they are 20% more efficient than fluorescent lights.
These are fantastic, energy-saving lighting options for your home. But an eco-friendly house can take this one step further by adding in solar tubes/sun tunnels or traditional skylights.
Both of these options can provide your home with good quality, daytime lighting throughout the year.
9. Homemade Compost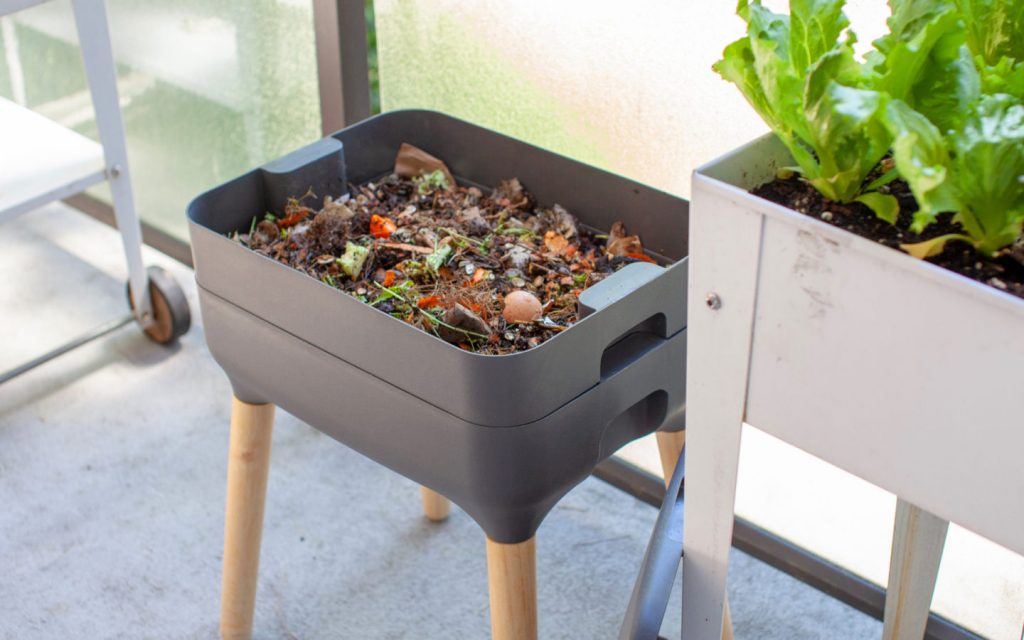 If you're the gardening type, then you'll want to hang on to any leftover food and kitchen scraps that you can get your hands on.
Those leftovers can really come in handy as they can make for a fantastic, homemade compost.
All you need to do is set yourself up with a compost bin or a worm compost bin and you're good to go.
In doing this, you'll be saving money on compost while also recycling any unwanted/unused food.
10. Installing A Smart Meter
Household heating is a major contributor to energy usage.
We've all experienced how easy it can be to forget about turning our heaters off, especially during the cold winter months.
Neglecting to turn off your heating can lead to a lot of wasted energy and sky-high electrical bills, neither of which is ideal.
For this reason, it's a good idea to have a smart meter installed in your home. You can program this meter so that your heating system only turns on for a selected period of time.
In doing this, you'll be saving money on your monthly energy bills and reducing your home's carbon footprint.
---
What Tax Credits Are Available For Eco-Friendly Houses?
Energy Efficiency Requirements
Homebuilders are eligible for a $2,000 tax credit for a new energy-efficient home that achieves 50% energy savings for heating and cooling.
There is also a $1,000 tax credit to the producer of a new manufactured home conforming to Federal Manufactured Home Construction and Safety Standards and achieving 30% energy savings for heating and cooling. Alternatively, a manufactured home also qualifies for a $1,000 tax credit if it meets ENERGY STAR requirements.
Tax credits for residential energy efficiency have now been extended through to December 31, 2021. The tax credit for builders of energy-efficient homes has also been extended through to December 31, 2021.
The tax credits for residential renewable energy products are now available through December 31, 2023. Renewable energy tax credits for fuel cells, small wind turbines, and geothermal heat pumps now feature a gradual step down in the credit value, the same as those for solar energy systems.
---
Pros & Cons Of Green Home Construction
Below is a table illustrating some of the pros and cons of green home construction:
| Pros | Cons |
| --- | --- |
| Reduced air pollution | Challenging maintenance |
| Recycled metals and other construction materials are used | High initial costs |
| Reduction in waste | Energy is dependent on weather conditions |
| More energy efficient | Availability of sustainable construction materials |
| Reduced greenhouse gases | Challenging to find green construction workers/contractors |
| Water-saving devices | Not suitable for all locations |
| Renewable energy usage | Technological problems |
---
Books On Eco-Friendly Housing
Clean & Green – Nancy Birtwhistle
In Clean & Green, Nancy Birtwhistle shares simple recipes and methods she has developed since deciding to live in a more sustainable manner.
From everyday cleaning and laundry tips to removing tricky stains from clothing and furniture, these economical and practical methods are perfect for anyone looking to reduce their use of plastic and throwaway products.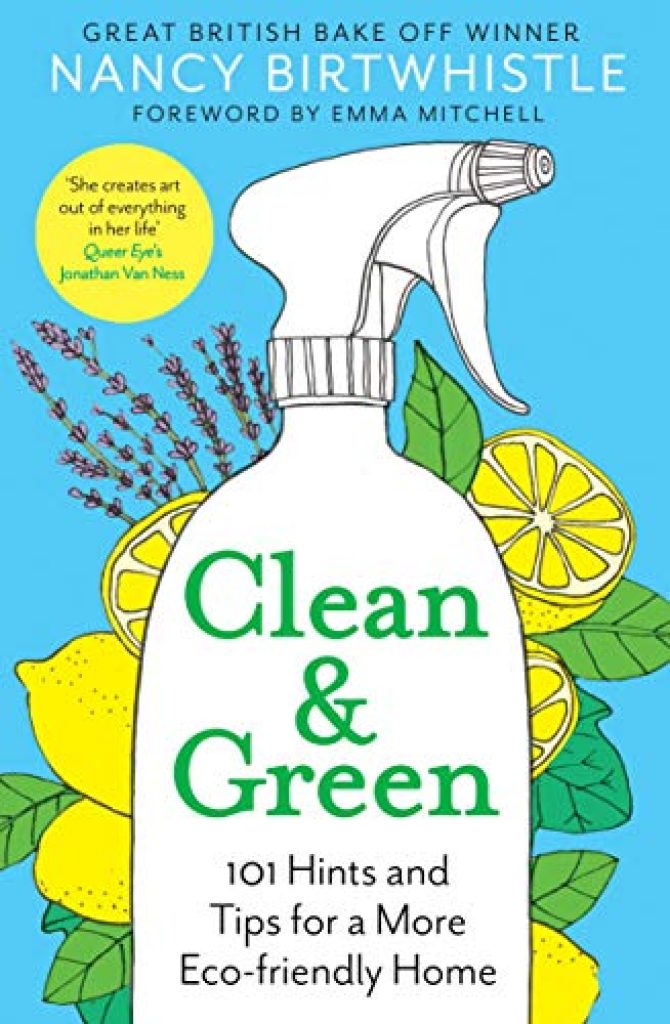 ---
Zero Waste Home – Bea Johnson
In Zero Waste Home, Bea Johnson shares the story of how she simplified her life by reducing her waste.
She deconstructs the process of going Zero Waste with hundreds of easy tips for sustainable living that even the busiest people can integrate.
Zero Waste Home is a fantastic and relatable step-by-step guide that will give you the practical tools to help improve your health and save money while living in a happy and eco-friendly way.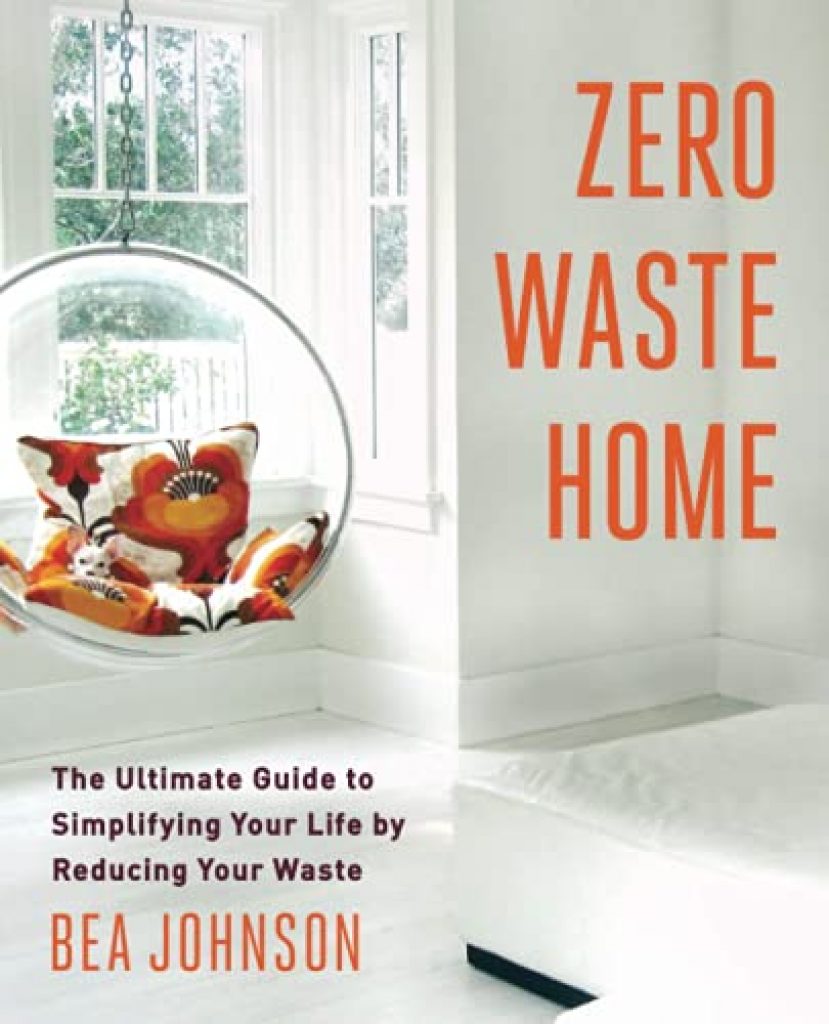 ---
Simple Living Well – Julia Watkins
In this guide to eco-friendly living, Julia Watkins shares methods for living simply and sustainably at home.
For every area of your household—kitchen, cleaning, bath, and garden—she shows you how to eliminate wasteful packaging, harmful ingredients, and disposable items.
Practical checklists outline easy swaps (instead of disposable sponges, opt for biodegradable sponges or Swedish dishcloths) and sustainable upgrades for common household tools and products.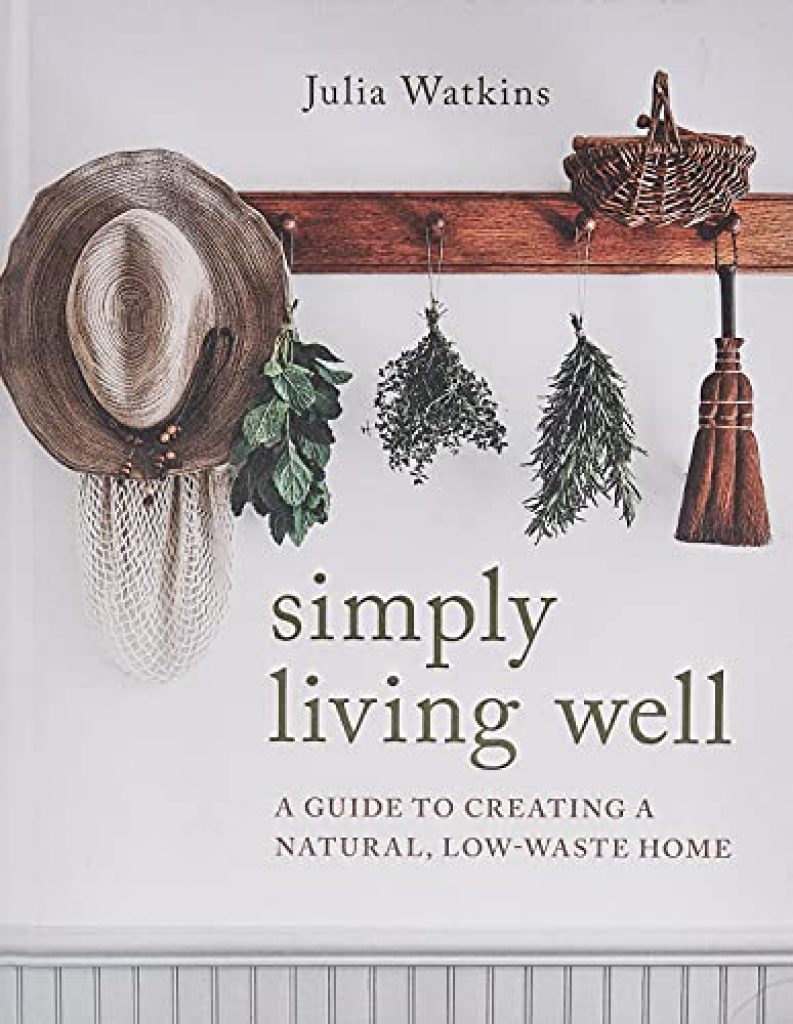 ---
Sustainable Home – Christine Liu
Christine Liu takes you on a tour through the rooms of your home, offering tips, tricks, and 18 step-by-step projects designed to help you lead a more low-impact lifestyle.
Whether it's by making your own toothpaste, converting to renewable energy sources, reducing your consumption of plastic, growing your own herb garden, or upcycling old pieces of furniture, this book arms you with the information needed to adopt an eco-friendly lifestyle.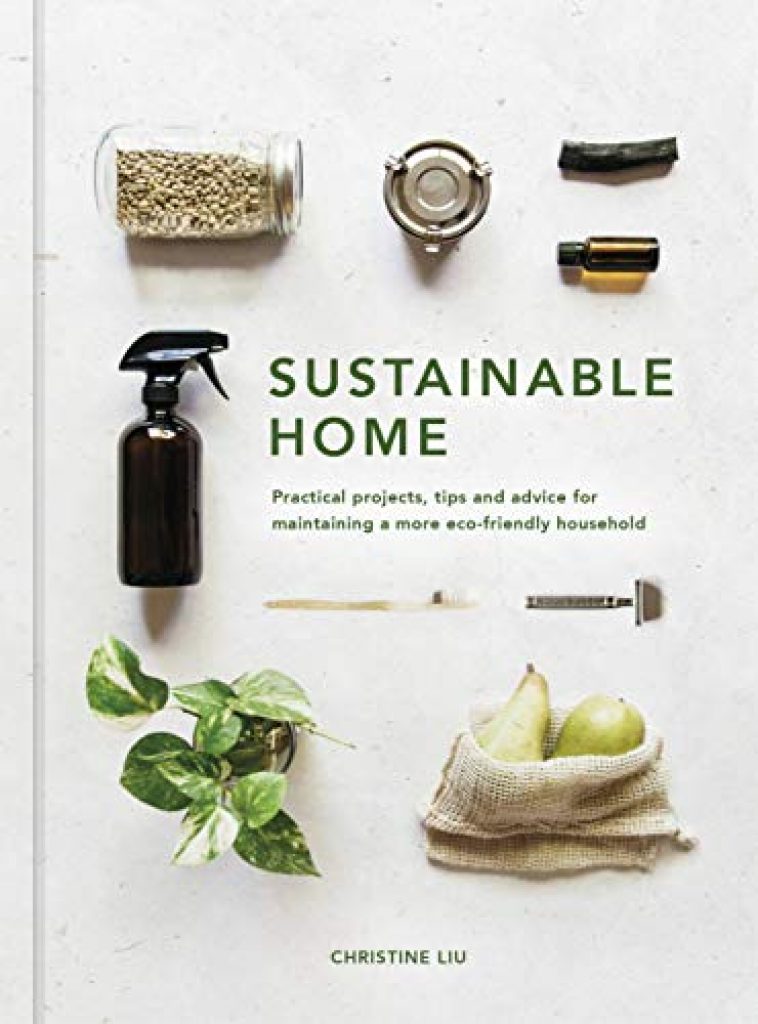 ---
101 Ways To Go Zero Waste – Kathryn Kellogg
In 101 Ways to Go Zero Waste, Kellogg shares these tips and more, along with DIY recipes for beauty and home; advice for responsible consumption, and making better choices for home goods, fashion, and the office.
This is a practical, friendly guide of realistic lifestyle changes for anyone who wants to reduce their waste and become more eco-friendly.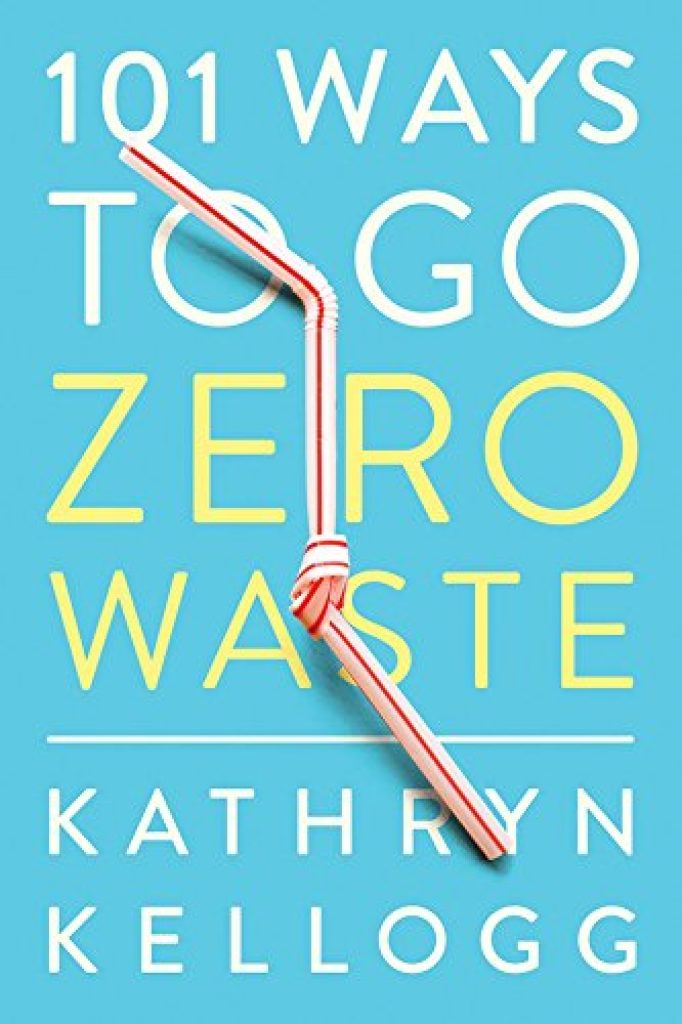 ---
Final Thoughts
We hope you enjoyed this entry on eco-friendly homes.
Please feel free to message us with any questions in the comment section below