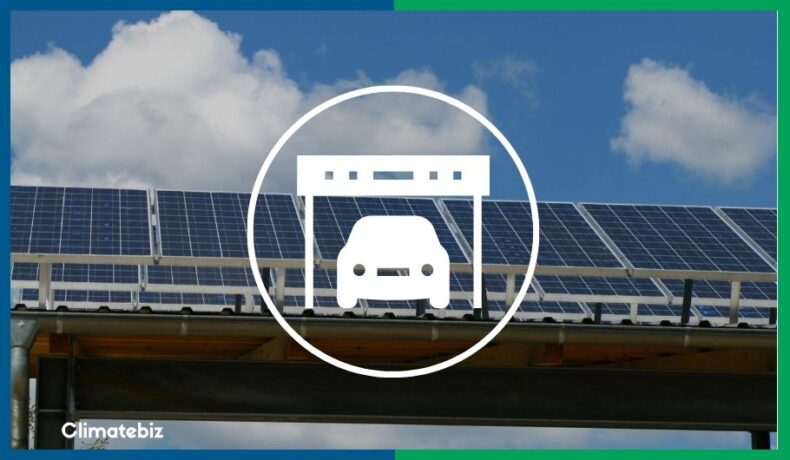 Nowadays, you'll find solar carports -also known as solar canopies – being integrated into vast tarmac parking lots that make up our cities.
Commercial areas often deal with the issue of parking vs. natural space. The more tarmac, the greater the company's carbon footprint.
However, solar carports use this space to provide energy to the surrounding buildings and create shaded parking.
The best part? You can apply the same concept to your home by building your own solar carport structure. This will allow you to charge your very own electric vehicle (EV) and save on your energy bills in the process.
Foreword
Climatebiz experts design, research, fact-check & edit all work meticulously.
Affiliate Disclaimer
Climatebiz is reader-supported. We may earn an affiliate commission when you buy through links on our site.
---
What Is A Solar Carport?
As you all know, trees are fantastic for the environment. They take carbon from the air and offer resources and shade. They do all this while being powered by the sun.
So, why exactly are we talking about trees?
Solar carports are almost like man-made trees. They use the sun to generate power and offer shade for people and vehicles.
That's great! But what exactly are they?
A solar carport is a cutting-edge fusion of a shaded, weather-resistant structure designed to shelter and safeguard vehicles with an integrated solar power generating system. Typically composed of durable stainless steel and supported by a robust concrete foundation, the carport's rooftop is outfitted with an array of state-of-the-art solar panels, collectively forming a highly efficient energy-harvesting infrastructure.
Solar carports are a subcategory of solar canopies. Solar canopies are the umbrella term for solar systems that provide shade, like a solar pergola or agrivoltaics. They specifically provide shade for parked cars and other motor vehicles.
Later we discuss the differences between a solar carport and solar roof panels.
---
How Does A Solar Carport Work?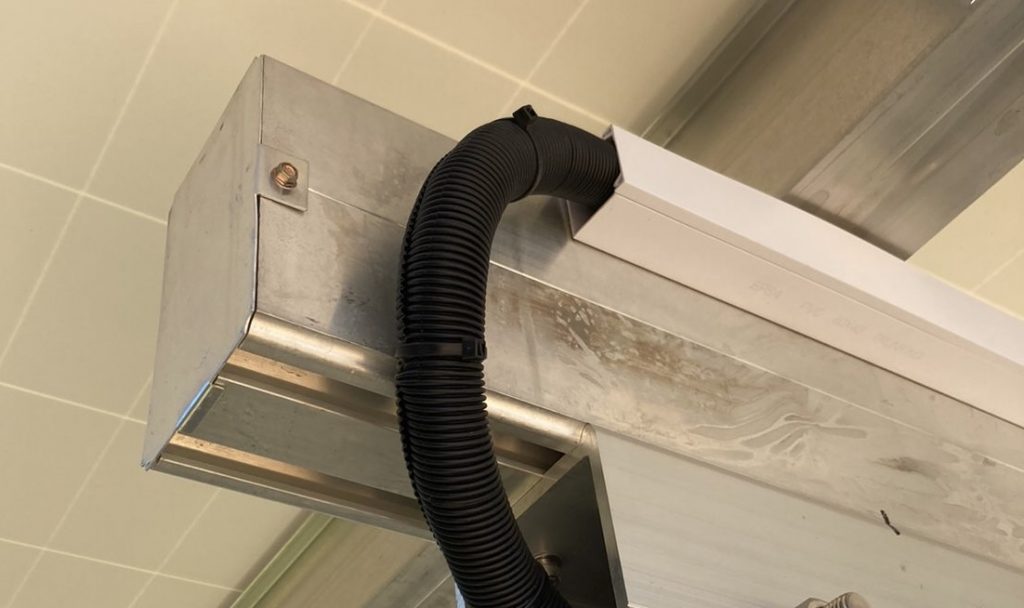 Solar carports rely on solar panels to do the thing they do best – generate electricity.
They operate the same way as solar panels do on the roof of your home.
The bonus – they're great for electric vehicles! You can use the panels to power your charging station directly. Read our article on EV charging stations to find out more!
Carports can be scaled to both a domestic size and a commercial scale. Each system works a little differently.
Domestic Scale
Domestic solar carports are made to suit your home. Generally, a carport is 12ft x 20ft, and a solar carport is no different. A single carport can fit around 11 pieces of 400w solar panels.
A double carport is 20ft x 20ft, which fits about 19 pieces of 400w solar panels.
The solar panels are mounted onto the steel structure and wired directly into your home's solar system.
The size of your solar system depends on your electricity usage and the wattage of your solar panels.
To find out more about solar systems for your home, you can read our article
here
.
Commercial Scale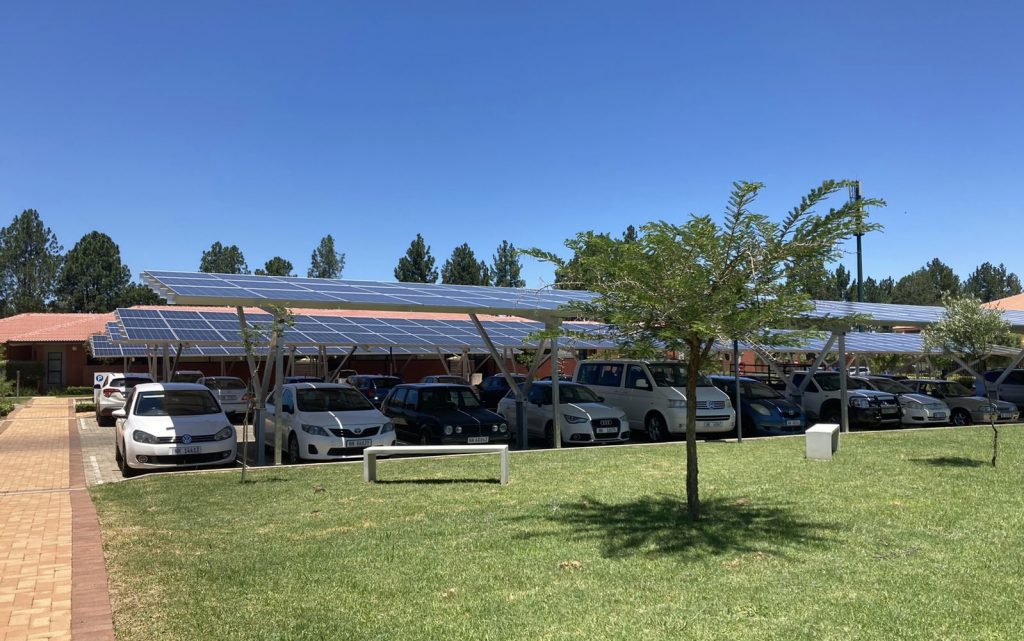 Solar carports are gaining popularity as companies try to decrease their carbon footprint or go carbon-zero.
They turn fields of barren land (aka parking lots) and produce electricity to power the commercial areas around them.
The FedEx Field, an American football stadium in Maryland, takes advantage of its vast parking lot. This study from Stanford University shows that this stadium's 8000 solar panels can create up to 2 megawatts of power.
Urban Heat Island Effect (UHI)
Not only do these solar carports save a ton of power, but they also curb the urban heat island effect.
Essentially, an urban heat island is an urban area that has higher temperatures than its surrounding areas. Buildings and infrastructure often retain heat, increasing the temperature of the urban area.
Parking lots are huge contributors to the urban heat island effect.
Solar carports prevent parking lots from contributing to the UHI and appeal to developers. They provide shade, prevent the parking areas from heating, and save on electrical bills.
---
How Many Watts Is A Solar Carport?
Solar carports are custom designed. This means that they come in various shapes and sizes. Determining the number of watts your carport can generate depends on a couple of factors, such as:
Solar Panel Wattage
Area of Solar Carport
Solar Panel Wattage
The solar panel wattage (power rating) is the maximum power output a solar panel can create in ideal conditions.
Low-end solar panels have a wattage of around 250w, but this is just the starting point. The power rating can go all the way to 400w and above.
Essentially, the higher the wattage, the fewer solar panels you will need. Therefore, we suggest a solar panel with higher wattage for your solar carport.
A suitable solar panel wattage would be 400w, but 320w will also work.
Based on the conditions in California, you can expect one 400w solar panel to produce close to 2kWh per day.
To learn more about 400-watt solar panels, you can read more
here
.
Area Of Solar Carport
The amount of energy your solar carport will be able to create depends on how big your carport is.
The average carport for a single car is 12ft wide and has a length of 20ft. This means that they have a coverage of 240 sq. ft.
An average 400-watt solar panel has an area of 21.12 sq. ft.
This means that the average carport can support 11 solar panels.
Using the same formula, a double carport can support 19 solar panels.
How Many kWh Does The Average Solar Carport Produce?
Using all the information above, we can calculate what the size of your system can be.
System Size = Amount of Solar Panels x Daily kWh
11 Solar Panels x 2 kWh = 22 kWh per day.
With 11 x 400w panels, your total system size will be roughly around 4.4kW.
That's almost the amount of electricity an average American home uses daily.
What's the difference between kWh and kW? You can find out
here
.
---
Solar Carport VS Rooftop Solar
You might wonder what the difference is between a solar carport and a rooftop solar system.
Moreover, you may want to know the difference between a solar carport and a garage with solar panels.
Garage solar panels are roof-mounted panels. This means that they're fixed to the roof and are limited by the existing structure. The existing structure predetermines the panel's angle and how many you can use.
Conversely, solar carports are separate structures that are completely customizable.
Needing to build a new structure for your solar panels may seem unnecessary or a waste of money. But solar carports come with advantages compared to roof-mounted panels.
For example, solar carports are ground-mounted systems. This type of system is cheaper to install and maintain. They're also more efficient.
Here are some advantages and disadvantages of solar carports:
Positive
Can be customized to your spacial needs
Uses space that's already been developed (Over a driveway)
Easy-to-reach maintenance
Can be used to charge electric cars
Negatives
Has an extra expense of building the supporting structure
You will need a building permit
---
How Much Do Car Port Solar Panels Cost?
While the solar panels cost the same, there's an additional cost for the steel structure of the carport.
Solar Panels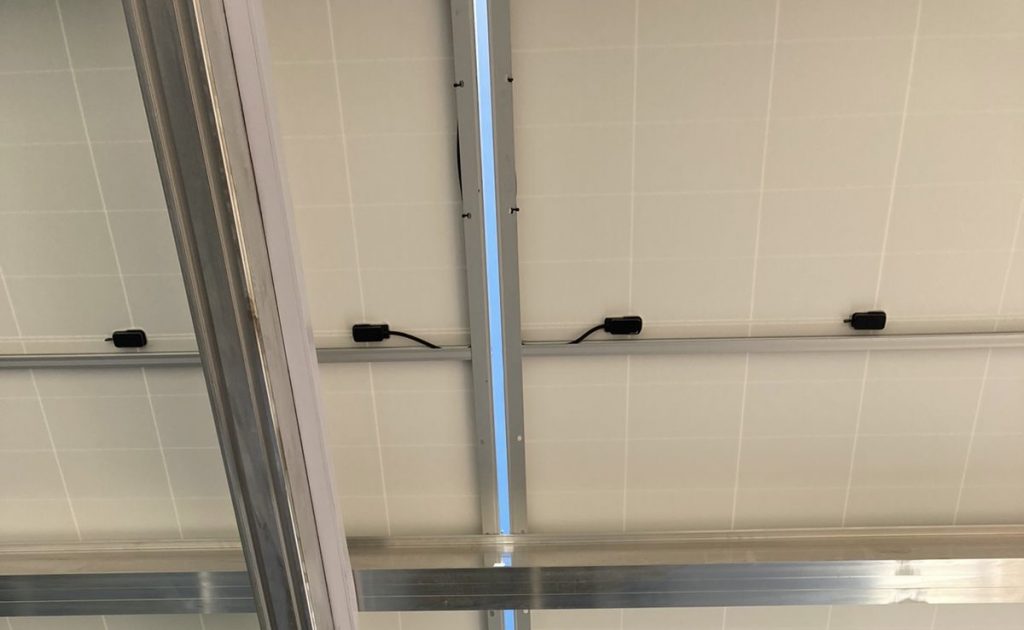 The cost of the solar panels will depend on the size of your system. In America, solar panels cost an average of $2.50 per watt.
Something to keep in mind – in 2023, you can still get a
30% tax credit
when buying your solar panels (the percentage will drop to 22% in 2034 and will likely be phased out in 2035).
Let's use the above example of a 4kW system.
| | | |
| --- | --- | --- |
| System Size | Cost for the Panels | After-Tax Credits |
| 4kW | $10,000 | $7,936 |
The table above includes typical service fees for equipment and the installation of solar panels. This is a rough estimate based on our research and calculations. As such, the figures may not be 100% accurate.
Carport Structure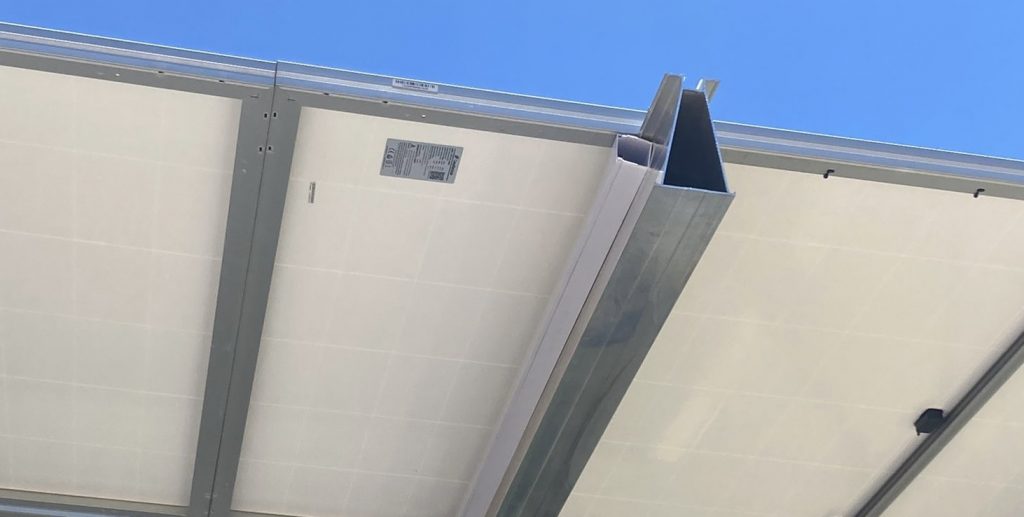 The cost of the carport structure will depend on the size of the carport and the material it's made from.
According to a cost guide by Fixr.com, the prices of carports range from $800 – $10,000.
In the table below, we've listed the prices for different carports depending on material and size:
| | | | |
| --- | --- | --- | --- |
| Material | Price for sq. ft. | 12ft x 20ft Carport | 20ft x 20ft Carport |
| Timber | $15 – $30 | $5,400 | $9,000 |
| Galvanised Steel | $20 – $30 | $6,000 | $10,000 |
Let's Add Those Together
For a 4kW system on a 12ft x 20ft steel carport, you can expect to pay around $13,336 (after tax credit).
---
Are Solar Carports Worth The Cost?
Solar carports are definitely a smart investment. They can significantly lower your utility bill, help protect the environment, and even boost the value of your home. On average, you can expect to save up to 75% on your energy costs by installing a solar carport. Plus, using solar energy is a sustainable choice that reduces your carbon footprint.
Utility Bill Savings
According to the U.S. Energy Information Administration (eia.gov), the average electricity bill for American homes is $117.46. They also used an average of 893kWh per month.
That equates to 29kWh per day.
Our example system produces 22kWh per day.
That means that our solar carport could cover 75% of the average American's electrical needs.
That will shave $88 a month off your electricity bill (on average).
Solar Carports As An Investment
Solar panels are becoming the go-to alternative energy solution. With it becoming cheaper to install panels every year, it's hard to find a reason not to invest in them.
Sure, the initial cost can dent your wallet, but the carport will save you money over time.
In fact, your payback period for a 4kW solar carport sits around 12 years. Given that your solar carport will last 30 years, that leaves you with a positive net income for 18 years. Meaning your solar carport could save over $19,000.
According to Zillow.com, installing solar panels can increase the value of your home. The study shows that between 2018 and 2019, homes with solar systems sold for 4.1% more.
---
Final Thoughts
Solar carports solve two problems at once. The issue of providing shading/protection for vehicles and having limited space to install solar panels.
Solar carports take advantage of space that has already been developed and use it to generate electricity. They can be used on both commercial and domestic scales.
Commercial solar carports can produce around 2 megawatts of power which is enough to power a stadium.
On the other hand, domestic solar carports can produce enough power to pay for 88% of your electricity bill.
Added bonus? Solar Carports can be used to power EV charging stations, in parking lots, or at home.
Why wouldn't you want a compact solar system that cuts your electrical bill and protects your car from the sun?