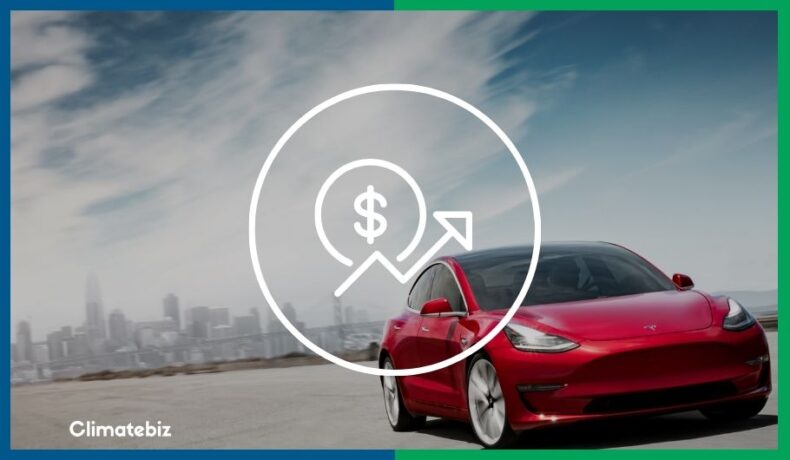 The real cost of a Tesla car is surprisingly hard to come by, especially when you consider various state-by-state taxation policies.
In the first quarter of 2022, Tesla has sold more than 310,000 EVs across the globe, spanning from the United States to Australia —so many cars sold, yet so little accurate information on the total costs involved.
Truthfully speaking, Tesla owners are the ones with the most precise cost data. After all, they've actually gone and bought a Tesla and therefore know the exact cost of such a vehicle.
But what about those of us who don't yet own a Tesla? What if the only thing stopping us from buying one is not knowing the real costs involved.
For this reason, we thought it necessary to conduct our own research to provide you with the most accurate cost estimations available.
In this article, we'll establish exactly how much you can expect to pay for each Tesla model and whether they're worth your money.
Foreword
Climatebiz experts design, research, fact-check & edit all work meticulously.
Affiliate Disclaimer
Climatebiz is reader-supported. We may earn an affiliate commission when you buy through links on our site.
How Much Is A Tesla?
These are the costs of all standard Tesla models, no extras. (Excluding taxes & other fees)
A standard Tesla car will cost you between $46,990 – $120,990, depending on the model/motor you choose.
Extras, such as a red multi-coat paint job, sports wheels, enhanced autopilot, and full self-driving capability can increase the costs by over $22,000.
To confirm our findings, we spoke to a Tesla representative and asked them exactly how much a Tesla model 3 costs and if our data was correct. Here's what they had to say:
"A Tesla Model 3 is going to cost you $46,990, including $1200 destination/documentation fee + $250 order fee. Florida Sales Tax: $2,957. Florida Total Fees: $447. Total Amount Due for Delivery Including est. sales tax $53,294″

Tesla Representative
To establish a connection with the rep, we had to provide them with the state that we lived in. For this example, we used Florida, so note that your total sales tax and fees may differ depending on your location.
We thought to include this section to show you that there are extra tax costs involved when purchasing a Tesla, and what you see up front are not the final costs.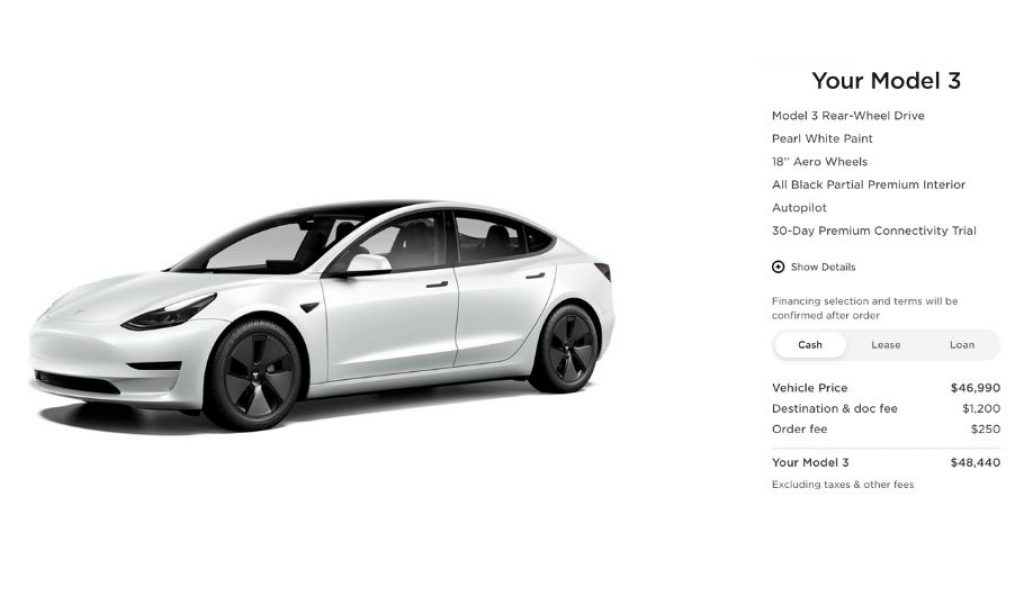 Although the extra sales tax and fees are tiny in comparison to the actual cost of a Tesla, we still thought it made sense to include them.
Remember, how much you are taxed depends on the state you live in and what Tesla model you buy.
---
What About Tax Incentives For Tesla Cars?
Unfortunately, no Tesla-related tax incentives have existed since 2019.
According to CNBC, Tesla's workforce is not unionized, meaning Tesla products are ineligible for the government's tax credits under the Democrats' proposal.
If you're interested in finding out which electric car manufacturers are still eligible for EV tax credits, check out FuelEconomy's website.
---
How Much Does A Tesla Cost To Lease?
| Tesla Model | Cost USD |
| --- | --- |
| Model 3 | $499 /month |
| Model Y | $789 /month |
| Model S | $1,479 /month |
| Model X | $1,729 /month |
Depending on the model you select, it will cost between $499 – $1,729 to lease a Tesla for 36 months. Down payments vary from model to model, from $4500 – $7500.
The above are estimated monthly payments and are subject to change and contingent on lease approval, available interest rates, other factors, etc.
Additionally, by participating in Tesla's Leasing Program, you forgo the right to buy the leased car and must return it to Tesla at the end of your lease term.
---
Is Leasing A Tesla Worth The Cost?
By leasing a Tesla, you'd save between $50 – $190 per month compared to loaning one.
In our opinion, this is not really worth the amount saved as you won't end up owning the vehicle after the 36-month term is up.
If you consider the savings on fuel each month, perhaps it'll make you rethink your decision to lease your Tesla over loaning one.
---
How Much Does A Tesla Cost To Loan?
| Tesla Model | Cost USD |
| --- | --- |
| Model 3 | $679 /month |
| Model Y | $975 /month |
| Model S | $1,535 /month |
| Model X | $1,784 /month |
A Tesla costs between $679 – $1,784 per month to loan, depending on the model, total downpayment, and loan term — you can choose between a 3 or 6-year loan term.
Of course, the more you put towards a down payment, the less you can expect to pay per month. Keep in mind that, should you decide to loan a Tesla, you'll pay more overall than if you bought one upfront (cash).
Please note: The above monthly costs assume you take a loan term for 72 months and utilize the standard down payment of between 6% to 9%.
---
Should I Buy Or Loan A Tesla?
| Tesla Model | Cash Cost USD | Loan Cost USD |
| --- | --- | --- |
| Model 3 | $46,990 | $53,388 |
| Model Y | $65,990 | $74,700 |
| Model S | $104,990 | $118,020 |
| Model X | $120,990 | $135,948 |
(Total loan cost includes 7% down payment and 3.74% APR)
Buying a Tesla in cash would save you between $6,398 – $14,958. This may seem like a lot, but we were somewhat surprised to find the savings this low. For some perspective, enhanced autopilot alone costs $6,000.
However, if you don't have the capital to invest in a Tesla, loaning one from the company seems a very viable solution, especially since you'll likely save around $6,600 in gas consumption over your 72-month loan term.
---
Is A Tesla Car Worth Your Money?
To determine whether a Tesla is worth your money, we need to figure out what its Levelized Cost Of Charging (LCOC) and lifetime fuel cost savings (LFCS) are compared to other popular car manufacturers.
Contrary to what most online studies portray, calculating an accurate LCOC depends on multiple factors other than just the cost of electricity.
For example, you need to consider:
Charging location (home, workplace, public);
Price of electricity by region and time of day,
Time charging;
Charging power levels.
We won't go into detail about the complexities of calculating the true LCOC of an EV here as that is a whole 'nother article on its own. However, if you're interested, be sure to read this study conducted by CELL; it's very informative and will assist you in evaluating the true cost of a Tesla or any EV for that matter.
Just know that on average, the LCOC of a battery-powered electric vehicle (BEV) in America is $0.15/kWh. For plug-in hybrid EVs, it is $0.14/kWh.
If you happen to be interested in a state-by-state breakdown of EVs LCOC, take a look at the image below: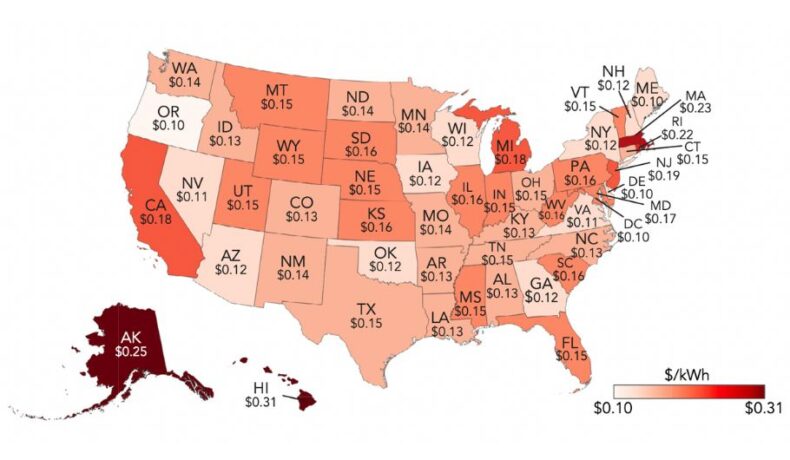 It is a long-known fact that electricity is cheaper than fuel. By working with the above data, we can determine how much you would save on fuel by driving a Tesla.
| Tesla Model | Cost /Full charge | Cost /Mile | Cost /100 Miles |
| --- | --- | --- | --- |
| Model 3 | $7 | $0.042 | $4,2 |
| Model Y | $11,48 | $0.042 | $4,2 |
| Model S | $14 | $0.037 | $3,7 |
| Model X | $14 | $0,046 | $4,6 |
As you can see, the cost to fully charge each Tesla depends on its battery capacity. Regarding cost per mile, all Tesla models have a similar price point, with the Model S taking the lead in terms of the lowest costs per mile.
If you'd like to know the math behind the data in the above table. it is as follows:
Model S battery capacity = 100 kWh

$0,14 * 100 kWh = $14

$14 / 375 miles = $0,037 per mile

$0,037 * 100 miles = $3,7 per 100 miles
Please note
: to calculate cost per mile/100 miles; you'll need to know your EV battery capacity and
estimated range
.
---
Does Driving A Tesla Save You Money?
At the time of writing, current regular gas prices sit at $4.88 Per Gallon. Let's compare a Tesla Model 3 with a gas-powered equivalent to figure out cost differences/savings.
For this experiment, we'll use the Mercedes-Benz A-Class, which is more or less on par with the Model 3 as an entry-level luxury sedan.
We've already established that the Model 3 costs $4,2 per 100 miles. So how much does the Mercedes cost in comparison?
The Mercedes will do about 100 miles per 3.6 gals, meaning you'll pay around $17,56 per 100 miles as opposed to $4,2 per 100 miles in the Model 3.
That is a whopping $13,36 savings every 100 miles driving in the Tesla.
To put this in perspective for you, the average American drives 14,263 miles per year, which means you would save about $1905 on fuel costs every year by driving a Tesla (of course, this assumes the cost of electricity doesn't fluctuate).
---
Tesla Car ROI
According to Elon Musk, battery modules are purported to last between 300,000 miles to 500,000, with battery module replacement costs ranging between $5,000 and $7,000.
Considering the above data and the fact that the average American driver drives 14,263 miles a year, we can surmise that a Tesla would last between 21 – 35 years.
Assuming you drove a Tesla Model 3 and saved $13,36 per 100 miles, your total ROI would be 24 years.
Please note: the above calculation does not consider any ongoing maintenance costs, which you will almost certainly need in 24 years.
Working out the ROI of a Tesla is hugely relative, as it depends on what your alternative driving method would be.
For example, if your Tesla alternative were a Mercedes-Benz A-Class, you'd save around $1905 a year.
But what if you were planning to get a more fuel-efficient gas-powered car? How much would your savings compare then?
The best way to measure ROI would be by comparing the average cost per 100 miles. We've already established the cost per 100 miles for a Mercedes-Benz A-Class. But what about smaller, more fuel-efficient gas-powered cars?
| Tesla Model | Cost /Full Tank | Cost /Mile | Cost /100 Miles |
| --- | --- | --- | --- |
| Model 3 | $7 | $0.042 | $4,2 |
| Chevrolet Spark | $45 | $0,151 | $15,1 |
| Nissan Sentra | $62 | $0,128 | $12,8 |
| Toyota Corolla | $66 | $0,151 | $15,1 |
Keep in mind miles /gal depends on your driving style/terrain
As you can see from the above comparisons, even the most fuel-efficient gas-powered cars cannot compete with any of the Tesla models.
You'll always save on fuel costs regardless of which model you buy.
---
How Much Is A Tesla? (Quick Recap)
Tesla Model 3: $46,990
Tesla Model Y: $65,990
Tesla Model S: $104,990
Tesla Model X: $120,990
---
Final Thoughts
We had a fun time conducting this study, figuring out how much a Tesla really costs. One thing we have yet to include, however, is V2G charging.
V2G charging would almost certainly shorten your overall ROI, as your Tesla will essentially double up as your home's battery backup, saving you thousands of dollars.
We'll be writing an article on this technology in the near future, and as soon as we have done so, we'll link to it here.
Please feel free to share your thoughts in the comments section below. If you own a Tesla, we would love for you to share your cost experience with us and all our readers.