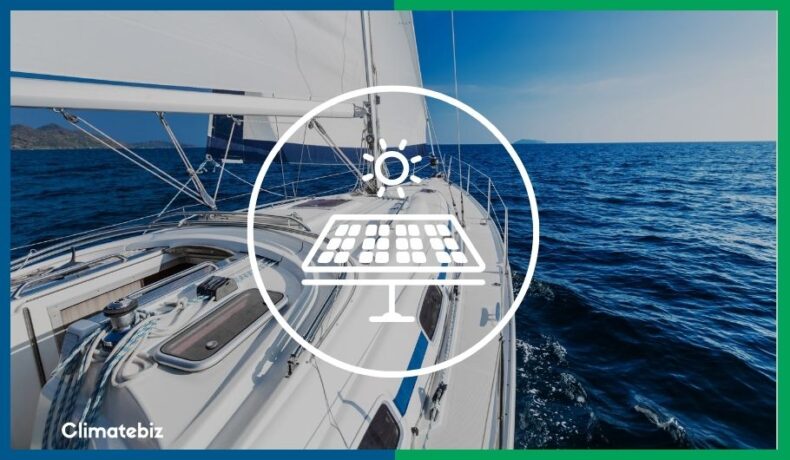 Welcome to our guide on the best solar panels for boats!
Let's take a quick guess.
We could be wrong, but chances are, you're a proud owner of a yacht, sailboat, canoe, or any other particular kind of marine vehicle.
Then one day, you heard a story from your fellow boater about how solar panels for boats are a niche thing gaining traction.
Now, you're probably thinking:
"What would it take if I want to slap on some solar panels on my boat, bow to stern? Charging my battery with FREE electricity does sound nice. I also wouldn't mind powering up some appliances to enhance my boating experience."
The only problem is, the thought of getting this done becomes overwhelming – which is perfectly understandable.
"I hope it's not too complicated." you might say.
Contrary to what some of you might think, selecting the best solar panels for boats isn't that intricate. In this article, we'll talk about the main criteria for selecting marine solar panels, then we'll give you our top recommendations to choose from.
For reference, here are the top solar panel brands for boats that we've found on the market:
Renogy
Newpowa
Topsolar
Rich Solar
Jackery
ECOFLOW
ECO-WORTHY
HQST
Sunsul
WEIZE
DOKIO
Alright, let's dive in!
---
Best Solar Panels For Boats (Editors Choice)
Now, we understand that each of you has specific needs that'll influence which solar panel you'll go with.
With that in mind, we took varying common use cases for marine solar panels. Of course, this is not meant to act as standard criteria, it's simply based on our expert opinion.
By and large, you are looking at 20 watts up to 300 watts for boats meant for personal use. Of course, commercial boats can go for more.
---
Typical use cases:
Gadgets and Battery Recharge – 20 to 80 watts are enough to power your small gadgets such as GPS, cellphones, and mini laptops.
2. Cold beers and warm showers – 100 to 200 watts are enough for low-power appliances such as portable refrigerators, heaters, etc. We also recommend purchasing lithium-ion batteries and inverters too.
Boating lifestyle – Going beyond 250 watts means that you have more space to install solar panels. In this instance, we recommend ultralight flexible solar panels.
Now let's set some expectations. Having solar panels alone isn't enough to run a handful of appliances simultaneously. If you want to operate 400 to 2,000 watts worth of devices, you need a high-power inverter and batteries.
Nonetheless, this is a better choice for you than putting a heavy and noisy motor-based generator in your boat.
Also, marine solar panel systems do not produce excess heat, making your boat safer and cooler.
Lastly, your fuel source is FREE.
---
How To Choose Solar Panels For Boats?
Contrary to what some of you may think, learning how to choose solar panels for boats works about the same as designing an off-grid or RV roof solar system.
---
Four Basic PV System Components
Complete solar panel systems for boats include the four essential components of a photovoltaic (PV) system, namely:
Solar panels
Charge controllers
Inverters
Batteries or energy storage systems
---
Solar Panels
When solar panels absorb irradiance from the sun during the daytime, the solar cells convert this solar energy into electric energy. From here, the electric current generates flow into your appliances and serves as their electric source.
---
Limitations of Solar Panels Alone
However, there are challenges to this simple setup. That is why it's worth your time and resources to consider other solar system components such as batteries, charge controllers, and inverters.
---
Batteries
One of the inherent problems with solar electricity is using it as you produce it.
Putting batteries or energy storage systems (ESS) in your system solves this problem and allows you to store solar energy for on-demand use and emergencies.
For example, batteries help you enjoy your appliances continuously. Batteries act as a backup to your solar panels when clouds suddenly block the path of the sunlight.
Of course, having an ESS in your boat's solar panel system is optional, but if you have appliances that you'll be using at night or want to be prepared for emergencies, we suggest you consider it in your budget.
If you're interested in reading about our top picks for lithium-ion batteries for boats, click here.
---
Inverters
Inverters allow you to convert your 12-volt or 24-volt DC panel or battery output into 120 volts or 220 volts AC. Having an inverter in your marine solar system is perfect if you want to run some appliances rated at standard household voltages.
---
Solar Charge Controllers
Lastly, solar charge controllers are safety devices meant to prevent your batteries from overcharging or over-discharging. Charge controllers achieve this safety measure by controlling the voltage and current flow to and from your batteries.
The voltage and current regulating feature of a solar charge controller also mean that your devices and appliances connected to your batteries are protected.
There are various types of solar charge controllers in the market, but we don't want to geek out too much. Instead, focus on the most common ones, such as the Maximum Power Point Tracking charge controller, a.k.a. MPPT, or the Pulse Width Modulation (PWM) charge controller.
The main difference between PWM and MPPT, charge control devices is that the MPPT devices are more efficient and best for large systems that can maximize their solar charging acceleration benefit, while PWM is for small-scale applications.
Solar charge controllers that use MPPT can accelerate solar charging of your battery up to 30% of the solar system output.
On the other hand, PWM charge controllers are older than MPPT controllers. They are cheaper (costing $20 to $60 compared to MPPTs playing around $100 to $729), more straightforward, and less efficient. They're also great for reducing harmonics which can damage your sensitive electronics.
---
Sample Solar Panel Setup
For your convenience, here is a diagram of what a solar system looks like that contains all the components we discussed.
Now, let's focus our attention on solar panels. What is the primary consideration for choosing your marine solar panel?
The most important feature you should look for when choosing solar panels for boats is their performance quality and ability to withstand harsh weather conditions. Therefore, you're looking to buy solar panels from reputable companies that focus their values on performance and solar panel production quality.
Aside from that, other considerations are the weight and size of the panels since (as we've previously mentioned) you have limited solar panel real estate to work with on your boat.
---
What Are The 17 Best Solar Panels For Boats?
Choosing the best solar panels for your boat depends on your situation.
For example, we recommend that "small" boat owners purchase flexible panels while larger boats can afford standard solar panels with robust aluminum frames.
---
 1. HQST 100 Watt Monocrystalline 12V Solar Panel
---
2. Renogy Flexible Monocrystalline Marine Solar Panel
---
3. Renogy Flexible Kit with 100W Monocrystalline Panel
---
4. Renogy 100 Watt 12 Volt Off Grid Solar Premium Kit
---
5. ECO-WORTHY 25 Watts 12V Waterproof Solar Panel
---
6. Newpowa 30W Watts 12V Mono Solar Panel
---
7. Newpowa 100 Watts 12 Volts Monocrystalline Solar Panel
---
8. ECO-WORTHY Complete Solar Panel Kit
---
9. SUNSUL 20 Watt 12V Solar Panel Kit
---
10. Topsolar Flexible Solar Panel
---
11. RICH SOLAR 200 Watt 12 Volt Polycrystalline Solar Panel
---
12. WEIZE 200 Watt 12 Volt Monocrystalline Solar Panel
---
13. EF ECOFLOW 110W Solar Panel with Portable Power Station
---
14. Jackery Solar Generator 1000
---
15. Jackery SolarSaga 60W Solar Panel
---
16. DOKIO Foldable 100 Watt Monocrystalline Solar Panel
---
17. Foldable Renogy 100 Watt 12 Volt Monocrystalline 
---
How Long Do Solar Panels Last On Boats?
While there's no straightforward answer to this, knowing how long your solar panels will last on a boat depends mainly on the manufacturer and the solar panel's build quality.
That said, established solar panel developers usually brag about their warranty policies. Therefore, when reviewing your standard marine solar panels, look for 25 years warranty for the solar panel production and five years for the material itself.
Flexible and foldable panels (or adjustable panels as we would like to call them) have shorter warranties. This is because elastic panels trade their longevity in exchange for being ultralightweight, ultra-thin, and compact compared to standard panels.
In a nutshell, standard solar panels last you about 25 years, while adjustable solar panels have a typical lifespan of 5 years.
---
Are Solar Panels Safe On Boats?
Definitely.
If you follow proper wiring procedures and sizes, solar panels are safe on boats. Unlike fossil-fuel generators that generate heat as they produce electricity, solar systems have a negligible risk of starting fires, making solar panels safe on boats.
---
Are Solar Panels For Boats Worth The Money?
We get this question a lot, and our answer remains the same – solar panels are worth the money. They provide your boat with free, clean electricity. They're a good investment for rational investors and people looking to transition to green energy.
For those who want more details, the return of your investment for solar panels is usually 2.5 to 15 years depending on the amount of solar power in your area. Read more about it in this article.
---
Final Thoughts
Solar panels on boats provide several benefits, mainly monetary savings from clean energy. It is a good purchase for rational investors and people who want to contribute to the green energy movement. Of course, there is a substantial lump sum that you will invest upfront. But trust us when we say that it will be worth it.