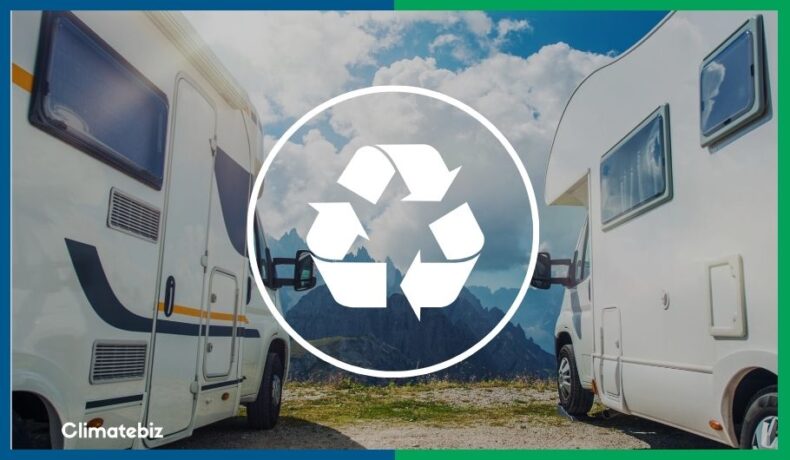 Did you know that RV greywater systems are a thing? That's right, both mobile homes and RVs can make use of greywater systems!
In this article, we cover everything you need to know about RV greywater. From what it is to how to dispose of it. We even highlight the best three portable storage tanks we could find!
Let's explore everything you need to know about RV greywater without getting our hands dirty.
Foreword
Climatebiz experts design, research, fact-check & edit all work meticulously.
Affiliate Disclaimer
Climatebiz is reader-supported. We may earn an affiliate commission when you buy through links on our site.
---
What Is RV Grey Water?
If you own an RV, you know that there are often two tanks. One tank is for black water and the other for greywater. RV greywater is the water collected from the sink and shower of your RV.
RV greywater contains soap, skincare products, dirt, and often food waste. Basically, anything that goes down your sink or shower drain.
However, not all wastewater is greywater. RV wastewater can either be black water or greywater.
---
Grey Water Vs. Black Water -What Is The Difference?
The difference between greywater and black water is what the wastewater contains. Blackwater is waste from your toilet and contains feces and urine. Greywater is from your sink and shower, making it cleaner than black water.
Why Seperate Them Into Two Tanks?
Your black water tank is linked to your RV toilet and your greywater tank to your sink and shower.
Most RV's separate the two, especially newer models, because greywater is easier to treat and reuse. In addition, separating the greywater from the black water means that there's less water that is heavily polluted.
But there is also a more practical reason – it allows you to empty them individually (always empty the black water tank first. This helps keep the waste dumping pipes clean and prevents the build-up of solids.
Additionally, it's easier to dispose of greywater than black water. This means that you can dispose of your greywater while on camping trips. This prevents your greywater tank from flooding as most wastewater from an RV is greywater.
If you'd like to learn more about greywater, you can read our article that explains everything you'll need to know.
*You should always refer to your RV's user manual to check which plumbing fixtures drain to which tank. For example, some RV models let the shower drain into the blackwater tank, and others the sink.
It's important to check this so that you understand how quickly your waste tanks will fill up.
---
How Often Should I Empty My RV Grey Water Tank?
You should empty your RV grey water tank when it's about 2/3 full.
The frequency with which you empty your tank will depend on:
How large your tank is.
Your water usage.
Tank Size
RVs have different tank sizes.
Class A RVs have a tank size between 40 – 65 gallons, while the tank size of travel trailers is 25 – 45 gallons.
To put this into perspective, a typical shower uses 10 gallons of water. Therefore, the bigger your greywater tank, the longer it'll take to empty.
Water Usage
Since a typical shower uses 10 gallons, you'll only be able to shower 4-6 times before your tank is full.
If you're on your own or with a partner, this is fine. However, your tank will fill up quickly if you're with a larger group of people.
How often you empty your greywater tank depends on how many showers you take and how often you use the sink in your RV.
It's always wise to take note of how much water you're using whilst camping. Not just because of your greywater tank, but also because of your freshwater tank.
Pro Tips
Always keep an eye on your tank gauges. Forgetting to empty a tank can cause major issues.
Take the gauge with a pinch of salt. Toilet paper and other waste can cause the gauge to be a little bit unacurate.
Don't empty your greywater tank too often. Solids settle at the bottom of the tank, and without enough water, they won't wash out. This will cause them to dry up over time and damage your gauges.
---
Can You Dispose Of RV Grey Water Anywhere?
The short answer – no.
It's illegal to dump grey water in wildlife preserves and areas protected by the Bureau of Land Management (BLM).
If you're unsure, the rule of thumb – it's probably illegal. So don't take any chances.
It's best to dispose of greywater at the designated RV dump stations. Dump your black water first, and then your greywater.
However, sometimes you'll find yourself at a site without a dump station. Or perhaps you're camping in a national park. In these cases, there are a number of ways in which you can dispose of your grey water legally.
Treating and Filtering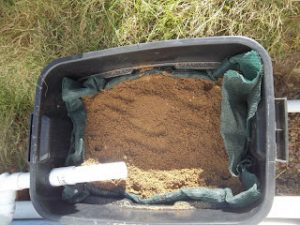 The key to this method is to filter solids out of the water and then treat it with chemicals. The treatment kills bacteria and pathogens, preventing them from contaminating the environment. Disposing of the water over a large area ensures that it doesn't pool up.
How Do You Go About Doing This?
The best way to do this is to connect a pipe to attach a fine piece of cloth to the end of your greywater pipe. A material like cheesecloth will strain all the solids from the water.
Then, catch the greywater in a large bucket or watering can. Once the can is full, treat the water with chlorine blocks. Leave the water overnight to ensure that the chlorine does its job.
You can dispose of the water in different shrubs and grasses the following day. Ensure that you spread the water over a large area to prevent pooling.
Then, repeat the process.
It's a slow process, but you keep your grey water tank at a reasonable level without it filling up.
Can You Use A Store-Bought Or Sand Filter?
You can use a store-bought filter or even a sand filter, but there are a number of things to keep in mind.
You'll constantly need to change the store-bought filter as the grease will clog up fast.
Sand filters are cheaper to replace but are extremely slow.
At the end of the day, it's entirely up to you on how you filter the water. Just make sure that you remove the solids and treat the water with chemicals like chlorine.
Evaporation
The evaporation method is highly effective but only works in hot or warm environments.
Essentially, the sun heats your grey water, causing the water to evaporate and leave the solids behind. You can then discard the solids in a waste bin.
There are a couple of methods, ranging from simple to complex.
The Tarp Method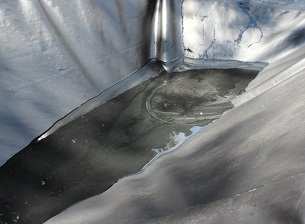 This is the simplest and cheapest method.
Simply place a black tarp out in the sun. Make sure that the sides of the tarp are elevated so that the water won't just run out. Then, surround the tarp with safety tape just for extra caution.
Pour your greywater onto the tarp, and wait for the water to evaporate.
Something to keep in mind – do this directly after using the water. Greywater will start to stink after 24hrs. Having an open tarp with stinky water will cause an odor that nobody will enjoy.
The Towel Method
Towels are great at absorbing water; we all know this. So, using this method takes advantage of this.
Using gloves, dip the towels in your greywater, making sure that they are wet. Then, hang the towels up in the sun with a drip tray underneath.
The water will evaporate as the towels dry, leaving all the solids and waste in the towels.
After camping, give the towels a good wash in your washing machine.
Mobile Grey Water Tanks
A grey water tank on wheels – mobile tanks allow you to empty your RV tank into them. Then, you can take the mobile tank to the dumbing site instead of your whole RV.
While camping, you can use these mobile tanks as extra storage. Since they're compact and don't leak, you can fill them with greywater and store them in your RV.
This gives you the little extra storage space you might need.
Disposing of Grey Water at Home
If you're storing your greywater to dispose of at home, don't just pour it down the drain.
When at home, there are other ways of disposing of greywater that is better for the environment.
To find out more, you can check out our article on greywater disposal.
---
RV Grey Water Tank Maintenance Tips
Maintaining your grey water tank is quite simple compared to the black water tank.
There are fewer solids in your greywater tank than in the black water tank. Because of this, there's less cleaning to do.
However, there are a couple of tips when it comes to maintaining your grey water tank.
Before cleaning out your tank according to your RV's manual, pour some washing liquid down the drain. The washing liquid will break down any grease or fat that's in the tank. This will make it easier to drain.

Don't empty the tank too often. As we discussed above, it's best to wait until the tank is 2/3 full. This will help flush the solids from the tank. In addition, it will help flush any black water you've dumped.

Using heavy detergents can harm the environment. Don't be tempted to pour bleach down the drain. Using heavy detergents can harm the environment. Especially if you plan on dumbing your greywater in a none conventional way.

Don't use antifreeze. If camping in cold climates or in the winter, don't use antifreeze in your system. Using this chemical and others like it, can damage the seals of your tank. In addition, they can damage the readers in the tank, causing your gauge to be off.
---
3 Best RV Grey Water Tanks
Your RV comes with both black water and grey water tanks (along with a freshwater tank of course).
The size of the tank should influence which RV you purchase.
We've gathered a list of 3 portable grey water storage tanks. Whether you're looking for a little more storage, or simply intrigued, this list is for you.
It's important to note that some of these portable water tanks require electricity to work. If you're going wild camping, take a look at installing solar panels for your RV.
Tote-N-Stor 25607 Portable Waste Transport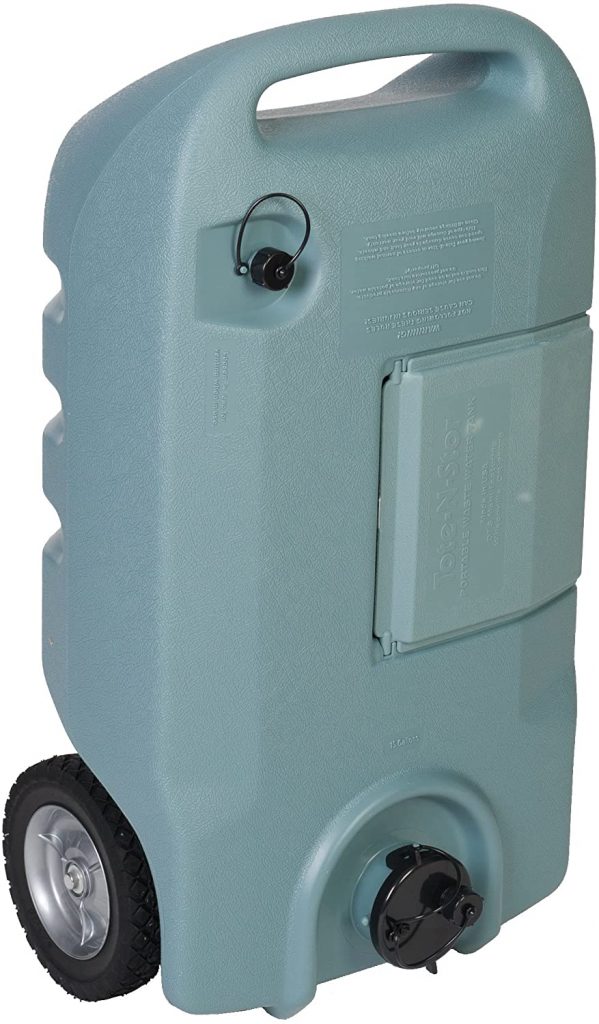 Main features
This 15-gallon portable waste tank has a firm build, two wheels, and a tow-bar fixture.
Additionally, it includes a storage compartment for pipes and fixtures.
You're able to hook it up to your grey water tank and then transport the water to a dumping site. The best part? You won't have to move your whole RV.
Contact the manufacturer to find out more about the warranty of this product.
Positive
Lightweight
Wheels
Storage compartment
Low cost
Negatives
Low durability
Hard to tell when the tank is full
BARKER 27844 32 Gallon Tote Along Portable Holding Tank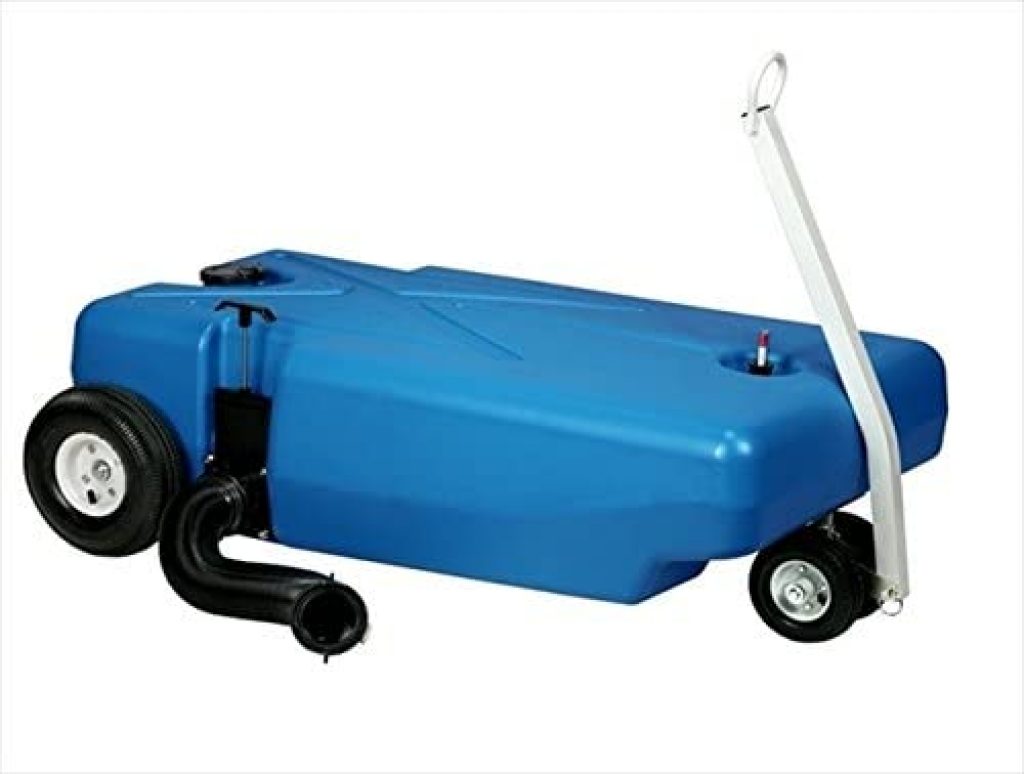 Main features
This portable tank is the perfect balance between a great price and great quality.
The tank easily fits under most RVs and its sleek design allows you to store it in small spaces.
The wheels allow for easy transport and the handle is a comfortable length.
According to reviews, there are problems with the gauge – having to unscrew it to allow air to flow.
That said, it has a 4.8-star rating on Amazon.
Positive
Compact size
Sturdy wheels
Great cost and quality
Comfortable handle
Negatives
Requires additional fixtures
You have to unscrew the fill gauge for airflow, making it inaccurate.
Camco 39000 Rhino Heavy Duty 15 Gallon Portable RV Waste Holding Tank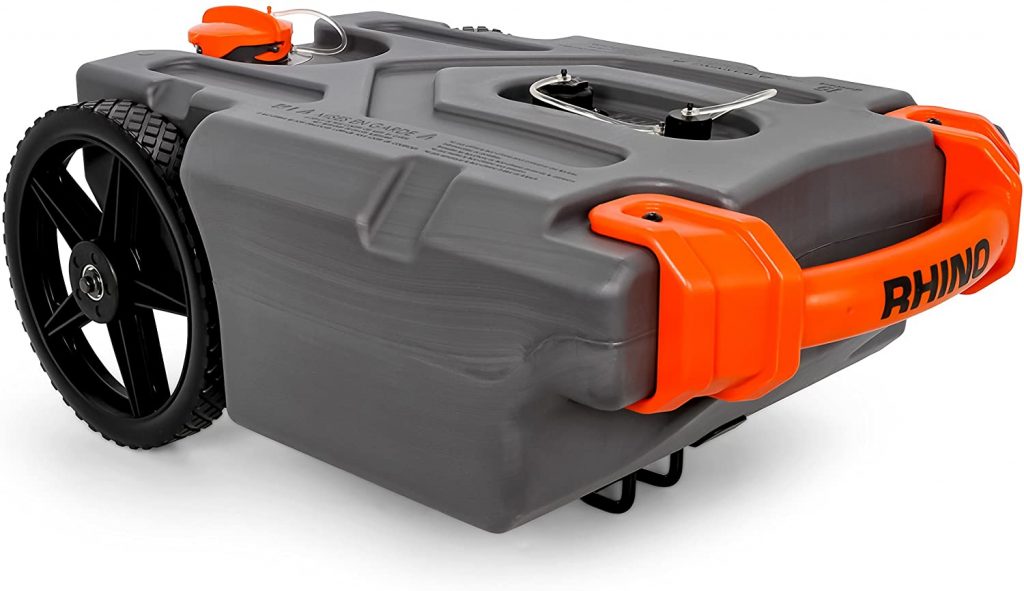 Main features
If you're looking for a tank that will survive it all, this product is for you!
The Rhino is a heavy-duty tank that comes with so many attachments that it makes up for the price.
The tank can come in many different sizes, ranging from 15 gallons to 36.
One of the best parts? You can attach additional wheels to the tank, increasing the ease of moving the tank.
The tank comes with so many accessories, you should definitely take a look at what it has to offer.
Positive
Heavy Duty
Robust wheels
Easy to clean
Includes adapters
Includes accessories
Can add additional wheels
Negatives
The handle is short and uncomfortable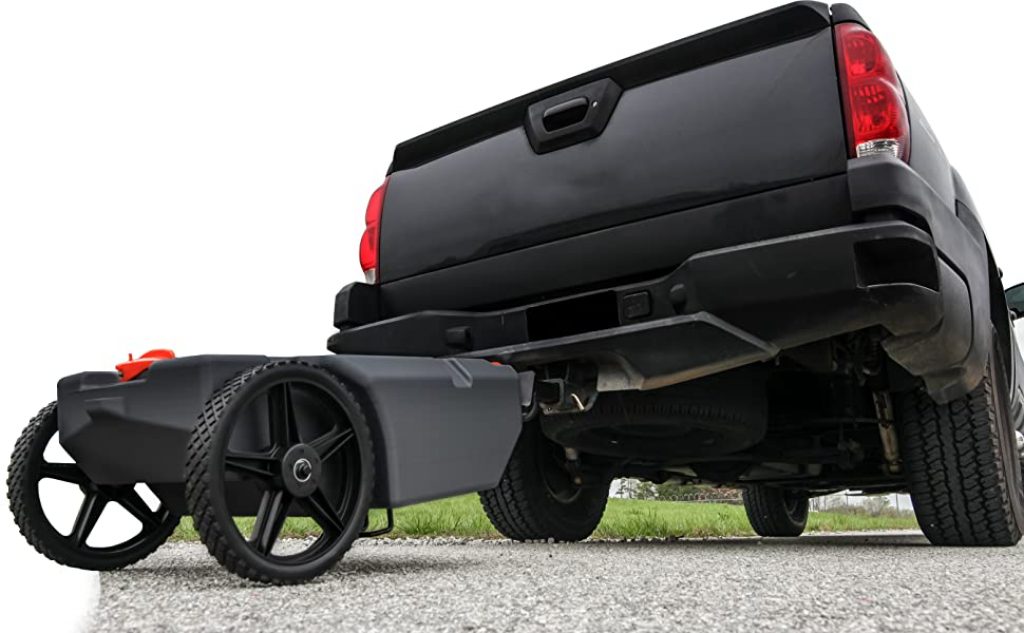 ---
Final Thoughts
Handling RV greywater isn't as bad as it sounds!
The amount of greywater your RV will need to hold is completely dependent on your water usage. The bigger the tank, the more water it holds.
And even then, there are portable grey water storage tanks. This can increase your tank volume and are easy to transport and empty.
If you're not at a campsite that has a wastewater dumping area, like wild camping, there are alternative methods.
Remember, you can't just dump your grey water anywhere. We've made sure to cover this topic in detail and there are different ways in which you can dispose of your RV greywater, legally.
We hope this article has shed some light on this topic! Let us know if there's anything specific you'd like to find out about RV greywater.
Happy Camping/Travels!