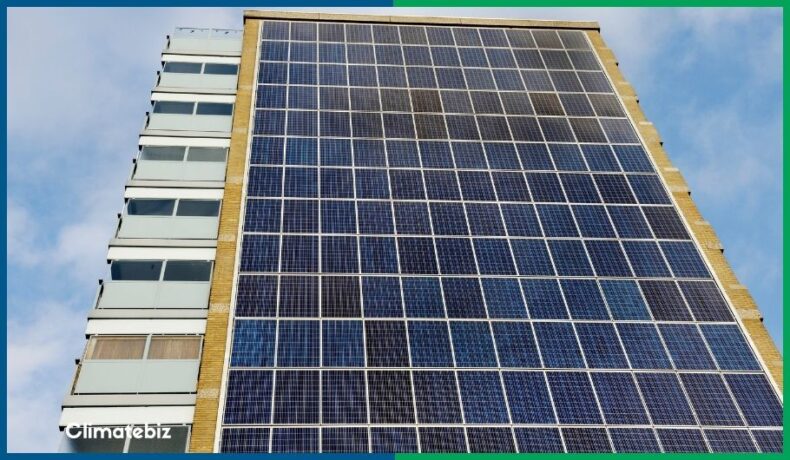 Many of you may be under the false impression that solar arrays are only suited to larger properties. Sure, larger systems can take up a fair amount of space, but it is also possible for smaller properties, like apartments, to make use of solar panels.
Don't believe us?
Here are 5 ways you can use solar panels for your apartment:
Lighting and household appliances
Building integrated PV (BIPV) solar panels
Solar-powered pumps
Powering outdoor devices
Air-conditioning units
In this article, we discuss these uses in greater detail and provide you with the necessary procurement options and regulatory information you'll need to purchase your very own system!
Foreword
Climatebiz experts design, research, fact-check & edit all work meticulously.
Affiliate Disclaimer
Climatebiz is reader-supported. We may earn an affiliate commission when you buy through links on our site.
Can You Use Solar Panels In An Apartment?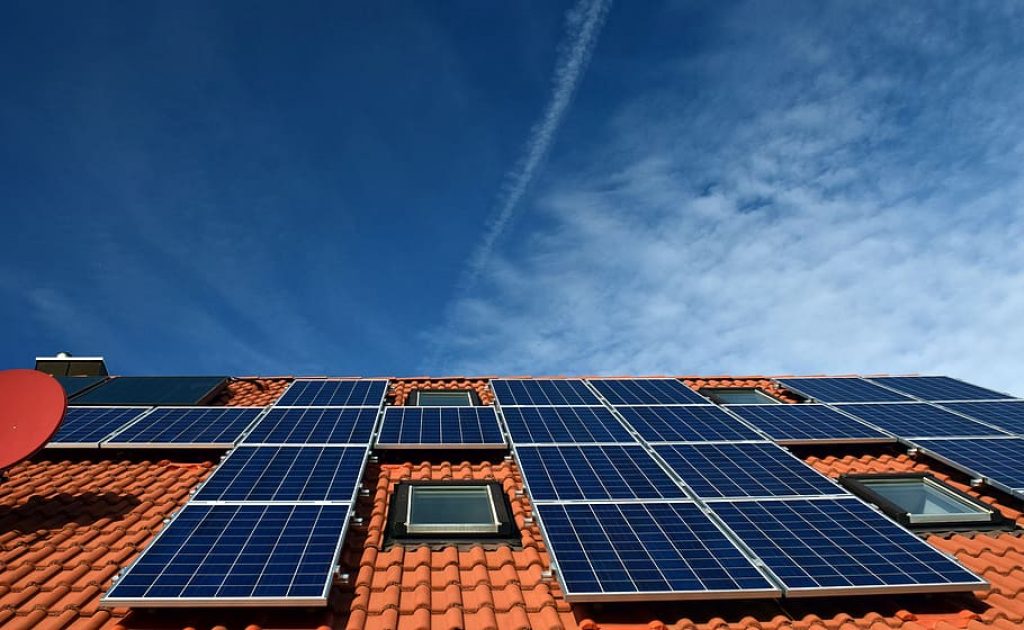 Yes, apartments can use solar panels. In fact, solar panels have multiple uses in an apartment setting.
Like with stand-alone properties, solar panels connected to an apartment have two modes of operation — grid-tied or off-grid.
Your decision to choose either system depends on:
Power Requirements: type and number of applications you wish to power
Location: region-specific regulations and incentives
Budget: what can you afford?
Space: how much space do you have for your system?
---
Grid-Tied System
In this instance, your apartment's solar system (and appliances) connect directly to your local energy grid via a grid-tied inverter.
This system comes into play if your electricity demand exceeds the amount your panels produce. As such, you won't require solar battery storage.
Should your system produce energy at a rate that exceeds your demand, you can utilize a mechanism such as net metering to either:
Bank energy credits for later use (during a power outage or poor weather)
Sell your energy back to the grid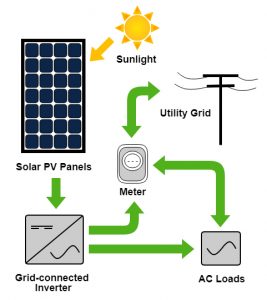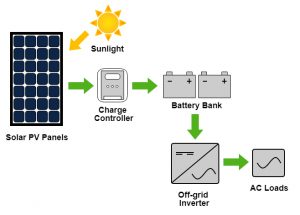 ---
Off-Grid System
In this scenario, your PV system is not connected to your local electrical grid. As such, you'll rely entirely on the power your panels can generate.
Additionally, you'll require solar batteries to store energy for use at night and during poor weather.
---
5 Ways To Use Solar Panels In An Apartment
Now let's look at 5 ways you can use solar panels for your apartment.
---
1. Lighting And Household Appliances
Domestic users can use all their household appliances, such as washing machines, refrigerators, and dishwashers, by connecting to a suitable inverter. An inverter converts your solar panels' Direct Current (DC) into usable Alternating Current (AC).
---
2. Building Integrated PV (BIPV) Solar Panels
Building Integrated PV solar panels are a trendy alternative to traditional panels for apartments; you can use transparent solar panels on window panes, facades, etc.
As such, their versatile structure and aesthetic make these panels a more economical option.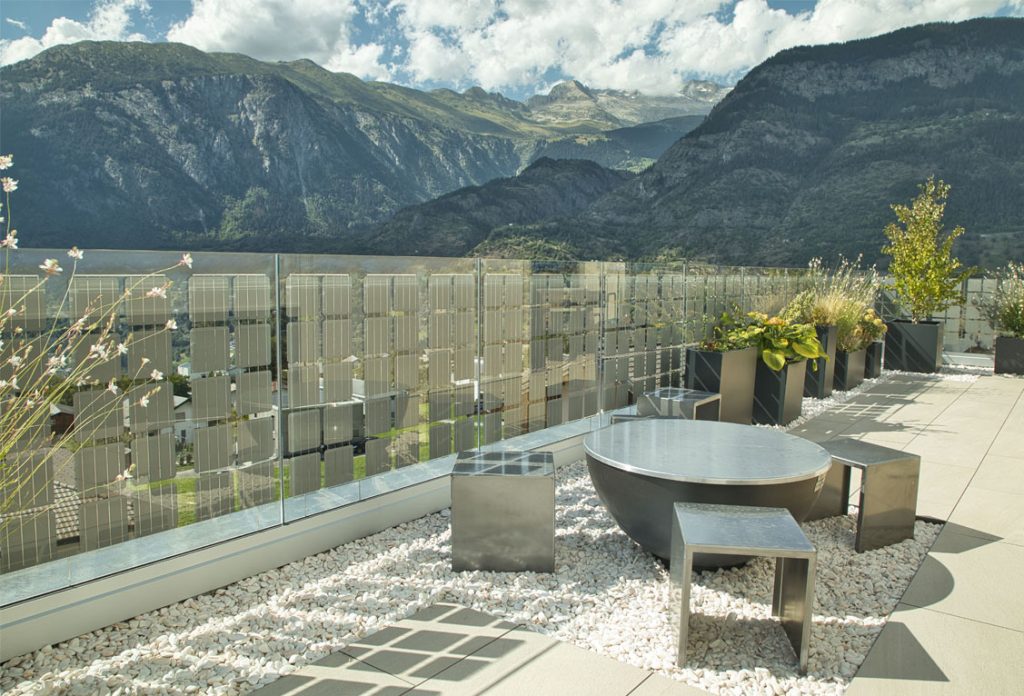 If you pay attention while walking through your local business district, you may even come across commercial buildings using these panels!
---
3. Solar-Powered Pumps
Solar panels for apartments are versatile in that you can use them to power remote device-specific applications or even a system of devices.
Solar-powered pumps are a great example of such stand-alone devices. You can use the energy these pumps produce during the day can be stored and store it in a tank when necessary.
---
4. Powering Outdoor Devices
There are a vast array of outdoor applications for apartments that your solar panels can power.
LED garden lights: these can illuminate and bring warmth to your apartment setting. Some of these lights are also motion-detecting — they only turn on they detect movement. Otherwise, their batteries store any unused energy.
Solar surveillance cameras: everyone wants to feel secure in their home, right? Well, these cameras can store energy for up to 10 hours to keep you safe throughout the night.
---
5. Air-Conditioning Units
Solar-powered air conditioners are the most intelligent and economical way of using solar panels in your apartment. They come with solar panels, a battery, a DC to AC inverter, and smart control systems.
They operate via three modes:
AC only;
DC only; or
AC + DC for effective functioning during low or no sunlight scenarios.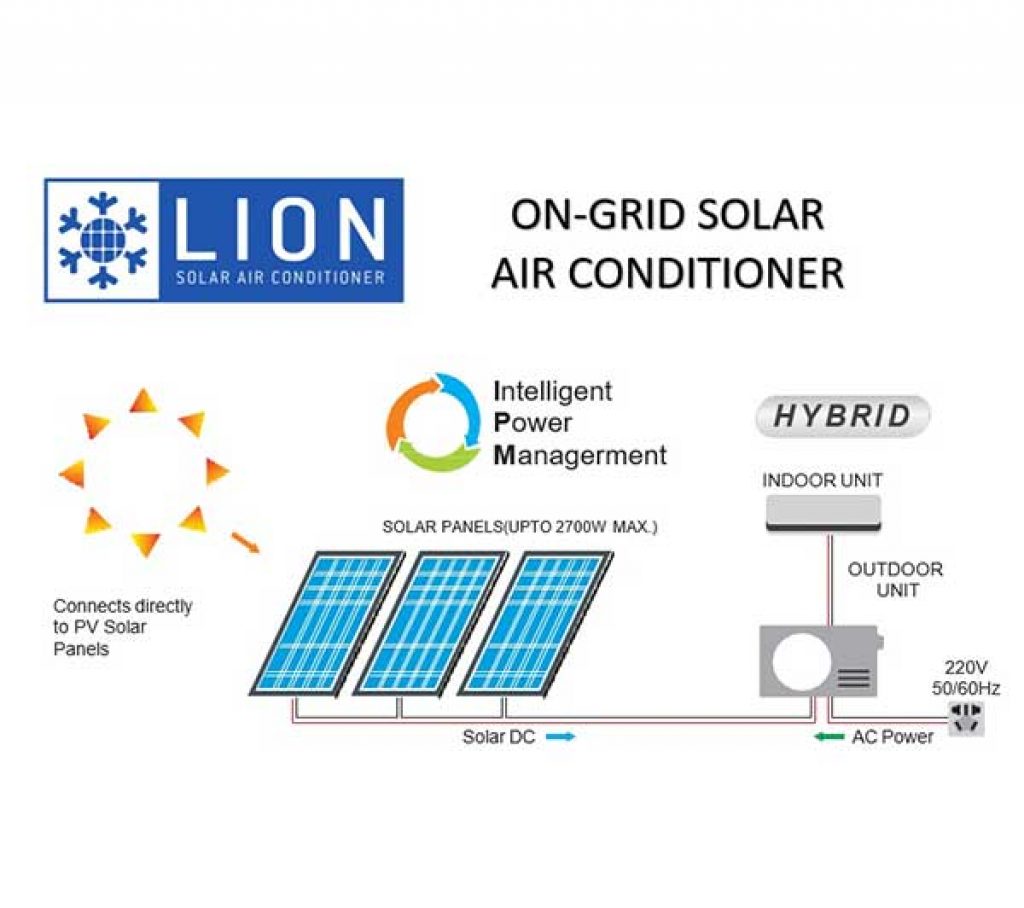 ---
MPPT Tracking
An MPPT tracking device ensures an optimized performance of your Air conditioner. MPPT Tracking, or Maximum Power Point Tracking, is a digital charge controller for maximizing the power output of a solar panel. It compares the panel output with battery voltage and optimizes the power needed to charge the battery. MPPT ensures the current stored in the battery is maximum under all conditions. They are highly efficient, with 93 – 97% conversion efficiency (solar-electric).
---
Regulations For Using Solar Panels In An Apartment
Solar panels offer an easy, clean energy alternative in contrast to polluting fossil fuels.
There are, however, regulations that you must adhere to when installing such a system. Moreover, your local authorities largely determine the incentives and tax credits available to you.
Your system's configuration (on-grid or off-grid) also determines the regulatory framework you as a user should follow. Additionally, the owner of an apartment has the upper hand in deciding them too.
US Department of Energy provides a detailed regulatory framework for installations,
All building regulations should adhere to International Building Code which checks if the building structure can support the solar devices, is there enough space for installations, etc.
US Department of Energy provides five options to find solar installation for your apartment.
Fire Codes: International Fire Code (IFC) and the National Fire Protection Association (NFPA) jointly outline fire codes for Solar panels. Section 605.11 of the 2015 IFC details design specifications for rooftop PV systems.
This checks the possibility of a potential fire outbreak due to short circuits, grid interactions, and other smart devices.
Electric connections need to be safe to prevent damaging other devices. Grid-tied and off-grid systems require specific regulations to protect your homes from electrical hazards.
---
Is It Worth Getting Solar Panels For An Apartment?
A detailed feasibility study before installing a solar PV panel is necessary before you install one in your apartment. Some of the following considerations can help you:
Investigate your home's energy efficiency
Assess your solar potential and any limitations
Assess your options for going solar
Estimate your solar electricity needs
Obtain bids and site assessments from contractors
Understand available financing and incentives
Work with your installer and utility to install the system and set up agreements
The use of solar calculators can also help you evaluate your location's solar potential and decide on the suitable wattage you need to install.
---
Best Apartment Solar Kits
Choosing a suitable type of solar panel kit is determined by the energy needs of your house. The total wattage of the panels forms the primary criteria for selecting one for your apartment.
---
Mr. Solar 310W Solar Panels
The ~1.2kW solar panel system suits an average apartment's energy needs by producing 1240W of DC power and converting it to 480 kWh of AC. This makes it suitable for various off-grid residential and commercial spaces applications.
---
Renogy 400 Watt Off-Grid Solar Power System
4 x Renogy 100 watt 12 volt Monocrystalline solar panel
1 x Renogy Wanderer-Li 30A PWM Solar Charge Controller
1 x 9IN 12AWG male and female Adaptor Kit (to connect from Solar Panel to Charge Controller)
1 x Solar Y Branch Connectors
The addition of the RS232 port (additional purchase required) enables Bluetooth connectivity and gives you more control of the panel through your smart devices.
---
ECO-WORTHY 200W
2 x 100Watt Solar Panel
1 x 30A PWM Solar Charger Controller
1 x 600W Solar Pure Sine Wave Inverter
2 x 20AH Lithium Battery
1 x of Solar Cable&Y-Branch Connector
1 x of Controller-to-Battery Cable
1 x of Battery-to-Battery Cable
2 x 4-Z Brackets
With just 4 hours of solar light, this panel gives you 800Wh daily output. You can plug it directly into your device to use stored energy and connect to the grid.
It comes with a pure sine wave off-grid solar inverter that converts DC to Ac which can power up your AC devices such as refrigerators, air conditioners, home PC, etc.
---
ExpertPower 200W With 20A MPPT Solar Charge Controller
2 x 100W Solar Panels
1 x 20A MPPT Solar Charge Controller/ Bluetooth
1 x 12V 20Ah LiFePO4 Battery
1 x MC4 Solar Cables
1 x Battery Cables
1 x Y Branch Adapter Cable
2 x Set 4 Z-Brackets & Hardware
An MPPT controller can automatically maximize your solar array's power generation by over 20% in your apartment.
A smart tech controller automatically regulates charging profiles relative to ambient temperatures, providing the best charge level. This protects against over-charge, over-discharge, overload, and short circuits.
---
Final Thoughts
Whether we like it or not, our energy consumption is set to soar higher; this makes shifting to solar panels a no-brainer.
That being said, ensure that you're using energy-saving appliances (like smart thermostats) in your apartment to maximize the usability of your solar panels; inefficient appliances can cause losses to this stored energy.

Solar panels are undoubtedly the most readily available clean energy tech you can access. It's time we go solar (when possible) in our apartments, offices, and community spaces to conserve our limited resources and reduce our carbon footprint.