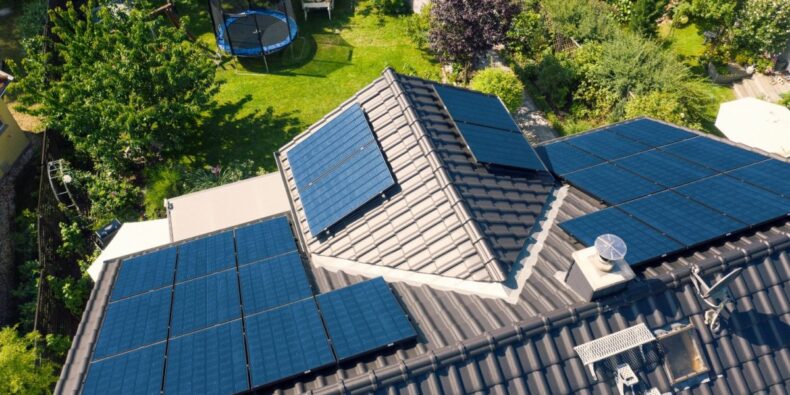 Combining storage batteries with your solar panels is the best way to use your solar energy, no matter the time of day.
Solar energy is intermittent, and your solar panels' power output varies according to several factors:
Time of the day/year.
Weather conditions.
If you want to be able to access your solar energy 24/7 — especially off-grid — you need to be able to store excess production.
A well-designed system combining solar panels, a solar charge controller, an inverter, and batteries will provide you with the following:
Autonomy.
Reliability.
Savings.
In this article, we focus on LiFePo4 batteries — their advantages make them far superior to lead-acid technology.
Additionally, we detail the key factors worth considering to choose the best storage battery for your solar panels.
Foreword
Climatebiz experts design, research, fact-check & edit all work meticulously.
Affiliate Disclaimer
Climatebiz is reader-supported. We may earn an affiliate commission when you buy through links on our site.
Best storage batteries for solar panels: editor's picks
---
How to select the best storage batteries for solar panels
Years ago, you'd need a car battery to store solar energy. However, those batteries were not designed for this purpose and would perform poorly, dying after two or three years.
Fortunately, with the development of lithium batteries, more specifically LiFePo4 batteries, you now have access to efficient and specially designed solar batteries.
Here are six characteristics that all the best storage batteries share:
Tolerant to intermittent charging/discharging
Solar panels are non-linear generators — their power output varies continuously depending on sunlight irradiation. A passing cloud can generate drastic power variation (several hundred watts). Therefore, a quality solar battery should be ready for such events.
Fortunately, LiFePo4 batteries can handle power fluctuations pretty well.
Durable
The best storage batteries on the market are durable. A battery's durability is rated according to the number of charge/discharge cycles it can withstand. The most recent lithium batteries offer up to 5,000 cycles and 10 years of durability.
Powerful
A solid battery must deliver enough amps to power your appliances. Solar lithium batteries typically deliver 50amps (600W) to 200amps (2400) continuously, with peak power up to 300amps (3600W)
High-capacity
Lithium batteries that are suited to solar panels possess high storage capacities. They can store up to 300Ah (3600Wh) and are 100% usable.
Quick charging abilities
The best solar batteries deliver a high power output. Moreover, they accept large quantities of energy that help them charge solar panels quickly.
Figures range from 50amps to more than 100amps, allowing a solar battery to charge fully within three to four hours.
Price (LCOS)
Levelized cost of storage (LCOS) is the best way to estimate and compare solar battery cost. Sure, the buying price is an important parameter, but it has to be balanced by a battery's total lifespan.
Related reading: LG Energy Solution Vs. Tesla Powerwall (Which battery is best for you?)
---
7 best storage batteries for solar panels
Our list of the 7 best storage batteries for solar systems in 2023 is organized according to the following storage capacities:
50ah (600Wh): 50Ah is enough for smaller systems, mobile applications like DIY solar generators, and camping trips.
100Ah (1200Wh): 100Ah gives you enough energy to power small appliances like mini-ref, fans, computers, TV, etc.
200Ah (2400Wh) and above: To cover an off-grid 1kW+ system, go with batteries that are 200Ah and above.
In this review, we only focus on 12V batteries.
1. Battle Born (50Ah)
Battle Born is a U.S. company with 10 years of experience developing high-end lithium-iron phosphate batteries for solar panels.
This 50Ah LiFePO4 battery is one of the toughest on the market. It combines all the qualities of a great solar battery, such as fast charging/discharging (up to 100A), a built-in battery management system (BMS) for safety, a compact design, and a wide operating temperature range from -4°F (-20°C) to 140°F (60°C).
This solar battery is perfect for RVs thanks to its unique group 24 form factor. It'll ensure complete use of your battery storage space (10.49″ x 7.11″ x 8.95″)
Moreover, it's exceptionally durable (up to 5,000 cycles) and comes with a 10-year manufacturer's defect warranty (the longest on the market).
Pros
Up to 5,000 cycles
10-year warranty
Works at low temperatures
Group 24 form factor (compact)
Quick charge/discharge (up to 1.2kW)
2. RENOGY (50Ah)
Renogy is a reputed brand specializing in all aspects of solar energy: production, storage, and management.
Like all Renogy's products, this 50Ah battery is built with high-quality materials.
It has a 5-year warranty and a reliable built-in BMS that will efficiently balance and protect your battery cells. The battery is certified to retain 80% of its initial capacity after 2,000 cycles performed at 0.2C ( 120 per hour for 10 hours).
Powerful, it can deliver up to 640W. It can easily link to extra batteries in parallel if you need more.
Pros
80% initial capacity after 2'000cycles
5-years warranty
High-quality material (BMS, battery cells, and casing)
640W of power output
Cons
Pricey
No IP65 certification
100Ah gives you enough energy to power small appliances like mini-ref, fans, computers, TVs…
3. Weize (100Ah)
Weize is a U.S. company created in 2006. NiMH and Lithium batteries are their specialties.
Next up is Weize's 100Ah LiFePO4 offering. This battery suits frequent RV users as it can output 2,000 cycles at 100% DOD and 8,000 at 50% DOD.
Additionally, its substantial power output (1.2 kWh) to weight (24.4 lbs) ratio makes it a perfect energy storage solution for confined spaces.
Finally, it comes with an IP54 rating and is backed by a superb 10-year warranty.
Pros
Great life duration (8,000 cycles @ 50% DOD)
10-year warranty
Well-priced
4. Redodo (100Ah)
Redodo is a Chinese manufacturer and a newcomer in the battery world. However, their products boast competitive specs.
Redodo's 100Ah battery is one of our favorite solar storage options for solar panels.
It combines a long lifespan (5,000 cycles at 80% DOD, power (1280W), and safety (BMS).
It's ready for quick charge (up to 100Amps, 2-3 hours to full charge) and can provide pick power (3,000W, 5 sec) — perfect for powering devices like water pumps.
All-in-all, it comes at a fair price with a 5-year warranty.
Pros
Durable (5,000 cycles, 10 years)
Powerful (1280W, peak 3000W)
5-year warranty, U.S.-based technical support
Quick-charge
Well-priced
Cons
Higher self-discharge rate (1-year storage)
5. Ampere Time (100Ah)
Ampere Time is a Chinese battery company with more than 14 years of lithium manufacturing experience.
Ampere Time is well-renowned in the lithium battery world for a good reason. This battery, much like its other offerings, will not disappoint you.
It can power most RV appliances like coolers, lights, circulation pumps, and other electronics.
In addition, it's extremely durable (up to 15,000 cycles @ 60% DOD), works under extreme temperatures, and is vibration resistant.
Finally, it has an IP65 protection rating (waterproof) and a 5-year warranty.
Pros
Durable (up to 15,00 cycles @ 60% DOD)
Powerful (1280W continuous, 2500W peak)
Ready for quick charge
Well-priced
5-year warranty
Cons
Doesn't have low temp cut-off
6. ExpertPower (200Ah)
ExpertPower is a U.S.-based company with expertise in energy storage solutions. They also offer an extensive range of products for off-grid projects.
With a 200Ah storage capacity, this 12V LiFePo4 battery by ExpertPower will help you store large quantities of your precious solar energy (2.4 kWh).
Thanks to a well-designed built-in BMS, it delivers up to 1800W continuously (2400W peak).
Additionally, it's certified to last 3,500 cycles (10 years, at 80% DOD) and comes with a 1-year warranty.
Its only real negative would be its lower charging current of max. 50 Amps (6 hours to full charge).
Pros
3500 cycles (10 years)
Quality BMS
High output power (1800W, peak 2400W)
Cons
1-year warranty
Low charging speed (50Amps, 6 hours to full charge)
7. JITA (300Ah)
This is the most powerful lithium battery from JITA, a Chinese energy storage company.
This LiFePo4 combines the highest storage capacity (3600Wh) and power output (2500W, peak of 3300W) of all our storage batteries for solar panels.
In addition, it's highly durable (10 years, 4,000 cycles), supports quick charge (7 hours with solar panels), and you can mount it in parallel/series for extra power.
In short, this is a value-for-money battery with a 3-year warranty and U.S.-based technical support.
Pros
High storage capacity (3.6kWh)
Powerful (2500W)
Durable (4'000 cycles, 10 years)
3-years warranty
Related reading: Tesla Vs. Enphase (Which battery should you choose?)
---
Final thoughts
Once expensive, lithium batteries are now the cheapest way to store your solar energy, thanks to technical improvements and drastic price reductions.
Nowadays, they're now highly durable, with 10-year lifespans. In combination with solar panels, they are becoming cheaper than utility grid electricity.
What batteries are you interested in purchasing? Let us know in the comments section below.