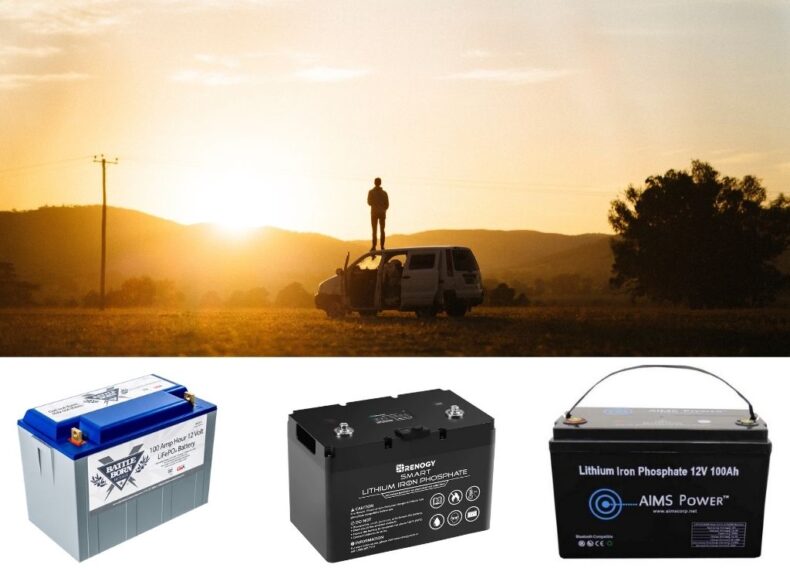 In 2021, the cost of lithium batteries like LiFePo4 is going down while their durability is increasing. Now is the perfect time to replace your Lead-acid battery and upgrade your solar generator or solar system.
Lithium batteries are the most versatile electricity storage available. They are lightweight, offer great energy density (3 to 4 times higher than lead-acid), are powerful (up to 2.4kW), are perfectly fitted for solar energy storage, and are long-lasting (up to 10 years).
The cost of lithium batteries is mostly related to their capacity expressed in Amps. hour (Ah) or watt.hour (Wh).
How much do lithium batteries cost on average?
50Ah (600Wh) costs $436
100Ah (1200Wh) costs $620
200Ah (2400Wh) costs $1133
300Ah (3600) costs $1800
If you'd like to get straight to the point, jump directly to our comparative price chart at the end of the article. You can do so by clicking this quick link.
---
Cost of Lithium Batteries (Breakdown)
The main lithium battery technology available on the market is LiFePo4. If you dissect them, you will find a few components that greatly dictate the overall lithium battery cost:
Battery Management System (BMS)
Prismatic Lithium battery cells
Electrical connections, sensors
Let's have a closer look at the 2 main parts:
Battery Management System (BMS)
A lithium battery cannot work without a BMS. This essential electronic component has 3 functions:
The BMS is connected to each prismatic lithium battery cell. It makes sure that they are all balanced and equally charged/discharged by controlling the charging and discharging current.
It protects the battery from over-discharging and overcharging and ultimately prevents it from overheating by disconnecting the battery cells if needed.
All lithium battery brands featured in our article include a built-in BMS.
Prismatic Lithium Battery Bells
These are the basic building blocks of all lithium batteries. They have a standard voltage of 3.2V, and their capacity varies – 50Ah, 100Ah, 200Ah, etc.
Depending on the material quality and manufacturing process, their durability (number of cycles), robustness, and fast charge/discharge abilities are affected.
Four prismatic lithium cells are connected in series resulting in a 12V lithium battery pack (4*3.2V=12.8V).
Currently, 80% of the whole lithium battery cost, goes into the LiFePo4 prismatic cells.
---
4 Steps On How To Choose The Correct Lithium Battery
This is what you should look for when choosing your lithium battery:
1. The Capacity
The capacity is usually expressed in Ah. 100Ah means that your battery could provide a current of 100 Amps for one hour at a minimum voltage of 12V.
This discharge rate is called 1C: 100% of the capacity discharged in one hour. This is also equivalent to 10 Amps during 10 hours (10Amps*10hours=100 Ah), a discharge rate of 0.1C: 10% of the total capacity discharge per hour.
A more accurate and absolute measurement of the capacity is the Wh. For example a 12V, 100Ah battery has a capacity of 12*100=1200 Wh.
Note that: a 12V – 100Ah battery and a 24V – 100Ah battery, both have the same Ah but in the end the 24V stores two times more energy: 24*100= 2400Wh.
In this article, we mostly use Ah because the batteries we selected are all 12V.
---
2. The Continuous Charge/Discharge Current
The BMS pilots the charge and discharge current, the higher the better.
Most of the BMS accept charging/discharging currents from 50Amps to 100Amps. Lithium batteries allow for quick charging. With a current of 100Amps, a 100Ah battery could be charged in one hour.
However, in practice, a one-hour charge will give 80% of the total capacity, the remaining 20% might last one more hour.
3. The Peak Discharge Current
Depending on your application, you might require a battery with large peak discharging currents. For example, to start heavy equipment such as a water pump.
4. The Total Life Cycles
This is your battery's durability, the most modern lithium battery models can reach up to 7000 charges/discharge cycles with a 10 years life duration.
---
15 Brands Of The Best Lithium Batteries
Our selection of the 15 best lithium battery brands in terms of durability, power, safety, and costs.
AMPERE TIME
---
JITA
---
ExpertPower
RENOGY
VISION
---
FLYPOWER
---
SCREMOWER
---
MOSEWORTH
---
LYNX
---
CHINS
---
AIMS Power
---
Battle Born
---
TalentCell
---
LITHOVA
MOLLPOWER
---
Cost Of 15 Lithium Battery Brands Compared