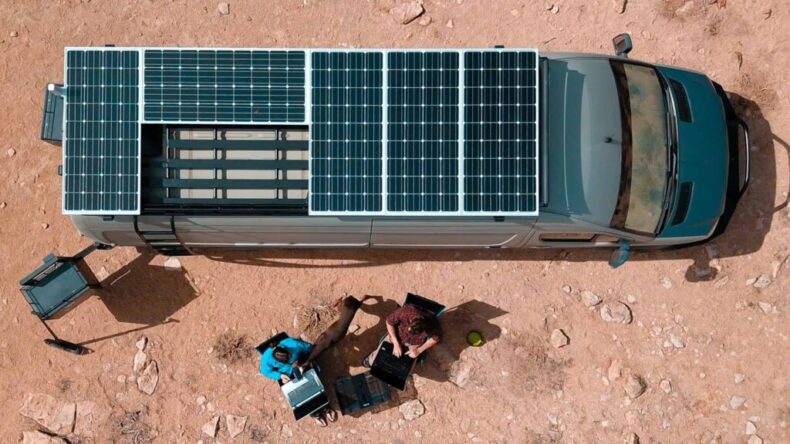 Solar panels for campervans are becoming more popular than ever, as crowds of adventurers seek sustainable solutions to power their vans on long-distance road trips.
In light of the covid-19 pandemic, van life road trips allow you to get off the beaten (crowded) path and discover untouched natural wonders, reconnect with friends and relive the 'Good ol' days'.
Personally, I'm about to embark on a road trip myself and am right up in the mix of sourcing the best solar panel setup for my spunky 1990 VW T3 Syncro.
Thus, the aim of this article is to answer all your questions and shed some more light on the best solar panels for campervans!
---
What Is A Campervan Solar Panel?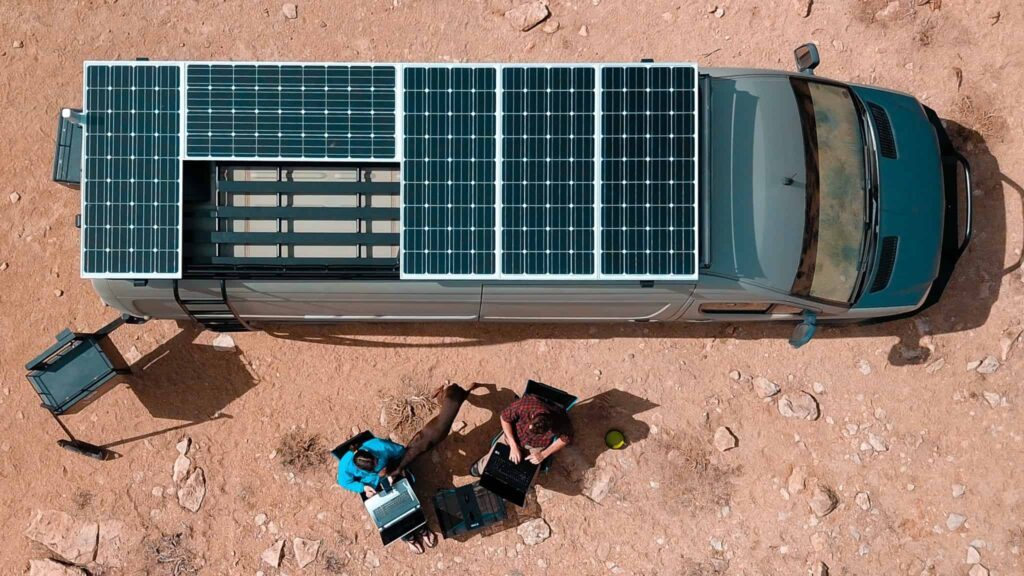 Seems, like a simple enough question right? I mean what makes a campervan solar panel different from your home setup?
Well, first and foremost the total watt output of your van's solar panels will be much less than your homes.
The simple reason being that they don't have to power as many high-watt appliances.
Campervan solar panels come in 3 main forms: rigid, portable, and flexible.
Rigid solar panels: These are generally fixed permanently onto your vans roof. The solar cells are encased in various materials such as glass and are surrounded by a protective aluminum frame.
Portable solar panels: These are usually made quite small and lightweight, enabling you to carry the panel with you on day hikes or backpacking trips. Usually these panels include a built in charge controller allowing you to charge various devices directly from the panel.
Flexible solar panels: These are some of the newest forms of solar panel technology and are made from ultra-thin silicon wafers giving the panel complete flexibility in movement. They feel sort of like vinyl and are ideal for marine applications.
In summary: What is a campervan solar panel?
A durable monocrystalline, polycrystalline, or amorphous solar panel that can be mounted onto your campervan and power all your necessary appliances.
---
What Size Solar Panel Do I Need For My Campervan?
The size of a solar panel generally correlates with the total watt output of your solar panel.
Knowing what size solar panel you need all depends on what appliances you need to power and how much space you have in or on your campervan to mount said panel.
Step 1 – Measure The Size Of Your Vans Roof
I love measuring my van's roof, don't ask me why (even though you already did).
It's just something about climbing up there that reminds me about all the soon-to-be embraced sunset beers & wildlife spectacles.
But yes, the first step will be to measure the roof of your campervan. By doing this you know exactly how much space you are able to dedicate to your solar panels and how much space you have to dedicate to storage such as spare tires, rims, and jerry cans.
---
Step 2 – Work Out Your Total Energy Usage
In order to determine what size solar panel you'll need, you need to figure out what sort of power you require.
To do this you'll need to do a complete power audit of your appliances.
Now, this does take some upfront work, to begin with. However, it will give you peace of mind knowing your exact energy requirements.
Nate and Steph, over at Explorist.Life, have made an amazing excel spreadsheet to help you calculate your energy usage.
Download Spreadsheet
You can watch the video below on how to edit these spreadsheets below.
---
Step 3 – Decide On A Solar Panel For Your Van
Based on your energy requirements you can now decide on the best solar panel for your campervan.
Let's assume your energy usage requires you to install 400 watts worth of solar.
You'll want to decide on the most efficient solar panel in terms of maximum wattage + spatial requirements.
For example, perhaps one 400-watt solar panel takes up less space than 4 x 100-watt solar panels (which is usually the case).
Personally, I prefer using one high-watt solar panel on my campervan over an array setup.
For the simple reason that it's usually less messy/complicated when it comes to your wiring circuit.
---
How Do You Fit Solar Panels To A Campervan?
We are busy working on a how-to tutorial video for you guys, we will upload it to our YouTube channel and here on this blog once it's finished.
---
How Should My Solar Panel Wiring System Look For My Campervan?
Another thing that really excites me is solar panel wiring. Just something about the finished product makes me feel like an expert electrical engineer (I'm not).
Understanding how your van's solar panel wiring should be set up does take some practical knowledge.
Understanding the terms is a start, so below I'll touch base on the most popular terms used in the majority of solar panel electrical circuits.
Solar Panel Circuit Diagram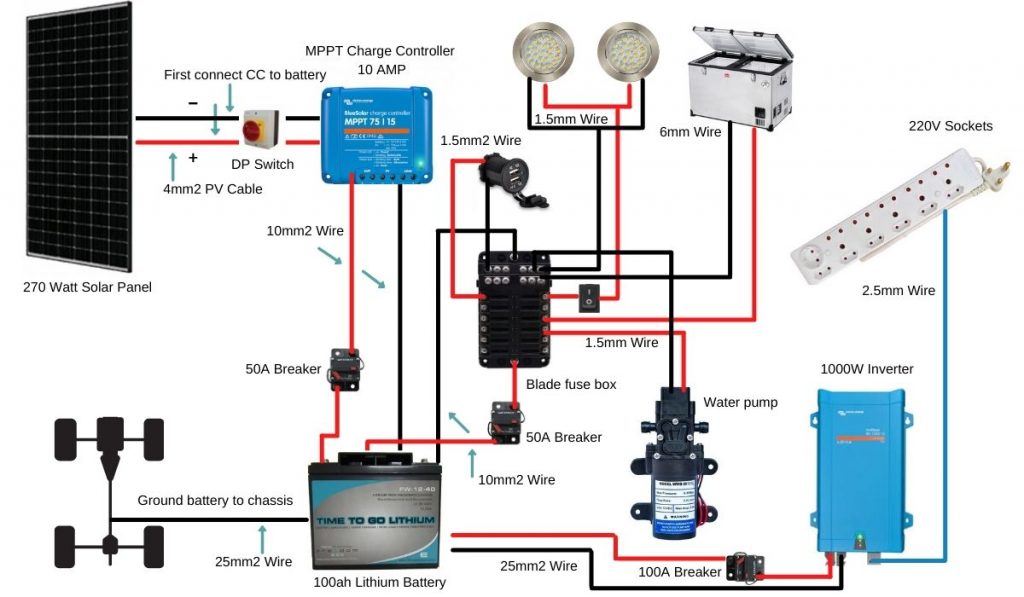 This is a basic circuit diagram of our 1990 VW T3 Syncro's solar setup.
You can see I included the appropriate wire thickness for each appliance, along with the necessary breakers.
If you'd like me to make your campervans solar panel circuit diagram feel free to reach out in the comments section below.
---
How Much Are Solar Panels For Campervans?
Solar panels for campervans vary in cost greatly.
There are, however, certain characteristics that affect solar panel pricing from the get-go, regardless of the actual brand.
Monocrystalline – Solar panels made from monocrystalline solar cells are much more efficient than polycrystalline solar panels. This along with their manufacturing process make mono solar panels quite abit more expensive.
Flexibility – Again the higher price tags here are a result of the manufacturing process being more labor intensive.
Watts – The total wattage of your solar panel has the biggest effect on the price tag. It goes without saying that the higher the wattage, the more material (silicon) is required, the result = a higher price tag.
Below I've created a spreadsheet that indicates the average costs of monocrystalline and polycrystalline solar panels.
| Panel Type | 50 Watt | 100 Watt | 200 Watt | 300 Watt |
| --- | --- | --- | --- | --- |
| Polycrystalline | 35 USD | 60 USD | 110 USD | 150 USD |
| Monocrystalline | 75 USD | 125 USD | 300 USD | 330 USD |
Average cost of solar panels for campervans
---
What Are The Best Solar Panels For Campervans?
In my opinion, the best solar panels for campervans are the ones that are able to power your appliances efficiently/effectively.
If you plan to go on prolonged off-grid adventures you want to be able to rely on your solar panels.
I believe some of the best monocrystalline panels on the market, are those from Renogy.
They offer tailor-made van life solar kits to fit your individual needs.