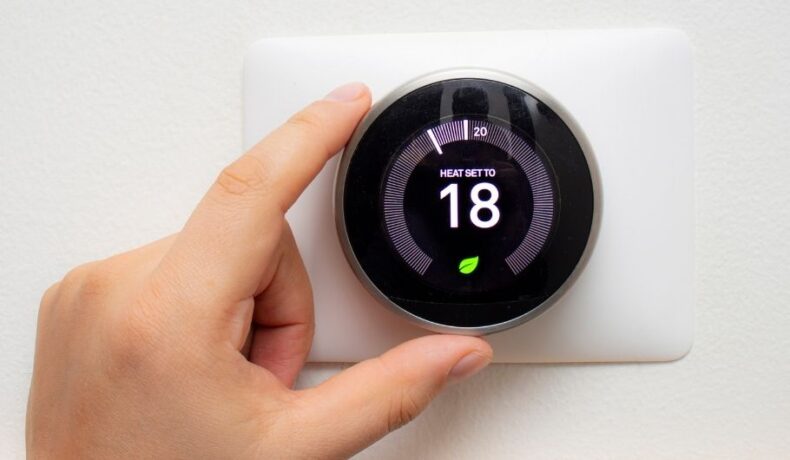 The increasing presence of smart thermostats in modern homes is providing people with important insight into their domestic energy use.
These thermostats contribute to more economic energy use patterns in two ways:
They control your heating system in a more economic fashion, i.e., by not heating your house if they detect that you or the rest of your family aren't home.
They play an important role in making you aware of your energy use. This encourages you to change you and your family's energy-use related behaviour.
Ultimately, both of these factors along with other green housing ideas help turn your home into a more eco-friendly environment.
In this article, we're going to discuss these smart thermostats in a little more detail so that you'll have a better understanding of what they are, how they work, and how you and your home can benefit from having one.
Additionally, we'll provide you with our list of the 12 best smart thermostats currently on the market.
Foreword
Climatebiz experts design, research, fact-check & edit all work meticulously.
Affiliate Disclaimer
Climatebiz is reader-supported. We may earn an affiliate commission when you buy through links on our site.
---
What Is A Smart Thermostat?
According to the U.S. Energy Information Administration (EIA), more than half of the energy used in homes throughout the US comes from heating and air conditioning.
Pretty easy to understand why smart thermostats have become necessary, right? So what exactly are these little guys?
---
Overview
A research paper by Lu, Jiakang, et al, describes smart thermostats as being similar to programmable thermostats in the sense that they have a scheduling feature that allows users to set different temperatures for different times of the day.
But they are more than just that. In addition to the above, smart thermostats implement other technologies to help you reduce the number of errors you may make when using a programmable thermostat.
So how do these devices help save you money and reduce human error?
Smart thermostats incorporate the use of sensors that determine whether or not your home is occupied. In doing so, they can suspend heating or cooling until you or your other family members return.
These thermostats utilize Wi-Fi connectivity to give you access to the thermostat at all times, regardless of where you are.
A smartphone application and web portal work together with the smart thermostat. This gives you the option of your HVAC system working autonomously or via remote-control.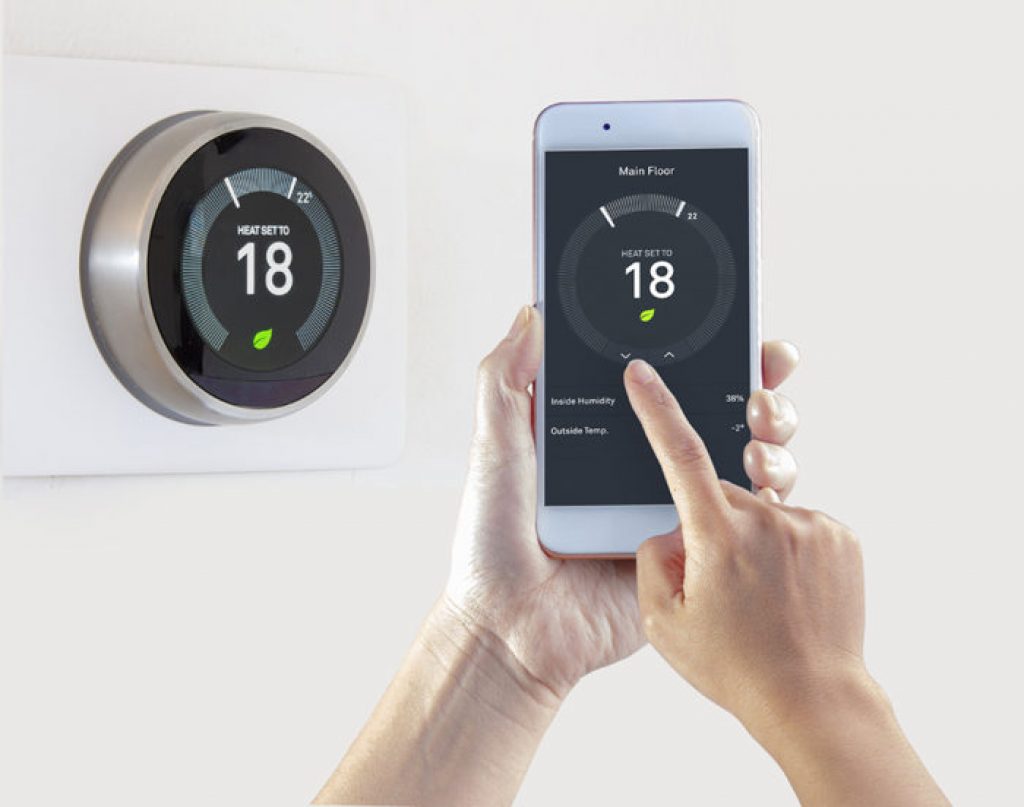 ---
What Are Smart Thermostats Capable Of?
In order to answer this question, we're going to use the Emerson Sensi Wi-Fi Smart Thermostat ST55.
This product is a great example of a modern smart thermostat. It can perform the following functions:
Geofencing – This is a technology that virtually tracks when you enter or leave your property. Basically, it helps to create a boundary around your home so that your system can be switched on when you arrive and shut off when you leave.
Flexible Scheduling – You can set your heating/cooling habits for each day of the week.
Cross-Platform Compatability – This thermostat works with Amazon Alexa, Google Assistant, Apple HomeKit, and Samsung SmartThings via their respect apps.
Usage Reports – You can monitor current day and historical heating patterns along with cooling and fan runtimes right via the app.
Smart Control – This device is remote-control compatible. All you need is the smartphone app for your Android or IOS device.
On-The-Go Alerts – A smart thermostat such as this can alert you when it detects extreme temperatures or humidty levels in your home.
Additional feature: Some smart thermostats are compatible with multiple sensors. This allows you to set the temperature of specific rooms without compromising the overall temperature of your home.
---
How Does A Smart Thermostat Work?
Now that you're more familiar with what a smart thermostat is, let's dive into how these little gadgets work.
---
What's Needed?
First things first, a smart thermostat requires the following:
The thermostat itself.
A WI-FI connection.
A heating or cooling system of sorts (HVAC system).
A C-wire, or a common wire. This runs from your low voltage heating system (24v) and acts as a return path for continuous power for your thermostat.
A smart thermostat app that is downloaded to your smartphone, mobile device or computer.
---
Installation
Before a smart thermostat can function, it needs setting up. To do this, it needs to be connected to an HVAC system via a c-wire. This will provide the device with the necessary power.
Following this, the device needs to be linked to a WI-FI network and the relevant smartphone app must be downloaded. Connecting the device to the Internet of Things (IoT) and linking it to a smart app allows for the device to be updated, use all of its functions, and lastly, allows the user to operate the device remotely.

---
The Process
A smart thermostat uses occupancy sensors to save energy by automatically turning off your HVAC when you or your family are sleeping or away.
The system uses a set of motion sensors that are installed throughout your home. Based on these sensors, the system employs three energy-saving techniques.
First, the fast reaction algorithm uses a probabilistic model to process the sensor data. Based on this data, it estimates whether you're moving around your home, sleeping, or away. This algorithm can typically respond within minutes of you leaving the house, without introducing false vacancy detections.
Second, the system combines a history of your occupancy patterns with online sensor data to decide whether to preheat your home or to heat it after you arrive.
Finally, the system saves additional energy by allowing the temperature to drift further from the setpoint temperature (the temperature point at which a thermostat has been set) when it's confident that your home is unoccupied.
Collectively, these three techniques allow the system to automatically save you energy without sacrificing your level of comfort.
---
Are Smart Thermostats Worth The Money?
Well, this depends on two factors:
What you'd like to get out of purchasing and using one of these gadgets.
Whether or not these devices can back up what they claim to do.
In truth, the above factors go hand-in-hand.
We've mentioned the purpose of smart thermostats throughout this article, but let's recap:
You save money on your heating/cooling bills.
They make the process of managing your heating/cooling system more user-friendly.
What we haven't yet mentioned but will later on in this section is the topic of rebates. This, along with the previous two purposes all work together to incentivize the use of these devices.
Let's discuss and evaluate each of these purposes.
---
Energy Savings
Smart thermostats increase energy usage efficiency. Anything related to energy and efficiency often leads to savings, and who doesn't like to save money?
Previously mentioned features such as geo-fencing, programmable flexible scheduling, and remote monitoring all contribute towards these thermostats reducing your energy usage, and saving you money.
Evidence
A study was conducted as part of this research paper on the potential savings that smart thermostats can provide.
The result – using smart thermostats can save 28% of residential HVAC energy consumption on average, without sacrificing comfort.
---
Usability
There's no point in using a device that helps you save money and increase energy efficiency if you struggle to use it properly.
Current smart thermostats – in comparison to their manual and programmable predecessors – have managed to make improvements in this regard.
Developers of these gadgets and their accompanying apps are constantly working on making their devices and programs more user-friendly.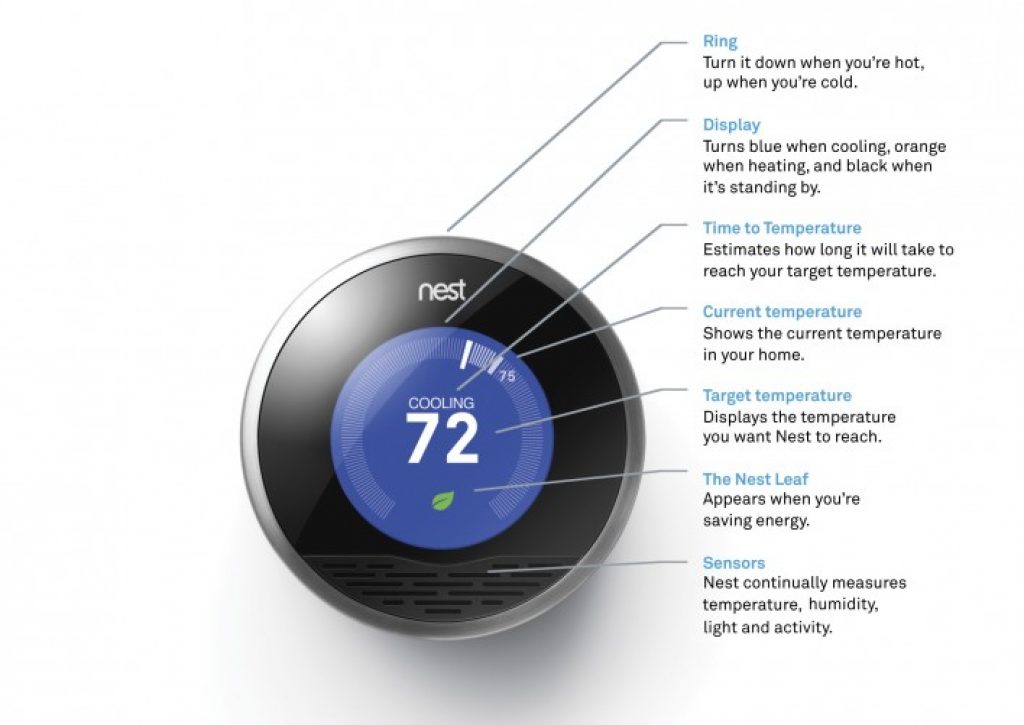 Evidence
In this study which assessed opinions and perceptions of smart thermostats, over 26 000 reviews were used to evaluate users' perceptions and attitudes towards smart thermostats.
According to the results, comfort appears to be of more concern to users than energy efficiency. In fact, comfort was mentioned more than twice as much as energy.
In fact, users often expect their devices to automatically save them energy without even understanding how their choices can compromise their potential savings.
Ultimately, improved interface design may have been a contributing factor to reduced concerns and negativity towards smart thermostats as opposed to their predecessors.
---
Rebates
Rebates have been provided by organizations such as Energy Star to help incentivize the use of smart thermostats.
Not sure where or how to take advantage of these rebates? Check out the following links:
In summary
If you're looking to take advantage of energy-saving rebates, reduce your electricity costs, and increase your level of thermostat usability, smart thermostats are worth it.
---
What Are The Pros And Cons Of A Smart Thermostat?
---
Pros
Energy Savings
In case you haven't read it enough already, smart thermostats provide you with energy-related savings due to their ability to increase energy usage efficiency.
Set It And Forget It
A lot of us want to be more energy conscious but are far too lazy to make a real effort. These thermostats make it much easier for you to program specific temperatures for certain times and days. Once you've done so, you can go about your day.
Rebates
As previously discussed, many smart thermostats come with rebates. When is saving money on a useful product ever not worth mentioning?
Assists With Maintenance
Is it time to change your filter? Many of the modern smart thermostats out there nowadays are able to alert you to issues related to your HVAC system. If something doesn't seem quite right with your system, you'll receive an alert via your smartphone, or mobile device.
Helps The Environment
The less energy we use, the less we need to generate. These devices are one such example of green technology that helps us make less of a negative impact on our planet.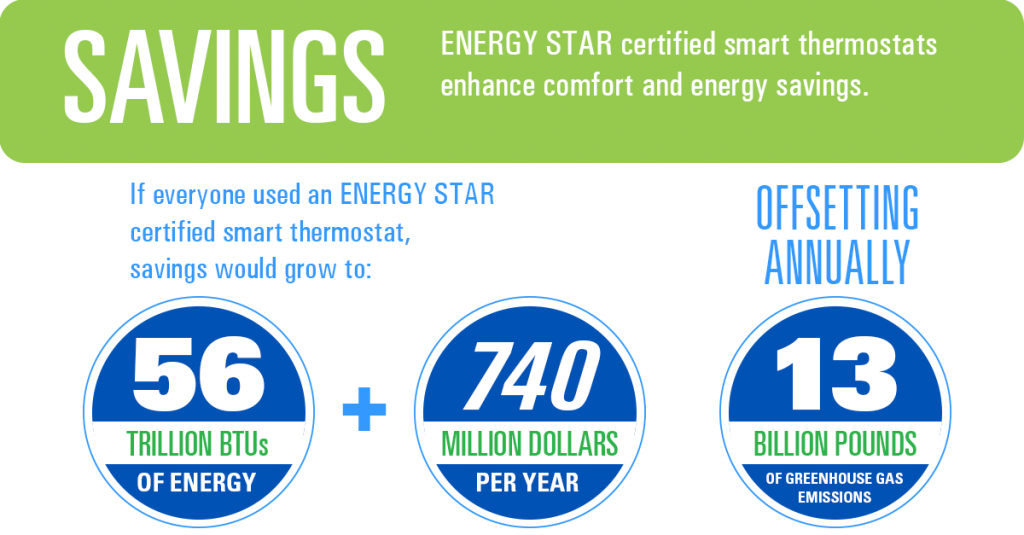 ---
Cons
Pricey
There's a fair bit of technology that goes into making these clever little gadgets. As such, many of them don't come cheap, so the upfront investment can be a bit steep for some.
WI-FI Issues
These devices do rely on your internet connection to perform some of their functions. So if you tend to have issues with your WI-FI connection – for whatever reason – then you'll find that you may lose out on some of their benefits, such as remote-control access/monitoring.
Occupancy Patterns
If you work from home, or there is always someone there, then programming the thermostat is going to be a bit more challenging.
Firstly, you won't want to lower and raise the temperature during the day if you run a business from home.
Secondly, adjusting to other family members' or co-workers' schedules is most likely not going to be cost-effective long-term.
---
How Long Do Smart Thermostats Last?
The general consensus seems to be around 10 years but truthfully the jury is still out as to whether that's true or not.
This is because these devices are still relatively new and there is not a lot of reliable, long-term data out there that's been able to track their durability and longevity.
---
12 Best Smart Thermostats
1. Google Nest Learning Thermostat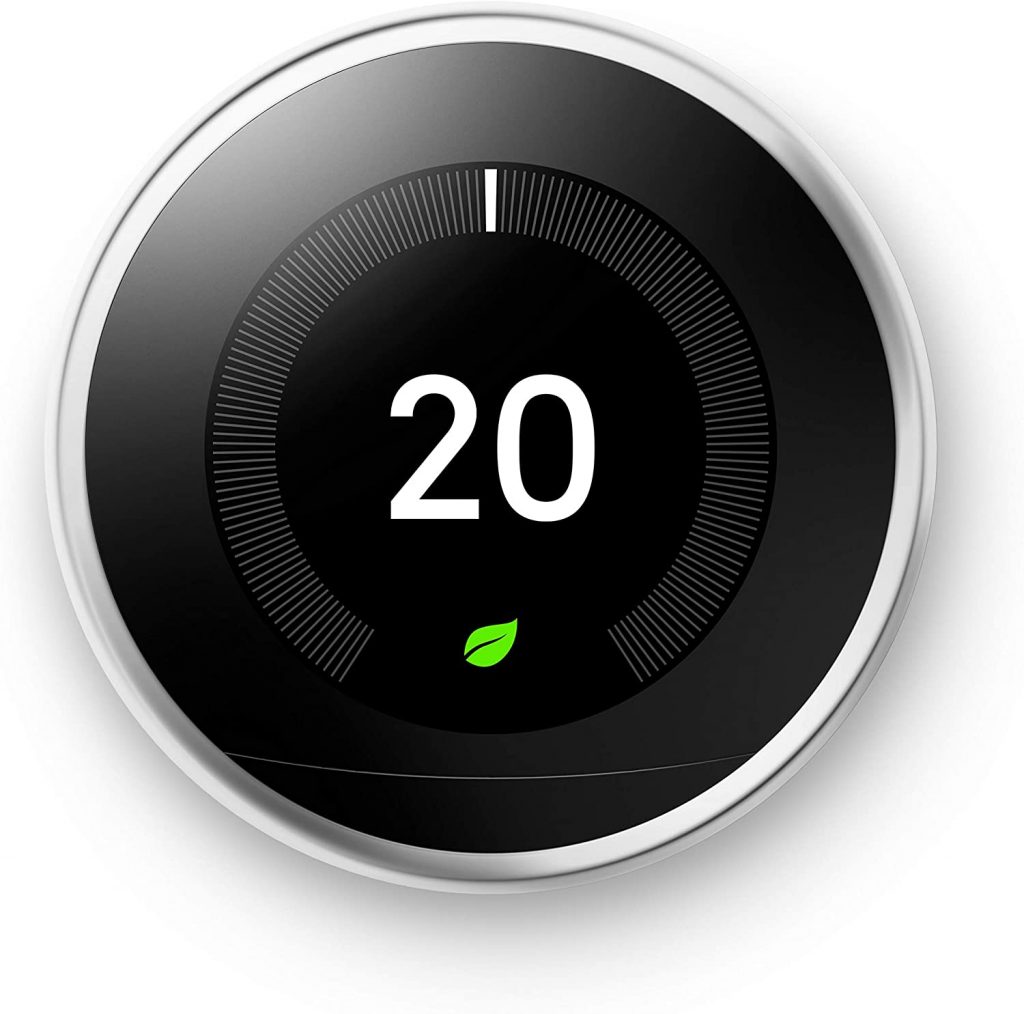 Main Features
First up on our list, we have the Google Nest Learning Thermostat. This smart thermostat learns your schedule and programs itself to help save energy.
You can control it from anywhere, anytime with the Nest app.
It's compatible with both Alexa and Google Assistant so you can adjust the temperature with your voice.
It's one of the pricier entries on this list, but with a 4.6 out of 5 from over 33K ratings, you can be sure that this thermostat is worth the money.
---
2. Emerson Sensi Wi-Fi Smart Thermostat ST55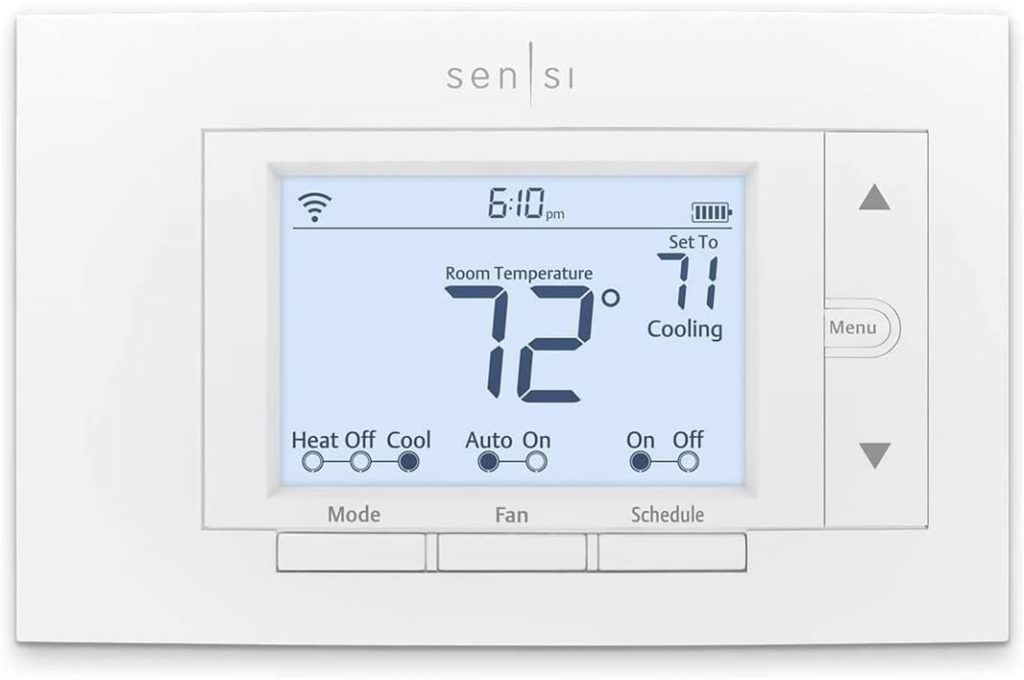 Main Features
This ENERGY STAR certified smart thermostat from Sensi Sensi helps you save on your HVAC energy costs, with features like geofencing, 7-day flexible scheduling, remote access, and in-app system usage.
The built-in level, step-by-step app instructions, and standard size make for a quick and easy installation.
It's compatible with Amazon Alexa, Google Assistant, Apple HomeKit (c-wire required), and Samsung SmartThings smart home platforms. Moreover, you can control this thermostat remotely from the Sensi mobile app from your Android or IOS device.
Finally, Sensi's "smart alerts" help to detect extreme temperature and humidity levels in your home.
---
3. ecobee Lite Smart Thermostat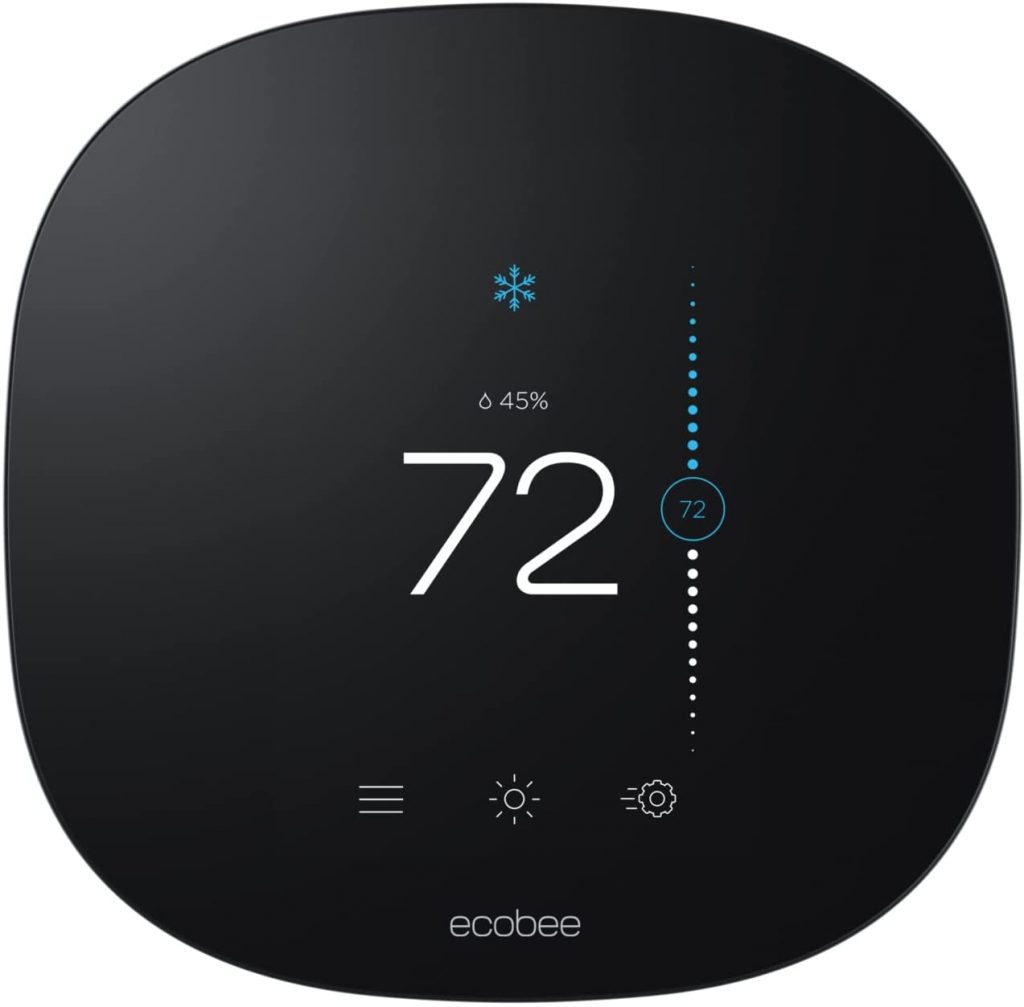 Main Features
Save up to 23% annually on heating and cooling costs with the "lite" version of this smart thermostat from ecobee.
Manage hot or cold spots throughout your home while being able to automatically pause your heating or cooling when a door or window is left open (you'll require an ecobee SmartSensor + Smart Security subscription for this feature).
As a bonus, this smart thermostat will work seamlessly with any smart home system of your choosing.
---
4. ecobee Smart Thermostat With Voice Control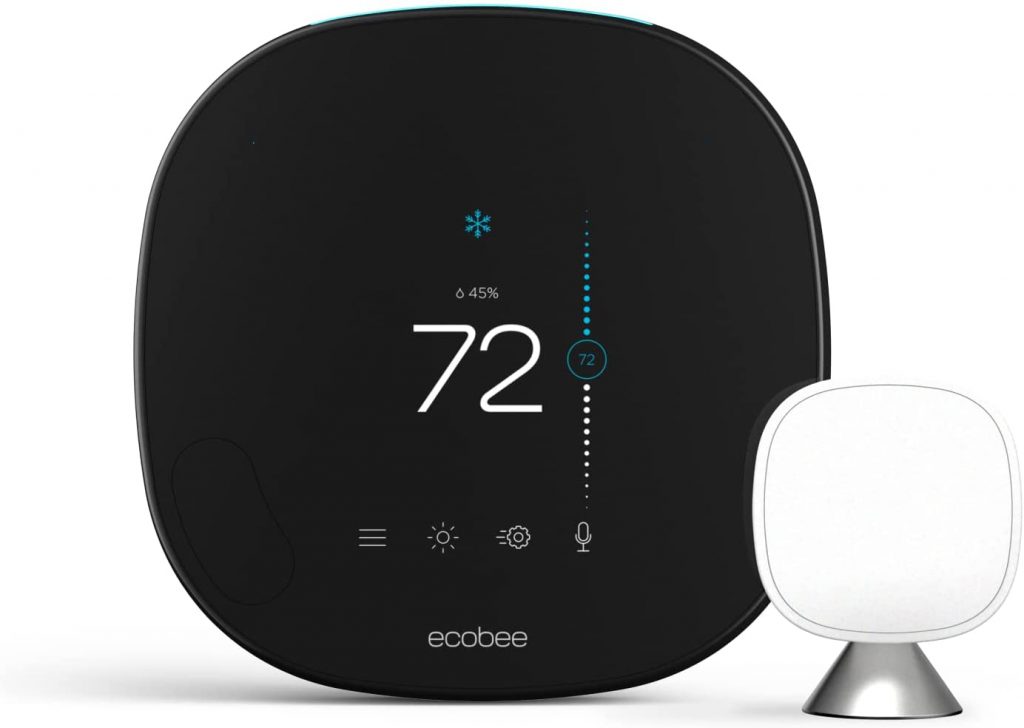 Main Features
This version of the ecobee smart thermostat is similar to its "lite version" cousin.
However, it comes with Sir and Alexa built-in for calls, music, and added control (Apple HomePod mini is required to enable Siri).
Additionally, it comes with a SmartSensor that helps to extend comfort to your most important rooms. As such, you'll find it to be a bit more expensive.
Much like the "lite version", this smart thermostat can detect doors or windows that have been left open. In response, it'll pause your heating or cooling systems.
It can also be linked to any smart home system of your choosing.
---
5. Emerson Sensi Smart Thermostat With Touchscreen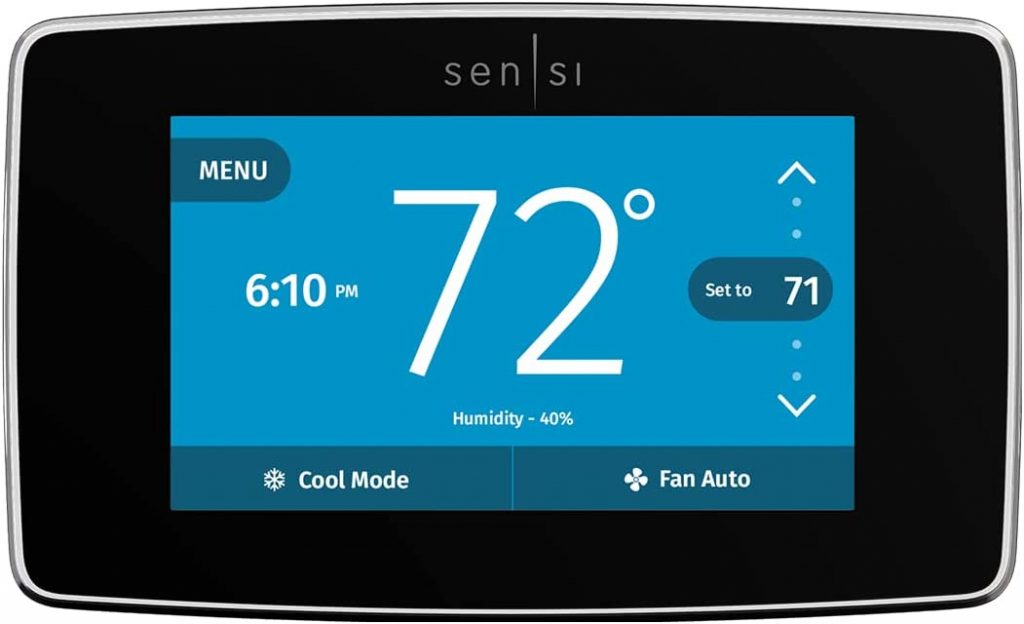 Main Features
Worried that you're going to struggle with installing your thermostat?
This smart thermostat by Emerson comes with a built-in level, illuminated easy-click terminals, and easy-to-follow instructions for a quick and easy installation.
Looking to connect to one of Amazon Alexa, Google Assistant, Apple HomeKit, or Samsung SmartThings? Consider yourself covered.
Feature-wise, you can monitor current day and historical heating, cooling, and fan runtimes from your app.
Moreover, you can control your device from anywhere while receiving smart alerts about temperature extremes and humidity levels in your home.
---
6. Honeywell Home Smart Color Thermostat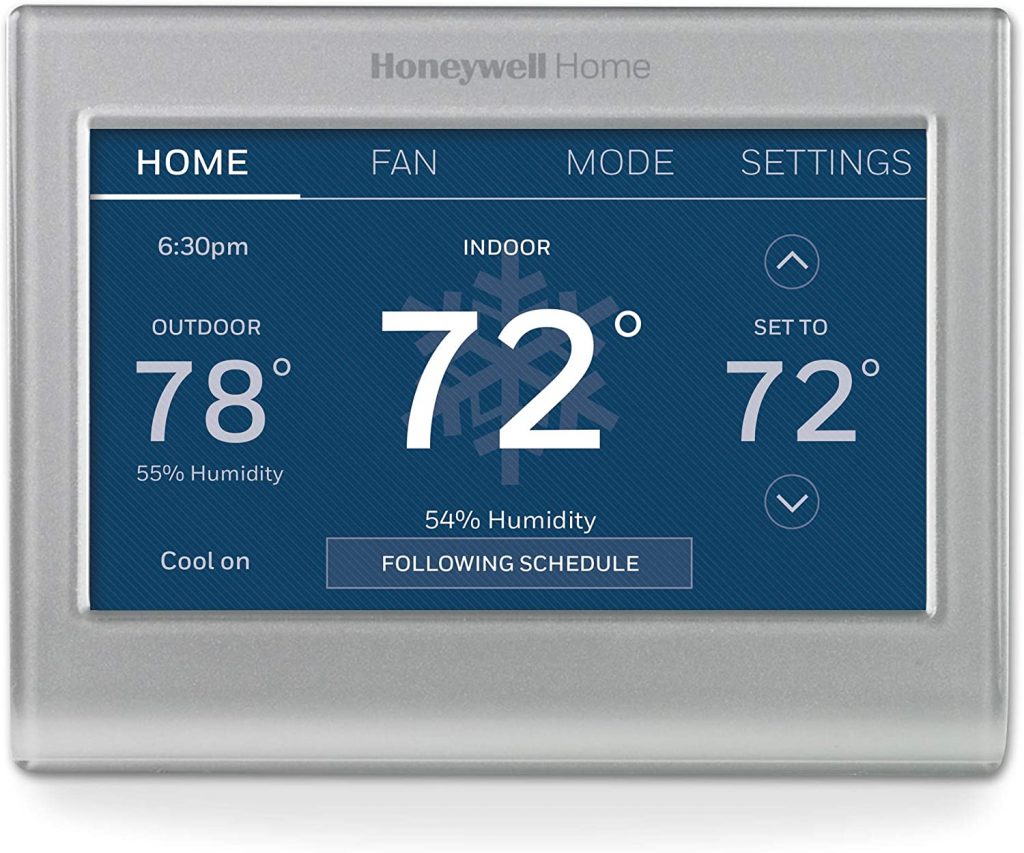 Main Features
This base version of this smart thermostat by Honeywell is one of the more cost-effective entries in our list, but no less effective.
A standout feature is its full-color display that you can customize to fit your unique style, with color selection to match your home's decor.
On the practical side of things, this smart thermostat allows you to create a custom 7-day temperature schedule that you can update with ease.
Compatability-wise, it works with forced air (gas, oil, or electric), hot water and steam, and heat pumps with electric backup. It does NOT work with electric baseboard heat (120-240V).
---
7. Google Nest Smart Thermostat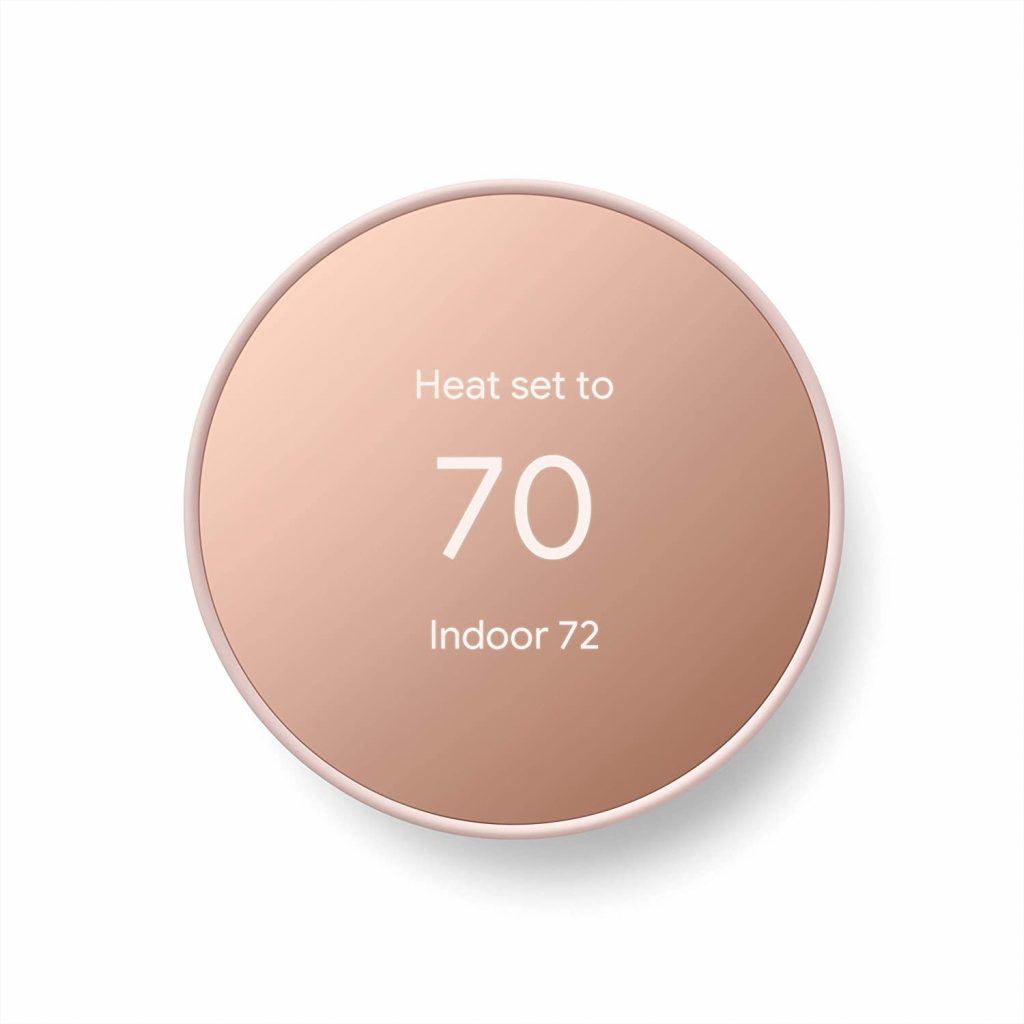 Main Features
Looking to save on your electricity bills? The Nest thermostat from Google comes with a "savings finder". This feature actively helps you look for ways to save – it suggests tweaks to your schedule in the app.
Additionally, it turns itself down when you leave, so you don't waste energy heating or cooling an empty home.
What if you have an HVAC system? This thermostat looks out for your heating and cooling systems, sending an alert if something doesn't seem right, along with helpful reminders to make maintenance easier.
---
9. Cielo Breeze Plus Smart Thermostat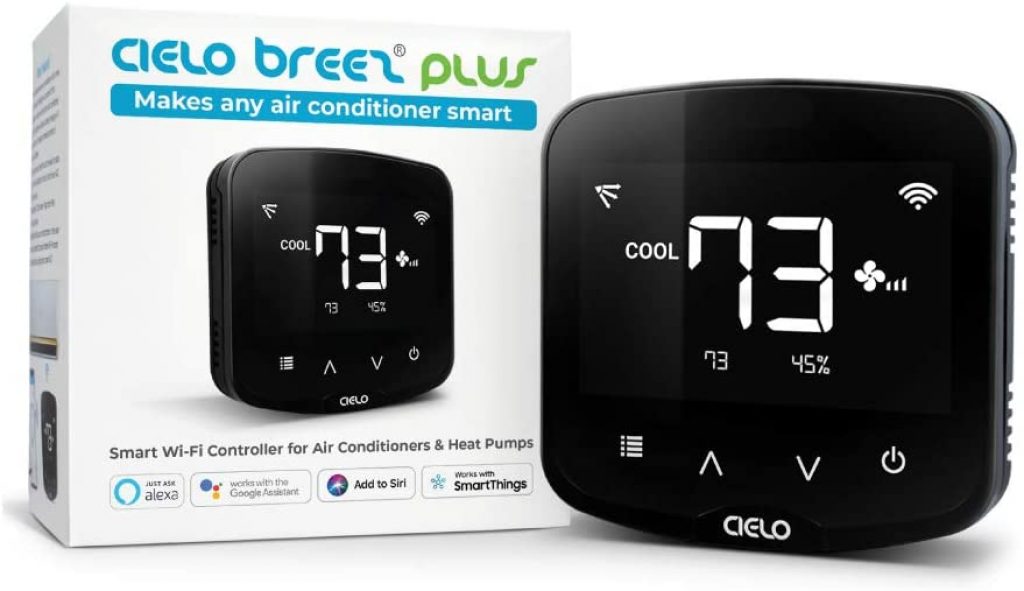 Main Features
Cielo Breeze provides you with a feature that is a first of its kind – you can control your connected AC even without Wi-Fi via on-device local controls. All you need to do is go through the initial registration.
You can power ON/OFF, fan speed, swing position, modes of operation, and much more. You still have the option to control your AC from anywhere by keeping your device connected to the Wi-Fi.
iOS, Android, Web, Alexa, or Google Home – the choice is yours.
Control your ACs, set up weekly schedules as per your lifestyle, and configure location-based controls for automated operation and energy savings.
---
---
11. Sensibo Sky Smart Thermostat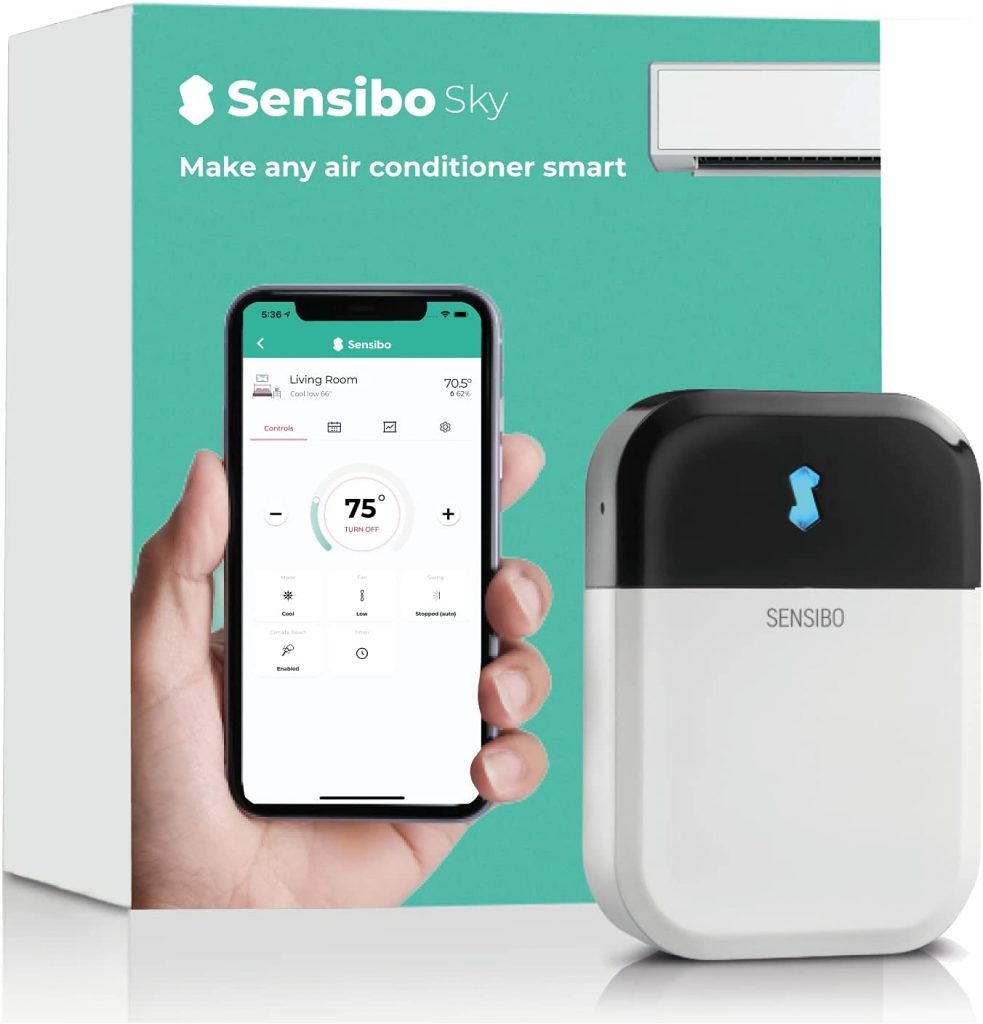 Main Features
Turn your existing air conditioner or mini-split/ductless/heat pump system into a smart AC with this thermostat from Sensibo.
The smartphone app allows you to take any remote-controlled AC unit of yours and have it maintain a comfortable home temperature from anywhere.
Looking for a thermostat that is compact? This lightweight unit is only 3.2" X 2.2" X 0.8", and it's wall-mounted. As an added bonus, it comes in eco-friendly packaging.
The Sensibo Sky comes with a host of smart features:
Geofencing activates your air conditioner, or any remote-controlled AC unit before you arrive and turns off when you leave.
Climate React scans both temperature and humidity, using a dual setpoint to maintain a comfortable 'real feel' temperature.
Finally, the device comes with 7-day full week programming, conditional programming, and voice control via Amazon Alexa, Google Assistant, Nest, Siri, and others.
---
Final Thoughts
There are many of you out there who want to live a more environmentally conscious lifestyle, and there are plenty of products out there that'll help you do that.
But let's be honest, a product (especially an expensive one) is only worth investing in if it helps you too.
Smart thermostats are one such example of green technology that'll benefit both you and the environment through usability, energy savings, and efficiency.
Honestly, there isn't much more than you can ask of any invention, and in our opinion, this little gadget is yet to disappoint.