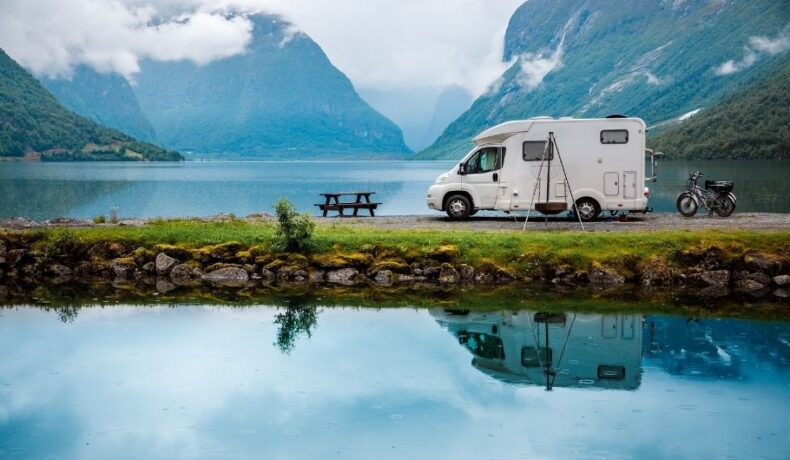 Quality lighting for your campervan is an absolute must, and what better way to satisfy your lighting needs than with some solar fairy lights!
Not only are these little beauties capable of livening up your campsite, but they are also much more eco-friendly and low cost than traditional, electrical/battery-powered lighting options.
If you're interested in finding out about the best solar fairy light options out there, as well as some related FAQs, then keep on reading.
---
7 Best Solar Fairy Lights
First up, we have Brightown's solar fairy lights.
You may have already come across this set of lights in our solar string lights. If not, well here they are!
Brightown's solar fairy lights have a whopping 13,380 ratings on Amazon, with an average of 4.5 out of 5 stars and it's easy to understand why – these lights are simply fantastic.
They come in a variety of colors: warm white, blue, green, multicolor, pink, pure white, and purple. Each string consists of 100 LED lights, across 33 feet of copper wire.
As such, these gorgeous, dainty lights are very versatile and perfectly suited to a campervan setup.
Protection-wise, they're built with water and dust-resistant functionality (IP65), so you need not worry about rough weather damaging them.
Furthermore, they're equipped with a monocrystalline silicon solar panel which has a high solar energy conversion efficiency (19%).
In short, you can't go wrong with these lights. Their value for money is truly top-notch.
Tech Specs:
Key Features:
8 impressive Lighting Modes – Beautiful, bright, and brilliant lighting modes including – combination, waves, sequential, slow glow, chasing/flash, slow fade, twinkle/flash, and steady-on. As such, these lights are exceptional at creating a variety of aesthetic atmospheres within your environment.
IP65 Rating – These solar lights are able to withstand most rough weather conditons- rain, high heat, or snow. All of the components carry an IP65 rating, so you can use them outdoors without worrying about a short circuit or weather damage. In saying that, please do not submerge them in water.
High-Efficiency Solar Powered Lights – The sophisticated and adjustable solar panel plus the inbuilt rechargeable battery makes these lights highly efficient.
Pros & Cons:
---
MPOWERD's Luci String Lights aren't technically classified as "fairy" lights, but that doesn't mean they aren't just as well-suited to your campervan.
The best part about these lights – their charging versatility.
We all know how unpredictable the weather can be, even at the best of times. The last thing you need while on a trip in your campervan is to be left in the dark.
So if you find that the weather isn't playing ball, and you're struggling to charge your lights via their solar function, you can simply make use of the USB charging port instead.
A full via solar takes 16 hours whereas a full charge via the USB port takes 4. Whichever method you decide to use, you can expect to get a lengthy 20 hours of illumination from these lights.
Tech Specs:
Key Features:
Built-In Rechargeable Battery – 2000 mAh lithium-ion battery that can provide up to 20 hours of lighting on a single charge.
Long Lasting – Emitting 100 lumens of power via 20 warm white LEDs across an 18 ft cord, this light provides up to 20 hours of light on a single charge, so you can keep your day going long into the night.
USB Charging – Recharge fully via solar or quick charge via USB (16 hours / 6-8 hours).
Lightweight & Durable – Luci String Lights are built for adventure – the base storage unit collapses down to 2 inches and weighs just 11.3 oz (320g).
Multifunctional – Designed for both lighting up your space and charging your devices, Luci String Lights comes with 4 light modes, 2 second quick shut off, and a battery level indicator to make sure you're never left in the dark.
Pros & Cons:
---
Gigalumi's fairy lights are another product that may be familiar to Climatebiz readers. You can find them as part of our solar Christmas lights article.
What really sets them apart from other, more generic-looking sets of fairy string lights is their unique, floral design.
Available in packs of 2 x 50 LED bulbs, these lights have an IP65 rating and 2 interchangeable modes, making them both durable and versatile.
Moreover, the company has a 30-day, no-questions-asked replacement window.
If you're looking to add some color and life to the interior or exterior of your campervan, these lights are an absolute winner.
Tech Specs:
Key Features:
Elegant/Unique Design – Unique floral design that is sure to make your household stand out.
IP65 Rating – These lights may be pretty but they are equally durable. The IP65 rating rating allows them to withstand all kinds of weather, including heavy rain and snow.
Refundable – If for any reason you are not satisfied, you have 30 days to return this product to get a 100% refund – no questions asked.
Pros & Cons:
---
Rated as Amazon's Choice for "outdoor string lights", this offering from JosMega is both a versatile and reliable option for your campervan lighting.
100 LEDs along with a 360-degree viewing angle means that you'll have more than enough lighting throughout your camping experience.
Protection-wise, both the lights and the panels are made out of waterproof IP65 material, making them strong enough to withstand adverse weather conditions.
In terms of power storage, these lights come with an 800 mAH rechargeable battery, so you'll be able to power the small LED bulbs throughout the night. 2 hours of direct sunlight or 8 hours of ambient sunlight can power the lights sufficiently.
Finally, JosMega gives you 45 days money-back guarantee and a 1-year manufacturer's warranty from the date of purchase.
Tech Specs:
Key Features:
Super Bright LED Lights – 8 interchangeable light modes – combination, in wave, sequential, slot glow, chasing/flash, slow fade, twinkle/flash, steady on.
Weather Resistant -The IP67 and IP65 protections ratings of the string lights and solar battery case respectively, means that these lights are well protected against rain, snow, dust and other harsh outside conditions.
Built-In Rechargeable 800 mAh Battery – Charge 1-2 hours = light up 2-4 hours; charge for 4-8 hours = lights up for 6-12 hours. If there is no sunlight on a cloudy day, they will light up for 1-2, alternatively they will provide dim lighting.
Pros & Cons:
---
Good quality lighting isn't just necessary for the inside of your campervan, you also need it in and around your general camping area.
This is where GIGALUMI's solar fairy lights stand out from the crowd. These string lights are bottled up together in a mason jar.
Multiple jars mean that you'll be able to both use some of them as functional/decorative lighting inside your campervan while also being able to take one with you when moving about your campsite at night.
Tech Specs:
Key Features:
Multiple installation methods – Strategically hang these solar lights on hooks inside your campervan or use them as mobile, solar lanterns both inside or outside.
Mobility – Light up any areas at night while you're on the move. With the fairy lights being bottled up into a mason jar, you are able to use these lights as a lantern that you can take with you anywhere.
Warranty – A 90-day product warranty shows that GIGALUMI firmly stands behind their product.
Pros & Cons:
---
If you're in the market for fairy lights that are bigger and brighter than usual, then this product from YIQU is just the thing for you. Their upgraded LED bulbs are 2 to 3 times bigger and brighter than ordinary string LEDs
Additionally, these lights come with a large 1000 mAh capacity battery that provides 10-12 hours of performance.
Finally, you have 8 different lighting modes to choose from. If you're concerned about having to reconfigure your lights every time they turn back on, don't worry. The built-in memory chip saves your last setting.
Tech Specs:
Key Features:
Upgraded LED bulbs – 2 to 3 times bigger and brighter than ordinary string LEDS
Large capacity battery – Excellent performance with a high quality rechargeable 1800mAh built-in battery.
8 Modes – Choose from 8 different modes to satisfy your needs. All you need to do is press the modes button. Additionally, there is a built-in memory chip that saves your last setting, so don't need to constantly reconfigure your lighting every time it turns on.
Pros & Cons:
---
The last entry on our list comes in the form of another solid product courtesy of DAYLIGHR.
These fairy lights have 8 interchangeable lighting modes to choose from: combination, waves, sequential, slogs, chasing/flash, slow fade, twinkle/flash, and steady on.
The solar panel and 100 LEDs all carry an IP65 rating, and the copper wire is insulated, removing the threat of overheating.
Lastly, these lights will provide you and your campervan with a decent, 10-12 hours of illumination.
Tech Specs:
Key Features:
8-Lighting Modes – Choose from 8 interchangeable lighting modes: combination, waves, sequential, slogs, chasing/flash, slow fade, twinkle/flash, and steady on.
Upgraded Solar Panel – Lights for up to 10-12 hours after fully charged. Two switch buttons, POWER ON/OFF. Auto on at dusk, auto off at dawn.
IP65 Rating – Both the string lights and the solar panel are IP65 rated. The copper wire insulation also means there will be no overheating issues.
Pros & Cons:
---
How Do Solar Fairy Lights Work?
Solar fair lights operate in the same manner that any other solar lights do – through the photovoltaic effect. This process occurs via a collection of photovoltaic/solar cells that make up a solar panel.
The solar cells are responsible for converting sunlight into direct electrical current (DC) that you can use at night.
But how is this possible?
A solar cell consists of multiple layers of crystalline silicone and chemicals that create layers of negatively charged electrons and positively charged spaces.
When sunlight enters a solar cell, it excites the negatively charged electrons and pushes them into the positively charged spaces.
These positively charged spaces then transfer the electron stream as a direct current of electricity through the solar cell's wires to a battery where the electricity is stored until it's required.
This battery charges throughout the day until evening approaches. In the absence of sunlight, the solar cell stops the conversion process.
Instead, a photoreceptor on the light detects when it's dark and turns on the light, which is usually made up of LEDs.
The battery then supplies the necessary power to the light throughout the night.
---
Do Solar Fairy Lights Work In Winter?
Firstly, solar lighting is suitable for outside use, in all kinds of weather. But, they do still require sunlight – particularly direct sunlight – to work efficiently.
Days are shorter in winter and there is often more cloud coverage, meaning that your solar string lights won't be receiving as much sun on average.
That's not to say they won't work. It just means that they will have a shorter runtime.
However, almost all solar lights come with batteries to store the energy that their panels have generated. If you're interested in learning more about these batteries, check out our article: 20 Best Batteries For Solar Lights (Buyer's Guide).
---
Can Solar Fairy Lights Get Wet?
Absolutely!
It's almost impossible to come across a set of solar lights that don't come with some form of IP protection rating.
But, please remember that IP protection doesn't mean that your lights are waterproof, it just means that they're water-resistant.
There is a BIG difference.
Water-resistant material is so tightly woven that water struggles to get through. In contrast, waterproof material provides a complete barrier to water.
What that means for your lights is the following – they may be able to withstand moderate to heavy rain, but they cannot be fully submerged in water.
---
How To Hang Solar Fairy Lights In A Campervan?
Here's the good news – hanging up solar fairy lights in a campervan is not super labor-intensive. This is thanks to the fact that most fairy lights are made up of copper wiring.
Copper wiring allows you to bend, twist and maneuver the lighting around objects in any way that you'd like.
If it just so happens that you aren't able to do this with your products wiring, you can make use of the following to hang up your lights:
Hooks
Nails
Thumb tacs
Velcro tape
And if those options don't strike your fancy, grab yourself some mason jars and bottled up your lights. That way, you can place bottles of light wherever you like, whenever you like, and with ease.
---
What Color Solar Fairy Lights Best Suit A Campervan?
Honestly, this comes down to personal preference.
In saying that, we would advise that you go for lighting that is soft enough to set the mood without straining your eyes.
Try going for a set of lights that are either soft or warm white – particularly if you value lighting that is more practical.
If that isn't much of an issue, then don't shy away from some different colors.
Ultimately though, you don't want a set of lights that'll blind you, especially in such a small space.
---
Final Thoughts
The last thing anyone needs on their camping trip is to be left in the dark, and when it comes to electricity and lighting, almost anything can.
That is why solar lighting is the way to go.
If you're concerned about the weather on your trip and you don't feel terribly confident about just relying on solar energy, don't worry, there are plenty of solar lighting options out there that have a backup USB charging function.
In our opinion, that is more than enough incentive to go the solar route, yet again.