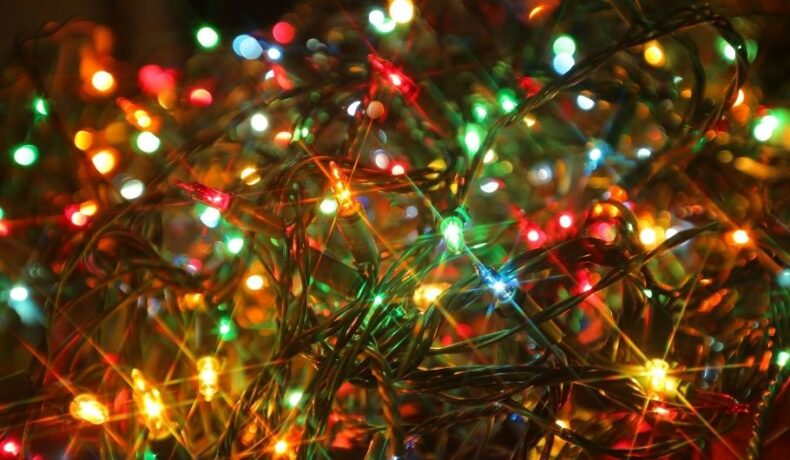 You'd be hardpressed to find someone who doesn't love a good set of Christmas decorations, but all of that pretty lighting doesn't pay for itself. Or does it? Well, if you've invested in some solar Christmas lights, you need not worry about your festive season electricity bill.
If you celebrate Christmas, chances are you've gone for a drive around the neighborhood to see what new decorations are on display.
Now you're excited and looking to join in the festivities, but there's one problem – you're concerned about the eventual cost of putting up your Christmas lighting.
Next thing you know, you're furiously googling alternative options to traditional, electrical lighting, and boom – solar Christmas lighting pops up. But as per usual you're overwhelmed by the amount of info and you're left feeling unsure and confused.
Not to worry, we at Climatebiz have compiled a list of the best solar Christmas lights out there – one's that'll pay for themselves with the power of green technology!
---
Solar Christmas Lights
In a rush? Use the links below to quickly jump between each of the individual products:
---
7 Best Solar Christmas Lights
The first entry in our list is the JMEXSUSS solar Christmas lights – Amazon's overall choice for "led solar Christmas lights".
These lights come in 8 different colors – warm white, red, white, green, blue, orange, purple & multicolor.
They are also incredibly versatile as they come with 8 different lighting modes, ranging from a twinkle/flash mode to a slow fade.
An IP44 rating along with insulated copper wiring makes these lights both durable and safe to use.
Moreover, the lights come with waterproof mini solar panels that need to be placed in direct sunlight. A full charge in direct sunlight for 8 to 12 hours, will power your lights for 8 hours at night.
Each pack includes 200-string energy-efficient LED light bulbs. Each string is 75.5 feet in length, so you have the ability to cover long distances.
Whether it be for a garden, wedding, party, Christmas tree, Halloween, or the general outdoors, these lights can do it all!
Tech Specs:
Key Features:
8 Modes & Memory Functions – These modes include: combination, in a wave, sequential, slo-glo, chasing/flash, slow fade, twinkle/flash, and steady on). In addition to this, a built-in memory chip saves your last mode setting without having to reset the mode every day. One is a combination(the first mode), the other modes will flash cyclically. The other 7 modes are fixed, you can press the button until you have the desired mode.
Easy To Install – These lights come with solar panels as well as ground stakes that you can place in any sunny area. The 75.5-foot-long light string is perfect for wrapping around trees or branches, anywhere you want to decorate.
Water-Resistant IP44 – This outdoor light string can withstand a variety of adverse weather condtions, including heavy rain and snow (though they cannot be soaked). Consequently, they are very suitable for outdoor decoration.
Heat Protected – The insulated copper wire keeps the lights at a low temperature so that they are safe to touch, even after many hours of use.
---
Joomer has come out with a great set of solar Christmas lights that are bound to put you in the festive spirit.
These lights, much like the lighting from JMEXSUSS, come in multiple colors. They also have 8 different lighting modes to choose from.
Additionally, the solar panel of the string light has a built-in memory chip that will allow you to save your previously used setting – no more having to reset your lights every day.
An IP65 protection rating means that they are hardy and well protected from the outside elements.
Some owners of these, however, have reported lighting issues over the short term.
Even so, don't let this put you off though, there is still an overwhelming number of positive reviews.
Tech Specs:
Key Features:
Solar Powered – Christmas decoration lights with a solar energy supply – forget about spending money on electricity. There is also no need to replace the battery.
Auto On/Off – A light sensor controls the solar christmas lights auto on at dark and auto off during the daytime.
2 Switches & 8 Different Modes – These solar string lights have On/Off button and mode button, press mode button selects 8 different modes to satisfy your diverse needs.
Water-Resistant – The solar christmas lights can withstand all kind of weather(IP65), including heavy rain and snow, perfect for indoor and outdoor decorations.
Memory Function – The solar panel of the string light has a built-in memory chip built-in memory chip save your last modes setting and no need to reset mode every day
Easy To Install – Solar panel with ground stake, 72ft long string is perfect for wrapping around a Christmas tree or wherever you like to light your gardens, patio, lawn, porch, gate, yard, etc. The wire between the first LED light and the solar panel (lead cable) is around 6 ft long, so you can put the panel in a suitable place
Pros & Cons:
---
In need of simple, yet reliable solar Christmas lights? Then look no further than this offering from JosMega.
100 LEDs along with a 360-degree viewing angle means that you'll be able to see these beauties from almost anywhere.
Protection-wise, both the lights and the panels are made out of waterproof IP65 material, making them nice and durable.
In terms of power storage, these lights come with an 800 mAH rechargeable battery, meaning that you'll be able to power the small LED bulbs throughout the night. 2 hours of direct sunlight or 8 hours of ambient sunlight can power the lights sufficiently.
Lastly, JosMega gives you 45 days money-back guarantee and a 1-year manufacturer's warranty from the date of purchase.
Tech Specs:
Key Features:
Super Bright LED Lights – 8 interchangeable light modes – combination, in wave, sequential, slot glow, chasing/flash, slow fade, twinkle/flash, steady on.
Steady 360 Degree Viewing – These lights act as multi-directional sources of light.
Weather Resistant -The IP67 and IP65 protections ratings of the string lights and solar battery case respectively, means that these lights are well protected against rain, snow, dust and other harsh outside conditions.
Built-In Rechargeable 800 mAh Battery – Charge 1-2 hours = light up 2-4 hours; charge for 4-8 hours = lights up for 6-12 hours. If there is no sunlight on a cloudy day, they will light up for 1-2, alternatively they will provide dim lighting.
Pros & Cons:
---
Fairy string lights have become an increasingly popular addition to household lighting – be it for short-term decoration or long-term use.
For this reason, Brightown's solar Christmas lights have been added to our list.
They come in a variety of colors: warm white, blue, green, multicolor, pink, pure white, and purple. Each string is made of 33 feet of copper wire with 100 LED lights.
Consequently, these gorgeous lights are very versatile – they can be used for Christmas, weddings, and general household decorative purposes.
Protection-wise, they're built with water-resistant functionality (IP65), which ensures that your solar LED lights last longer.
Furthermore, they're equipped with a monocrystalline silicon solar panel which has a high solar energy conversion efficiency (19%).
A great choice for any occasion.
Tech Specs:
Key Features:
IP65 Water-Resistant Functionality – These solar lights are solidly engineered to stand up to any weather – rain, high heat, or snow. All the components are IP65 water-resistant enabled, making them suitable for outdoor usage without the need to worry about a short circuit or weather damage. (can't be immersed in water)
8 impressive Lighting Modes – Beautiful, bright, and brilliant lighting modes including – combination, waves, sequential, slow glow, chasing/flash, slow fade, twinkle/flash, and steady-on. As such, these lights are exceptional at creating a variety of aesthetic atmospheres within your environment.
High-Efficiency Solar Powered Lights – The sophisticated and adjustable solar panel plus the inbuilt rechargeable battery makes these lights highly efficient.
Pros & Cons:
---
Gigalumi's solar Christmas lights really stand out from the crowd thanks to their aesthetically pleasing, floral design.
Available in packs of 2 x 50 LED bulbs, the Gigalumi lights have 23 feet long strings.
Thanks to the accompanying solar panels, you need not worry about having to power these lights via an electrical outlet. As such, you will save money on your monthly electrical bill.
Additionally, an IP65 protection rating and 2 interchangeable modes make these lights both durable and versatile.
Moreover, the company has a 30-day, no-questions-asked replacement window. Unfortunately, they do not have a proper warranty period.
Nevertheless, the overwhelmingly good reviews demonstrate that these lights are a fantastic choice.
Tech Specs:
Key Features:
Cherry Blossom Design – Unique floral design that is sure to make your household stand out.
IP65 Water-Resistant – These lights may be pretty but they are equally durable. The IP65 protection rating allows them to withstand all kinds of weather, including heavy rain and snow.
Refundable – If for any reason you are not satisfied, you have 30 days to return this product to get a 100% refund – no questions asked.
Pros & Cons:
---
The spherical bulb design of these solar Christmas lights makes for a product very much in line with traditional Christmas tree decorations.
You can expect to receive 50 LED bulbs of this nature across 24 feet of string wire.
These lights have 8 interchangeable modes to choose from – steady, flashing, slow flash, and much more. Additionally, they come with an automatic ON/OFF switch that kicks in depending on the time of day.
If longevity and durability are a concern of yours, not to worry. These lights have a 30,000-hour lifespan and both the panel and the lights are made out of water-resistant material.
In addition to this, UPOOM has integrated solar panel tech that gives you up to 14 hours of lighting on a full charge. This is thanks to their 800 mAH Ni-Mh batteries that require a mere 6-8 hours of sunlight
Lastly, UPOOM's lights are simple and easy to install. The long 24-foot string line makes it easier for you to not just wrap it around trees and to use it as decor lining your walls, patio, and throughout your garden.
Tech Specs:
Key Features:
Energy Efficient – These energy saving, solar lights come with a rechargeable solar cell, as well as solar panels with a higher energy conversion rate
Smart Control & 8 Working Modes – Including steady on mode and flash mode to create different atmospheres to for your garden, patio, lawn, porch, gate, yard, etc.
Easy Installation – No electric wiring = no fuss. There are two simple modes (power ON/OFF and light mode) to control the light.
Long Lifespan – These lights may work for up to 8-14 hours at a time, depending on the quality of sunlight that they receive, the volume of solar energy stored everyday and the mode selected.
Lifetime Warranty – Manufacturer states that they offer a lifetime warranty.
Pros & Cons:
---
The last entry on our list is from Huacenmy whose eye-catching and unique design allows them to stand out from the rest of the pack.
Available in packs of 50 LED bulbs, the Huacenmy lights have 21-foot long strings.
They are also both solar-powered and weather-resistant, making them an eco-friendly and durable decorative option for the festive season.
Finally, they come with 8 interchangeable lighting modes, so you won't be without options when trying to figure out your preferred atmosphere for your household.
Some people may find these lights to be a little too small for their liking. With that being said, most customers are very happy with their purchase.
In short – you can buy these solar Christmas lights with confidence.
Tech Specs:
Key Features:
Unique design – Diamond strawberry shaped LED string lights that can create a festive and/or romantic atmosphere.
8 interchangeable modes – combination, in wave, sequential, slo glo, chasing/flash, slow fade, twinkle/flash, and steady on). Press the button on the solar panel to switch the lights on and choose between the different light modes to satisfy your needs.
Solar Powered – Both budget and eco-friendly.
Water-Resistant – Resistant to relatively harsh weather conditions.
Pros & Cons:
---
How Do Solar Christmas Lights Work?
Solar fair lights operate in the same manner that any other solar lights do – through the photovoltaic effect. This process occurs via a collection of photovoltaic/solar cells that make up a solar panel.
The solar cells are responsible for converting sunlight into direct electrical current (DC) that can be used at night.
But how is this possible?
A solar cell consists of multiple layers of crystalline silicone and chemicals that create layers of negatively charged electrons and positively charged spaces.
When sunlight enters a solar cell, it excites the negatively charged electrons and pushes them into the positively charged spaces.
These positively charged spaces then transfer the electron stream as a direct current of electricity through the solar cell's wires to a battery where the electricity is stored until it's required.
This battery charges throughout the day until evening approaches. In the absence of sunlight, the solar cell stops the conversion process.
Instead, a photoreceptor on the light detects when it's dark and turns on the light, which is usually made up of LEDs.
The battery then supplies the necessary power to the light throughout the night.
---
Do Solar Christmas Lights Work In Winter?
Solar lighting is designed for outside use, in all kinds of weather. But, they do still require sunlight – particularly direct sunlight – to work efficiently.
Days are shorter in winter and there is often more cloud coverage, meaning that your solar Christmas lights will receive less sun on average.
That's not to say they won't work. It just means that they will have a shorter runtime.
However, almost all solar lights come with batteries to store the energy that their panels have generated. If you're interested in learning more about these batteries, check out our article: 20 Best Batteries For Solar Lights (Buyer's Guide).
This just means you'll have to pick and choose when to have your lights on during the shorter, cloudier days – you can manually switch your lights off to save up their energy.
---
How Long Do Solar Christmas Lights Last?
The batteries in outdoor solar lights tend to last for about 3-4 years before they will need to be replaced.
The LED lights can last for up to ten years, sometimes longer.
You will know that it is time to change parts when the lights are no longer able to maintain charge at night.
---
Do Solar Christmas Lights Need Daylight Or Sunlight?
To understand the answer to this, it is helpful to know the following:
All solar panels create electricity from photons in all forms of natural sunlight, meaning that they do not need direct sunlight in order to generate electricity. Consequently, they can function by using ambient light (daylight).
So to conclude, solar Christmas lights need/can use both daylight AND sunlight.
---
Should You Turn Off Your Lights?
The vast majority of solar Christmas lights have an automated ON/OFF function that will kick in depending on the time of day.
Therefore, you only really need to turn off your lights if you are looking to save up their energy because of poor weather/lack of sunlight.
---
How Much Are Solar Christmas Lights On Average?
Solar lights such as these are relatively low-cost, so you need not concern yourself with putting a massive dent in your monthly budget.
For an average price range, expect to pay between $15-$30.
If that seems a little steep for you, just remember: these are solar-powered lights.
You may pay a fair bit upfront, especially if you are covering a large area, but the lights power themselves, so in the long run, you won't need to concern yourself with electricity costs.
---
How Do I Fix My Lights If They Stop Working?
Here are some helpful tips should your lights stop working:
Change Batteries – If your lights aren't working, the batteries may be at fault. Trying testing them with regular batteries to see if this is the issue.
Panel Positioning – Make sure your solar panels are positioned correctly so as to receive sufficient sunlight.
Panel Cleaning – Dirty solar panels won't give your lights the energy that they require. Make sure you check up on them every now and then, cleaning them when necessary.
Charge Up – You may need to let your panels charge for an extended period of time if the weather has been particularly poor.
---
Final Thoughts
This year has absolutely flown by – it's already October and the festive season is right around the corner.
Exciting as that may be, there is often a fair bit of preparation that goes into having a memorable holiday and Christmas season – not to mention a lot of money.
So why not make it easier on yourself and your wallet this year by investing in a beautiful set of solar Christmas lights to go along with the celebrations.
We're certain that you won't regret it!