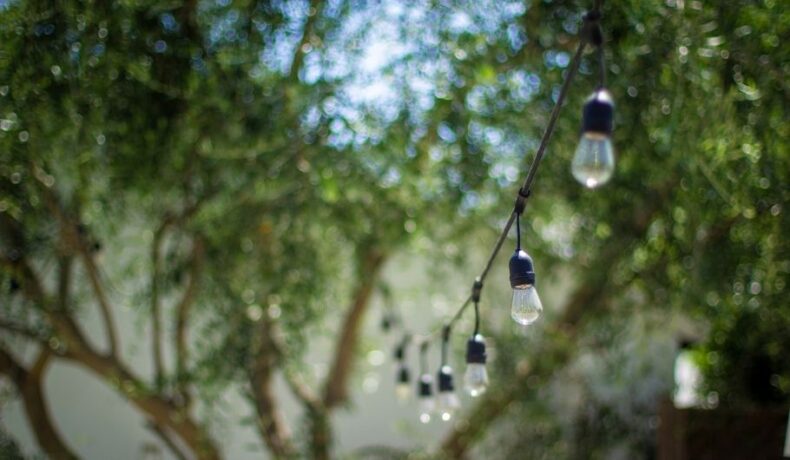 The wine is out, the sun is about to set and you're soaking up yet another lovely evening in the garden, but you feel like there is something missing – some lighting to liven up your patio area. Well, say hello to outdoor solar string lights!
In recent years, solar string lights have surged in popularity. Their economical nature, versatility, and durability make them suitable for any household, during any time of the year.
It comes as no surprise then that more and more people are looking for the best solar string lights on the market.
But there are so many to choose from, and the last thing we want for our readers is to make a purchase that they regret.
So in saying that, what are the best solar string lights out there?
This article will answer that question and more.
---
---
Best Solar String Lights
Solar string lights (much like solar deck lights) have become an increasingly popular addition to household lighting – be it for short-term decoration or long-term use.
For this reason, Brightown's solar string lights have been added to our list.
They come in a variety of colors: warm white, blue, green, multicolor, pink, pure white, and purple. Each string is made of 33 feet of copper wire with 100 LED lights.
Consequently, these gorgeous lights are very versatile – they can be used for Christmas, weddings, and general outdoor decorative purposes.
Protection-wise, they're built with water-resistant functionality (IP65), which ensures that your solar LED lights last longer.
Furthermore, they're equipped with a monocrystalline silicon solar panel which has a high solar energy conversion efficiency (19%).
A great choice for any occasion.
Tech Specs:
Key Features:
IP65 Rating – These solar lights are solidly engineered to stand up to any weather – rain, high heat, or snow. All the components are IP65 water-resistant enabled, making them suitable for outdoor usage without the need to worry about a short circuit or weather damage. (can't be immersed in water)
8 impressive Lighting Modes – Beautiful, bright, and brilliant lighting modes including – combination, waves, sequential, slow glow, chasing/flash, slow fade, twinkle/flash, and steady-on. As such, these lights are exceptional at creating a variety of aesthetic atmospheres within your environment.
High-Efficiency Solar Powered Lights – The sophisticated and adjustable solar panel plus the inbuilt rechargeable battery makes these lights highly efficient.
Pros & Cons:
---
Looking for a stylish way to illuminate your after-dark outdoor dining – while saving on your power bill? Then look no further than Brightech's solar string lights.
These tech-savvy light sets (12 bulbs per strand) mimic the classic look of flickering, exposed filament bulbs without any of the high costs associated with incandescent lighting.
The LED bulbs look warm yet stay cool – they never generate heat (how's that for extra safety). Best of all, they can provide up to 20,000 hours of soft, nostalgic glow to your outdoor area.
The LEDs in this 27-foot strand use only 2 Watts per bulb, for a total of 24 watts per set.
Brightech makes their bulbs out of durable plastic shells so you don't need to worry about them shattering/breaking like normal glass bulbs
Lastly, these lights come with a full 2-year warranty, covering product defects and performance issues – this is a testament to the fact that Brightech stands behind their products, 110%.
Tech Specs:
Key Features:
Highly Durable – Commercial grade bistro lights with shatterproof S14 bulbs. Customer reviews say Brightech's Ambience Pros – with their ownWeatherTite technology – withstood winds up to 50MPH, rain & snow. The bulbs are shatterproof plastic shells, with heat resistance up to 122 degrees Fahrenheit.
Long Bulb & Solar Panel Lifespan – LED bulbs last 20,000 hours and solar panel is rated at 1,000 charge lifespan (can last approximately 2.5 years).
Brightech's 2 Year Solar Warranty – They offer a full 2 year warranty on all of their solar powered products. This will cover the following: if the product stops working within 2 years or if there are any defects within those 2 years.
Pros & Cons:
---
Gigalumi's solar flower string lights really stand out from the crowd thanks to their aesthetically pleasing, floral design.
Available in packs of 2 x 50 LED bulbs, these lights are spaced out across a 23-foot long string.
Thanks to the accompanying solar panels, you need not worry about having to power these lights via an electrical outlet. As such, you will save money on your monthly electrical bill.
Additionally, an IP65 protection rating and 2 interchangeable modes make these lights both durable and versatile.
Moreover, the company has a 30-day, no-questions-asked replacement window. Unfortunately, they do not have a proper warranty period.
Nevertheless, the overwhelmingly good reviews demonstrate that these lights are a fantastic choice.
Tech Specs:
Key Features:
Cherry Blossom Design – Unique floral design that is sure to make your household stand out.
IP65 Rating – These lights may be pretty but they are equally durable. The IP65 protection rating allows them to withstand all kinds of weather, including heavy rain and snow.
Refundable – If for any reason you are not satisfied, you have 30 days to return this product to get a 100% refund – no questions asked.
Pros & Cons:
---
Up next -Brightown's pergola solar string lights.
These lights are made out of high-quality material and waterproof technology, making them safe, versatile, and practical.
4 interchangeable lighting modes add to their versatility. These modes are as follows: quick flash, steady light, slow flash, and pulsating light.
In terms of durability, the G40 clear bulbs are made out of plastic, making them far more shatterproof than traditional glass bulbs.
Additionally, the lights come with an IP44 protection rating, meaning that they can withstand adverse weather conditions.
All in all, these solar string lights will create a warm, inviting atmosphere, no matter the occasion.
Tech Specs:
Key Features:
4 Lighting Modes – The Outdoor solar string lights are designed with four alternative modes which are the quick flash, steady light, slow flash, pulsating light, 4 fabulous lighting modes designed to smooth you in every mood. These outside patio lights have a light sensor and automatically off at dawn and automatically on at dark
Energy Saving LEDs – The led string light total length 29 feet, 12 inch spacing between per led g40 bulbs (e12 base). Each led bulbs only 1w, help you save more electricity while giving out cozy illumination in your place. These bulbs are cool to touch after hours of use
Shatterproof & Waterproof – The led string lights are made of durable plastic, shatterproof and IP44 waterproof, can withstand temperatures, rainy, windy, or damp climates
Solar & USB Charging Options – These pergola lights can work up to 16 hours after 4 to 8 hours of charging by sunlight. A 180 degree adjustable panel allows you to get the optimum sun exposure. The usb charge can be complementary when there is no sufficient sunlight during the day
Pros & Cons:
---
The next entry on our list is the JMEXSUSS solar string lights.
These lights come in 8 different colors – warm white, red, white, green, blue, orange, purple & multicolor.
They are also incredibly versatile as they come with 8 different lighting modes, ranging from a twinkle/flash mode to a slow fade.
An IP44 rating along with insulated copper wiring makes these lights both durable and safe to use.
Moreover, the lights come with waterproof mini solar panels that need to be placed in direct sunlight. A full charge in direct sunlight for 8 to 12 hours, will power your lights for 8 hours at night.
Each pack includes 200-string energy-efficient LED light bulbs. Each string is 75.5 feet in length, so you have the ability to cover long distances.
Whether it be for a garden, wedding, party, Christmas tree, Halloween, or the general outdoors, these lights can do it all!
Tech Specs:
Key Features:
8 Modes & Memory Functions – The following modes are available: combination, in a wave, sequential, slo-glo, chasing/flash, slow fade, twinkle/flash, and steady on). In addition to this, a built-in memory chip saves your last mode setting without having to reset the mode every day. One is a combination(the first mode), the other modes will flash cyclically. The other 7 modes are fixed, you can press the button until you have the desired mode.
Easy To Install – These lights come with solar panels as well as ground stakes that you can place in any sunny area. The 75.5-foot-long light string is perfect for wrapping around trees or branches, anywhere you want to decorate.
Water-Resistant IP44 – This outdoor light string can withstand a variety of adverse weather condtions, including heavy rain and snow (though they cannot be soaked). Consequently, they are very suitable for outdoor decoration.
Heat Protected – The insulated copper wire keeps the lights at a low temperature so that they are safe to touch, even after many hours of use.
---
These premium quality solar string lights are a fine addition to our list thanks to their versatility, efficiency, and durability.
With 4 different lighting modes to choose from, these lights are suitable for any occasion.
A shatterproof and weatherproof (IP65) design means that you won't have to stress at all about these lights being able to withstand the outside elements.
Performance-wise, MagicPro's solar lights can provide illumination for up to 8 hours, with a full charge. Additionally, should there be a lack of sunlight, you can make use of their handy USB charging ability.
Tech Specs:
Key Features:
Weatherproof – An IP65 protection rating makes these lights a fantastic choice for your outdoor lighting needs.
Energy Efficient Bulbs – These bulbs provide illumination for up to 8 hours with a full charge (the solar panel require a continuous charge for 6-8 hours). The working time varies with the intensity of sunlight, location and weather conditions.
Refundable – MagicProd pride themseles on quality customer service and satisfaction. In that vain, they will refund or replace your purchase if you are not completely satisfied with their product.
---
Last but not least on this list, Sunlitec solar string lights.
Sunlitec has some amazing outdoor solar lights that'll give you that warm, nostalgic glow and brighten your backyard, patio, or your house whenever you sit down to relax.
Its advanced technology gives it a little extra sturdiness and durability, which makes it perfect for every occasion. It can also be used year-round, regardless of the weather.
The solar panel has a 4500 mAH battery that fully charges with just 5 hours of sunlight, giving off 8 hours of illumination at night.
Should your lights not be able to generate sufficient energy through the solar panel because of poor weather conditions, you are able to make use of the USB charging feature.
This dual charging option means that your solar string lights will be prepped and ready to use, no matter the weather!
Tech Specs:
Key Features:
Durable – Adorned with 25 high quality LED balls to protect the lights from rain water and breakage.
Multiple Lighting Modes – Multiple lighting modes to choose from – versatility is the name of the game.
Dual Charging Options – With a premium 3w/5v solar panel and a USB charging port, you can be sure that your lights will remain fully charged (8 hours charging time via the solar panel, and 4 hours via the USB charger).
Warranty – 1-year warranty.
---
Do Outdoor Solar String Lights Work In Winter?
Firstly, solar lighting is suitable for outside use, in all kinds of weather. But, they do still require sunlight – particularly direct sunlight – to work efficiently.
Days are shorter in winter and there is often more cloud coverage, meaning that your solar string lights won't be receiving as much sun on average.
That's not to say they won't work. It just means that they will have a shorter runtime.
However, almost all solar lights come with batteries to store the energy that their panels have generated. If you're interested in learning more about these batteries, check out our article: 20 Best Batteries For Solar Lights (Buyer's Guide).
This just means you'll have to pick and choose when to have your lights on during the shorter, cloudier days.
Bear in mind, you can manually switch your lights off to save up their energy.
---
How Long Do Solar String Lights Last?
The batteries in outdoor solar lights tend to last for about 3-4 years before they will need to be replaced.
The LED lights can last for up to ten years, sometimes longer.
You will know that it is time to change parts when the lights are no longer able to maintain charge at night.
---
How Much Are Outdoor Solar String Lights On Average?
Solar lights such as these are relatively low-cost, so you don't need to stress about putting a massive dent in your monthly budget.
For an average price range, expect to pay between $15-$30.
If that seems a little steep for you, just remember: these are solar-powered lights.
You may pay a fair bit upfront, especially if you are covering a large area, but the lights power themselves, so in the long run, you won't need to concern yourself with electricity costs.
---
Can You Leave Your Lights On Overnight?
This may seem like a strange question to ask. After all, they are solar lights – when else would you make use of them? But it's still worth knowing the answer to.
In short – yes you can.
Once fully charged, solar string lights (depending on the type) can provide your household with anywhere between 8-14 hours of lighting.
But this depends on a number of factors – weather, battery size, and the quality of the accompanying solar panel.
If there is plenty of sunlight, the solar panel has a high energy efficiency rate, and the battery can store a substantial amount of energy, then yes, you can leave your lights on overnight.
If that is not the case, you may want to be more conservative with your usage.
---
How To Fix Solar String Lights If They Break?
Here are some helpful tips should your lights stop working:
Change Batteries – If your lights aren't working, the batteries may be at fault. Trying testing them with regular batteries to see if this is the issue.
Panel Positioning – Make sure your solar panels are positioned correctly so as to receive sufficient sunlight.
Panel Cleaning – Dirty solar panels won't give your lights the energy that they require. Make sure you check up on them every now and then, cleaning them when necessary.
Charge Up – You may need to let your panels charge for an extended period of time if the weather has been particularly poor.
If you find that your lights are still not functioning after following the above steps, it may be time to make use of their warranty.
If the product falls outside of the warranty period, you will, unfortunately, need to purchase new lights.
---
3 Ways To Decorate Your Stairs With Solar String Lights
We thought it might be fun/helpful to give you 3 ways that you can decorate your outdoor stairs with your newly acquired solar string lights.
Wrap them around the handrail and balusters of your stairs.
Put them along the inside of your steps or along the length of them so as to not step on them.
If you have a structure above your steps, you could drape your lights overhead. Doing this would create a gorgeous vine-like curtain.
---
Final Thoughts
Decorating your patio, garden, pathways or any other outside area on your property can be such fun!
However, most people are put off of the idea because of financial constraints – especially when it comes to outdoor lighting.
But with solar string lights, it doesn't need to be that way.
Sure, you may have to invest a little more upfront, but the end result is worth it and you won't need to concern yourself with rising electricity bills.
Everyone deserves to have an outside area on their property that makes them smile and feel at home.
So this year, get out there and treat yourself to a set of solar string lights!