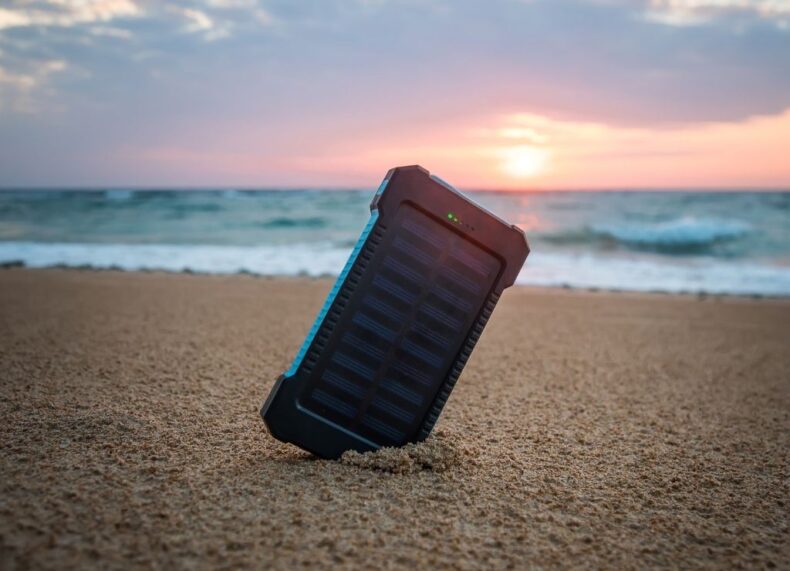 Small solar panels are unlike residential PV panels in that they are generally used for smaller, more portable applications, like a solar power bank.
Small solar panels are particularly beneficial for digital nomads who find themselves regularly on the move and only require small amounts of power to recharge their most used electronic devices.
Right now there are an unbelievable amount of mini solar panels on the market. Some are worth your while, but there are others that you should avoid at all costs.
This article will dissect the technology behind small solar panels and explain why they make the best travel companion for you digital nomads.
Furthermore, it will provide a cost breakdown as well as a buyer's guide, which will point you towards the best value for money mini solar panel.
Use this link to jump straight to our top 10 small solar panels
We are an affiliate
We earn a small commission from some of the links on this page. Clicking such links doesn't change the price or anything else for you as the visitor. It just supports us making the highest quality content out there.
---
What Are Small Solar Panels?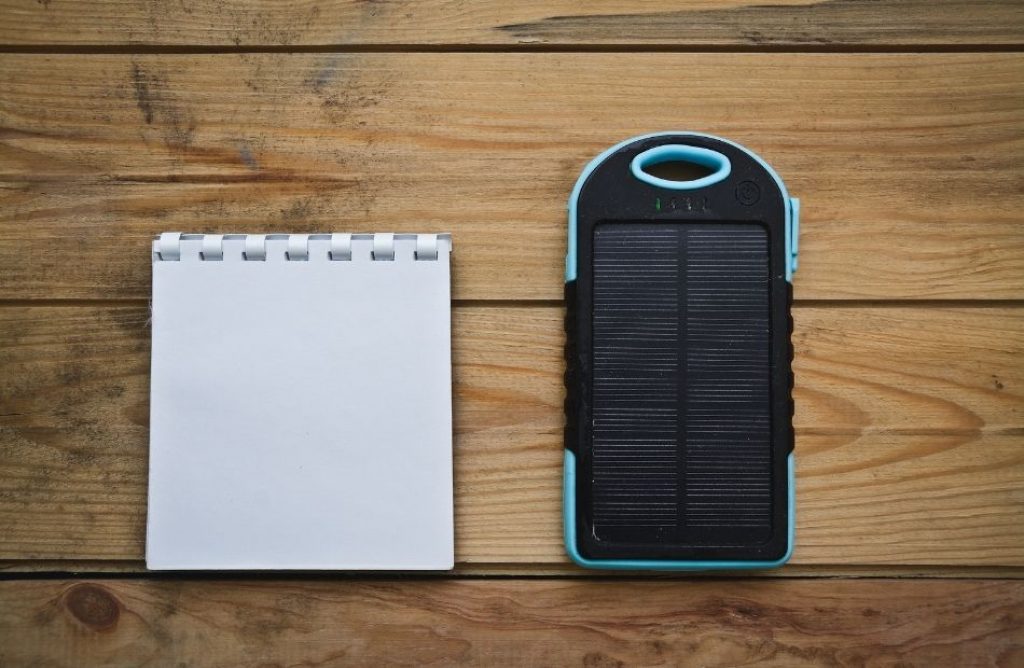 Small solar panels are a collection of solar cells contained in some type of small device or panel.
They differ from traditional 60 – 72 cell solar panels in that they produce much less electricity and they come in much smaller sizes.
Because of their small size, mini solar panels are generally used in off-grid applications, such as on a camping trip, or for those that require a more portable source of energy, such as in a solar power bank.
If your aim is to offset your home's energy use, then small solar panels will never get the job done. They simply won't generate enough electricity.
If you are looking to take your home off-grid with solar, we recommend you give this article a read.
Although mini solar panels are smaller in size, their technology is still the same in that they use the photovoltaic effect to produce electricity.
Take a moment to thank Edmond Becquerel, who first discovered the photovoltaic effect in 1839, when doing experiments with wet cells.
---
---
What Is The Smallest Solar Panel?
The Oxford definition of a solar panel is as follows: a solar panel is designed to absorb the sun's rays as a source of energy for generating electricity or heating.
Believe it or not, the smallest solar panel in the world was actually sitting in the hands of children long before it was believed to have any possibility of changing the world.
One of the first and smallest solar panels to hit the market commercially was integrated into the Sharp EL-8026m, this was the calculator nicknamed Sun Man.
The calculator was made up of a tiny mono-crystal S-225 silicon Photo-Voltaic module with a cell conversion efficiency of 10.0%.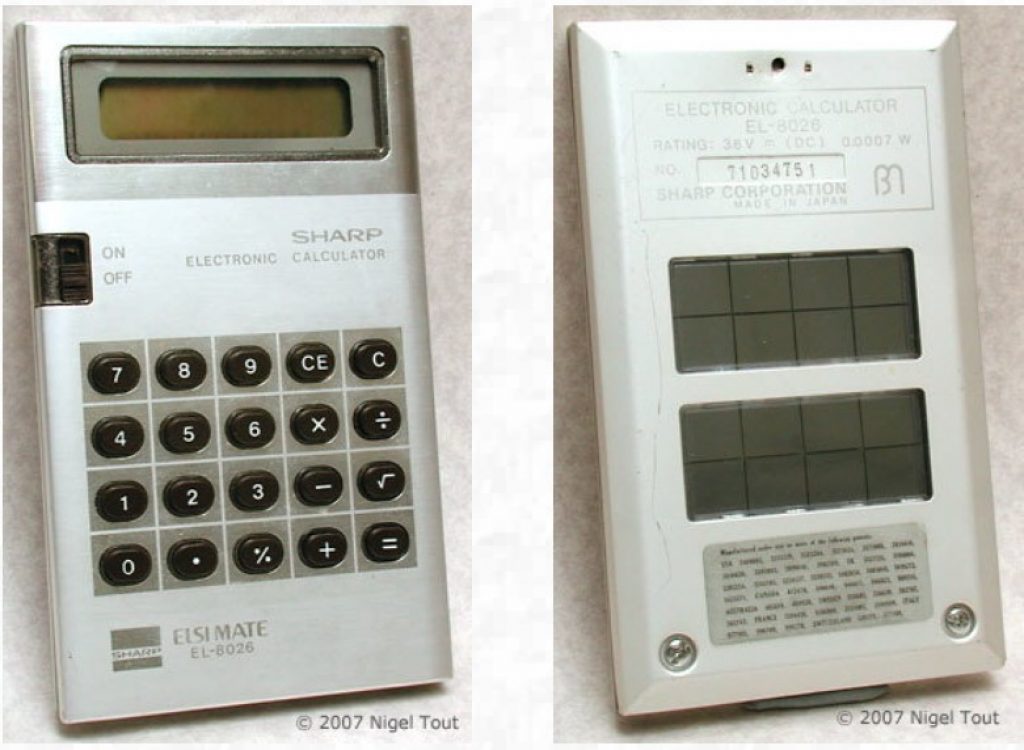 Some of the smallest solar panels found today are usually integrated into some type of portable gadget. like the one installed in the popular Garmin Instinct watch for example.
However, when you think of the term small solar panels, it is unlikely that this watch comes to mind. I mean, the solar cells are so small, you can't even see where they are.
No, generally small solar panels are thought of as miniaturized residential solar panels, like this one from Eco-Worthy.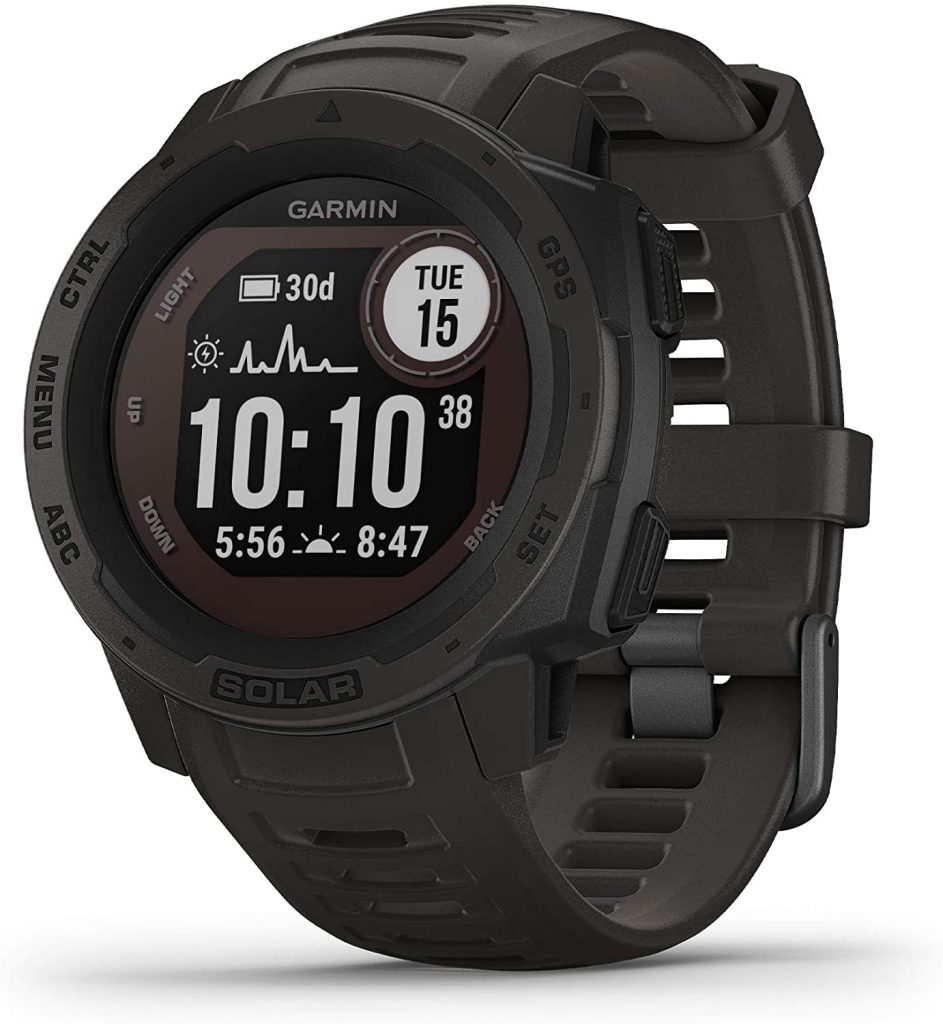 ---
How Much Electricity Can A Small Solar Panel Produce
The amount of electricity that a solar panel can produce ultimately depends on its size. As with all solar panels, they come in a range of different watt outputs. Most residential solar panels produce between 250 to 400 watts.
Small solar panels usually produce between 10 to 50 watts. The actual output, however, will depend on factors like shading, panel orientation, and sun hours.
As an example:
A 10 watt solar panel will charge a 7ah battery at a charge rate of 0.6 amp. So in about 6 hours of sunlight, your small solar panel will add about 3.6 amp-hours into your 7ah battery. 3.6 amp-hours equates to about 43 watt-hours of energy.
---
30 Companies That Make Small Solar Panels
Below you will find a list of all the companies that sell solar panels in the 10 Watt – 50 Watt range. All companies can be found on Amazon (please note, companies are not listed in any particular order):
Renewsys
Eco-Worthy
Solperk
Jackery
CNBM
Topsolar
Sunnytech
Goal Zero
Wasserstein
HQST
Goal Zero
Olaike
Lensun
Mool Sun
Rich Solar
Enersol
Dongzhur
Cinco
Sunway
iTodos
Renogy
Newpowa
Apowery
TP Solar
Choetech
Megsun
Acopower
Rinkmo
KK Moon
Acopower
---
Small Solar Panels Price Breakdown
You will find all the different brands listed in the table below, as well as how much their mini solar panels cost.
Please note: these prices are pulled from Amazon and thus subject to price fluctuations on a fairly regular basis. Additionally, all solar panel prices listed here are for monocrystalline solar panels, not polycrystalline.
| Company | 10 Watt | 25 Watt | 30 Watts | 50 Watts |
| --- | --- | --- | --- | --- |
| Eco-Worthy | $25,99 | $35,99 | N/A | $52,99 |
| Solperk | $37,99 | $56,99 | $69,99 | $94,99 |
| Newpowa | $27,70 | $34,50 | $43,00 | $59,99 |
| Renogy | $35,99 | N/A | $59,99 | $74,99 |
| HQST | $31,99 | $39,99 | $39,99 | $54,99 |
---
Best Small Solar Panels
Here is a list of the 10 best small solar panels that you will find. Ratings are based on the quality of design, solar cell efficiency, and customer feedback.
Will A Small Solar Panel Last Forever?
Generally speaking, small solar panels last on average between 25 – 30 years. However, it is worth noting that these panels will not stop producing electricity after this time.
It just means that electricity production has decreased by what manufacturers consider to be a significant amount.
As long as your solar panels are not damaged by wind, hail, snow or debris, in theory, you could continue using your small panels even after 30 years.
Solar panels rarely break from within (there are barely any moving parts that allow this to happen). The most common way a mini solar panel will break would be from outside forces or alternatively poor treatment on your part.
---
Tiny Solar Panel Degradation Rate
In 2012 a study done by the NREL found that, on average, solar panel power output decreases by about 0.8% every year.
The name given to this rate of decline is called solar panel degradation rate or SPDR. It is important to keep in mind that the SPDR largely depends on the manufacturer and what sort of quality their solar panels are.
For example, the company SunPower offers solar panels with degradation rates as low as 0.3% every year.
As the solar industry becomes more advanced and the technology improves, solar panel degradation rates continue to drop every year. Degradation rates below 1% are fairly common in today's solar industry.
What Does Panel Degradation Mean Though?
When you purchase a new solar panel, its output sits at 100%. After using the panel for a year with a degradation rate of 0.8%, your solar panel will operate at 99.2 percent of its original output. By the end of its 25-year life span, it will be operating at 82.5% efficiency.
Most small solar panels should always come with a few warranties. Manufacturers will provide you with two such warranties: equipment warranty and solar panel life span warranty.
The equipment warranty is there to certify your panel against any manufacturing defects that become exposed after use. Additionally, you will also be supplied with a performance warranty which guarantees your panels will produce a certain amount of electricity.
A good way of understanding your equipment's quality is by looking at the performance warranty. Most manufacturers supply an equipment warranty that should last at least 25 years. Anything less and you get a sense of the quality of your solar panel.
---
Can You Make Your Mini Solar Panels Last Longer?
Tiny solar panels are extremely durable pieces of technology. The majority of manufacturers do indeed confirm that their products can withstand strong winds and heavy snow loads. They are also specifically tested to ensure that they can withstand hail storms.
The best way to ensure that your mini solar panel lasts long is to look after it. Do not throw it around and ensure that you keep it relatively clean for maximum power output.
Keeping your solar panel well maintained can lead to a lower solar panel degradation rate.
---
What About My Small Solar Panels Carbon Footprint?
It is unnecessary that you worry about your mini solar panels' carbon footprint. The 25 to 30-year lifespan is a fair bit longer than its energy payback time (EPBT).
EBPT is the total amount of time it takes for your solar panel to produce enough clean energy on its own to make up for the Co2 that was emitted to manufacture the product in the first place.
Incredibly, a 2010 study has shown that the EPBT of a solar panel is just 6 months. A number you can be guaranteed has fallen since solar technology has greatly improved.
---
Final Thoughts
Small solar panels come in handy for many off-grid applications that require enhanced portability. They are a small, lightweight, and generally cost-efficient source of clean energy.
From solar watches to solar-powered generators, mini solar panels are taking our world by storm and are no doubt the future of sustainably sourced gadgets.
Let us know about the smallest solar panel you have come across, in the comment section below!