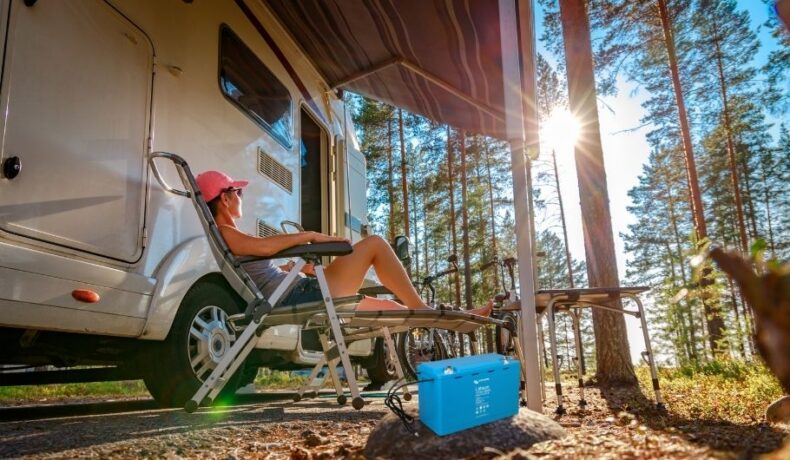 Considering buying a LiFePO4 100Ah battery?
Choosing the right battery is essential to optimize performance for your camping, marine, RV, or backup application. But there are a plethora of battery types and models out there.
This can make it challenging for you to select the perfect one. There are so many brands out there that those of you who are not familiar with the market may end up purchasing a low-quality battery without even knowing it.
Lithium-iron phosphate (LiFePO4) technology is probably the latest and most efficient technology available on the market for battery bank applications.
For this reason, we have decided to reduce your effort by highlighting some of the best lithium-iron-phosphate 100 amp hour battery models out there, taking into consideration price, quality, brand, and other specifications.
You will also learn some useful information related to their longevity, what you can power with them, and much more.
Let's jump right in!
Foreword
Climatebiz experts design, research, fact-check & edit all work meticulously.
Affiliate Disclaimer
Climatebiz is reader-supported. We may earn an affiliate commission when you buy through links on our site.
---
7 LiFePO4 100ah Batteries You Can Rely On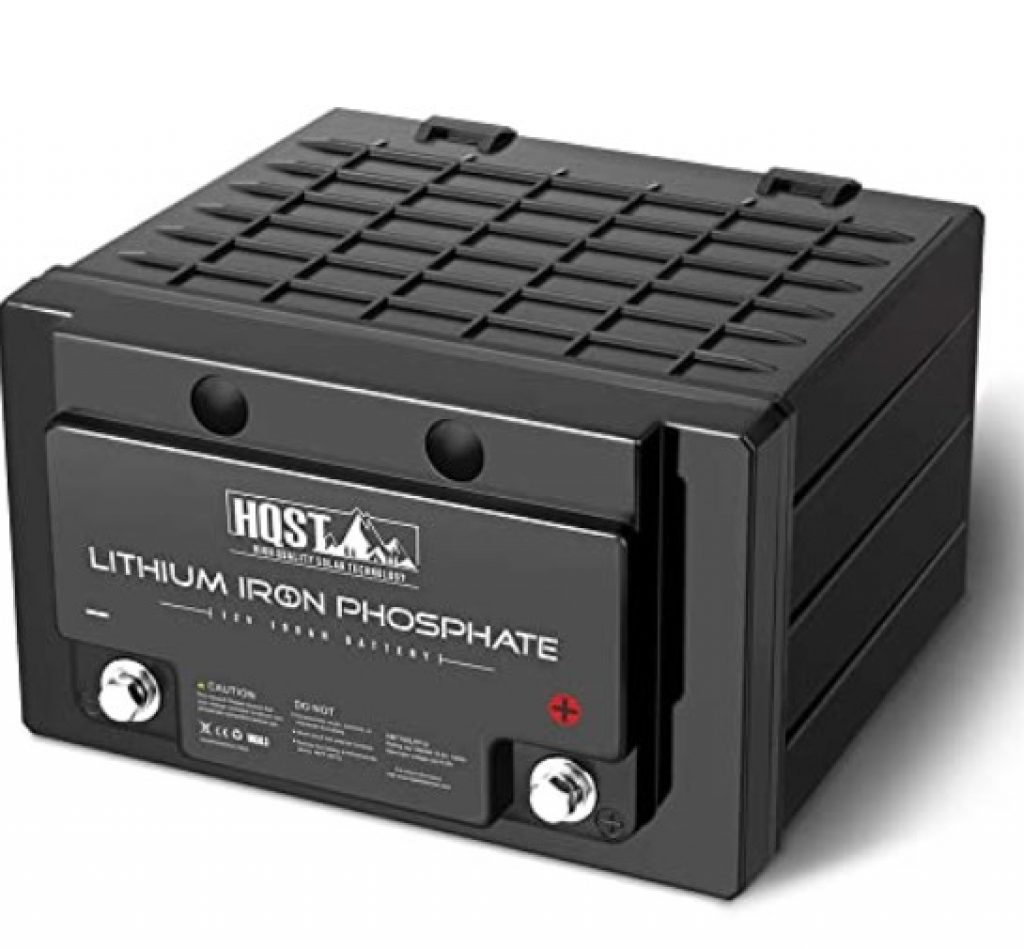 The LiFePO4 100Ah HQST battery is a solid model that is lightweight and has a compact size. The battery has an output of 12V and has a built-in battery management system (BMS) that features overcharge protection, over-discharge protection, as well as overcurrent and short-circuit protection. Temperature protection is also included which is very important in cold climates.
Additionally, you will be able to discharge up to 100A in 1h from this battery and it is expected to last up to 6,000 cycles if used with a low to medium depth of discharge (DOD). If working at 80% then the expected number of cycles would drop down to 2,000. One important downside is that according to the manufacturer, the battery is only made for parallel connections.
Product Specs:
BMS Total protection included
2000-6000 lifespan
Maximum discharge current 100A
Maximum charge current 50A
Weight: 27lbs
Dimensions 10.2 x 6.2 x 9.7 inches
2 year warranty
---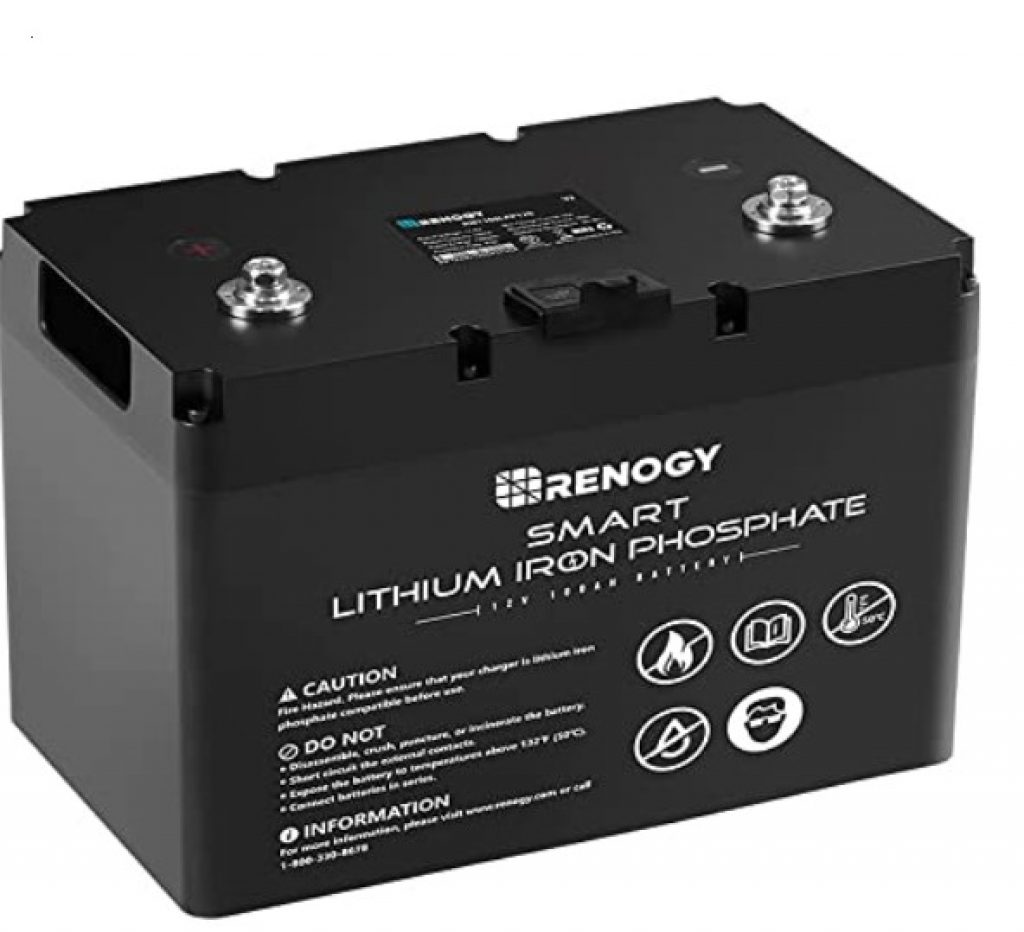 Renogy is one of the best quality brands available on the market. They also offer a LiFePO4 model that has a 100Ah capacity at 12V. It features a state-of-the-art BMS with high-performance dual-processors that provide short-circuit, overcharging, and over-temperature protection. A self-heating function is also included to provide protection in cold climates.
The battery also has an estimated lifespan of more than 4000 cycles at 80% DOD. This means that when under 50%, the number of cycles is expected to increase. The battery also has a protection rating of IP54 which guarantees protection against dust and some resistance against water. The Renogy battery also integrates an auto-balancing function that allows it to connect multiple batteries in parallel to improve the average charging efficiency over the long term. These batteries must be connected in parallel.
Product Specs:
BMS included
Self-heating function
4000 cycles lifespan
Maximum charge current 50A
Maximum discharge current: 100A
3% Self-discharge per year
Weight: 26 lbs
Dimensions: 11.4 x6.8×7.4 inches
5 year prorated warranty
---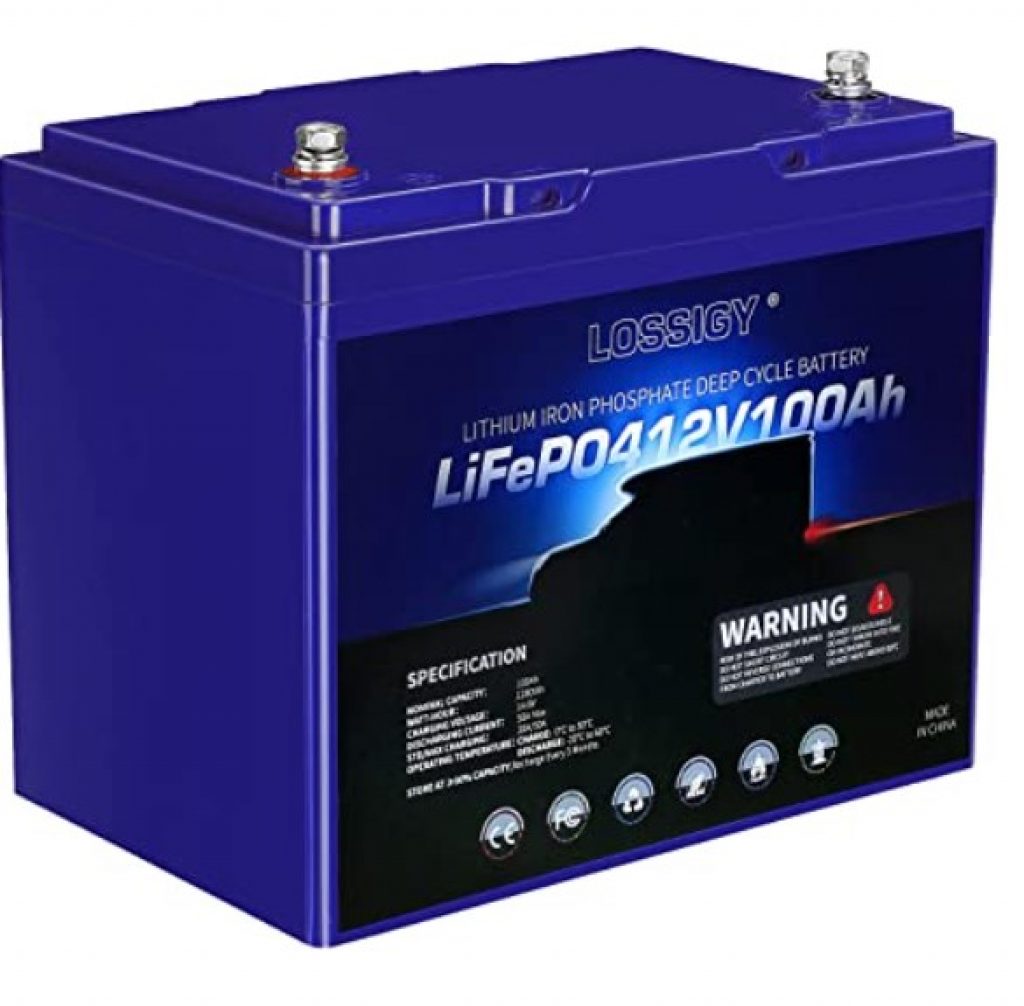 The Lossigy 100Ah and 12.8V lithium iron phosphate deep cycle battery is another great option for multiple applications such as RVs, camping, boats, golf carts, or even as for battery bank for solar power systems.
This battery features BMS multi-protection with short-circuit and over-current protection, as well as overcharge and over-discharge protection. Moreover, the BMS system protects the battery against multiple conditions during the charging process such as high temperatures and low/high voltages.
The IP rating of this battery is very high (IP68), capable of providing complete protection against dust and even withstanding complete immersion in water, making it the best battery available for marine applications.
Product Specs
Maximum charge current 50A
Maximum discharge current 50A
2000-5000 cycles lifespan
Weight 23.8lbs
Dimensions: 10.2 x 8.2x 6.6 inches
Temperature operating range: -4℉ to 140℉ (discharge)/32℉-113℉ (charge)
---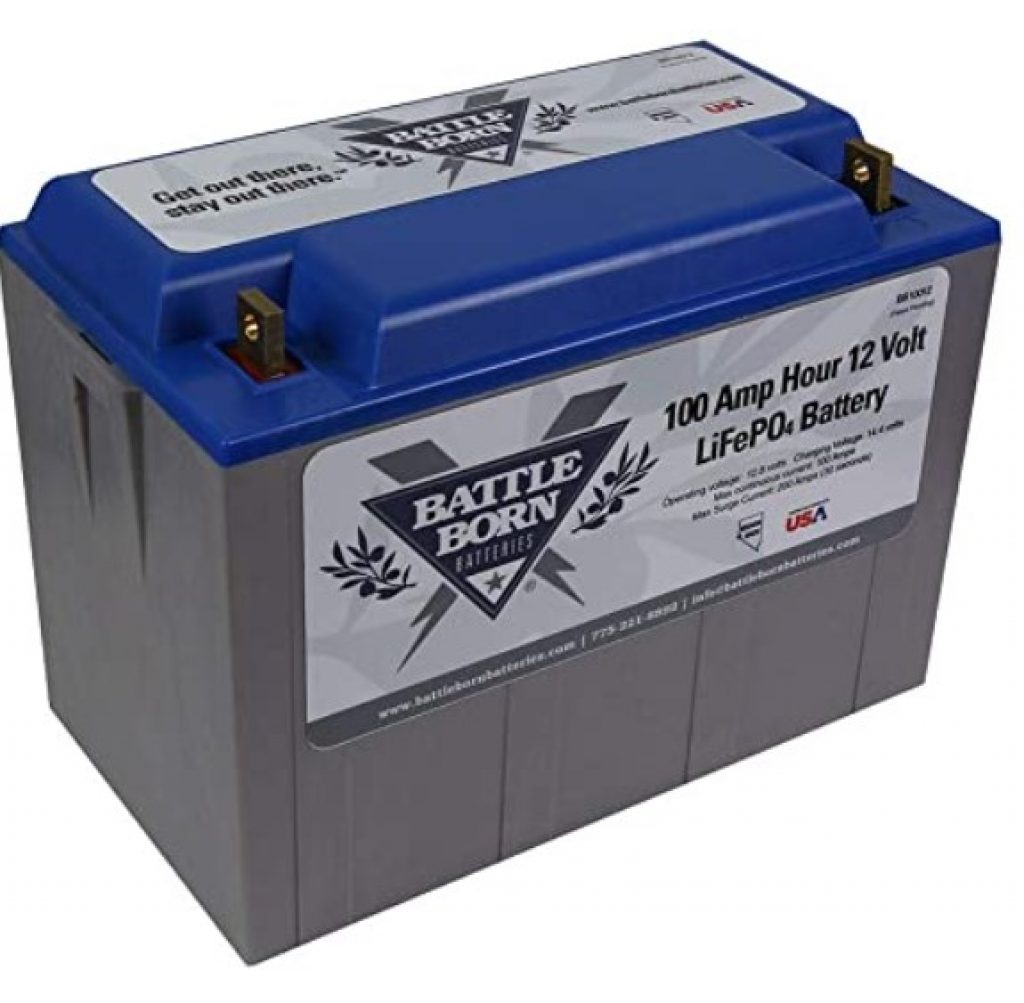 Battle Born is another great brand among deep cycle batteries. This LiFePO4 12V 100Ah model is an exceptional option since it lasts up to 5000 cycles in a best-case scenario and integrates a surge current option of up to 200A for around 30 seconds. This is essential for all applications that require an instantaneous current higher than the maximum discharge current (which in this case is 100A) such as induction and DC motors.
The Battle Born model is also water-resistant and sealed, although it should not be submerged underwater. Additionally, it includes a BMS which provides all the protection that you need to make it last longer and be safer.
An interesting feature of this battery is that it is designed with Battle Born internal heat technology that keeps an internal low draw. This ensures that the battery is warm and ready to be charged regardless of the weather. This is extremely important for users in cold weather locations. The heater will automatically activate when the internal temperature of the battery reaches 35℉.
Product Specs:
Maximum discharge current: 100A
Maximum Surge current: 200A
Internal Heat Technology
3000-5000 cycles
Dimensions: 10.31 x 7.28 x 11.02 inches
Weight 31 lbs.
10 year warranty
---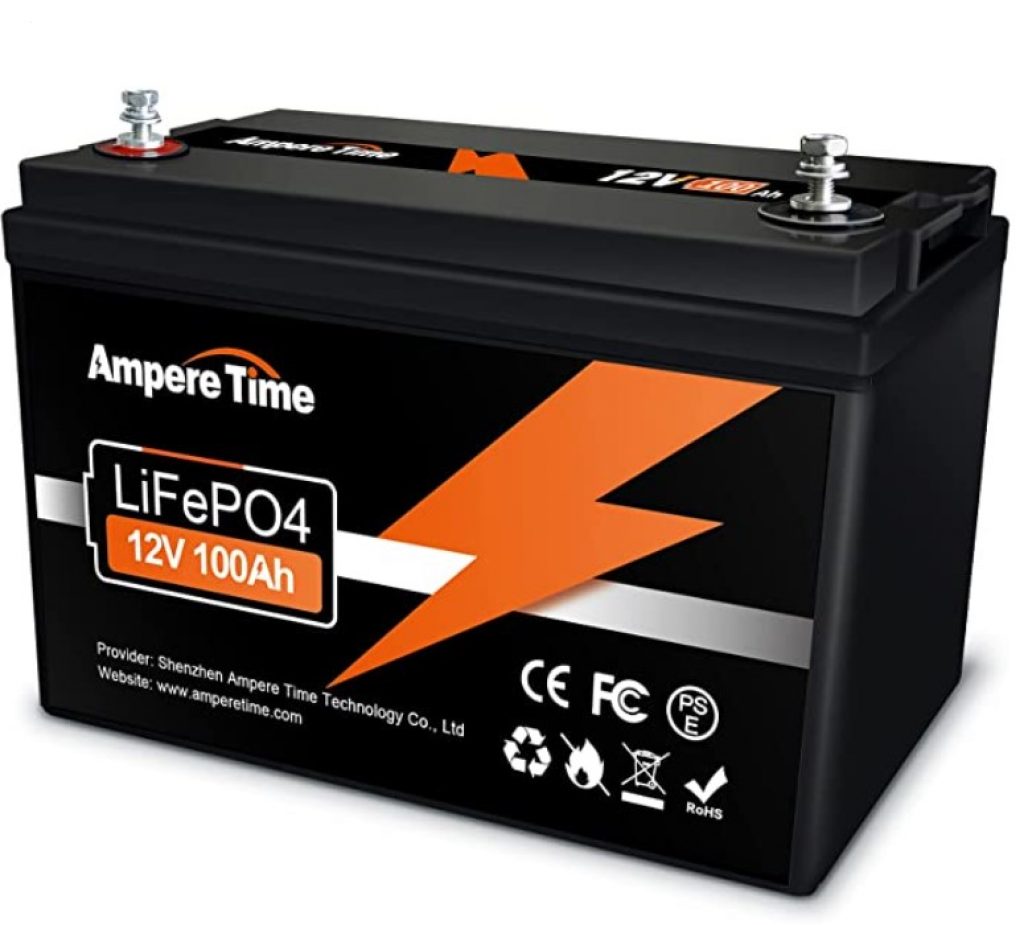 Ampere Time is another popular brand among customers not only because of its performance but also because of its price.
The 100Ah LiFePO4 Ampere Time battery features an IP65 rating which guarantees protection against dust and some decent protection against water. Moreover, the lifespan that the battery can endure is over 4000 cycles at 100% DOD which is quite high when compared with other models in the market and even on this guide. Under lower DOD ratings, the battery can reach as high as 8000 cycles, the highest number in this guide. The battery is also capable of providing a 95% efficiency in energy conversion.
Another interesting feature of this battery is the surge current which reaches up to 280A for nearly 5 seconds – very important for starting up medium size motors. The battery can be connected either on parallel or series connections.
Product Specs:
Maximum discharge current: 100A
Maximum charge current: 100A
Surge current: 280A
Number of cycles 4000-8000
Dimensions 12.99x 8.48x 6.82
Weight: 25.55 lbs.
5 year warranty
---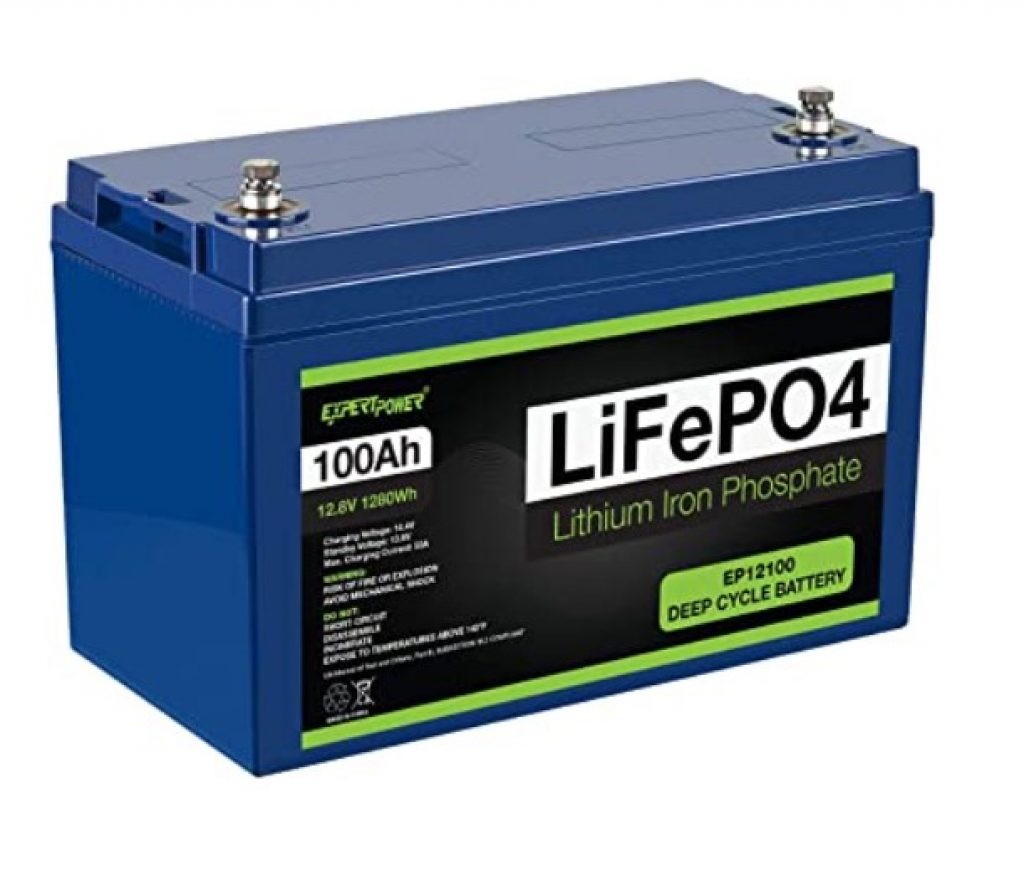 The Expert Power LiFePO4 12V 100Ah battery is another good choice for deep cycle applications. This battery has a capacity of nearly 1280Wh and has a 95% conversion efficiency.
It has a great lifespan of up to 7000 cycles under 50% DOD performance rating. The battery can also be completely discharged up to 100% DOD with an equivalent number of 2500 cycles. As for electrical current ratings, the battery can be charged up to 50A and discharged up to 100A which is within the average range of most batteries. However, it features a surge current of 200A for 2 seconds which not all batteries are capable of providing.
The battery is also designed with a BMS system providing short-circuit, temperature, and over-voltage protection. The self-discharge rate of this battery is somewhat high, reducing down to 80% of its capacity under 12 months of storage at a temperature of 20C.
Product Specs:
Maximum discharge current: 100A
Maximum charge current: 50A
Surge current: 200A
Number of cycles: 2500-7000
Weight: 22.6 lbs.
Dimensions 13 x 6.8 x 8.4 inches
1 year warranty
---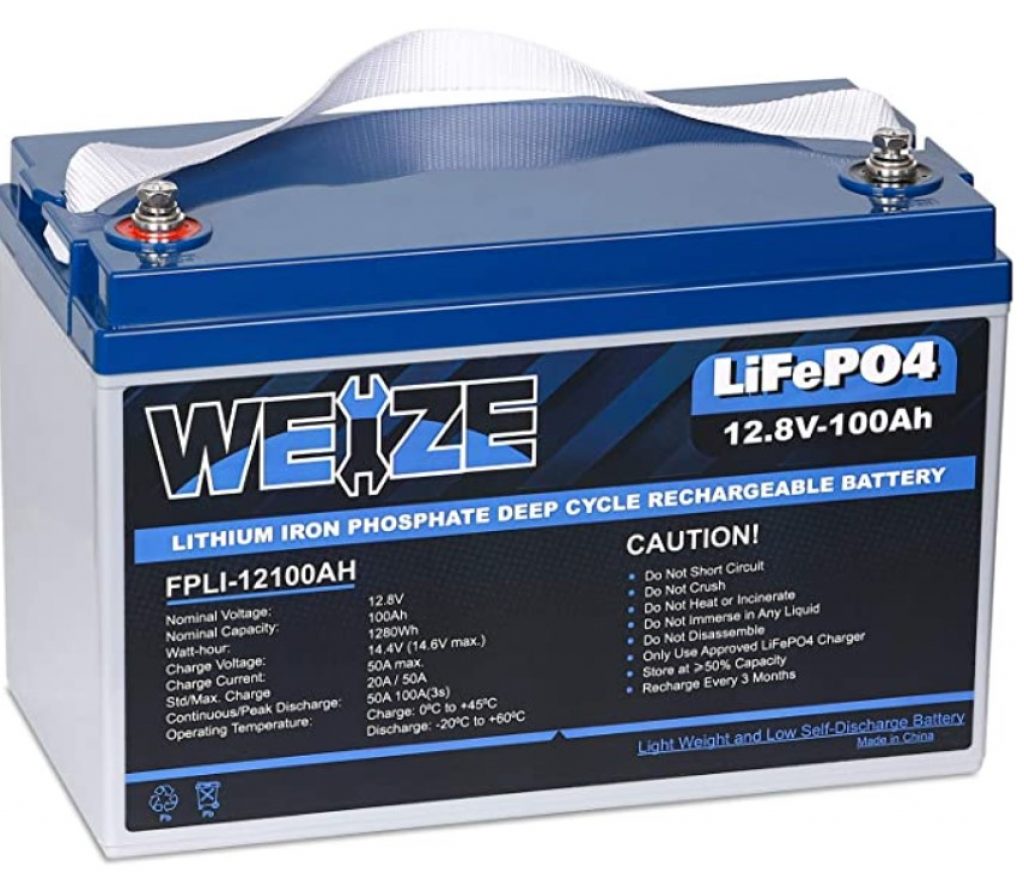 Last but not least, there is the Weize 100Ah battery. The built-in BMS of this battery protects this model against abnormal operating conditions such as overload and overheating. Furthermore, this battery features discharge/charge currents of 50A with surge currents of nearly 200A for around 30 seconds. The battery is also capable of providing a peak discharge current of 100A for 3 seconds.
As for the lifespan of this battery, the expected number of cycles is close to 2000 if operating at 100%, while at 50% DOD the number of cycles rises up to 4500. The battery can also last for over 8000 cycles at 30% DOD, but since this discharge rate is not common in most applications, we need to have 4500 cycles as a reference for comparison.
Product Specs
Maximum discharge current: 50A
Maximum charge current: 50A
Surge current 200A
Number of cycles: 2000 – 4500
Weight 26.4 lbs
Dimensions 9.13 x 6.69 x 12.83 inches
---
Yes, lithium iron phosphate batteries offer important advantages when compared to other lead-acid or lithium-ion batteries. For instance, discharge and charge efficiencies are better in LiFePO4. Lifespans are also longer than other deep cycle options, particularly longer than lead-acid.
The possibility to discharge the battery down to 100% without causing damage to the battery is a feature that lead-acid cannot compete with.
Energy density in LiFePO4 is also higher which means that you are able to get more energy for the same volume size. Thus, the weight can drop down to 50% in some cases when compared to lead acid.
---
This is directly related to the number of cycles of the battery. It is also related to the depth of discharge that you want your battery to work with. Higher DOD means you will be able to use more energy out of a single battery but also means that the battery won't last as long.
Most LiFePO4 under high usage can last around 2000 cycles which is about 5 years. However, under moderate usage a battery could last up to 6000 cycles which is about 15 years.
---
As mentioned earlier, LiFePO4 batteries are less heavy, have higher efficiency conversion values, have higher energy density, can be discharged up to 100% of their capacity, are safer, more eco-friendly, last longer and have lower self-discharge rates.
All of that comes at a price. In saying that, despite them being more expensive, they will last longer, therefore you will not need to replace your battery anytime soon.
---
Yes. A 100Ah LiFePO4 can be used for camper vans, motor homes, and sometimes even for boats.
Lithium-iron phosphate batteries do not require maintenance, they last longer and are capable of providing high-currents when needed. However, it is not recommended that you use a single 100Ah model as a starter battery.
---
Basically, a 100Ah is equivalent to 1,280Wh. Loads can be determined by the amount of power they draw and the equivalent energy consumption in terms of time of use.
In this case, loads such as fans, electronics (phones, laptops, speakers, iPads), lights, toasters, microwaves, water pumps, a refrigerator, small cooking stove, blenders, TVs, motorcycles, and many other devices can be powered with a 100Ah LiFePO4 battery.
However, the amount of time that a load can be powered will depend on the power rate consumption (watts) of the load – the higher it is the less time you will be able to power it.