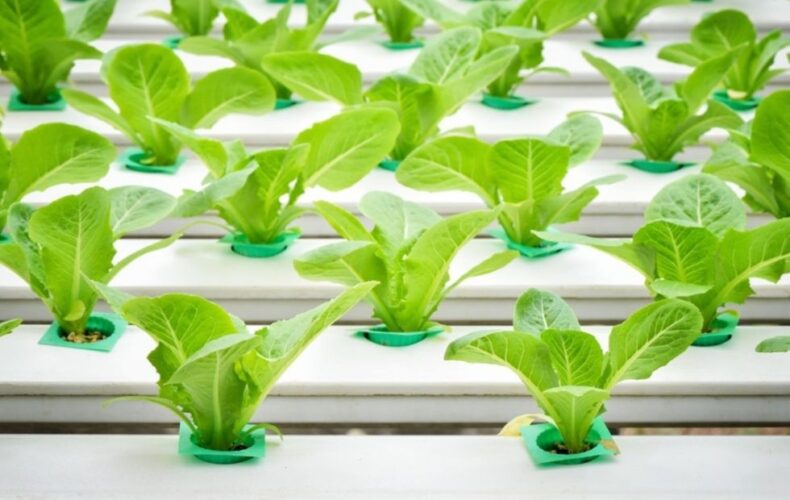 Growing hydroponic vegetables has many benefits.
To us, one of the most important advantages is being able to minimize and control water usage.
Good quality hydroponic systems are sometimes even able to produce crops 3 to 10 times faster than traditional agricultural methods.
In this article we'll share with you the best hydroponic vegetables to grow indoors and what all the advantages can be.
Foreword
Climatebiz experts design, research, fact-check & edit all work meticulously.
Affiliate Disclaimer
Climatebiz is reader-supported. We may earn an affiliate commission when you buy through links on our site.
---
6 Hydroponic Vegetables
You control the climate – for us, this is one of the things we love most about growing hydroponic vegetables. When growing outdoors you have to rely on many uncontrollable factors, such as temperature, wind, and pests.
Growing hydroponically puts everything back in your control!
Although the majority of veggies will root well in a plain glass of water, adding the correct balance of nutrients and light can really accelerate plant growth.
So, what are the best vegetables to grow in a hydroponic system?
---
1. Lettuce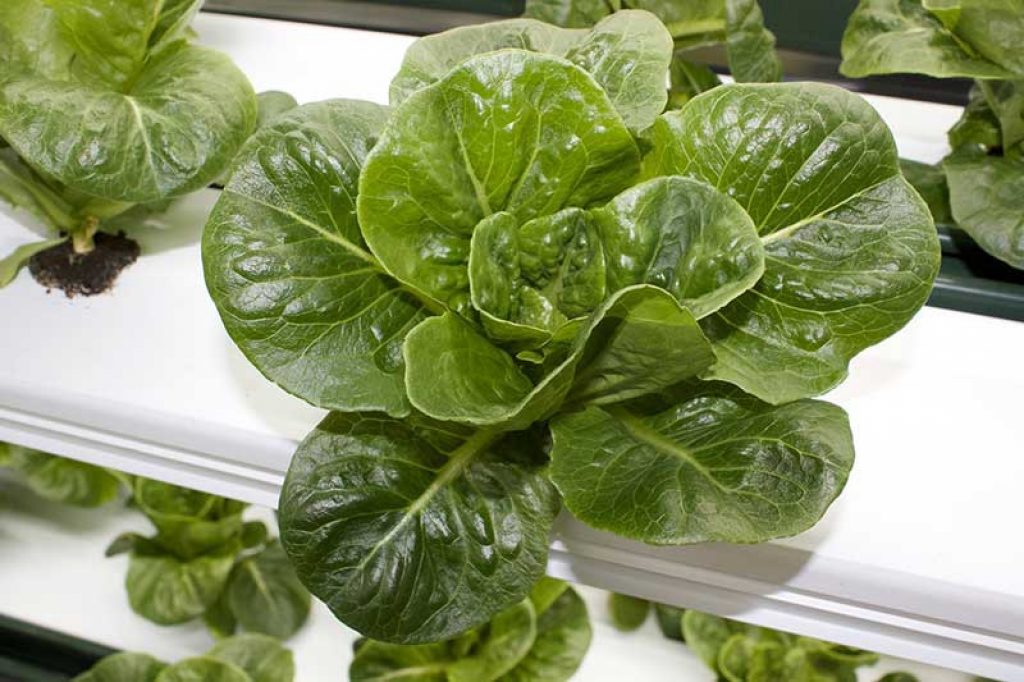 Lettuce is an annual plant – meaning it completes its life cycle from germination to the production of seeds within one life cycle and then dies.
Generally, lettuce is eaten raw on salads, however, it can be cooked and eaten too.
Lettuce requires low temperatures to prevent it from flowering too early. With that being said, it can also be bothered by numerous nutrient deficiencies.
Growing Advice
Growing hydroponic lettuce is usually pretty easy. We recommend giving your lettuce 18 hours of light and 6 hours of darkness every day.
We also recommend keeping temperatures around 68 and 75°F (20 to 23°C) for best results.
Common Growth Problem
Tip burn caused by incorrect calcium levels
Best Growing Mediums
Best Grow Light
Preferred pH levels
Nutritional Content:
Vitamin K
Vitamin A
Folate
Iron
---
2. Tomatoes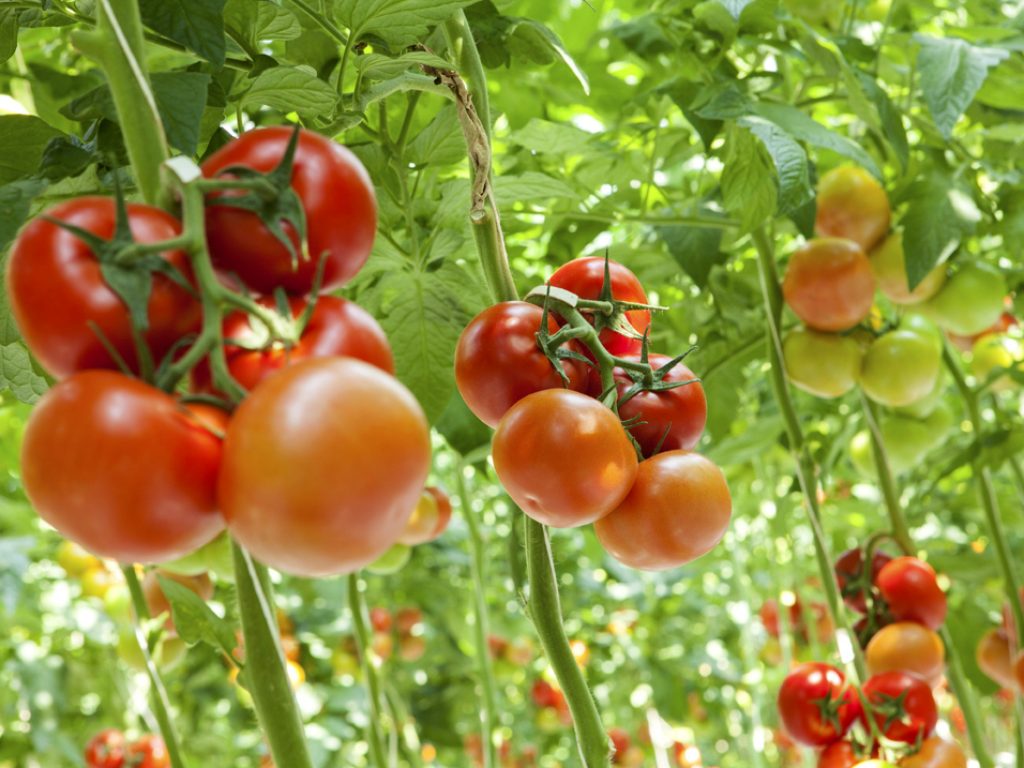 Technically a fruit, the tomato is an edible berry from the plant Solanum Lycopersicum, more commonly known as the tomato plant.
It was the Aztecs who included the tomato in their cooking during the time of the Spanish conquest of the Aztec Empire.
Thereafter, the Spanish ended up bringing the vegetable back to Europe where it slowly made its way into other parts of the European-colonized world.
Growing Advice
Like lettuce, growing hydroponic tomatoes is quite easy, they just want to grow as big as possible.
Depending on your tomato strain, we recommend that your plants have an average of 8 – 10 hours of direct bright light per day. With that being said, many tomato plant varieties excel with 12 to 18 hours of light each day.
Your hydroponic tomato plants will require a temperature between 59 to 89°F (15 to 32ºC) to survive. Ideally, you don't want your temperatures more than 80°F, or your tomato will begin to suffer.
Common Growth Problem
Blossom end rot caused by low calcium levels, incorrect pH levels, or uneven watering habits.
Best Growing Mediums
Best Grow Light
Preferred pH levels
Between 5.5 and 6.5, however, they thrive best between 6 and 6.5.
Nutritional Content:
Vitamin C
Vitamin K
Folate
Potassium
Lycopene
---
3. Cucumbers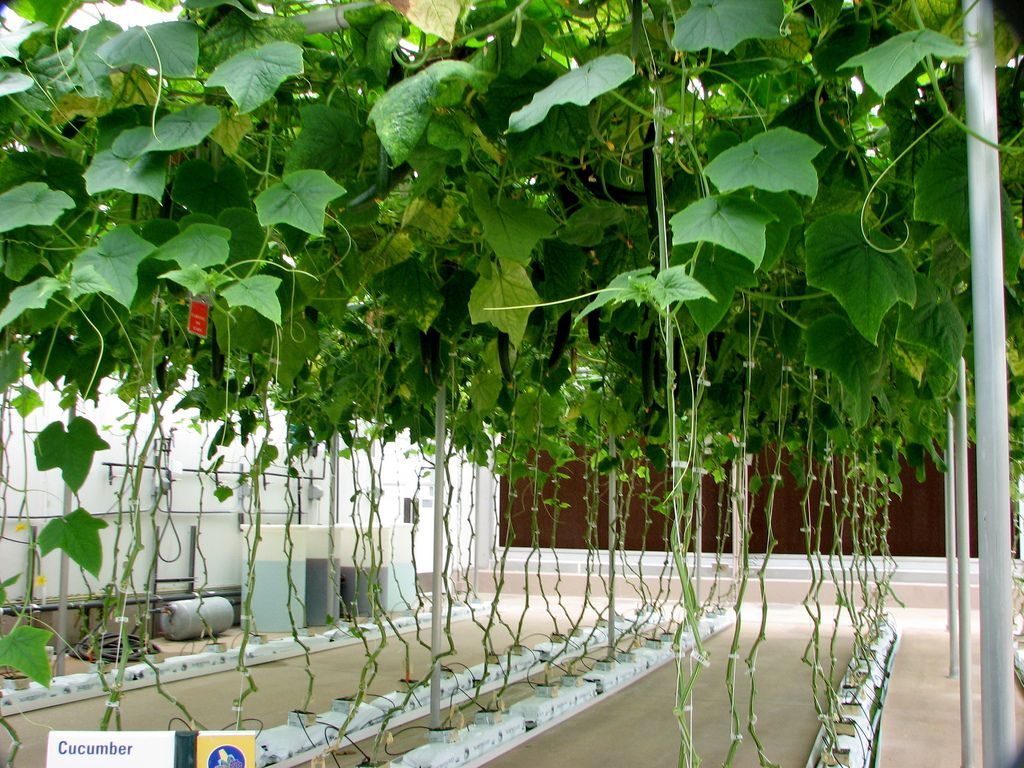 Cucumbers are great, they originate in South Asia and consist of 95% water, with some growing up to 24 inches (64 cm) long.
Here's a fun fact for all those keystone species lovers. Without bees, cucumbers would likely cease to exist, they need cross-pollination from bees or bumblebees in order to form seeds and fruit.
Growing advice
Cucumbers are a great vine-growing alternative or addition to tomatoes. Just like growing any hydroponic vegetable, with cucumbers you need to pay attention to genetics.
It is important that you select the correct cultivars for hydroponic production. Only select the standard long or cocktail-sized, thin-skinned English or Dutch varieties or the slightly thicker-skinned best alpha varieties.
Like most vine crops, hydroponic cucumbers love their food. During propagation, you will use a more diluted feeding solution. However, towards the end of the cycle, you'll want to use and maintain a nutrient solution of between 2 and 3 mS·cm–1.
Once your cucumber vines are fruiting, you can increase the potassium concentration in the fertilizer by up to 50% more than the nitrogen concentrations.
Common Growth Problem
Round white powdery spots and coating on leaves. Caused by high humidity. Avoid over-watering and picking off infected leaves.
Best Growing Mediums
Coconut coir, stone, or mineral wool,
Best Grow Light
Preferred pH levels
Nutritional Content:
Vitamin C
Vitamin K
Vitamin A
Potassium
Magnesium
---
4. Spinach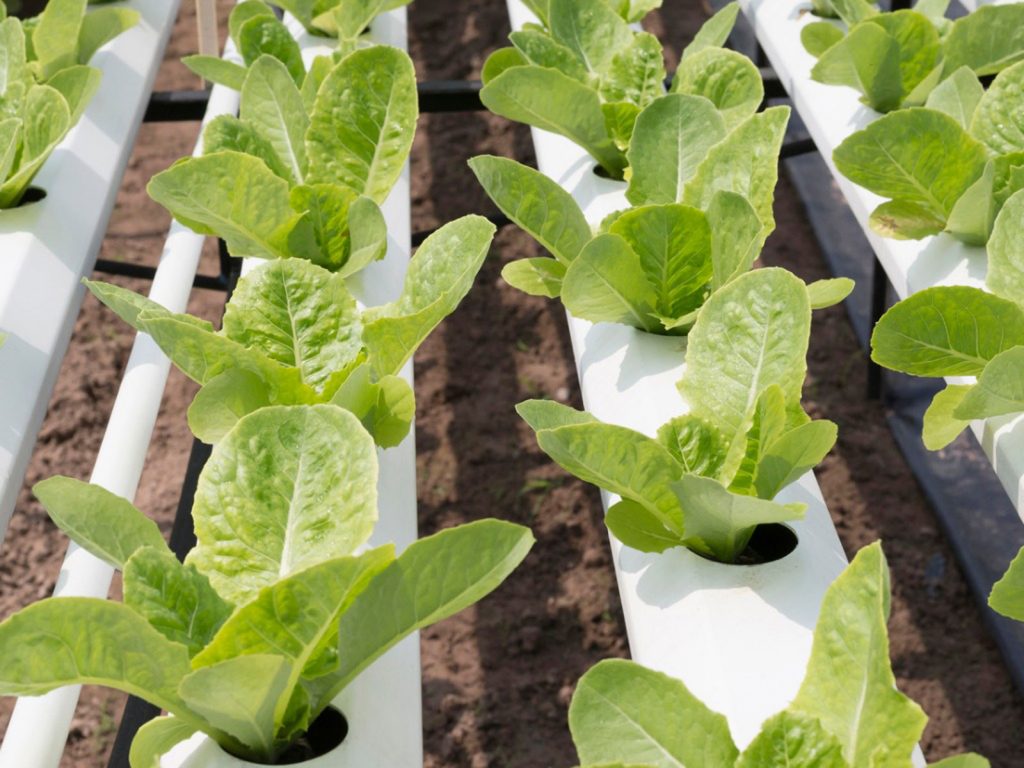 Spinach is a leafy green flowering plant native to Western Asia and is one of my favorite hydroponic vegetables to grow and eat.
The crop is thought to have originated about 2000 years ago in ancient Persia. In 647 AD it was introduced to India and ancient China as the "Persian Vegetable". In 827 AD the Saracens introduced the vegetable to Sicily and the rest is history.
Growing Advice
Growing hydroponic spinach is definitely more tricky than other sorts of leafy greens like lettuce. There is much room for error which can result in bitter-tasting spinach or overall failure of the crop.
Our advice is the following – always use fresh seeds when growing spinach hydroponically. Sow 4 to 5 seeds per hole. Heavy sowing guarantees at least 1 strong healthy plant per growing cube. Always make sure you keep the spinach seedlings moist – poor germination rates are the result of seeds drying out during germination.
Finally, as a cool winter crop, make sure your growing temperatures are between the 65- and 70 degrees F. (18-21 C.) range. Nighttime temperatures should be in the 60- to 65-degree F. (16 -18 C.) range.
Also, make sure to give this hydroponic veggie 12 hours of light from a light in the blue color spectrum, this promotes leaf growth.
Common Growth Problem
Seedlings fail to emerge, this is caused by the seeds drying out during germination. make sure to keep them moist.
Best Grow Light
Preferred pH levels
Nutritional Content:
Iron
Calcium
Vitamin K
Vitamin A
Vitamin C
Magnesium
---
5. Bell Peppers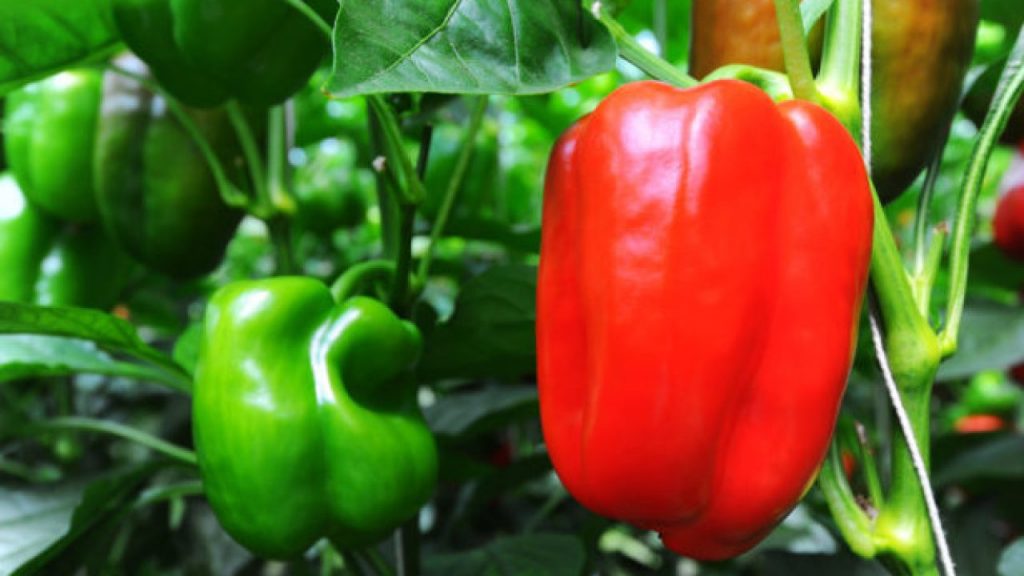 Another "fruit" on our best hydroponic vegetable list. Bell Peppers are classified as berries, however, they are commonly used as a vegetable ingredient in many different types of foods.
I personally love to make a sauce with bell peppers by grinding them up with coconut milk and adding spices – delicious!
Peppers are originally native to Mexico, and were exported into Spain in the late 1400″s, from here they spread through Europe.
Growing Advice
Bell Peppers tend to be a slightly more advanced hydroponic vegetable to grow. We recommend that you don't allow them to grow to their full height. Instead, prune and pinch plants when they are at about 8 inches to fuel pepper growth.
Peppers also grow best with about 18 hours of light and prefer temperatures of between 70 to 84 °F (21 to 29 °C).
Common Growth Problem
Leaves roll downward without yellowing or stunting. Simply maintain an even watering cycle. No other attention is needed.
Best Grow Light
Preferred pH levels
Nutritional Content:
Vitamin A
Vitamin C
Potassium
Folate
Iron
---
6. Celery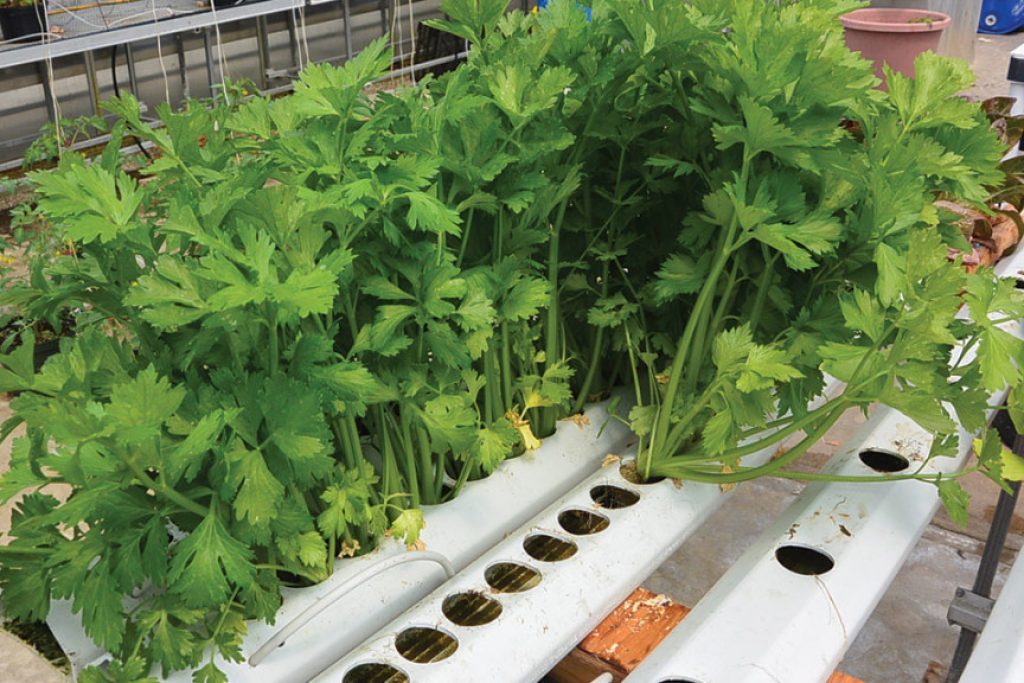 Celery is in fact a marshland plant part of the Apiaceae family. It began by being grown as a winter/early spring vegetable.
People considered it to be a cleansing tonic to counter all sorts of deficiencies brought on by a winter diet, which usually consisted of salted meats without any fresh vegetables.
Growing Advice
Celery can be produced well in a hydroponic growing environment. Celery is best grown in cooler environments of between 59 to 73°F (15 to 23°C). Because it takes longer than most other crops (up to 140 days) we suggest you start earlier with this crop.
As for nutrients, we suggest adding a mineral supplement consisting of calcium and magnesium, or alternatively humic acid. Both calcium and magnesium will increase the stalk strength.
Lighting is pretty relaxed with these vegetables, they'll do just fine with about 6 hours of light a day.
Common Growth Problem
Plants produce lots of leaves but no stalks, growth is very slow. This is generally caused by sudden temperature fluctuations during early growth. Make sure temperatures don't drop too low.
Best Grow Light
Preferred pH levels
Nutritional Content:
Vitamin A
Vitamin K
Vitamin C
Potassium
Folate
---
Are Hydroponic Vegetables Healthy?
This all depends on the nutrient solution the vegetables are actually grown in.
Marion Nestle, a professor of nutrition, food studies, and public health at New York University had this to say: "I've seen hydroponic producers who have tested their leafy greens for key nutrients, and the amounts fall well within normal limits for their crop and are sometimes even higher."
As with the natural cycle of things, traditional plants get their nutrients from the surrounding soil. Hydroponic plants get their nutrients from the solution that you feed them.
Vegetables create their own vitamins, so the vitamin value does not change whether grown in soil or hydroponically.
It's rather the nutrient levels in plants that require soil or nutrient solution in order to develop. This means vegetables grown hydroponically with insufficient nutrient levels can lack sustenance.
However, because you control the nutrient solution, you could enhance a plant's nutrient levels by adding whatever you wanted, whether it be calcium or magnesium.
You could even grow nutritionally superior vegetables by adding other minor elements such as zinc or iron.
---
Do Hydroponic Vegetables Taste Different?
Yes, growing vegetables hydroponically can affect the overall taste. This is the same for vegetables grown in different types of soil.
With hydroponics though, you may be able to make certain crops taste better by adjusting certain elements and nutrients.
---
Is Growing Hydroponically Worth It?
This all depends on the individual grower. Growing crops hydroponically has both pros and cons. Cons usually translate into costs. The initial setup can be quite costly, with all the lighting and nutrient solutions that go into a successful hydroponic system.
However, there are other environmental factors to consider, such as water usage. Hydroponics on average uses one-third of the water compared to traditional agriculture. If you live in a water-stressed country, this is heaven-sent.
Another pro is the ability to control the growing environment and take advantage of having all sorts of climates at any time of the year.
---
Are Hydroponic Vegetables Organic?
What is the classification of organic? Well, it is producers who rely on natural substances and biologically-based farming methods.
The same goes for hydroponic vegetables, if it's grown using solutions that are completely natural then yes, they can be classified as organic.
Although you do get organic hydroponic vegetables, most producers use hydroponic systems and solutions that are not organic.
---
Do Hydroponic Vegetables Have Pesticides?
Pesticides are used to control or ward off pests such as mosquitoes, aphids, ticks, rats, and mice. This allows the farmer to grow their crop free of worry.
However, pesticides also contaminate soil, water, turf, and other vegetation.
Hydroponic vegetables can be grown both outdoors and indoors. Outdoor growers are more likely to use pesticides to ward off said pests. If a grower's hydroponic system is set up indoors in a controlled environment, there is a much lower chance that they will use pesticides on their vegetables.
---
What Nutrients Should I Use For Hydroponics?
This is a good question and it varies from vegetable to vegetable.
However, the general rule of thumb is that you'll want these 3 nutrient mixes to regularly fertilize your system: N-P-K mix, calcium, and Epsom salt (magnesium sulfate).
Other nutrients you can include in your setup are:
Nitrogen (N)
Potassium (K)
Phosphorus (P)
Sulfur (S)
Iron (Fe)
Manganese (Mn)
You can do some shopping here to find all the right nutrients that you are looking for.
---
Final Thoughts
Growing vegetables hydroponically has many advantages, but ultimately it comes down to individual taste and resources. The initial costs (sometimes they are hefty) can be off-putting to enthusiastic, first-time growers.
However, with some ingenuity and creative thinking, many will find cheaper DIY alternatives to offset that cost while maintaining the quality of their grow.
Let us know if you have any experience with growing vegetables hydroponically in the comments section below.
Further reading: