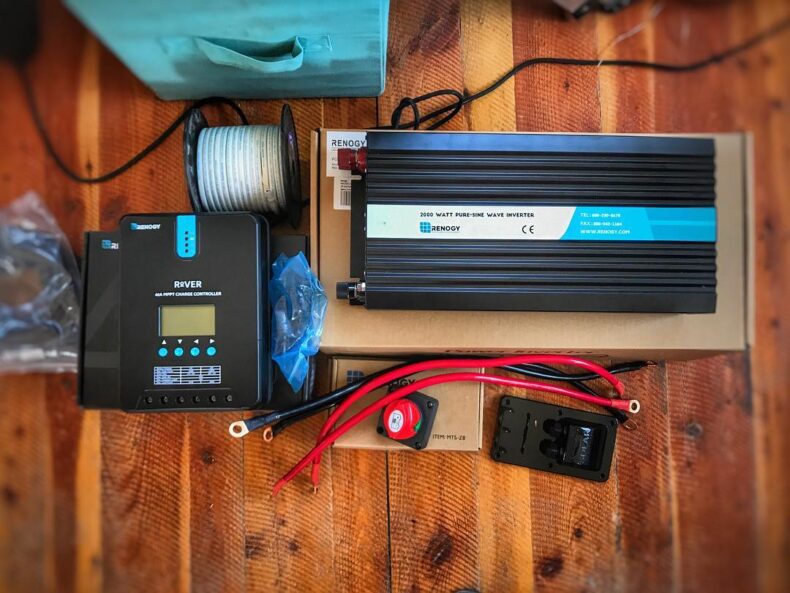 In this review/buying guide article, we'll review the 5 best pure sine wave inverters on the green tech market in 2022.
Check out our editors' picks section if you are in a hurry.
If you plan to power any appliances that require mains electricity through your solar panel set up, then there's no doubt you'll need a high-quality solar inverter to do the job.
There are quite a few points to consider when buying the right solar inverter for your needs.
So, in this article, we aim to make the entire decision-making process that much easier for you.
In addition, I'll provide you with actionable buyers guide with a FAQ section.
This will help you make an informed buying decision when deciding on the best pure sine wave inverters to suit your specific budget and unique needs.
---
Let's begin with the editors' picks.
---
As the majority of you reading this article are likely already aware, a pure sine wave inverter is used to convert DC current to AC current.
This allows you to use standard appliances with 12V battery power.
The best pure sine wave inverters have been selected under the following criteria:
Wattage Rating: One of the most important factors to consider when deciding on a pure sine wave inverter is its wattage rating. The higher the wattage rating, the more electrical appliances it can handle at once.
Output Ports: There is nothing less convenient than a device with little to no output ports. Therefore, when deciding between the best pure sine wave inverters you should take into consideration the total amount of AC ports and USB ports.
Output Voltage: As an inverter is used to convert direct current (DC) into alternating current (AC), the voltage output is an important factor to consider to avoid compatibility issues. For example if you are located in the United States, you require a 120V inverter. If you are located in Europe, you'd require a 240V inverter.
---
What Are The Best Pure Sine Wave Inverters In 2022
Quick answer:
---
5 Best Pure Sine Wave Inverters
GoWISE offers one of the best low-watt pure sine wave inverters on the market. Let's take a deeper look into the product.
As with all products from this manufacturer, you can expect a 1-year warranty, keep this in mind should anything happen to your inverter.
This unit is ideal for powering small devices, such as E-bike chargers, mac book chargers, and any other sensitive electronics.
Being priced around $90 this is certainly the best pure sine wave inverter if you are on a budget (requirements depending of course).
Tech Specs:
Key Features:
There is a buzzer whistle system in place for when the input DC voltage is lower than 10.6V.
The whistle will sound intermittently to warn you that the inverter will go into under-voltage protection. (Quick tip: if you are running a laptop off the inverter at this time, be sure to save all your data.)
There is also overload protection in place. The device will shut down automatically when the load power is higher than the rated power.
Like all pure sine wave inverters, the unit will be hot during operation.
If the temperature is higher than 149°F, the inverter will automatically shut down and the buzzer will whistle continuously.
If this happens, turn off the inverter and let it cool down.
Whilst you wait to figure out the possible cause: such factors may be poor ventilation, ambient temperature, ventilation, load power, etc.
Pros & Cons:
---
GoWISE Power 1000W Pure Sine Wave Inverter
Now we are going to take a look at an inverter that's able to run around 900-1000 watts continuously.
This particular model is the 1000W Pure Sine Wave Inverter 12V DC to 120V AC. Quite a fine choice from GoWISE.
The unit provides a stable power source of 1000W continuous power and 2000W surge power, and will only set you back around $140.
Tech Specs:
| | |
| --- | --- |
| Model | PS1002 |
| Item Weight | 6 pounds |
| Product Dimensions | 11 x 5 x 3 inches |
| Item model number | PS1002 |
| Is Discontinued By Manufacturer | No |
| Manufacturer Part Number | PS1002 |
| Folding | No |
| Cover Included | Inverter, instruction manual, connections |
| Voltage | 12 Volts |
Key Features:
The GoWISE 1000 watt pure sine wave inverter comes with 2 built-in output sockets and 1 USB port (5V & 1A).
The device is equipped with negative and positive terminal power ports and includes a cooling fan for when your machine is working overtime.
This model of inverter from GoWISE also comes with a power switch, equipped with a 15-foot wire for ease of installation.
Additionally, a pack of 8 gauge starter cables capable of powering up to 1000 watts is also included in the package.
Pros & Cons:
Positive
Long-lasting
Great performance
Comes with a remote
Includes connection cables
Multiple outlets
Negatives
Doesn't run multiple devices smoothly
Connection cables are short
No voltage meter
---
Are you looking for a reliable inverter for your game console or computer?
The Windy Nation VertaMax Pure Sine Wave 1500 Watt inverter will ensure you stay connected to whatever gaming adventure you choose.
The unit comes with everything you'll need: 3 foot 2 gauge battery cables with cable lug terminals + remote on/off switch (cord is ~17 feet) + 150 amp ANL fuse + ANL fuse holder.
Tech Specs:
Key Features:
This unit has 1500 Watts of continuous power output and 3000 Watts of surge output.
It has 3 AC outlets and 3 circuit breakers in the event of an unexpected power surge.
The LED Display shows the DC battery voltage and Watts (AC power consumption)and monitors power usage.
The unit includes almost everything you'll need (besides USB ports):
1-year warranty, trusty design with a thermal shutdown, reverse polarity protection via internal fuses, short circuit protection, over-voltage protection, low voltage shutdown, and low/high voltage alarm.
Costing around $260 we feel the price point is in check with the features and quality you get.
Pros & Cons:
---
The Renogy 2000 Watt solar inverter has been designed with true quality in mind, and in our opinion will give you the best bang for your buck.
The surge capacity is 100% and won't have any problem powering most of your devices (fans, grinder, lights, CPAP, battery chargers, electric chain saw, etc.).
This pure sine wave inverter from Renogy is easy to install and comes included with 4 AWG cables and a wired remote.
It costs around $300, which you'll notice is a very competitive price on this list.
Many consumers have commented on the overall quality being of exceptionally high standards for the price point.
Tech Specs :
Key Features:
The 2000 watt pure sine wave inverter is fully optimized for 12 VDC system voltage.
It offers a high-quality waveform with minimal harmonic distortion.
Built into the device is a DC input and AC output overload protection system that prevents any damage to the components and the unit.
Another nifty feature is the LED display which indicates under-voltage and over-voltage protection, over-temperature protection, over-load protection, and short circuit indication.
There are high-speed ventilation fans that ensure your device does not overheat when working overtime. Might I add that these fans run quietly too!
Pros & Cons:
---
This industrial inverter can handle some serious power.
Generally, households or factories utilize much more load than cars or Rv's.
Therefore, you are going to need a beast of an inverter to take care of your energy needs.
This option is worth the moderate price tag.
This inverter costs around $1000 so certainly not for you if you are on a budget.
Tech Specs
Key Features
This 5000-watt pure sine inverter from AIMS is highly efficient with improved output at low voltage. It has 5000 Watt continuous power and 10000 Watt surge capabilities.
It has a direct connect AC terminal block connector and cable for a remote on/off switch.
It includes short circuit protection (GFCI and AC Breaker) and comes isolated ground & neutral.
One of my favorite parts about this unit is the 5 function protection LED indicator and the dual cooling fans which will ensure your device never overheats.
Pros & Cons
---
Best Pure Sine Wave Inverters – Buying Guide
If you are new to the world of inverters and solar energy in general, then you may still have quite a few questions.
In order for you to make an informed buying decision, we're going to touch base on all the things you should know before investing in a pure sine wave inverter.
Types Of Sine Wave Inverters
There are 2 types:
The defining aspect of pure sine wave inverters is their ability to run a smooth and continuous wave-form.
Additionally, the waveform includes a uniform phase angle that allows for constant and clean output voltage.
This voltage rises and falls equally and instantly changes polarity as it crosses the zero-volt line.
Modified sine waves are much choppier, their voltage rises and falls quite abruptly.
Phase angles are sharper and less concise. This causes a rougher less predictable delivery of voltage.
Changes between polarity at the zero-voltage line aren't immediate, but instead, take time to occur.
This means there may be some gaps in the delivery of power to your electronic appliances.
---
Benefits Of Pure Sine Wave Inverters
Clean Power. The beauty of pure sine wave inverters is their ability to produce clean power, with an extremely low harmonic distortion. Because of this, pure sine wave inverters are able to power even the most sensitive equipment such as laptops or drones.
Quiet Operation. Clean power equals less audible electrical noise given off by your televisions, fans, or radios. Running pure sine means you don't have to worry about any random buzzing noises when your electronics are turned on.
High Inductive Loads. Pure sine wave inverters are able to handle powerful appliances like microwaves, washers, hair dryers, and refrigerators. Just make sure to select an inverter with the correct watt output.
Smooth, Continuous Power. The great thing about clean power is the ability to run appliances without choppy step-ups and step-downs. This means you can run any electronics without any glitches or weird interruptions. Besides this just being convenient, you'll also extend the life of your electronic appliances by running pure sine wave.
---
Average Cost Of Pure Sine Wave Inverters
Under $100: The majority of pure sine wave inverters in this price range are car inverters or inverters with low watt capacity.
$100-$500: The most popular pure sine inverters cost this amount. Inverters within this price range are usually used to supplement power needs in RV's, homes, workshop factories etc. These inverters usually give off 1000 to 2000 watts of power.
$500 and up: This price tag will see to it that you get some serious heavy duty power. You could expect the inverters in this price range to produce between 3000 to 12,000 watts of clean energy
---
Key Features To Look Out For When Making A Purchase
Safety Features
Safety is a priority, trusted manufacturers know this.
They build in protective mechanisms to ensure the unit will not be damaged by overheating, over-voltage, under-voltage, undercurrent, short-circuiting, etc.
You could expect these units to be equipped with grounding mechanisms and well-insulated wiring casing.
Outlets
I'd recommend looking into pure sine inverters with an array of power outlets.
These outlets are convenient and allow you to charge multiple devices at once.
Look for an inverter with at least two AC outlets as well as a USB outlet.
Warranty
No matter what product you look into, manufacturers that provide you with a long-lasting warranty are confident in their design.
Not only this but it will provide you with peace of mind knowing that should anything out of your control happens to your device, you'll be able to return it or get it repaired.
Other things to consider:
Power Output. Make sure that the inverter you buy has the correct power output. Take the time to read the owner's manual before making any purchases. If you buy your product on Amazon, you can always expect to find one on the product page. You don't want to get a pure sine wave inverter that's too weak or waste your money on one that's too strong.
Battery Requirements. Another important factor to consider is the battery you'll need to supply your inverter with enough power. I always recommend iron lithium phosphate if you have the budget. A good rule of thumb is, the more power you need, the more battery power you'll need
Area. What space will you set your inverter in? Always do premeasurements of the inverter/area you'll set your inverter in. Remember, it needs space for ventilation and fire hazards. If you don't have too much space, make sure to get a unit with proper ventilation and a reliable over-temperature protection.
Remote. There are some pure sine inverters that come with a remote control. While at first this may seem like a unnecessary luxury, consider where your inverter will be located. Is it at the back of your campervan that is highly uncomfortable to get to? Well, then you might prefer a remote operated inverter for ease of use.
---
Frequently Asked Questions About Pure Sine Wave Inverters
In this section, we have put together some of the most requested questions and doubts some users have had in the past.
If these questions match yours, fantastic! If they don't, make sure to ask yours in the comments section- we'll be happy to assist you.
No matter what questions you may have had when starting to read this article. This section will certainly help you make the right choice when you decide on the best pure sine wave inverter to buy in 2022.
Who makes the best pure sine wave inverter?
Do you really need a pure sine wave inverter?
This depends on your set up. If you need an inverter for a grid tie system, then you'll always need a pure sine wave inverter. Also, the majority of newer electronic devices such as LED TVs, and CFL light bulbs require a clean form of power that only the pure sine wave inverter can supply.
Which Is The Best Sine Wave Inverter?
How Efficient Are Pure Sine Wave Inverters?
Most high quality pure sine wave inverters are rated at 90% to 95% efficiency. The lower quality modified sine wave inverters are much less efficient, between 75% to 85%. Generally, high frequency inverters are more efficient than low frequency ones.
Why Are Pure Sine Wave Inverters So Expensive?
The complex technology used to create them simply costs more. They produce current that comes very close to the AC you have in your home, making them perfect for running sensitive electronics.
Is A 1000-Watt Pure Sine Inverter Enough?
A 1000 watt inverter will be enough to consistently power coffee makers, laptops, computers, printing machines, camera equipment, PS4 consoles, toasters, vacuums, home theater systems and more.
Should I Ieave My Pure Sine Wave Inverter On All The Time?
Well, you can. But, it's a good idea to shut it off when it's not in use to prevent any draw on your batteries, or wear and tear on the components on the inside. Turning the inverter off, will give the fan a rest and the device a chance to cool down.
How Do I Know What Size Inverter To Buy?
All inverters will come with a two wattage ratings. Continuous output & peak output. Continuous output is the normal limit of the inverter. Peak output is the power the inverter can supply for short periods when the demand spikes. If all the devices you want to power draw a combined total of 1000 Watts, then you will need an inverter which can supply 1000 watts of continuous power. However, I do recommend that you go slightly above your wattage requirements. So 1000 Watts of combined draw would require a 1200 Watt pure sine wave inverter.
---
Final Thoughts
We hope after reading our reviews and buying advice on the top pure sine wave inverters you have a better understanding of all the products on the market.
So, what are you waiting for?
Grab hold of your choice inverter soon.
Those homes, RV's, and cars of yours are waiting for clean power that only high-frequency pure sine wave can produce!