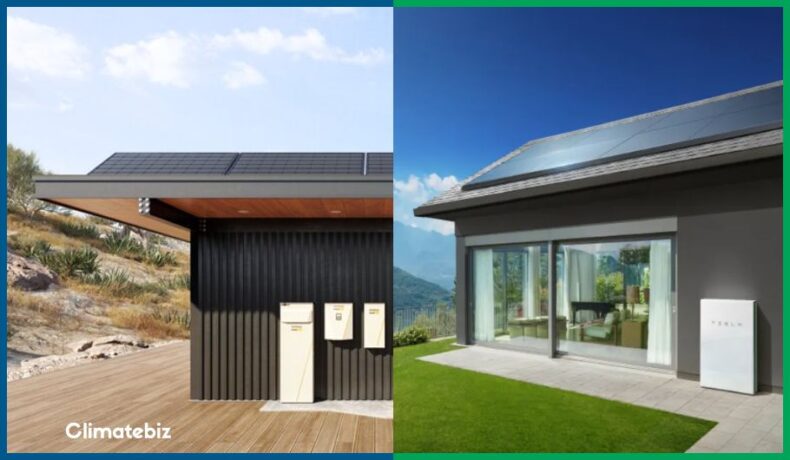 The Generac PWRcell vs. Tesla Powerwall — two of the most advanced battery energy storage solutions (BESS) on the market.

As a prospective buyer, you may struggle to settle on the right product and specifications for your needs. This is only natural — BESS products are a critical part of your solar array, so you'll want to make an informed decision.
For this reason, we selected two of the most sought-after BESS on the market — the Tesla Powerwall and the Generac PWRcell — and pit them against each other.
Foreword
Climatebiz experts design, research, fact-check & edit all work meticulously.
Affiliate Disclaimer
Climatebiz is reader-supported. We may earn an affiliate commission when you buy through links on our site.
Generac PWRcell Vs. Tesla Powerwall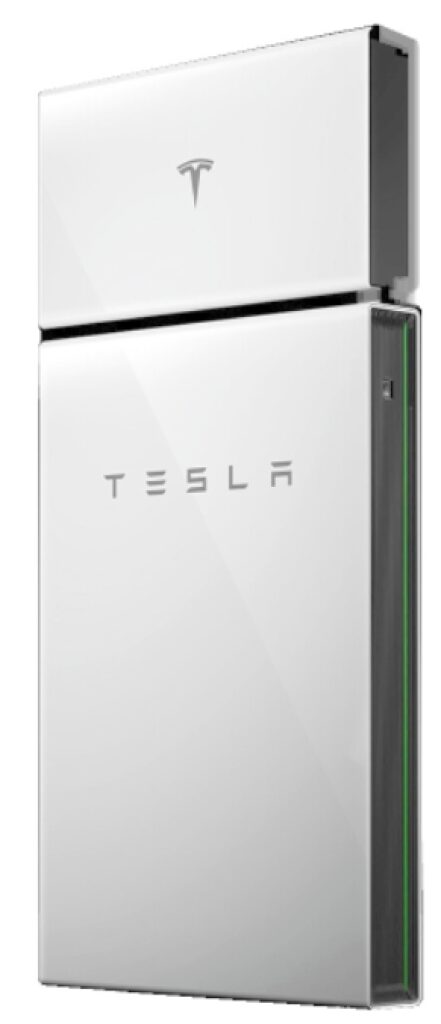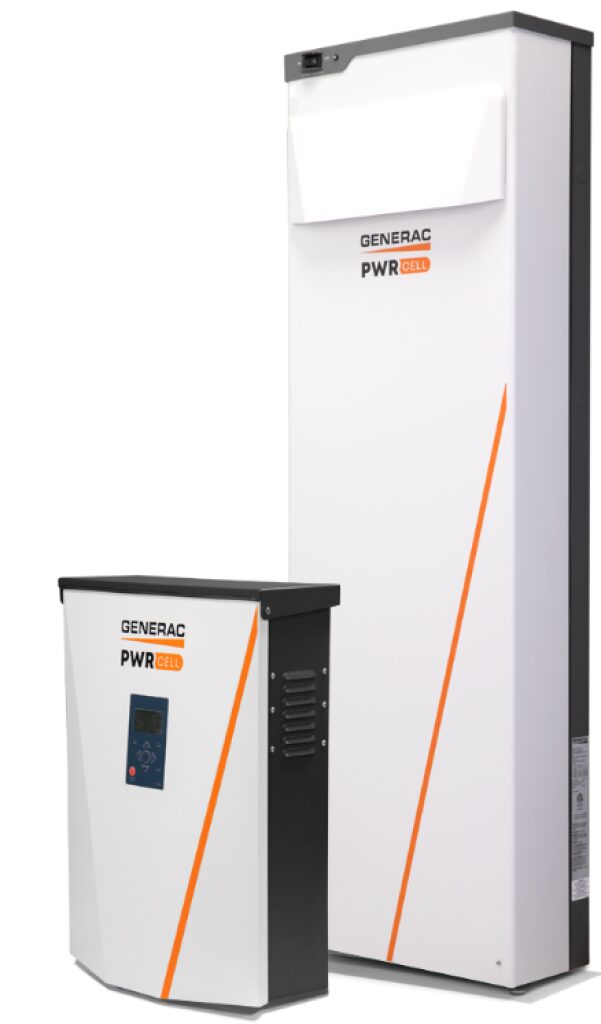 The Generac PWRcell is a complete solar battery backup solution that combines three main components:
A battery cabinet
An inverter.
An MPPT solar charge controller called the PV Link.
In contrast, the Tesla Powerwall + comes with the following components:
A battery cabinet (The Powerwall).
An inverter with 4 MPPT solar chargers (Tesla Inverter).
The table below provides a quick comparison between these two BESS.
| Specifications | Tesla Powerwall + | Generac PWRcell |
| --- | --- | --- |
| Storage Technology | Lithium battery | Lithium battery |
| Type of battery | AC battery – 120/240 VAC | DC or AC battery – 360/420 VDC |
| Efficiency | 90% | 96.5% (DC) – 90% (AC) |
| Storage Capacity | 13.5kWh | 9kWh – 18kWh |
| Continuous Power Output (Off-grid) | 7kW | 9kW |
| Continuous Power Output (Grid connected) | 5.8kW | 7.6kW |
| Peak Power Output | 7.6kW (10s) | 9kW (10s) |
| Input Solar Power | 12.9kW | 10kW |
| Scalability | Up to 10 units – 135kWh | Up to 2 battery cabinets – 36kWh |
| Size | 62.8"x29.7"x6.3" (159×75.5×16 cm) | 68″x22"x10″ (173×55.9×25.4cm) |
| Weight | 310lb (140kg) | 445lb (202kg) |
| Warranty | 10 years – 37.80MWh | 10 years – 45.36MWh (18kWh model) |
| Buying price (with installation) | Powerwall only – $12'500 Inverter price not released – estimated $5'000 | Battery + inverter – $21'000 (18kWh model) |
---
Getting to know Generac and the PWRcell
Founded in 1959, Generac is a well-renowned American company known for its quality backup generators (gasoline and diesel).
In 2019, to extend its product range, Generac acquired Pika Energy alongside Neurio, a company that produces energy monitoring and optimization software.
Shortly after, Generac released the PWRCell — pronounced Power Cell — a modular battery solution for solar energy storage and power outage backup.
---
The PWRcell
The PWRcell is not only a battery box; it's a complete solution for your home, combining multiple components to optimize solar energy storage and its use.
You can install this BESS alongside a new system or couple it to an existing solar array.
Let's briefly review both configurations:
PWRcell coupled to an existing system
When coupled to an existing solar system, the PWRCell includes the following:
A PWRCell Battery cabinet
A PWRCell Inverter
A PWRCell ATS (Automatic Transfer Switch)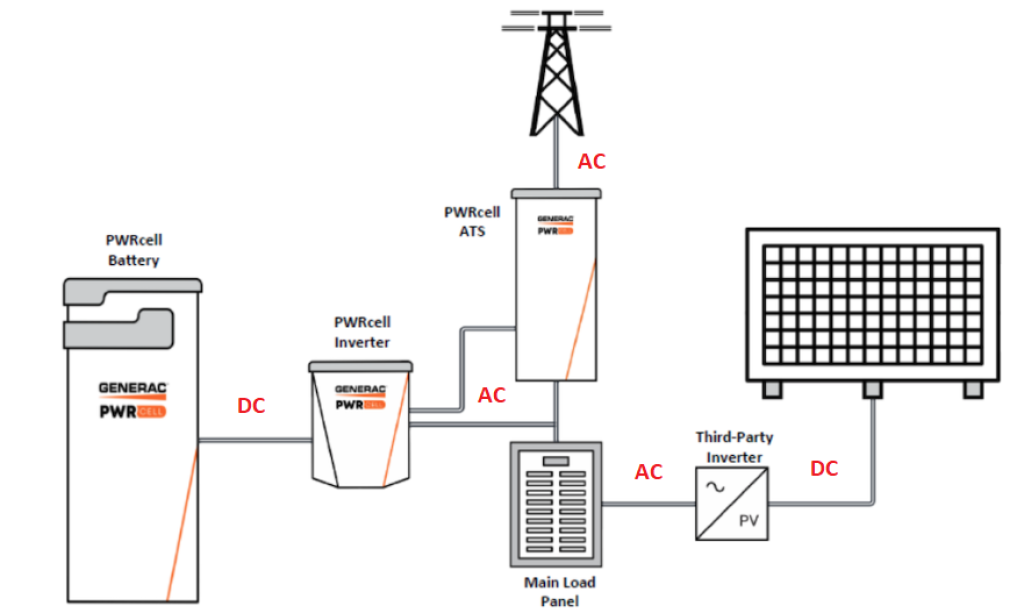 In this instance, the PWRcelll is AC coupled. This is because the previously installed solar inverter supplies AC to the house.
The PWRCell inverter and ATS link up to the main panel board. The ATS is a smart switch that allows power from the existing solar system to supply your home and charge the battery. However, this depends on its state of charge and the amount of power available.
An ATS allows the PWRcell to charge via grid electricity, if necessary. However, this AC-coupled configuration is less efficient than a DC system.
The scheme below shows that the AC system requires an additional energy conversion step, resulting in losses.
Usually, AC systems have a 90% round trip efficiency vs. 96% for DC systems.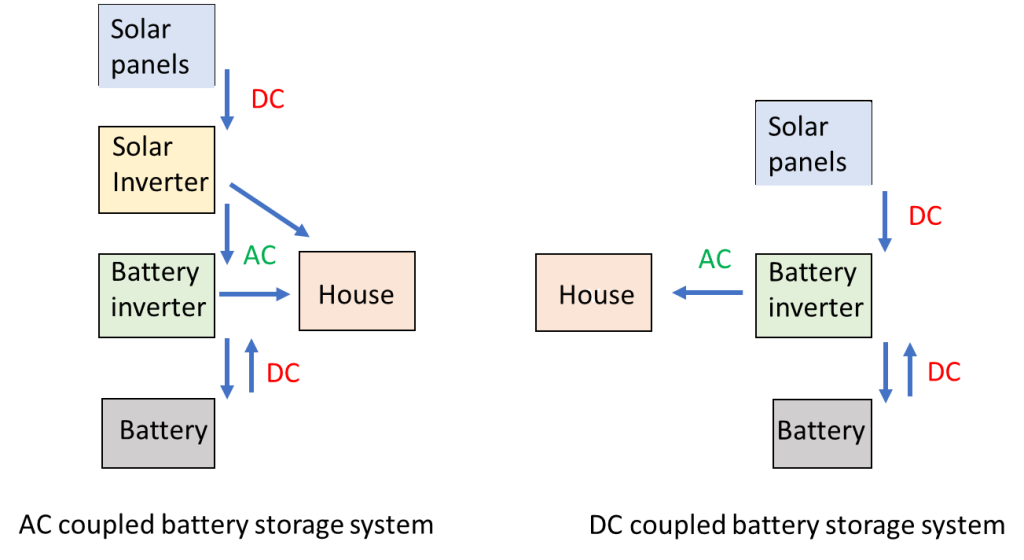 PWRcell as part of a new system
As a newly installed solar system, the PWRcell includes the following:
PWRcell battery cabinet
PWRcell Inverter
PVLink optimizer
SnapRS
In this configuration, the PWRcell is DC coupled.
The SnapRS is an in-line rapid shutdown device that can quickly disconnect a string of solar modules in an emergency. The solar panels (up to 9 units) link to the PVLink, an in-line solar charger.
The PVLink — with its MPPT (Maximum Power Point Tracking) algorithm — optimizes solar electricity production and sends it to the battery or the inverter for direct use.
Lastly, the inverter converts DC into AC for domestic use.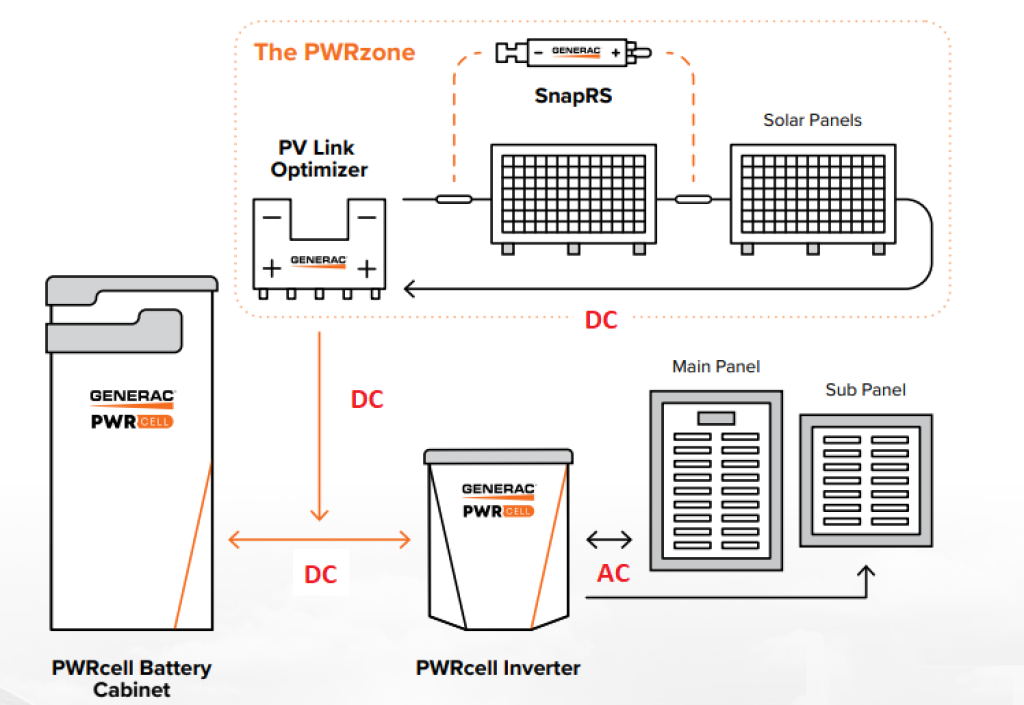 You can use the PWRcell as a partial home backup solution with a sub-panel connected to essential loads.
---
Getting to know Tesla and the Powerwall
Tesla is the world's #1 electric vehicle manufacturer, with almost 1 million units sold in 2021.
As a major producer of batteries, Tesla naturally extended its product range to energy storage solutions with the Powerwall introduced to the market in 2015.
Tesla Powerwall
As the first of its kind, the Powerwall is an integrated AC-battery system that stores and supplies AC electricity inside a house.
In recent years, Tesla introduced the Powerwall 2 — a newer version of the Powerwall — which provides more power and storage capacity.
Then, in 2022, Tesla launched the Powerwall +, a bundle combining a solar inverter and the Powerwall.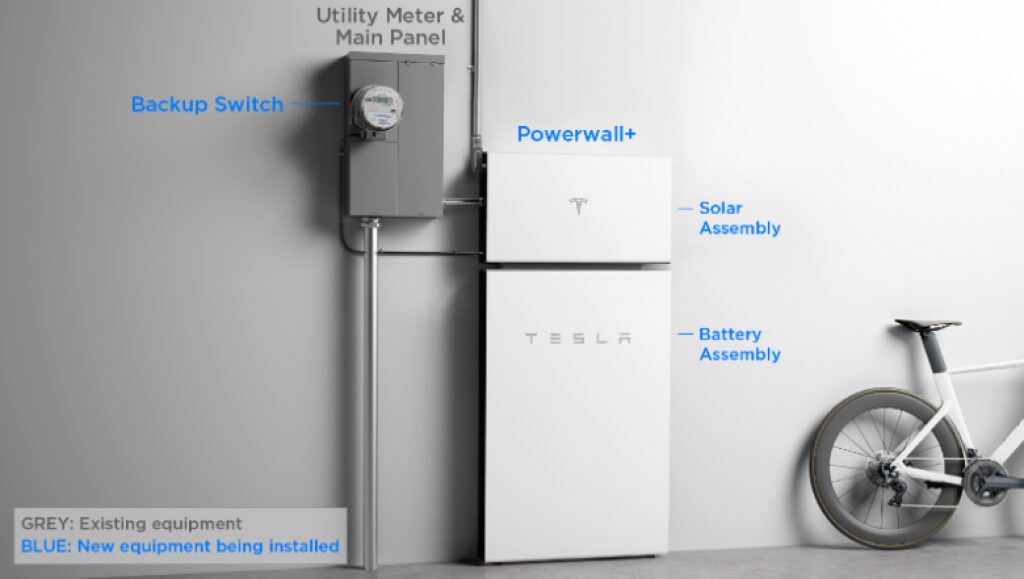 Note to our readers: as of 2022, Tesla only sells the Powerwall with a new Tesla solar system.
Tesla has designed its product to function as part of a complete or partial home backup system during a power outage.
Now let's quickly review each configuration:
Powerwall as a total home backup system
The solar panels produce DC electricity in this configuration, which the integrated solar inverter converts into AC.
You can use this AC electricity in your house or store it in your Powerwall's battery for later use.
As a complete home backup system, the Powerwall+ includes a backup gateway that automatically disconnects the entire system from the grid in case of a power outage.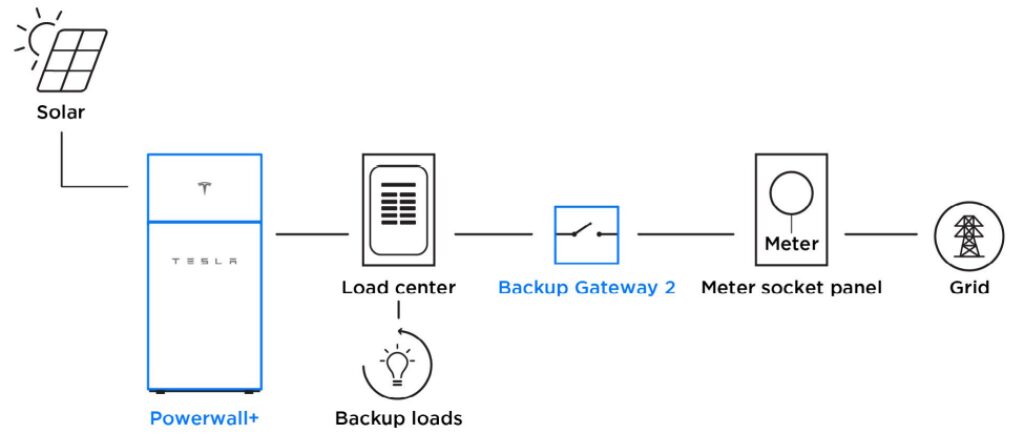 Powerwall as a partial home backup system
You'll require a second electrical panel board that connects the backup loads to establish a partial home backup system of essential appliances with the Powerwall.
During a power outage, the backup gateway disconnects the system from the grid and the non-essential loads. In this instance, the Powerwall only supplies the backup loads.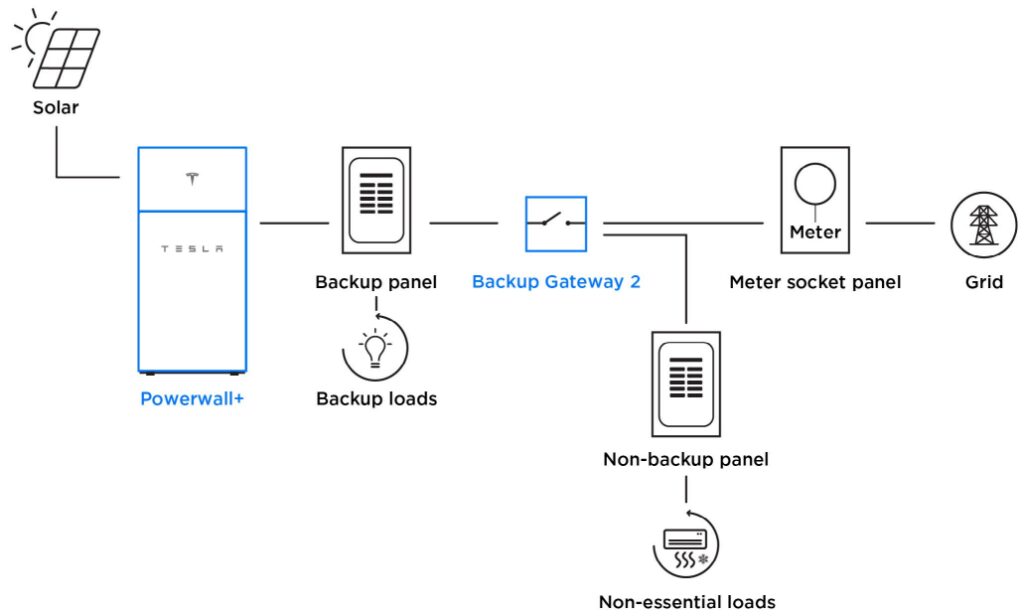 ---
Which company produces better quality?
To determine which company produces the better quality BESS in this Generac PWRcell vs. Tesla Powerwall comparison, we analyzed the following notable features of each product:
Battery and inverter warranty.
Design.
Robustness.
Energy Efficiency.
Maintenance.
Connectivity.
Both solutions are excellent, but in the end, the Tesla Powerwall pulls ahead with a slight advantage. Here is a summary of our findings.
| | Tesla Powerwall | Generac PWRcell |
| --- | --- | --- |
| Warranty | ++ | + |
| Design | ++ | ++ |
| Robustness | ++ | + |
| Energy efficiency | + | ++ |
| Maintenance | + | ++ |
| Connectivity | ++ | + |
---
Generac PWRcell vs. Tesla Powerwall: battery and inverter warranty
Both companies offer a 10-year warranty on their batteries. The Tesla inverter comes with a 12-year warranty, and the Generac inverter has a 10-year warranty.
Tesla guarantees a total of 37.80MWh full battery cycles, equivalent to 2.8MWh per kWh worth of battery. In comparison, Generac's 18kWh model guarantees a total of 45.36MWh, equal to 2.52MWh per kWh.
This means Tesla guarantees 10% more energy than Generac over the lifetime of its product.
Quite surprisingly, Generac doesn't provide information about the retained capacity after 10 years. In contrast, Tesla guarantees that the Powerwall will operate at 70% capacity after 10 years.
Winner: Tesla Powerwall
---
Generac PWRcell vs. Tesla Powerwall: design
The Tesla Powerwall is designed as a single unit with a sealed battery cabinet, whereas the Generac PWRcell adopts a modular design with removable battery modules of 3kWh each.
One PWRcell cabinet accommodates up to 6 batteries (from 3kWh to 18kWh). Consequently, the PWRcell is bulkier than the Tesla Powerwall and requires more space for installation.
Moreover, the Powerwall+ is a "plug-and-play" solution with 4 integrated MPPT chargers with up to 12.9kW of solar power. In contrast, the PWRcell requires the PVLink to connect each string of solar panels to the inverter (up to 10kW).
Winner: Draw
---
Generac PWRcell vs. Tesla Powerwall: robustness
Both Generac PWRcell and Tesla Powerwall are outdoor rated. The Powerwall operates from –4 to 122°F (–20°C to 50°C), and the PWRCell from 14 TO 122 °F (-10 TO 50 °C). However, temperatures below 41°F (5°C) will reduce their performance.
The Powerwall works at higher altitudes — 3000m vs. the PWRcell's 2000m.
Both units comply with the latest safety and seismic standards for energy storage systems.
Winner: Tesla Powerwall
---
Generac Power Cell vs. Tesla Powerwall: energy efficiency
The Generac PWRcell is a DC battery, while the Tesla Powerwall is an AC battery. Consequently, the Powerwall needs an extra conversion step to store solar energy (DC).
In the end, the efficiency of the PWRcell (if DC coupled) is higher than the Tesla Powerwall: 96.5% vs. 90%.
Winner: Generac PWRcell
---
Generac Power Cell vs. Tesla Powerwall: maintenance
Both units require almost no maintenance. However, the Generac PWRcell's modular design allows you to replace a defective battery more efficiently.
In the case of the Tesla Powerwall, you'd have to change the whole unit.
Winner Generac PWRcell
---
Generac Power Cell vs. Tesla Powerwall: connectivity
Generac develops the PWRview, an energy monitoring app that helps you decrease your reliance on the grid with daily energy reports and analysis.
In contrast, the Tesla app is slightly more advanced as it allows you to monitor and control your energy system remotely.
Winner: Tesla Powerwall
---
Generac Power Cell vs. Tesla Powerwall: which product is cheaper?
A complete 18kWh Generac PWRcell system plus installation will cost you $25,000. This package includes the following components:
Automatic transfer switch.
Battery cabinet.
Inverter.
Smart energy management module.
A 13.5kHh Powerwall plus installation will cost you $11,500. Tesla has yet to disclose its inverter's price from the Powerwall+ bundle, but $5,000 would be a safe estimate. Thus, the Powerwall+ will cost you approximately $16,500.
The estimated levelized cost of storage (LCOS) for the Powerwall+ is $0.46/kWh, while the price for the Generac PWRcell stands at $0.55/kWh.
Therefore, the Tesla Powerwall is cheaper than the Generac Power Cell over its lifetime.
---
Which product is better for you?
Both products are great options for powering your appliances and storing excess solar energy. What's more, both products can run an off-grid house.
We recommend the Tesla Powerwall+ in combination with Tesla solar panels for those of you with a new solar system.
However, those with an existing solar system and a limited budget will be better off with a Generac PWRCell. Thanks to its modular design, you can start with only three battery modules (9kWh) that can power your essential appliances.
---
Final thoughts
With this Generac Power Cell Vs. Tesla Powerwall comparison coming to a close; let's review:
The new Powerwall+ from Tesla fronts up well against the Generac PWRCell bundle.
Tesla has a slight advantage over Generac with its battery energy storage solution.
The Powerwall+ is cheaper, has a better warranty, and offers innovative energy management features.
That said, the Generac PWRCell, with its modular battery design, is your best choice if you have an existing solar system.
What's your take on these two BESS? Let us know your thoughts in the comment section below or by following us on Twitter.