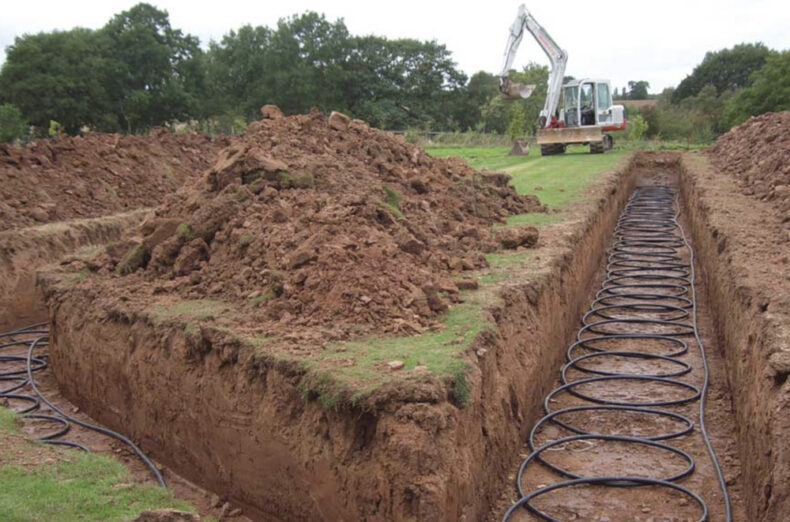 If you've thought about installing a ground source heat pump on your property, then you've probably wondered what the cost of one is.
There's no denying that the machinery needed to install some of these systems can be difficult to source – ultimately affecting the price point.
That begs the question – what is the cost of a ground source heat pump?
The cost of a ground source heat pump depends on the type of system installed, but on average the cost will be between $10,000 to $50,000, with horizontal loop systems being cheaper than vertical loop systems.
This article aims to break down all the various costs involved along with all the different systems you're able to install, along with potential savings.
But before you read any further, check out this article if you are interested in the temperature that a ground source heat pump is able to produce.
Foreword
Climatebiz experts design, research, fact-check & edit all work meticulously.
Affiliate Disclaimer
Climatebiz is reader-supported. We may earn an affiliate commission when you buy through links on our site.
---
What Is The Cost Of A Ground Source Heat Pump?
As mentioned in the introduction, the cost all depends on the type of system you go with. Things like soil type, space, and location all determine the overall price of your installation.
To give you a complete overview of the costs involved, a table graph separating equipment/systems costs has been provided.
Equipment
Equipment Cost
Cost with
Horizontal Loop
Cost with
Vertical Loop
Packaged Water to Air Heat Pump
$3,300 to $7,500
$12,000 to $20,000
$15,750 to $24,000
Split Water to Air Heat Pump
$3,850 to $7,500
$14,250 to $23,000
$17,500 to $27,000
Packaged Water to Water System
$4,000 to $8,000
$16,250 to $25,000
$19,500 to $30,000
You'll notice that in general, equipment costs are generally very similar. What dictates the overall price of your ground source heat pump is the type of system you want to be installed.
Horizontal Loop Systems
On average these systems are generally cheaper than their vertical loop system counterparts. The main reason is that the equipment needed to excavate the site is not as technical.
For horizontal loop systems, all you need to do is dig a trench at least four feet deep. Obviously, this can be done with basic machinery, e.g. manpower.
That said, you will need enough land around your property to opt for this type of setup.
Vertical Loop Systems
The reason these systems cost more is mainly due to the equipment needed to install the ground source heat system.
Unlike horizontal loop systems, vertical loop systems are usually installed due to there not being enough horizontal space to install a horizontal loop system.
But, in order for these vertical systems to be installed, you need to dig down, sometimes up to 100 to 400 feet (30 to 120 meters) deep.
To do this, you need some serious machinery, hence the higher price point.
---
Is Installing A Ground Source Heat Pump Worth The Price?
Most of you reading this article are obviously going to be heavily skeptical of the price point of a ground source heat pump installation.
Most of us don't willingly spend $15,000 on anything, let alone a heating/cooling system.
And while it's understandable to feel this way, it's worth being mindful of the eventual savings you'll experience by installing these systems.
Please note that this article is not so much motivated by cost (although it may seem that way), but rather by encouraging you to make the switch to renewable energy.
Saving on your electricity bill, however, is a bonus.
Let's assume your home is 2,000-sq.-ft.
Installing a ground source heat pump/geothermal heat pump for this size household would cost on average between $10,000 to $20,000.
Depending on utility rates and your choice of installation. Recouping these costs could take anywhere from 4 to 15 years.
Keep in mind that ground source heat pumps last for 25+ years, meaning the possibility to recoup your costs is definitely there.
---
Can You Get A Grant Installing A Geothermal Heat Pump/Ground Source Heat Pump?
In the united states, a 26% federal tax credit for residential ground source heat pump installations has been extended through to 31 December 2022.
This incentive will be lowered to 22% for all systems installed in the year 2023.
If you want to capitalize on the energy tax credit, it would be best to act fast in order to save the most on your installation.
It's worth noting, in addition to the U.S energy tax credit, you may be able to claim further incentives through your local area/state for installing a ground source heat pump system.
Have a look at the following database on state incentives for renewables & efficiency (DSIRE website).
---
Will A Ground Source Heat Pump Increase Home Value?
This is one of the most common questions that you may come across.
One of the most important questions potential homeowners ask themselves is – how much money will it take to maintain the home once I've bought it?
Homes with new appliances that use less energy (or alternatively appliances that utilize free energy: like solar) will often attract buyers.
On average, the common homeowner who invests in a ground source heat pump system will save between 40 to 75% on their HVAC energy consumption.
Any buyer is naturally attracted to a home that has up-to-date appliances that will cost them less every year.
You can think of it this way, the average homeowner tends to live in a home for 13 years.
Homeowners will experience significant savings over time by using a ground source heat pump system over a traditional HVAC system.
Let's assume you as an individual or family are looking to buy a new home.
If you were told that the home you were interested in was $5000 above your budget – because it had a ground source heat pump system installed into it – you'd be correct in assuming you'd be able to save $10,000 over the time you spend in that home.
Knowing about this upgrade would make it hard to justify the purchase of a similar home without this addition.
---
Final Thoughts
Knowing the costs involved in installing a ground source heat pump allows you to make an informed decision before buying one.
And sure, not all of us will be able to afford one, and that's ok. We predict that this green technology will only become more affordable as technology advances sweep the market in the near future.
So we guess the final question would be – is a ground source heat pump really worth it?
If you have the funds, a ground source heat pump is a great eco-friendly way to heat your home in the winter and cool your home in the summer, all from just the power of the sun.
---
Further Reading: