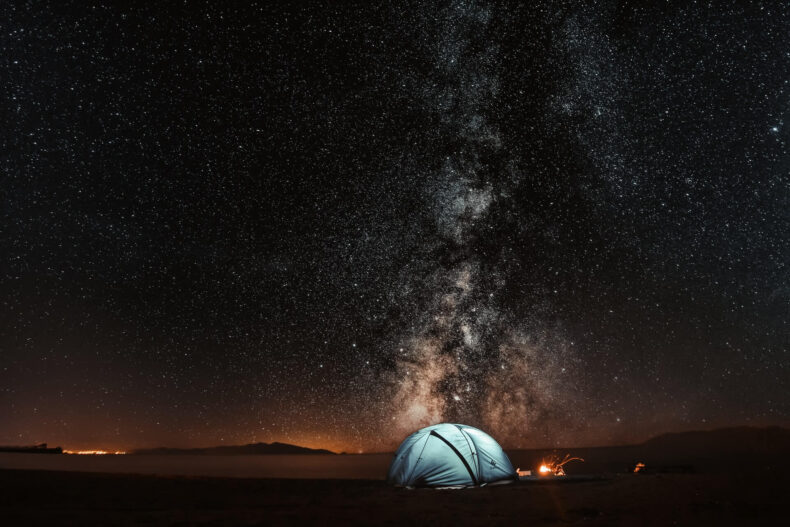 New solar camping lanterns are powerful, compact, provide hours of bright light to your camp and can be charged simply by the sun. We highly recommend them for all your overnight outdoor adventures in combination with all your other solar powered gear.
Dozens of models are available with many different features, we have carefully selected the best solar camping lanterns based on the following criteria:
LED power
Hours of light
Charging mode (solar panel, hand cranking, internal battery)
Quality of the material – Design
Weather resistance
In our review of the 10 best solar lanterns for camping you will find a lantern for all types of use. From the most compact to bring on an overnight hike, to the toughest one with a built-in USB power bank for longer camping trips.
10 Best Solar Lanterns For Camping
Here is a quick overlook at our selection of the best solar lanterns for camping:
LuminAid is one of the pioneers of solar lanterns. We love their self-inflatable design which enables efficient light diffusion when inflated, and is extremely compact when flat (6*6*1in).
We have selected their most powerful and versatile model, the TITAN. It can not only perfectly illuminate a 300 square foot area with up to 300lumens, but also charge your mobile devices thanks to an internal battery of 4'000mAh. Two modes are available to charge your solar lantern, either with the large solar panel on top (18 hours to full charge) or via USB (4 hours).
A best seller for camping enthusiasts that will provide up to 100 hours of light at full charge.
---
We love this solar camping lantern by Mesqool. First, it offers three charging modes: solar, USB and the very useful hand crancking dynamo.
Then, it has a built-in battery of 3'000mAh and can be used as a mini powerbank to charge a phone. In addition, it features a clever foldable design, when open it will illuminate your camp at 360° and folded it easily fits in a bag. Finally, it is well priced and comes with a one year warranty.
Never run out of light thanks to the hand crancking dynamo.
---
MPowered is an experienced brand when it comes to solar lanterns. We are featuring their latest product the LUCI pro 2.0. We love it! It is compact thanks to its inflatable design, powerful and long lasting (150 lumens for 50 hours).
It can act as a powerbank with its 2'000mAh rechargeable battery. Thanks to its built-in solar panel you will have enough power for 50 hours of light per day. Furthermore you can charge it through the micro-USB port.
Finally it is completely water and shock-proof, it can even float and light at the same time.
A best buy at a friendly price.
The solar camping lantern by Agptek features a classical lantern design, with a large hook at the top. It is built with quality ABS plastic that will withstand heavy rain. 36 LED lights provides 360° very bright illumination to your camp.
We love the small solar panel at the top that will charge the internal battery in 8 hours. In addition, you can use the hand crancking dynamo (1 min = 20 min of light) or the USB and car lighter plug for charging. Thanks to its 2'000mAh internal battery it also acts as an emergency powerbank.
A great product at a fair price.
The Runacc solar lantern is a great choice for camping parties. It features a 7 color RGB light mode and a built-in Bluetooth mini speaker that will put you in a happy mood. The internal lithium battery has a decent capacity of 2'000mAh, for 6-10 hours combined light and speaker use.
Conveniently, it can be charged via the solar panel on top (24 hours) or with the USB port (2 hours). Finally, its inflatable design makes it very compact and handy, it can even float (waterproof IP66).
At a price below 40 USD, you'll get one of the best solar camping lanterns, plus an emergency battery bank, and a Bluetooth speaker. Unbeatable!
---
A great bundle of two compact solar lanterns to light up your camping nights by COVMAX. We really enjoy the design of this solar camping light. Thanks to the foldable silicone body, it will fit in your hand when folded or can be attached to your backpack with the two hooks.
This camping lantern goes straight to the point: it will provide strong lighting for up to 10 hours, and can be charged with the solar panel on top (7 hours) or the USB output (2 hours). It will also add some fun to your camp with the 7 color RGB mode .
Our best pick as an entry product, with less than 18 USD for two Covmax solar lanterns.
---
The solar lantern by JMADENQ is a great addition to your camping gear. It works both as a flash light and as a 360° lantern (60 lumens) thanks to its foldable design. It has two charging mode: through the top solar panel (10 hours) or via the USB output (3 hours).
We really appreciate the removable lithium battery; you could get a spare one for more autonomy. Other unit with built-in batteries might stop working after 2 to 3 years. This problem won't happen with this lantern as the battery can replaced. Like similar models, it also works as an emergency battery bank.
Finally, its price is extremely competitive, at 12.5USD a unit.
---
We like this small camping lantern by Zuppnm because of its compact design with the convenient top hook, and its remote control. It is certified IP65 and can withstand all type of weather, therefore it is perfect for a night at the camp.
Small by its size it delivers a powerfull bright light, its built-in battery is one of the largest of our review (3'600mAh) and can fully charge a phone. It features two charging modes either with the USB solar panel built on top of the lantern for a slow charge, or through the USB output.
Finally, it is very well priced at less than 17 USD a unit.
---
LETOUR camping lantern will do a great job at illuminating your camping nights. For us, it is one of the best ultra-compact solar camping lanterns thanks to its remote control. This is a very convenient feature when the light is installed at higher elevation.
We also love its large built-in battery of 2200mAh that works as an emergency battery bank. It can be charged by the built-in solar panel, 7 hours of sunlight provides 3 hours of light, or by the USB output. Finally, it will resist to the rain (IP45).
Go for it, you will be surprised by its brightness!
---
We love the KISEN collapsible solar lantern for its versatility. This extremely compact and lightweight product is also a flashlight, and an emergency power bank. When closed, it can fit in a pocket or can be hooked to your backpack. There are two charging modes: either through the built-in solar panel, 7 to 10 hours of full sun to full charge or via USB, 2 hours to full charge. Thanks to the built-in rechargeable lithium battery it will also charge your phone in case of emergency.
Finally, with a price below 17 USD it is a great entry choice as a solar lantern for all your camping trips.
---
Final Thoughts
Solar camping lanterns are a great addition to your solar generator for an off-grid experience. Extremely versatile (LED light, battery bank, multiple charging methods) and with prices as low as 9 USD, you have no excuse not to put them on your priority check-list when going overnight camping.