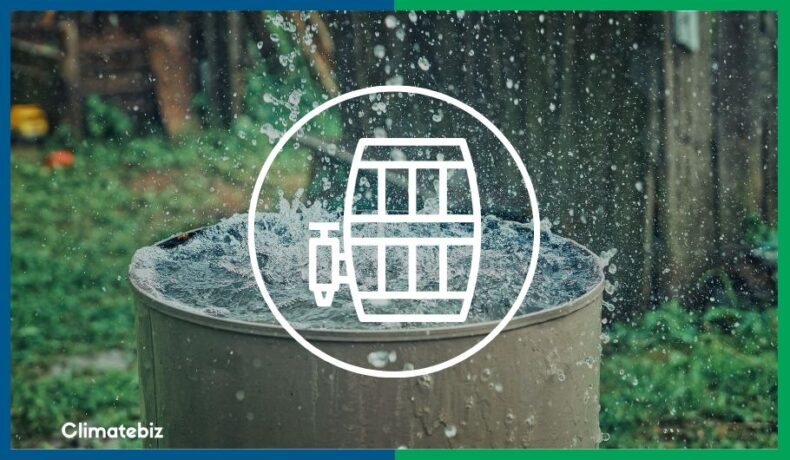 Collecting rainwater in barrels can seem rather complicated, especially when you don't know where to start or which rain barrel to use.
We understand how stressful it can be to choose a suitable rainwater collection storage device for your needs, so here's a little tip; if you're unsure about committing to a more extensive system, rainwater barrels are a great option.
However, your decision-making doesn't end there — there are a few choices you still need to make. For instance, what material should your barrel be? How big should it be?
This buyer's guide covers everything you need to know to about buying the best rain barrels. From materials to cost, we've got it all!
Foreword
Climatebiz experts design, research, fact-check & edit all work meticulously.
Affiliate Disclaimer
Climatebiz is reader-supported. We may earn an affiliate commission when you buy through links on our site.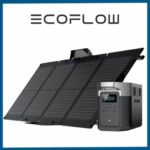 Use our coupon code to grab this limited deal from EcoFlow while it lasts. Back up your home during power outages with the DELTA Max + 110W solar panel.
---
What Is A Rain Barrel?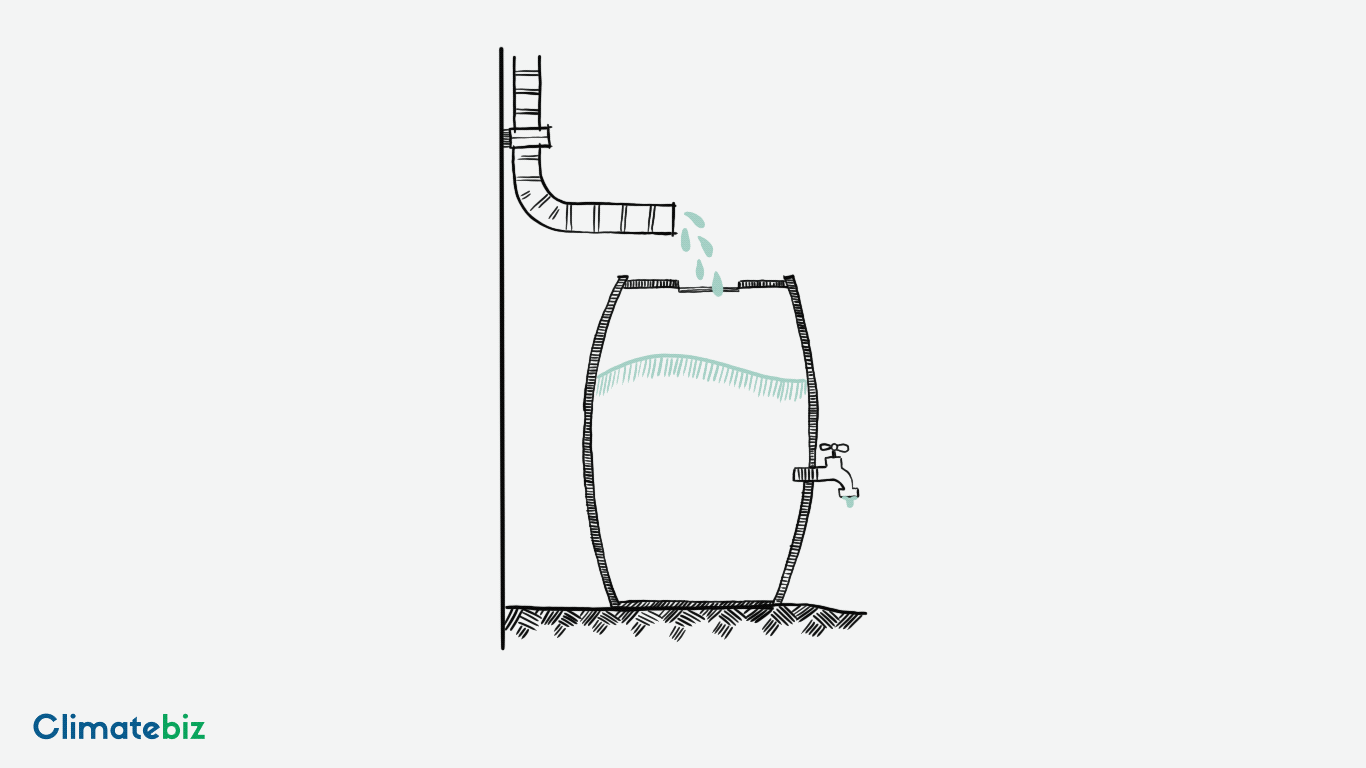 Rain barrels are the cheapest and easiest storage units for rainwater collection.
The barrels come in different sizes and materials to fit your needs. Additionally, they're easy to install, making them a great option when starting a rainwater collection system.
However, just like any product, rainwater barrels aren't perfect. They have limited storage capacity and can only connect to one downpipe at a time.
That said, they're great for watering your garden. So if you're looking for an easy way to offset your water bill, rainwater barrels are for you!
Positive
Rainwater barrels are easy to install.
They are the best option for watering your garden.
They're easy to find at a hardware store or online.
Their compact size allows you to install them almost anywhere.
Negatives
They can only hold a limited amount of water.
They can overflow during storms, making them less efficient.
---
What Should I look For When Buying A Rain Barrel?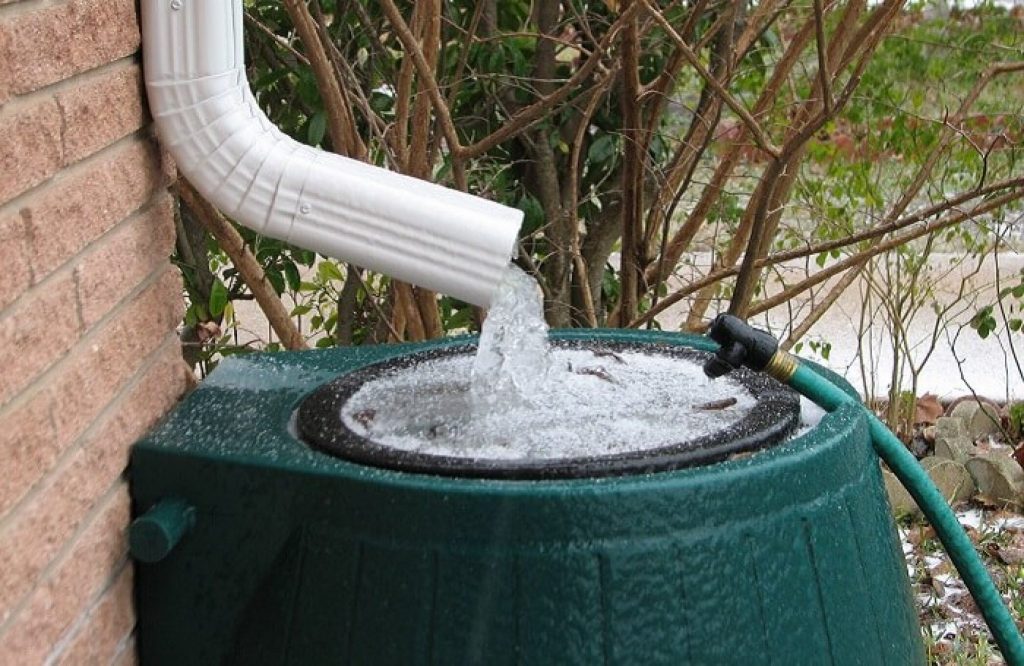 When purchasing a rain barrel, you need to be mindful of the following:
The size: a rain barrels dimensions are very important. It's important to keep this in mind — you don't want to buy a barrel that doesn't fit properly. For reference, the average width of a rain barrel is 18.7 inches.

Gallon amount: can it hold the rainwater you collect? The amount of gallons the barrel can hold will depend on your demand and supply of rainwater (click here to find out how much rainwater your home can collect). For reference, rain barrel sizes range from 20 gallons to 100 gallons.

The material: the type of material will affect how you use the barrel. For example, if you're just using the rain barrel for gardening, a material like wood or PVC would be just fine. However, if the rainwater is for indoor use, a BPA-free barrel would be best. You can check out BlueBarrel's HPDE food-grade barrels.

The outlet: some rain barrels can come with outlets that are ready to connect your hose while others come with industrial outlets, requiring more fittings.
---
How Much Should I Pay For A Rain barrel?
The price of a rainwater barrel depends on its size and material, with the average cost for a rainwater barrel being around $170.
You can get a decent rainwater barrel from Amazon for $98. But you can also fork out $412 for an up-cycled oak whiskey barrel.
| Barrel Type | Price |
| --- | --- |
| Small, low-end barrel | $98 |
| Medium-sized barrel | $120 |
| Large barrel | $177 |
| Ornamental Barrel | $399 |
| Average Cost (Excluding Ornamental Barrel) | $132 |
We've compiled a quick table to highlight the average costs of different-sized barrels.
Many American states offer reduced rates or tax-free options for rainwater barrels. Check out our
rainwater legalities article
for more information.
---
How Long Do Rain Barrels Last?
All materials have a lifespan; some can last hundreds of years while others only last ten years.
Depending on the material you use, your rain barrel can last from 20 years to 100 years. Here are some materials that you can choose from:
Wood barrels: most wooden barrels can last between 3 – 5 years. However, if you treat the wood, the lifespan can be prolonged to around 12 years.

PVC barrels: PVC stands for polyvinyl chloride. These barrels can last between 25 – 40 years, depending on their exposure to the sun.

Stainless steel barrels: stainless steel is rust-resistant but will last 25 – 50 years before deforming or rusting.
---
10 Best Rain Barrels
Option 1: Classic Look (98 gallons)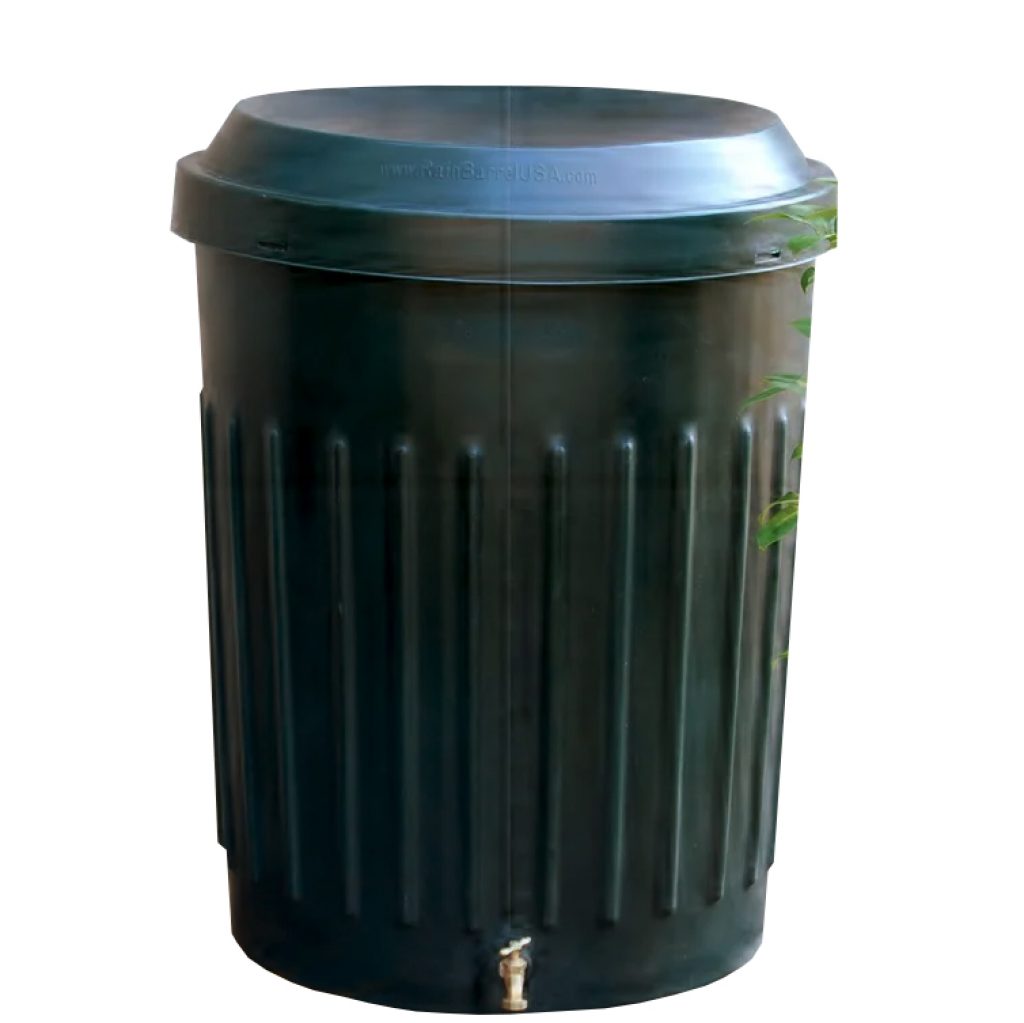 Classic Rain barrel By RainBarrelUSA
This rain barrel has a classic look and is best for those looking for ample storage at a reasonable price.
The barrel is made from PVC plastic and has a built-in filter screen. However, it's not BPA-free — making it for outdoor use only.
It comes with a brass spigot that can fit any garden hose.
It can hold 98 gallons of water and is 28 inches in diameter and 37 inches tall.
---
Option 2: Low-Cost Buy (55 gallons)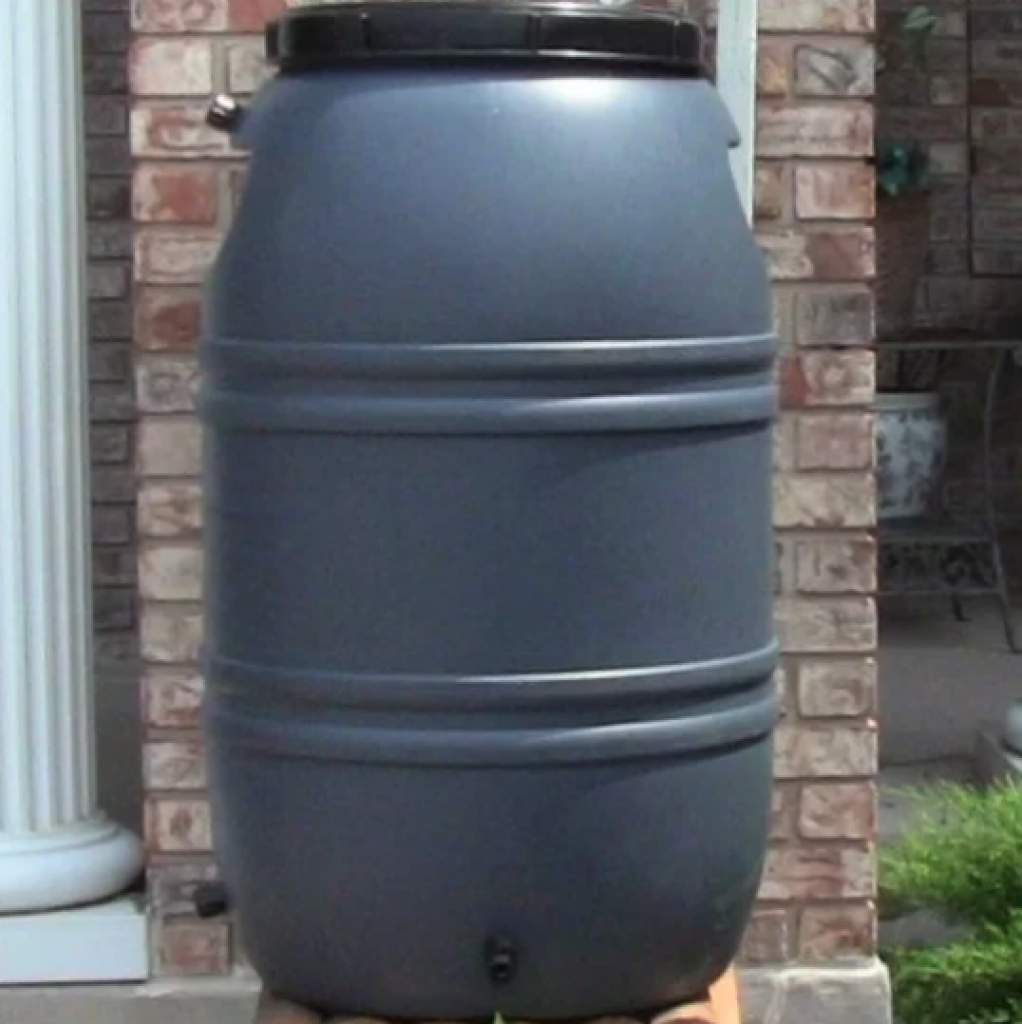 Upcycled Weather Resistant Rain Barrel
If you're looking for a decent-sized barrel for the best price, this barrel is for you.
It's made from polyethylene plastic and holds 55 gallons of water, and is weather resistant.
However, it doesn't come with any fittings, so you'll need to buy a spigot.
Its dimensions are 22 inches in diameter and 38 inches tall.
---
Option 3: Slim Barrel (26 gallons)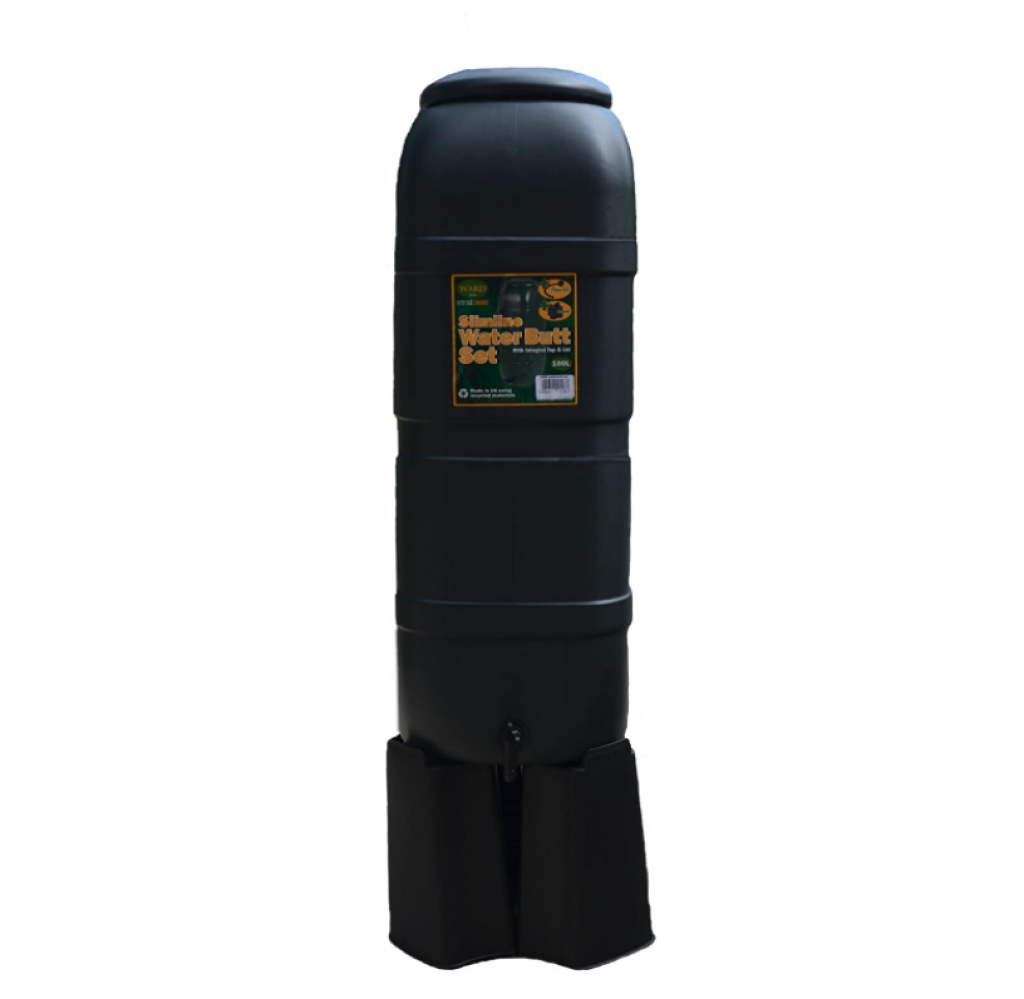 Bosmere K750 Slim Rain Barrel
Some of you may have very limited space; that's where this slim barrel (at only 13 inches in diameter) comes into play.
That said, it's still the standard height of 38 inches. The width to height ratio only allows for 26 gallons of water.
Honestly, the barrel is a bit steep in cost for what it offers. However, if you're looking for a barrel that doesn't take up space, then you'll find it perfectly suitable.
Finally, the barrel comes with a spigot and stands made from polyethylene plastic.
---
Option 4: The Bin Water Barrel (55 gallons)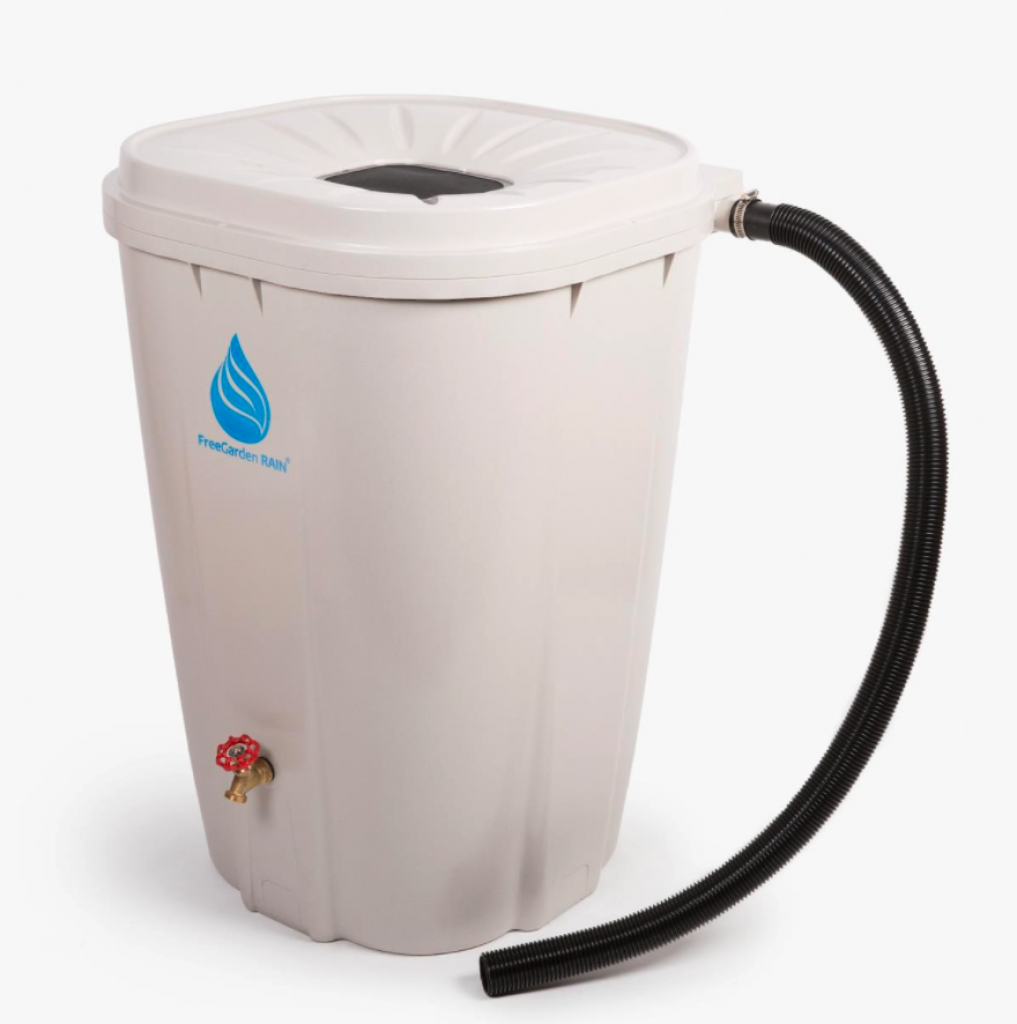 Lee Valley Rain Barrel
Sure, it looks like a trash bin, but it does have some advantages.
It has a good storage size of 55 gallons as well as a filtering screen. Additionally, it has an overflow pipe as well as a spigot.
The barrel is made from industrial-grade UV-stable plastic. Making it a durable option.
It's 24 inches squared and 34 inches tall.
---
Option 5: Rain Water Bin But Aesthetic (45 gallons)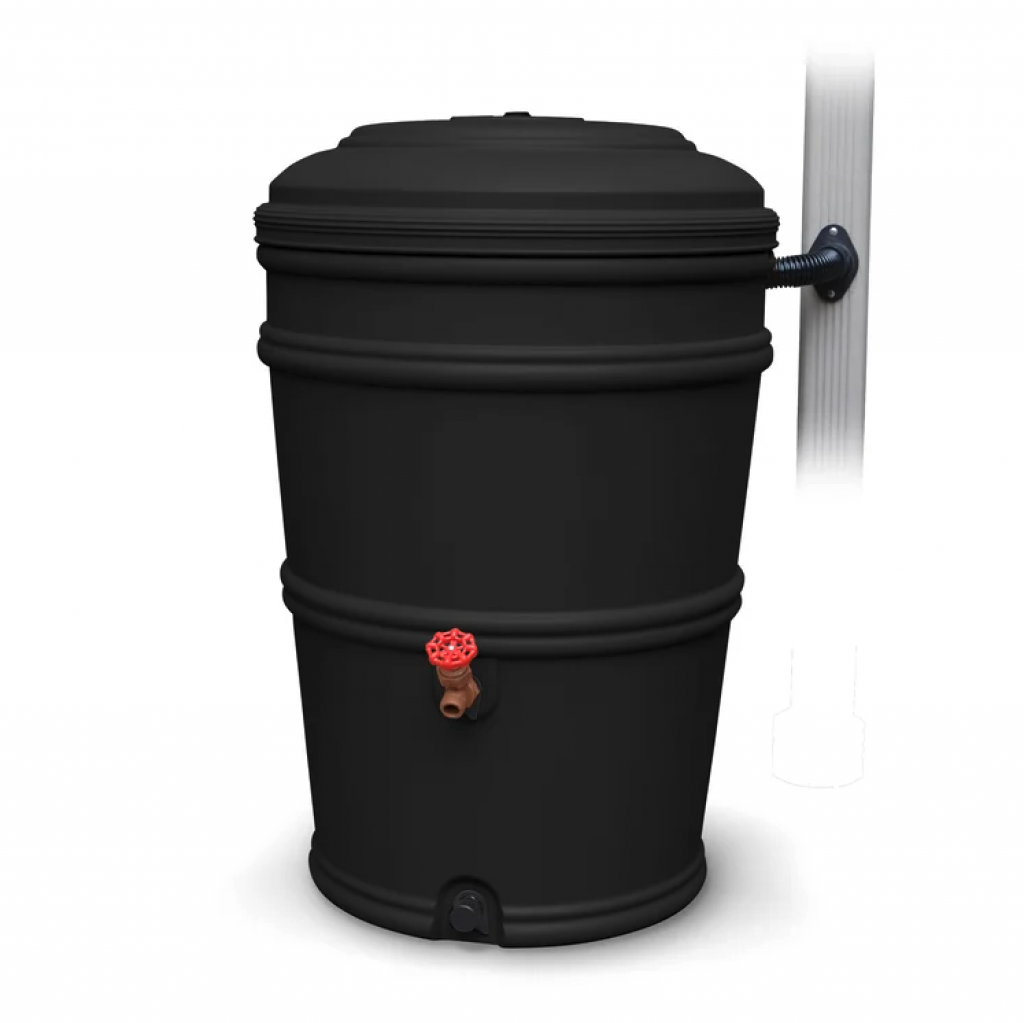 EarthMinded Rain Barrel
If you like the look of bin-like water barrels, this is a good option for you.
Its black color and design make it a rainwater bin with a bit of style.
The barrel comes with an overflow pipe that connects back to your downpipe. Additionally, it comes with a spigot and can be turned into a planter box.
At 23.5 inches wide and 35 inches tall, this standard-size barrel is made from 85% recycled HDPE resin.
---
Option 6: Collapsable Rain Barrel (53 gallons)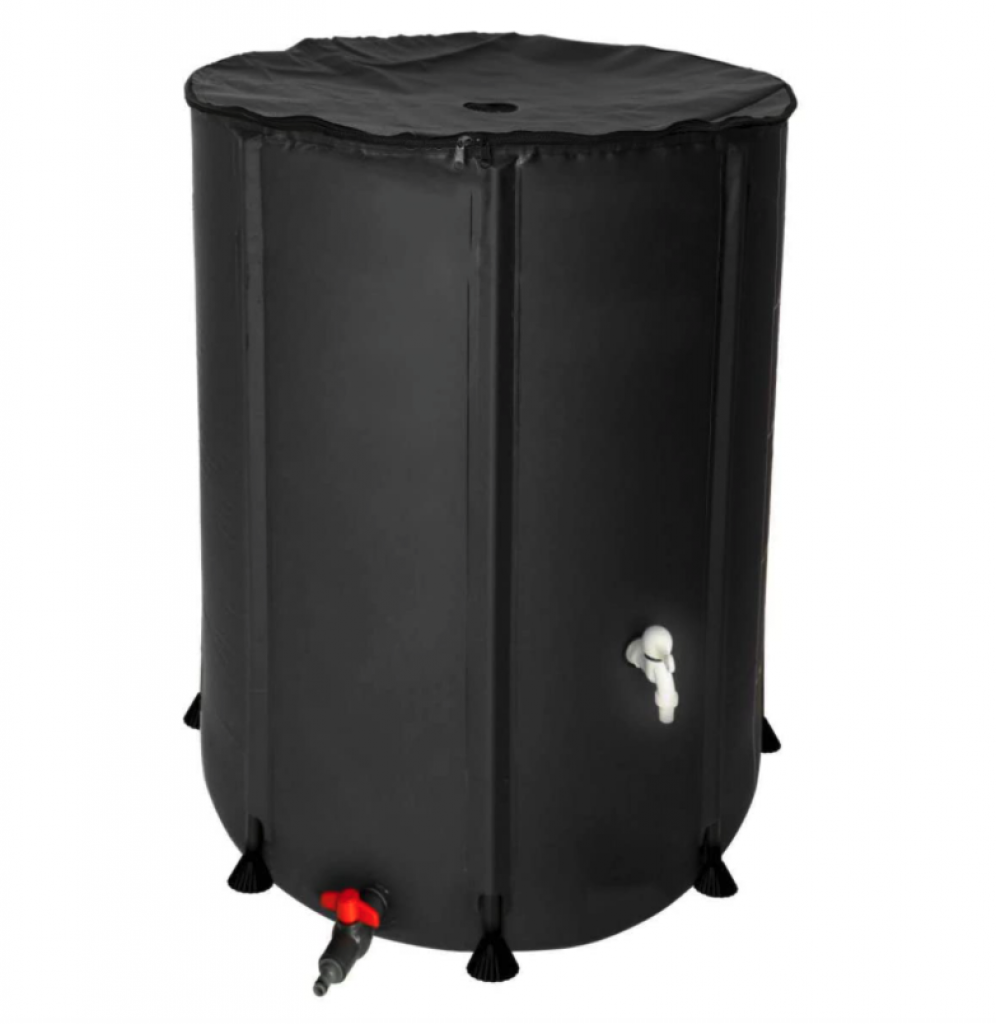 RIOBOW Collapsible Rain Barrel
Rain is often seasonable, so if you're looking for a rain barrel for the rainy season, we suggest this one.
The barrel is held up by a PVC frame and uses a durable tarp to hold the water.
The barrel has an outlet tap at the bottom as well as a spigot. Additionally, it filters the rainwater with a nylon mesh screen.
When built, it stands at 27.3 inches tall and 55 inches wide.
---
Option 7: Mock Wooden Barrel (45 gallons) ||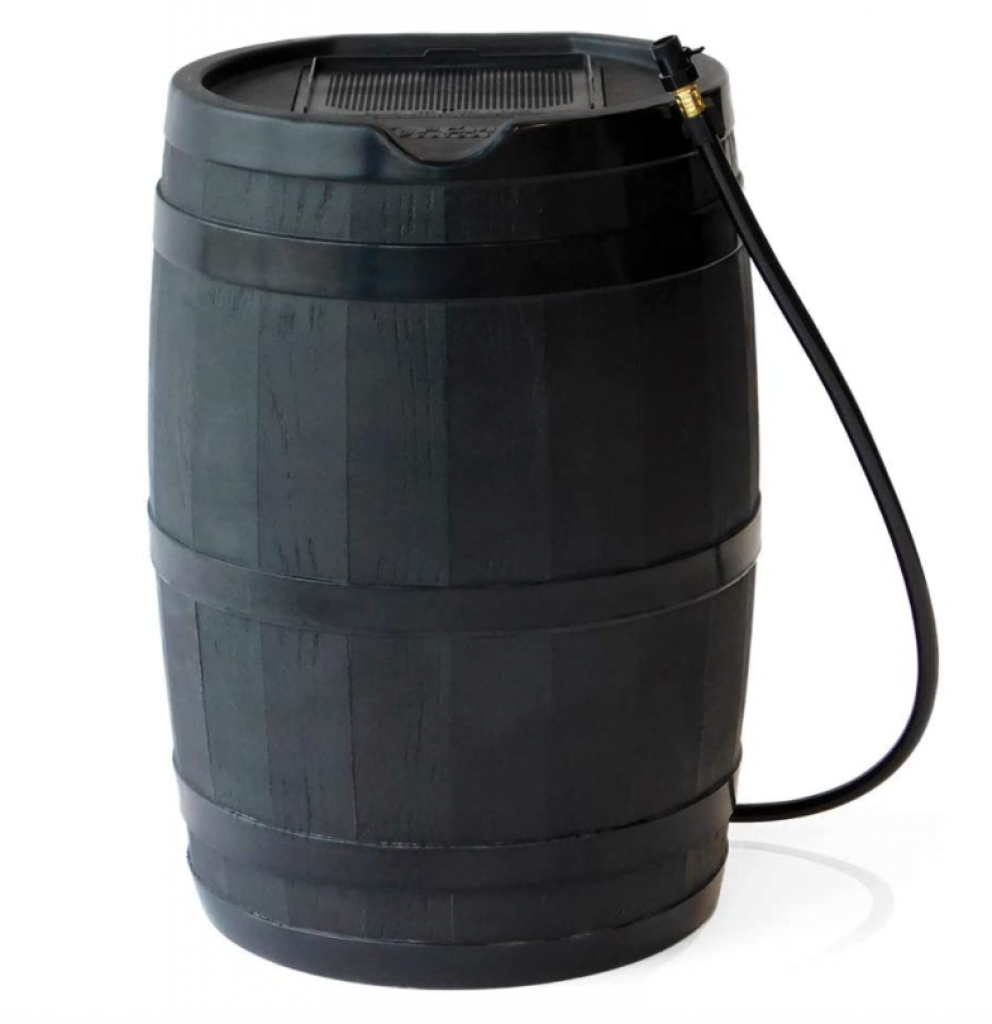 FCMP Outdoor RC45 Rain Barrel
Sometimes you just can't beat a wooden barrel. Unfortunately, though, wood barrels don't last long and can be expensive.
The RC45 rain barrel is made from recycled polyethylene plastic that is UV-resistant and BPA free.
A cool feature is its flat-back, allowing it to be placed right against the wall. Additionally, it has a safety rib, making it childproof.
The barrel is 22 inches wide and 31 inches tall.
---
Option 8: Vintage Whiskey Casket (53 gallons)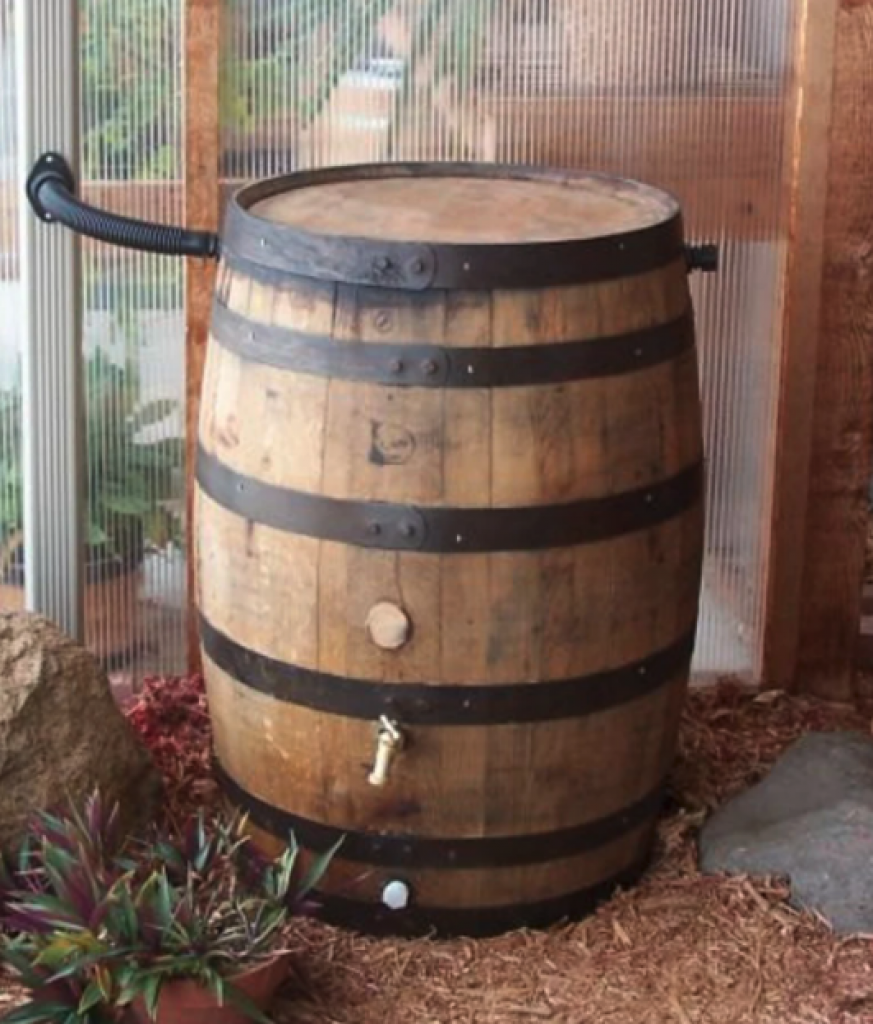 White Oak Whiskey Barrel
If you're against mock materials, you can go for this vintage whiskey casket.
Since it's an up-cycled casket, the white oak has been treated to last up to 15 years.
This is a vintage barrel at the end of the day, and the cost reflects that. The barrel comes with a spigot and overflow pipe.
The barrel is 23 inches by 35 inches and weighs 105 pounds.
---
Option 9: Wicker-Styled Planter Barrel (50 Gallons)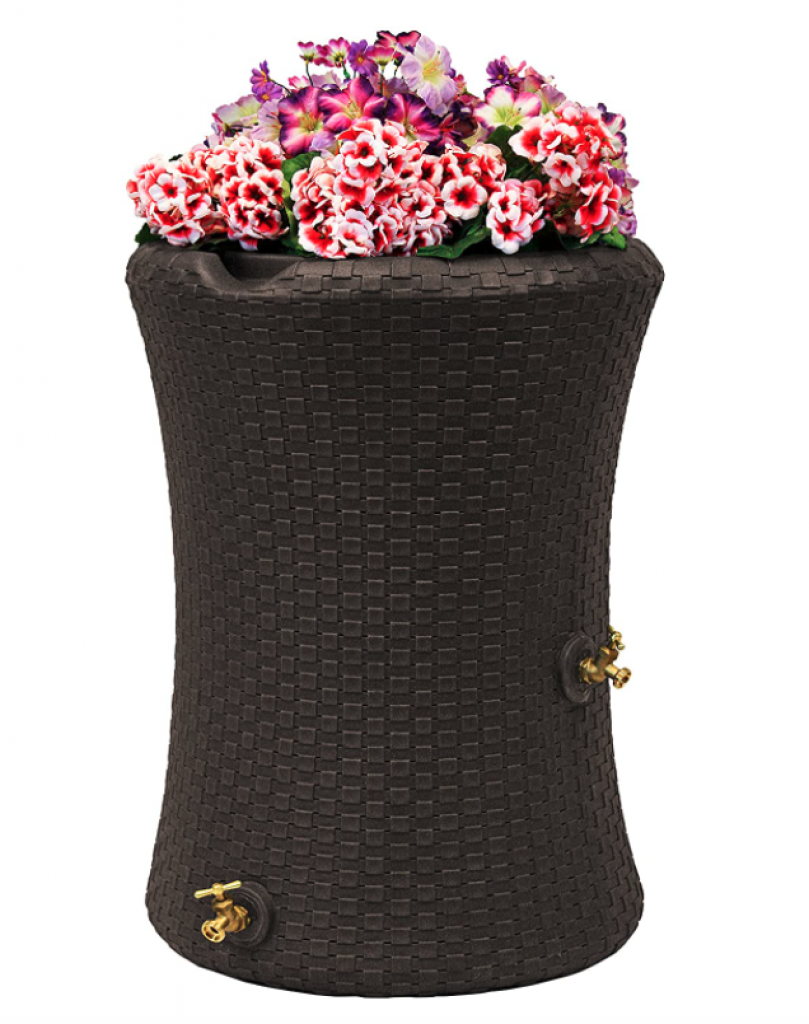 Impressions Nantucket Rain Saver Rain Barrel
Not all rain barrels need to look like barrels. This polyethylene plastic rain barrel is styled to look like a wicker basket.
Additionally, it includes a planter, making the barrel look more like a garden feature than an eye-sore.
The barrel will integrate perfectly with your landscaping and bring color to your garden.
Being 23 inches wide and 32 inches in height, it fits perfectly against your wall.
---
Option 10: A Rain Barrel Urn (50 Gallons)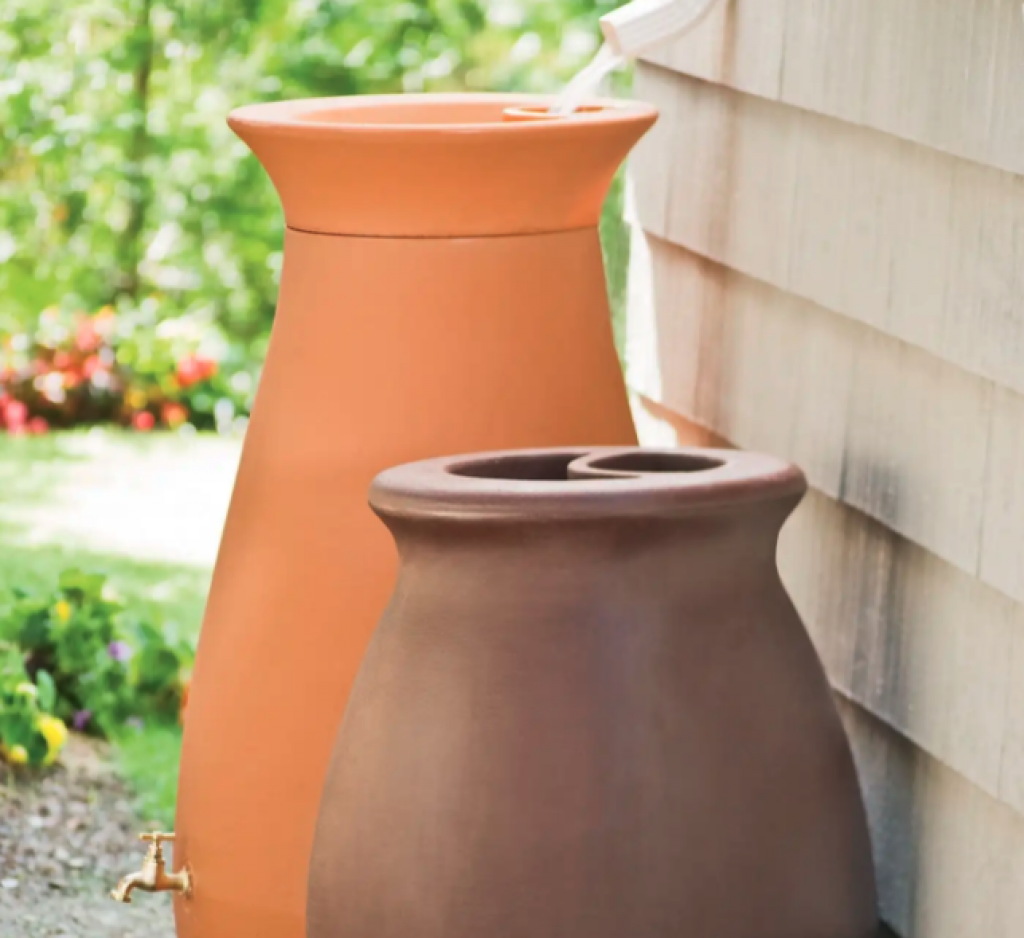 Gardener's Rainwater Urn
Our final option is a rain barrel that looks like a baked clay urn.
The barrel is scratch and chip resistant and made from polyethylene plastic. It's UV-stable and has a matte finish.
It includes a brass spigot and a 4-inch hose outlet.
There's no need to hide this stylish barrel which is 23 inches by 33inches.
---
Final Thoughts
Rainwater barrels come in different shapes and sizes. This can make it difficult to choose the "right" one.
The four things to look out for when buying a barrel are its size, material, outlet, and volume.
Luckily, there are different options, and there is sure to be one that fits your criteria —whether it's a small and slim tank or a vintage up-cycled barrel.
The best part about rain barrels is that they're easy to install and fit almost anywhere. They're the perfect storage solution if you're looking to build a DIY rainwater system.