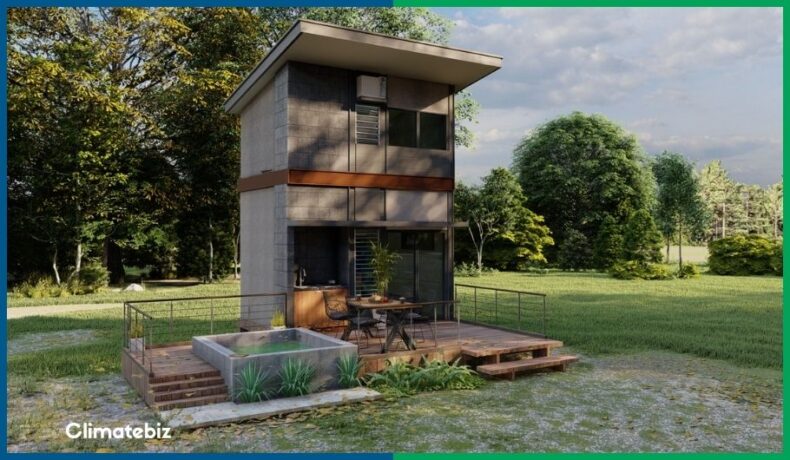 Tiny homes continue to gain traction, with word spreading far and wide through big platforms such as YouTube and Netflix.
But what makes a tiny home, well, tiny? More importantly, what benefits can tiny homes provide, how much do they cost, and are they for you?
In this article, we provide an extensive guide to these little gems, answering all of your burning questions and more.
Don't be surprised if you find yourself wanting to adopt the tiny home lifestyle by the time you're finished reading!
Foreword
Climatebiz experts design, research, fact-check & edit all work meticulously.
Affiliate Disclaimer
Climatebiz is reader-supported. We may earn an affiliate commission when you buy through links on our site.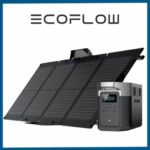 Use our coupon code to grab this limited deal from EcoFlow while it lasts. Back up your home during power outages with the DELTA Max + 110W solar panel.
What Are Tiny Homes?
Tiny homes are household structures under 600 square feet. However, it is essential to note that a building's footprint refers to the amount of ground it covers — it does not consider vertical elements such as lofts or second floors. Therefore, while tiny homes are considered small, they can still accommodate a family of four.
There are two categories of tiny homes:
Built on wheels: homes built on wheels can also be built on trailers, allowing you to take your home wherever you go.
Built on a foundation: foundation-type tiny homes are fixed properties and must adhere to state and county regulations. In fact, some counties might prohibit tiny homes by stating a minimum footprint more significant than 600 square feet.
Ideally, tiny homes are self-sufficient and sustainable. However, if you have a tiny home on wheels, you'll need to find a way to obtain electricity and water and consider waste disposal — like you would with an RV.
For further information, refer to our articles on RV solar panels and greywater systems.
Lastly, tiny homes revolve around the minimalism philosophy — the idea that material things won't make you happy, and the fewer things you own, the more content you'll be. Therefore, switching to a tiny home means you'll likely have to downsize and say goodbye to some of your belongings.
---
How Much Do Tiny Homes Cost To Buy?
In the U.S., a tiny home kit will cost you between $6,000 and $8,000.
Tiny homes are often manufactured in bulk, making it relatively easy to source a tiny prefabricated house. These homes are considerably cheaper to buy than a typical prefab home as they're the same size as a small cabin.
However, some tiny homes are far more expensive. Due to customizations and state-of-the-art amenities, some tiny luxury homes can cost up to $60,000.
Here's the complete breakdown of the different types of tiny homes:
---
Tiny Homes On Wheels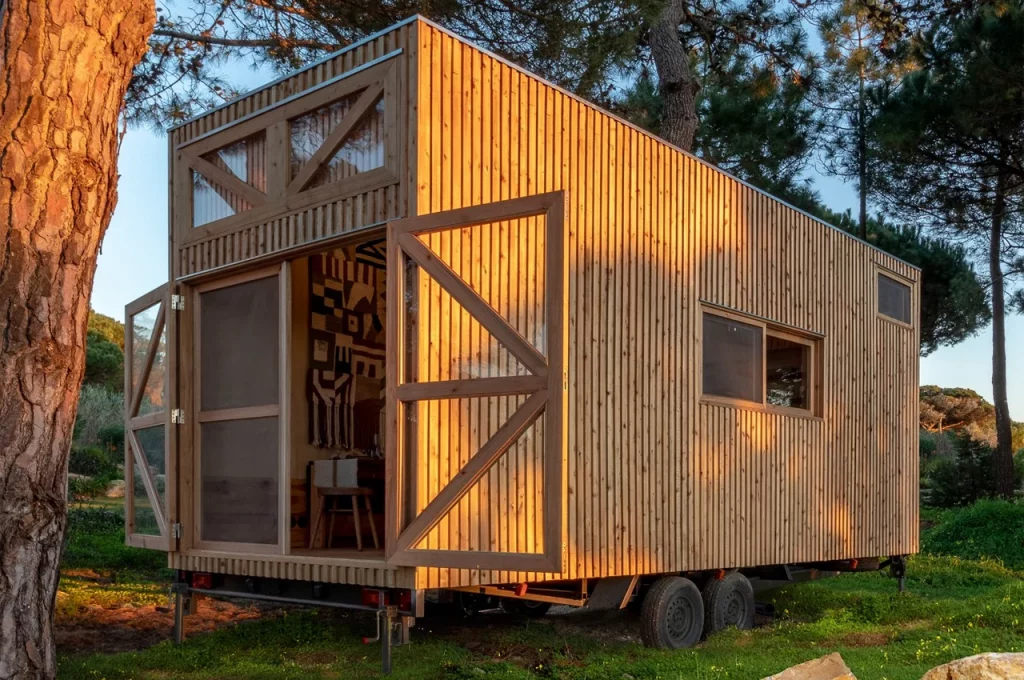 These tiny homes count as temporary structures. Many homeowners opt for homes on wheels due to the building regulations in their state.
Tiny Homes On Wheels ($6,000)
These tiny homes are built straight on a frame with wheels. However, they're not as movable as small homes on trailers.
Houses such as these are specially made on wheels to avoid strict building regulations which change per state or county.
The best way to check whether you can build a tiny home is to contact your local council.
Trailer Tiny Homes ($8,000)
Tiny homes are perfect for adventurers looking for an alternative to van life or RV living.
These homes are built on a trailer that you can hook to a vehicle. They're also durable and sturdy so that they stay intact during travels.
However, there are strict size regulations for trailer homes. These dimensions are:
Total length: 65' (excluding bumpers)
Trailer length: 40'-50'
Tiny home length: 45'
Width: 8'6"
Height: 13'6" (this height is measured from the pavement to the highest part of your home)
---
Tiny Homes On Foundations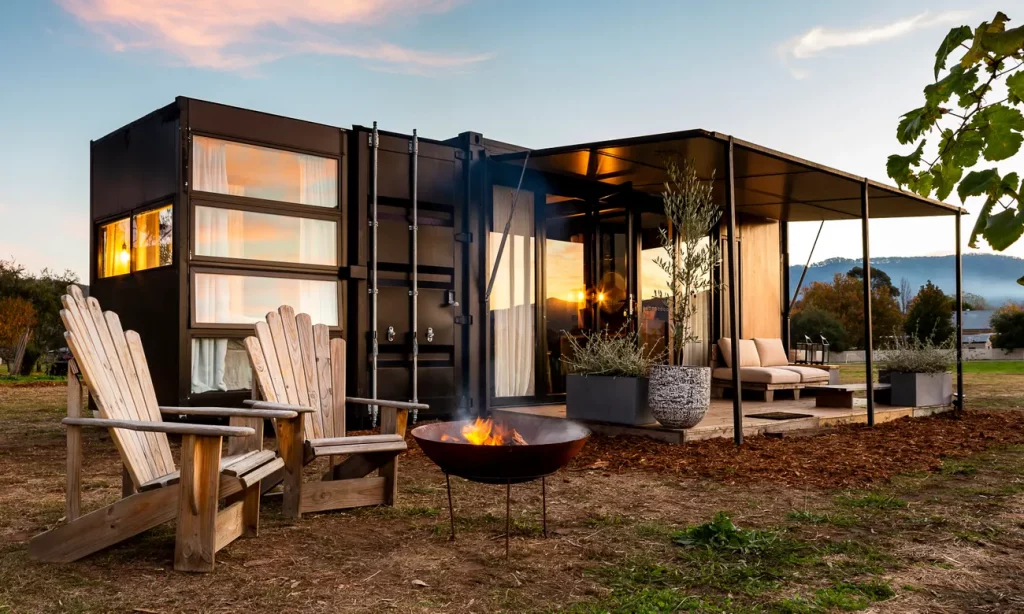 These tiny homes are very similar to traditional homes — the only difference is their size.
There are three types of foundation-type tiny homes:
Shipping Container Homes
Tiny Luxury Homes
Micro-Apartments
Shipping Container Homes ($10,000 — $35,000)
Shipping container homes have taken the world by storm.
These homes are made from shipping containers that can only be used once. So instead of scrapping the container, companies convert them into tiny homes.
But don't be fooled; these tiny homes come with everything you'll need to be comfortable such as insulation, windows, and fittings such as taps and toilets.
In short, shipping container homes are perfect for those who love industrial-style homes.
Tiny Luxury Homes ($30,000 — $45,000)
Luxury tiny homes are precisely that — luxurious.
With high-end finishes and fittings, they soar above the average price of a small house. This is problematic, considering that tiny homes are all about minimalism. Regardless, they're still a fraction of the price you'd pay for a standard home.
Micro-Apartments ($1,095 — $2,775)
A micro apartment is smaller than a typical apartment — think of a small studio apartment.
These homes offer the tiny home experience for city dwellers who don't want to move around or live in the country. Moreover, they provide the basic amenities that a standard apartment offers and have a footprint of under 350 square feet.
| City | Rent Per Month |
| --- | --- |
| New York | $2,775 |
| San Francisco | $1,695 |
| Denver | $1,095 |
A table showing the rent for micro-apartments around the country.
---
How Much Do Tiny Homes Cost To Build?
Building a custom tiny home costs more than buying a prefab home, but they're still 85% cheaper than buying a standard home. The average custom-built tiny house costs around $45,000 but can go up to $100,000 if you want a luxurious home with all the bells and whistles.
Here are some costs to consider when building your own custom home:
Building permits and taxes
Land
Square footage
Amenities
Foundations
---
Cost Per Square Foot
You can expect to pay $150 per square foot for your home — for the structure only. You'll also need to factor in costs related to foundation building and labor.
Traditionally, a small house measures 8 feet by 16 feet and includes a living area, a loft with a bed, a kitchen, and a bathroom. However, that's only 128 sq., and the maximum size is 600 sq.
While this may sound cramped, many homeowners take advantage surrounding area outside their homes.
Table
We've drawn up a table that shows different square foot options and estimates how much they'll cost.
| Square Feet | Square Metres | Comparison | Cost |
| --- | --- | --- | --- |
| 200 | 18.5 | About a single garage | $30,000 |
| 400 | 37.2 | Just larger than a double garage | $60,000 |
| 600 | 55.7 | A triple garage | $90,000 |
A table comparing the cost of different sized tiny homes.
---
How Long Do Tiny Homes Last?
Tiny homes can last anywhere between 7-50 years. However, it's important to note that this is the minimum lifespan. If you keep your home well maintained, it can last for much longer.
---
Different Materials
Smaller houses made from natural materials, like wood, will have shorter lifespans, whereas houses made from durable materials such as bricks or metal (shipping containers) will last much longer.
Lifespan-wise, houses made from natural materials like wood can last between 7 and 10 years — you can extend this lifespan by sealing the wood and ensuring that you maintain your home by sealing leaks, etc.
Conversely, custom-built houses made from bricks require less maintenance and last up to 50 years — this is the same lifespan as a typical home.
---
Helpful Tips
Here are five tips on how to prolong the lifespan of your home:
Conduct regular inspections: be on the lookout for future problems.
Attend to issues ASAP: issues like water leaks will only become more expensive to fix with time.
Build with quality materials: cheaper materials will save money during building but will cost you in the long run.
Apply coatings regularly: applying another coat of paint or treating your wood will make the material last longer.
Use professionals: unless you have fantastic DIY skills, using professionals will ensure the job is done correctly.
---
What Are The Benefits Of A Tiny Home?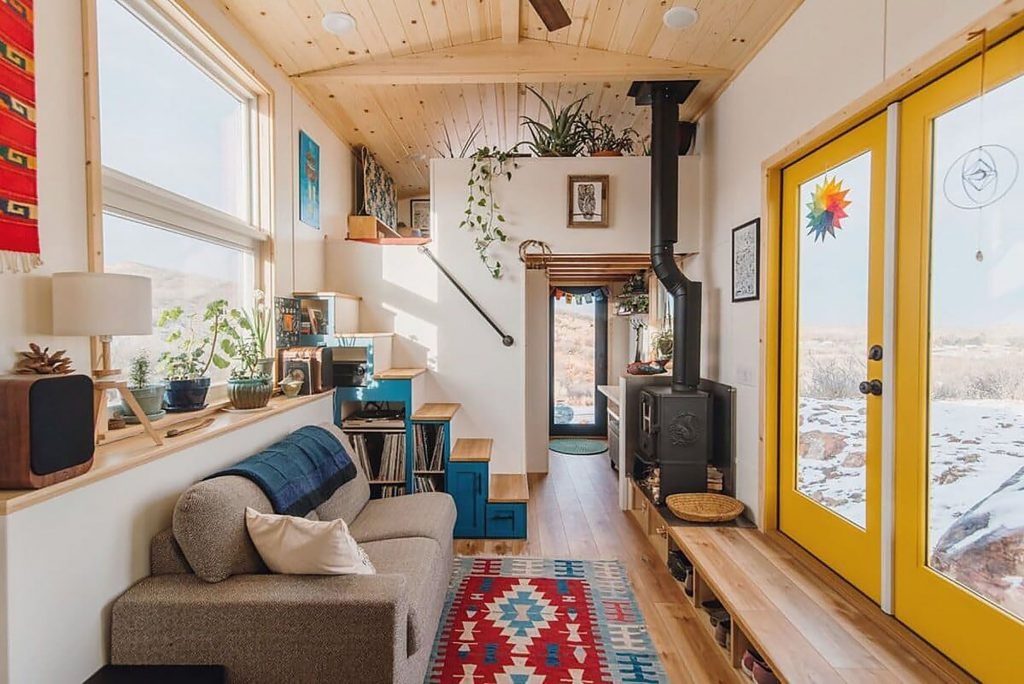 ---
Freedom To Move Around
You'll likely want to move around if you've chosen a tiny home on wheels.
Choosing a tiny home will allow you to move cross-country without selling and buying new houses — this is great if you're a freelancer or someone that works from home. It's a new form of slow traveling, moving from state to state throughout the year.
---
A Simple Living Lifestyle
Say goodbye to junk and hello to a simple lifestyle.
You can opt for a minimalist modern home or a rustic homestead feel. Either way, without materialism in your life, doors will open up and let you smell the roses.
Living in a tiny home reframes what's truly important to you and what objects you have due to consumerism.
---
A Sustainability Lifestyle And Low Carbon Footprint
Choosing a tiny home as your next dwelling will curve your carbon footprint — it's the perfect option for those wanting to live off-grid.
You can achieve this by doing the following:
---
What Are The Disadvantages Of A Tiny Home?
---
Zoning Codes And Regulations
Regulations and building codes are location-dependent. These regulations will dictate whether your home will need to be on wheels. Additionally, it makes finding a place to move to research-intensive. For example, some states consider tiny houses on wheels as RVs and won't let you reside on a property for over 30 days.
---
Costly Builders And Labour
Choosing a builder can be challenging — they need to be skilled and knowledgeable about the building process.
Designing a tiny home can become intricate, especially if you're trying to squeeze as much storage into your home as possible. As such, it's best to look for builders who have experience building tiny homes or have worked with cabinetry.
---
Reduced Living Space And Storage
A smaller home means less storage space. So while you can incorporate clever designs for storage in your tiny home, you'll most likely need to downsize. This will take a lot of time and planning, but if your heart is set on a tiny house, it'll be worth it.
---
How To Know If A Tiny Home Is Suitable For You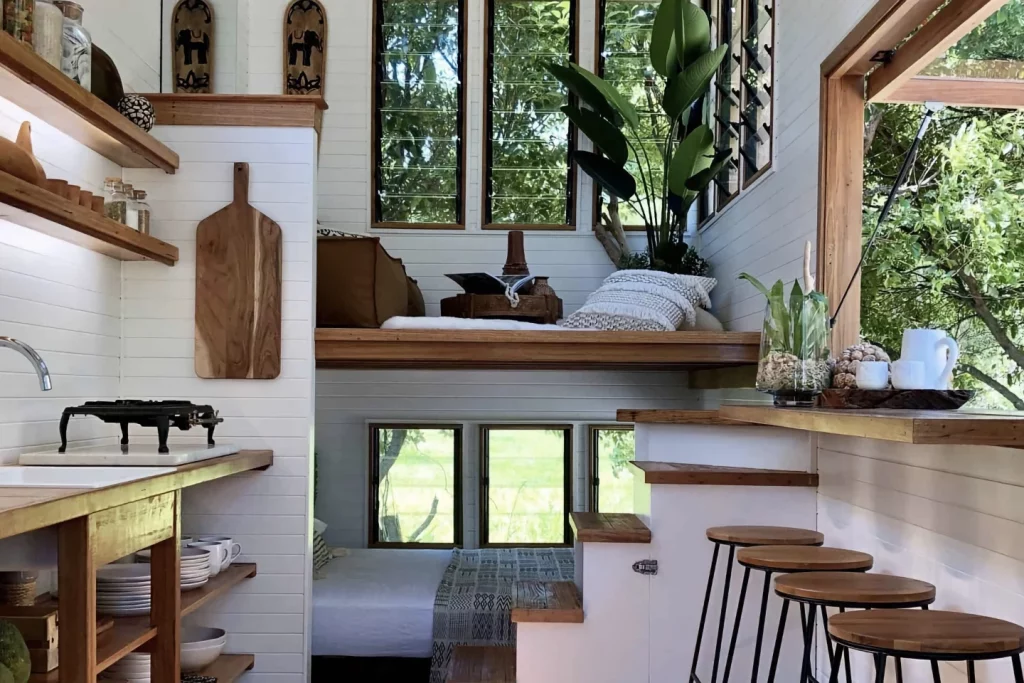 So we've covered the pros and cons of tiny homes, but why should you choose a tiny house, and does it fit your lifestyle?
Tiny homes are energy efficient, sustainable, mobile, cheaper to buy, minimalist, and cozy. If any of these factors spark your interest, then a tiny home is right up your alley!
Due to the minimal resources these homes use when building, they produce less construction waste than traditional houses. In addition, if you're living off-grid, you can add numerous sustainable add-ons.
As previously discussed, tiny homes are also cheaper than traditional houses — you can get everything you need in a home for a fraction of the price. As such, these homes are beneficial if you're trying to get out of debt or saving for something more permanent.
Lastly, if you're a minimalist, tiny homes force you to focus on the things that matter in life. You'll have more time to spend with your family, pursue hobbies, be outdoors, or travel.
Without excessive gadgets and items to distract you, you'll have more than enough time to stop and smell the roses!
---
Final Thoughts
These houses intrigue us for two reasons:
The first is the potential they have to be eco-homes. Tiny houses with fantastic designs can be prefabricated and available to the public. They can also utilize alternative energy sources like solar power or wind turbines.
Secondly, tiny houses allow for travel while living in a home built specifically for you. The home responds to your needs, wants, and hobbies. There's no wasted space, and everything has a purpose.
In short, this design concept is exciting, and we think it should be used in more houses, not just tiny ones.
We hope our guide has answered your questions. Feel free to comment below should you have any further questions!