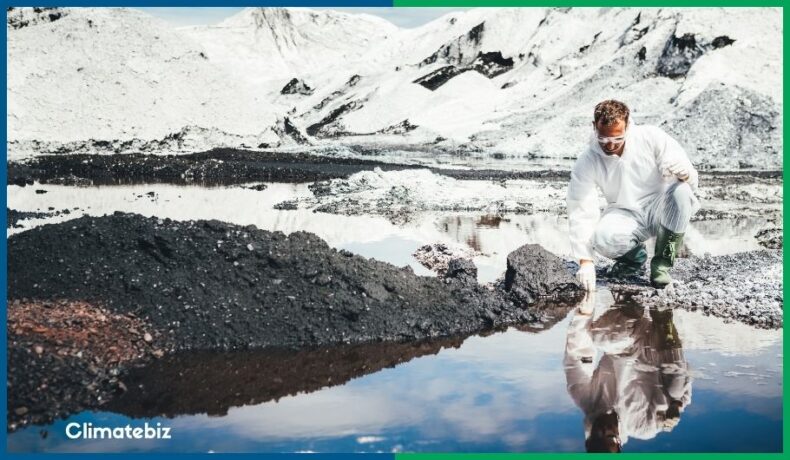 In a world that's beginning to shift its focus towards environmental science, you may wonder, is environmental science worth studying?
Environmental science is a broad field of study that crosses multiple disciplines. It draws on topics in ecology, geology, biology, chemistry, engineering, atmospheric sciences, and more.
This field of study was once synonymous with few job opportunities, low pay, and lack of recognition. Fortunately, this is no longer the case as humanity has slowly begun to realize that the way we're living is no longer sustainable.
This article investigates where a degree in environmental sciences can take you, helping you determine if such a field is worth pursuing.
Foreword
Climatebiz experts design, research, fact-check & edit all work meticulously.
Affiliate Disclaimer
Climatebiz is reader-supported. We may earn an affiliate commission when you buy through links on our site.
Is Environmental Science Worth It To Study?
"What topics ignite my passion?"
This is the first question you must ask yourself. If environmental sustainability is not on your mind, then it may not be the field of study for you.
For a degree in environmental science to be worth it, you must have a strong passion for preserving the environment. Otherwise, you'll lose hope when confronted with the daunting task we environmental scientists have to limit global warming.
Be prepared to feel hopeless and, at times, saddened by the state of our current environment — learning about climate change is definitely not all sunshine and rainbows.
Once the veil has dropped, there's no going back. You'll discover how damaged the environment is, how climate change displaces people and animals, and how it's all happening at an unprecedented rate; you simply can't unlearn these facts.
However, this is nothing compared to the sense of fulfillment you will feel when you positively impact the environment. The world needs more passionate, driven environmental scientists to make a difference!
A job in environmental sciences can be the most rewarding career.
---
What Skills Can You Expect to Gain While Studying Environmental Science?
You'll require a post-graduate qualification to work in environmental sciences.
Thankfully, it's such a broad field of study that it won't restrict your career path; you can work on various key global issues with an environmental science degree.
For instance, you can tackle climate change, globalization, waste, social justice, and human and environmental health — it's one of the few degrees that combine your passion with your skills as you discover your preferred niche.
Not only are these skills valuable within the environmental science field, but they're also transferable to numerous other career paths. So there's no need to panic if you complete your degree in environmental science and decide it's not your cup of tea.
Related Reading: Is Mechanical Engineering Worth It? (According to an expert)
The following are examples of skills you can expect to develop throughout your environmental science degree:
Research Skills: new information comes out daily because climate change is a current, ever-evolving issue. You'll learn to absorb a wide variety of information via news articles, blogs, online databases, academic reports, and policies. All solutions for today's climate issues must be backed by solid research to be taken seriously.
Communication Skills: you'll gain communication skills regardless of which career path you choose as an environmental scientist. You'll use these skills in your research writing, presentations, and stakeholder engagement. Ultimately, we must all work together towards a common goal to tackle the climate crisis.
Problem-Solving Skills: this skill should not come as a surprise. You'll tackle one of the world's most significant problems that cause environmental, social, and health problems. The problem-solving skills you develop will allow you to take best-practice solutions based on research and apply them to the real world.
Analytical Skills: collect, analyze, interpret and present information through various means. Doing so will allow you to analyze data for its potential applicability.
Once you've completed your degree, you'll be able to throw these skills on your resume!
---
What Jobs Can You Get As An Environmental Scientist?
Choosing a career path in the environmental sciences can be incredibly overwhelming. Many climate issues need to be addressed, and there are multiple directions to go with your career.
To help you decide which direction to go, ask yourself:
Which areas of science interest me the most?
What topics/issues spark my passion?
For instance, if you have a strong interest in preserving the biodiversity of plants and animal species, then a career as a conversation officer, resource manager, or biologist may suit you best.
On the other hand, if you're passionate about social and environmental justice, you may consider pursuing environmental law or Indigenous engagement.
Ultimately, environmental science is so versatile you can decide which career path to follow through different areas of study, research, and experience.
The table and sections below identify some broad career options you have with an environmental science degree.
| Career Category | Position Title Examples | Level Of Education Required |
| --- | --- | --- |
| Energy | Environmental Engineer, Energy Auditor, Environmental Field Technician, Renewable Energy Analyst | Bachelor's Degree |
| Consulting | Environmental Consultant, Sustainable Urban Planner, Environmental Manager | Bachelor's Degree |
| Education | College/University Professor, Research Scientist, High School Science Teacher | Doctoral Degree |
| Insurance | Environmental Risk Specialist, Climate Risk Analyst, Atmospheric Scientist, Health Officer | Bachelor's Degree |
| Government | Policy Analyst, Natural Resource Manager, Ecologist, Water Quality Specialist, Sustainability Officer, Project Manager, Environmental Health and Safety Specialist | Bachelor's-Master's Degree |
Note: These are broad categories and may not encompass all careers in environmental sciences. Based on US specifications.
---
Energy
There are many job opportunities within the energy sector, and many more are emerging.
In this sector, you can work on finding the most practical energy solutions for a company based on its needs and geographical location.
For instance, as an environmental engineer, you can work on solutions to critical climate change challenges, such as energy demand, water availability, and low-carbon living.
---
Consulting
Companies that want to transition to more sustainable practices will hire consultants.
As a consultant, you'll perform tasks such as:
Evaluating a company's business plan;
Measuring current emissions levels; and
Reviewing work to suggest comprehensive sustainability actions for the company to implement.
---
Education
Through a career path in education, you can teach others about the importance of sustainability.
You can accomplish this at various levels:
You can teach environmental sustainability through a grade school science class
You can teach at the post-secondary level as a professor of environmental science.
Additionally, through an educational path, you have the potential to perform and publish your research.
Please note: a career in education often requires additional training, such as a teacher-preparation program or a doctoral degree.
---
Insurance
Insurance may not seem like the most obvious career for an environmental scientist, but it's one of the leading emerging career pathways.
Climate change increasingly impacts the built environment, which is a concern for insurance companies and their clients. Now more than ever, insurance companies need to factor in the heightened risks of floods, fire, hurricanes, and more.
Your work may involve:
Calculating the different climate-associated risks;
Communicating these risks to customers; and
Setting the appropriate insurance rates.
---
Government
Governments at all levels hire environmental scientists. Work may involve:
Writing new policies or regulations to lessen the impact on the environment;
Researching best practices; and
Giving presentations to other members of government or elected officials.
---
Can Environmental Scientists Find Jobs Easily?
Compared to other degrees, environmental science is a recent topic of study; this isn't to say that this field lacks jobs.
In fact, the rapidly changing priorities of governments and businesses towards a more sustainable future means that the future of employment is also changing.
This begs the question: "Will my field of study yield good employment opportunities once I have graduated?"
For environmental science students, the answer is yes.
Typical employers of environmental scientists include:
Local authorities
Environmental protection agencies (such as the EPA)
State and Federal government departments
environmental consultancies
Nature conservation organizations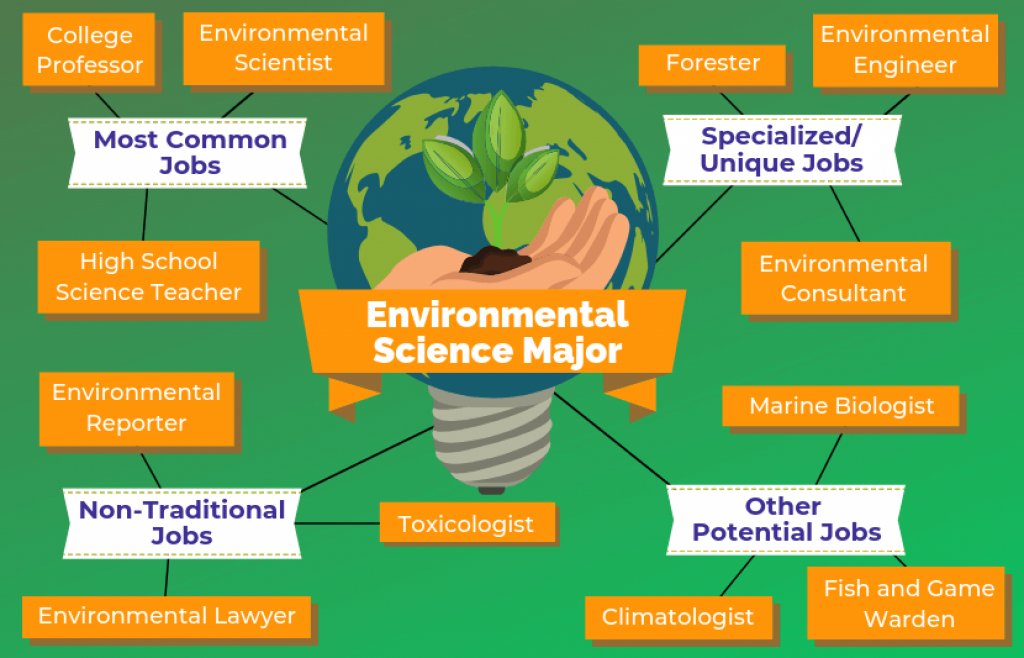 ---
Does Environmental Science Have A Good Future?
Environmental scientists are in increasing demand as environmental concerns continue to grow worldwide.
As of 2020, there were 87,100 registered environmental scientists in the U.S.
Initially, the environmental sciences field was not viewed as a "stable career path" — especially when compared to medicine, law, and business — but this is no longer the case.
As the environmental crisis grows more pressing, the demand for environmental scientists continues to grow.
The United States Bureau of Labor Statistics conservatively predicts that job opportunities within the environmental science field will grow 8% or 7,300 added jobs by 2030. Over the same period, total employment is expected to grow only 7.7%. This means that employment opportunities in the environmental field are increasing much faster than in other sectors.
---
How Much Does An Environmental Scientist Earn?
Some of you out there may be under the false impression that you can't make a decent living while saving the planet. Well, a broad field of expertise comes with an equally wide salary range.
The United States Bureau of Labor Statistics revealed the 2021 median pay for an environmental scientist at $76,530 or $36.79 per hour.
---
How This Compares
Let's compare this to the mean salary for Bachelor's degree holders in the United States.
The national average salary for a Bachelor's degree holder is $64,896, making the mean pay for an environmental scientist higher than the average by $11,634 annually.
However, your pay could be much higher if you specialize in a specific environmental science field or have additional certifications. For instance, the average salary for an environmental lawyer in the United States is $112,444.
In the end, like in most careers, your income will increase with the years of experience you have under your belt. See the table below for an outlook on how your salary could increase by the number of years of experience you have.
Source: PayScale
Related Reading: 12 Best Paying Renewable Energy Jobs
---
3 Benefits Of Studying Environmental Science
Protect the planet: take part in positive change towards a more sustainable future and feel a sense of accomplishment while you do it. Environment science is one of the most rewarding careers!

Transferable skills: unlike many other fields of study where you become a specialist in a specific area, environmental sciences teaches you a wide array of easily transferable skills to other professions. You'll be able to research and interpret quantitative and qualitative data, communicate, manage projects and work independently and as part of a team.

Endless job opportunities: environmental science is a truly global career — there are job opportunities no matter where you are. Moreover, the demand for environmental scientists is growing, and so are the types of opportunities. New jobs are constantly emerging in the field, so you'll have no shortage of options to choose from once you get your degree! Finally, and as a bonus, the pay is not half bad either!
---
Final Thoughts
The environmental sciences are one of today's most important fields of study. The climate battle we face is not easing up anytime soon, which means that environmental scientists will only be becoming more in demand than ever.
Companies may have started by hiring one employee to develop their sustainable program, but they are now beginning to establish entire sustainability teams.
Moreover, sustainability is increasingly influencing business and investment decisions; people are asking essential questions (and rightfully so) about what companies are doing regarding sustainability.
Ultimately, the demand for sustainable professionals comes from such a large variety of companies, leading us to believe that the need for the skill will only continue to grow.
To summarize, a degree in environmental sciences can provide you with many career options, all of which lead to bettering the environment, people's lives, and future generations.
Trust us when we say — a degree in environmental science is worth it.