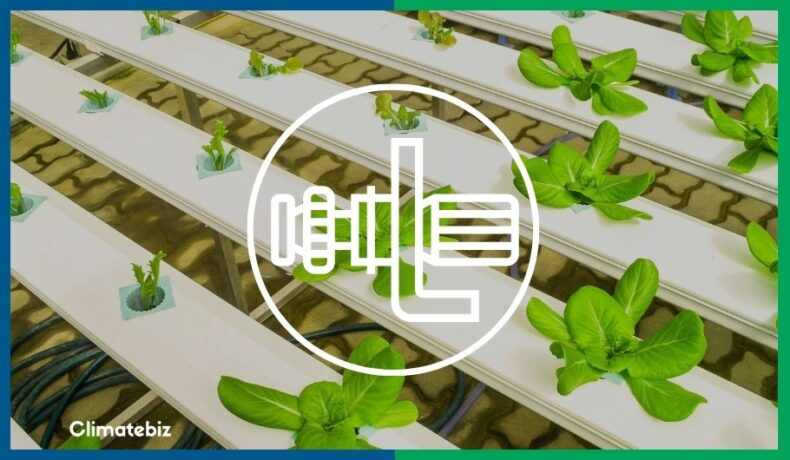 Many of you may be struggling to find the perfect hydroponic water pump for your system. Understandable — there are tons to choose from, and it's never easy knowing which one will be worth the investment.
Well, no matter!
Whether you're a newbie to the world of hydroponics or an experienced expert looking to expand, we're here to help!
After all, hydroponic water pumps often seem so similar to each other — you may find yourself having trouble figuring out which is most suited to your needs.
The truth is, your choice of pump is highly dependent on your system.
Let's look into this a little more, shall we?
Foreword
Climatebiz experts design, research, fact-check & edit all work meticulously.
Affiliate Disclaimer
Climatebiz is reader-supported. We may earn an affiliate commission when you buy through links on our site.
---
How Does A Hydroponic Water Pump Work?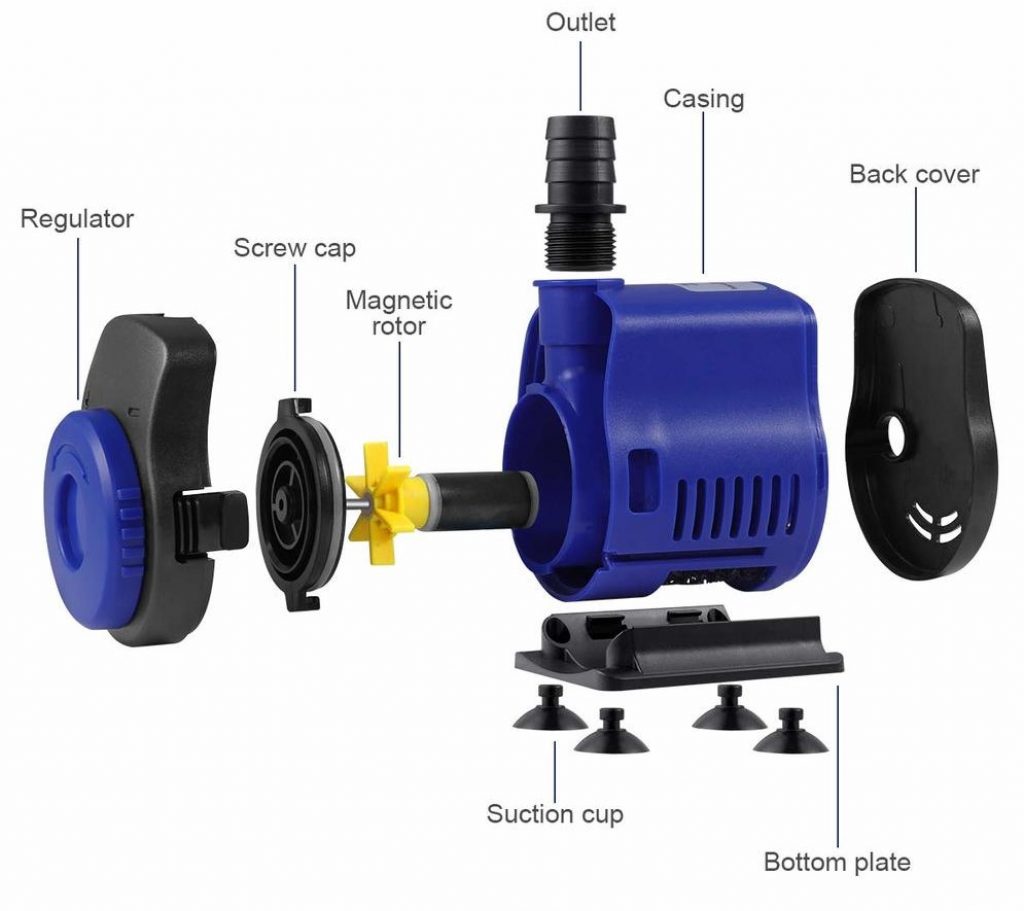 Hydroponic water pumps comprise several components that work together to keep your system on the go.
Let's have a look at what components you can generally expect inside a pump:
| Component | Function |
| --- | --- |
| Suction Cups | To secure the pump to the bottom of the reservoir or vertically in the hydroponic setup. |
| Bottom Plate | To support the pump structure and provide a mechanism for attachment to a surface. |
| Back Cover | To seal the back and inlet area of the pump. |
| Casing | To seal the entire pump. |
| Magnetic Rotor or Motor | To provide a pumping action of water and air. |
| Screw Cap | Seals the mouth of the rotor. |
| Regulator | Control mechanism for the outlet pressure/speed |
| Outlet | The portion of the pump where pressurized water is expelled. |
Table displaying various components of hydroponic water pumps
Additional components include various filters, nozzles for output, and more advanced technologies, which you can use to modify your pumping system as you see fit.
Each pump will also need a power connection cable and plug.
As you advance in your hydroponic journey, you'll experiment with various customizations!
---
What Size Hydroponic Water Pump Do I Need?
You may feel a little confused about what size or number of hydroponic water pumps you need —let's put your mind at ease.
The size of your pump largely depends on the space, layout, and budget of your hydroponic system.
However, the biggest determining factor is the balance between performance and efficiency at your chosen depth.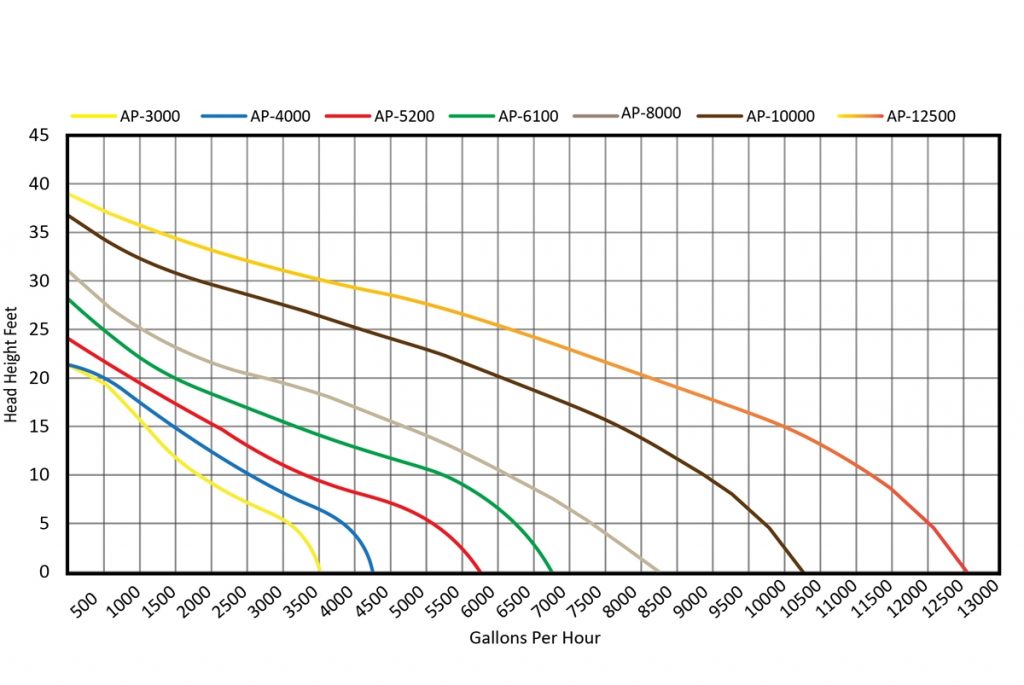 As in the chart above, there is an ideal (or optimal) range of performance and efficiency at a chosen depth.
For example, should you want your pump at a height or depth of 20 feet, your optimal range of pump is one that will provide around 3500 gallons per hour (GPH).
If you fall below the optimal range, you can expect an underperformance that will not quite meet your system needs. Should you choose a pump too strong, you will most likely find yourself struggling to bring down the performance of your system.
Most companies provide an optimal performance chart for their specific brand of product, so a great idea here would be to go check out what you have in mind per brand!
u003cstrongu003eRelated Readingu003c/strongu003e: u003ca href=u0022https://climatebiz.com/indoor-grow-lights-for-plants/u0022 target=u0022_blanku0022 rel=u0022noreferrer noopeneru0022u003e10 Energy Efficient Indoor Grow Lights For Plantsu003c/au003e
---
Hydroponic System Size And Layout
If you're looking at a more extensive setup (or even a vertical setup) and need ample pumping power, your best choice is a pump of around 1000-2000 GPH.
A smaller or horizontal setup can run successfully with hydroponic water pumps at a 100-400GPH pumping output.
---
Hydroponic Water Pumps Budget
You need to weigh up the amount you're willing to pay for a pump and factor in your demands.
Buying a cheaper pump than usual may mean it's less durable and/or effective. This will leave you having to buy a new pump sooner rather than later.
In other words, cheaper is not always better.
u003cstrongu003eRelated Readingu003c/strongu003e: u003ca href=u0022https://climatebiz.com/how-to-grow-hydroponic-microgreens/u0022 target=u0022_blanku0022 rel=u0022noreferrer noopeneru0022u003eHow To Grow Hydroponic Microgreens In 6 Stepsu003c/au003e
---
How Long Do Hydroponic Water Pumps Last?
A pump's lifespan is determined by its materials, age, and the environment in which it operates.
Cheaper, flimsy pump plastics perish quickly and often come with cheaper electronic components. This means your pump could spring a leak or stop functioning in a shorter period of time.
The pricier pumps made of durable plastic and components can withstand a harsher environment without perishing as quickly.
Ceramic pumps, however, still come out on top! These pumps are designed to withstand the harshest environments and automatically switch off when their reservoir runs dry.
u003cstrongu003eRelated Readingu003c/strongu003e: u003ca href=u0022https://climatebiz.com/growing-hydroponic-lettuce/u0022 target=u0022_blanku0022 rel=u0022noreferrer noopeneru0022u003eA Guide To Growing Hydroponic Lettuce At Homeu003c/au003e
---
12 Best Hydroponic Water Pumps
Now for the best part of this article!
Here are twelve of the best hydroponic water pumps for your system ranging from immense pumping power to a smaller super solution!
---
1. Hygger 2120GPH Submersible Pump
If power and performance are what you're looking for, this is your perfect pump!
The Hygger 2120GPH Submersible Pump operates from 18 feet at 65 watts.
Ceramically structured, you can expect a weight of almost 7 pounds.
Make no mistake, this Hygger is powerful but also extremely safe with features such as auto-shutdown that kicks in when there is no water around.
For this pump, you can expect an asking price of around $120.
---
2. AquaMiracle 1160GPH Submersible Water Pump
Energy-efficient and safety tested!
The AquaMiracle 1160GPH pump can operate from a whopping height of 12.4 feet.
You can expect 4400 liters per hour from this powerful pump and 92-watts of power for roughly $35.
This pump is quite complex on the inside, with specialized designs to protect it from debris.
If your system is on the larger side and you find yourself looking for something more specific, this is the pump for you!
---
3. VIVOSUN 1150GPH Submersible Pump
This silent super-strong pump is ideal for a larger hydroponic setup.
With the ability to be placed at a height of 11 feet, this monster will give you a pump rate of 4500 liters per hour.
The pump inlet is pretty close to the bottom of the tank, so it's better suited to low water levels.
A bonus is its resistance to corrosion and fluctuating pH.
Expect to pay around $50.
---
4. Hydrofarm AAPW1000
A reputable brand with a powerful pump!
The Hydrofarm AAPW1000 92-watt pump offers you a flow rate of 4200 liters per hour and is suited for indoor and outdoor use. It retails for roughly $60-80.
This product is completely oil-free, making it a more environmentally-friendly choice.
Well-suited for more extensive reservoirs, the pump operates best in those larger than 100 gallons (roughly 370 liters).
---
5. VIVOSUN 800GPH Submersible Pump
This pump is a best seller!
The VIVOSUN 800GPH Submersible Pump has a maximum flow rate of 3000 liters per hour and can be lifted to a maximum height of 10 feet. The wattage is 24W, and it functions off a 110-120V voltage.
This pump is an excellent choice if you're looking for something easy to assemble and can be placed at any rotation.
Here you're looking at a price around $25.
---
6. VIVOSUN 480GPH Submersible Pump
The VIVOSUN 480GPH Submersible Pump is a solid choice if you are looking for a pump that gives you a flow rate of around 1000 liters per hour.
These pumps can be placed at a height of 7 feet maximum and run 25 watts with an AC110 voltage.
The perfect pump for a system that is a little more medium-sized and costs around $18.
---
7. VIVOSUN 400GPH Submersible Pump
Well-suited for a smaller hydroponic setup, perhaps even for beginners, this is the right pump for you!
This ultra-quiet pump must be placed flat, but the outlet nozzles can go in any direction.
The VIVOSUN 400GPH pumps at 1500 liters per hour with a maximum height of 5 feet. It runs 15 watts off a 110-120V voltage.
Expect to pay around $18 for this beauty.
---
8. PULACO 400GPH Submersible Water Pump
This PULACO pump is quiet and smooth!
Ideal for a smaller setup, the pump works well at a maximum height of 6.6 feet with a maximum pump rate of 400GPH.
The unit weighs 1.54 pounds and has solid 25-watt power coming in around $22.
---
9. CWKJ 400GPH Submersible Water Pump
The CWKJ 400GPH pump — produced from plastic — is described as super discreet and tranquil.
The 25-watt efficient motor can be placed at 6.5 feet up and offer you 1500 liters per hour at roughly $20.
This pump is ideal if you are looking for a hydroponic water pump that is mid-range
---
10. Uniclife UL400 Submersible Water Pump
Perfect for a small to medium-sized hydroponic setup, you can't go wrong with the Uniclife UL400!
This compact pump offers a maximum flow of 1500 liters per hour and can be placed at 7 feet.
With 25 watts of power, this pump retails at approximately $15.
---
11. OPULENT SYSTEMS 180GPH Submersible Pump
The OPULENT SYSTEMS pump offers a maximum flow rate of 680 liters per hour, well-suited to a smaller hydroponic system.
It can be placed at a maximum height of roughly 4.75 feet and offers a power of 9.5 watts at a 110-120V voltage. The pump is priced at approximately $10.
The small size of this pump makes it nifty and easy to disguise in your system!
---
12. BARST 93GPH Aquarium Pump
A small and dynamic pump ideal for your smaller hydroponic tanks!
The BARST 93GPH offers you a maximum flow rate of 350 liters per hour and a maximum lifting height of 2.5 feet. The power you can expect from this small submersible is 7 watts.
You can expect a retail price of around $13 here.
The perfect pump if you're looking to start small.
---
Final Thoughts
By now, you've probably realized the sheer amount of pumps on the market.
This may feel overwhelming to you at first, but if you take your time to read the information on each pump, you'll soon realize that each comes with its pros and cons.
Certain pumps are bigger and more expensive but offer way more than you'll need. On the other hand, you might see smaller pumps within your ideal size range but find that they don't provide enough pumping strength. This is where the mid-range pumps are a perfect solution for you.
The bottom line — whatever your needs are, there is a pump on the market that is perfectly suited for your system needs.
So take your time, do thorough research, and the perfect pump will become apparent to you in no time!
If you want to share your thoughts or ask us a question, please feel free to pop a comment in the box below! Alternatively, visit our forum and share what is on your mind today!