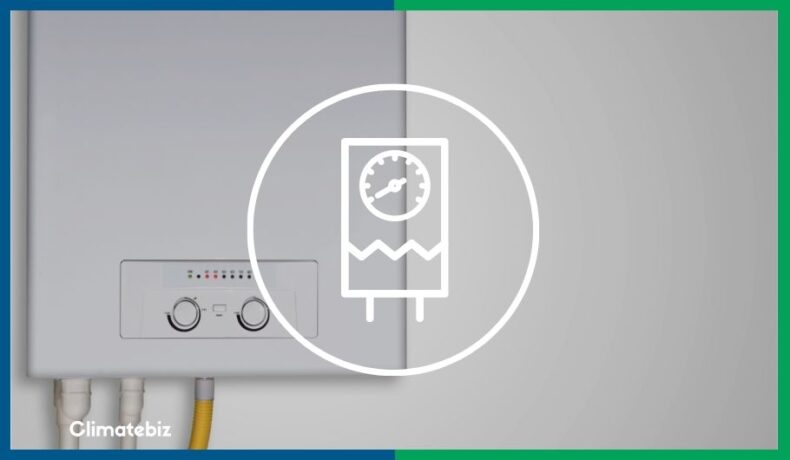 Knowing how to clean your tankless water heater the right way can be the difference between your water heating system lasting or fizzling out prematurely.
Those of you who've read our article discussing the costs involved with tankless water heaters will know that these brilliant systems come with a hefty price tag.
As such, you want to make sure that you're maintaining your tankless water system appropriately so that you and your family get the most out of your investment.
Many tankless heater owners turn to professionals for their maintenance needs. While going this route can save you some time and effort, it can be costly.
Fortunately enough, it's more than possible for you to go the DIY route — tankless water heater maintenance, in particular flushing, is far more straightforward than you might think.
This article will guide you through 10 easy-to-follow steps that'll assist you with flushing your tankless water heater system.
Additionally, we'll provide you with the necessary tools/materials and discuss whether or not vinegar can be used as a substitute for chemical cleaning agents.
Foreword
Climatebiz experts design, research, fact-check & edit all work meticulously.
Affiliate Disclaimer
Climatebiz is reader-supported. We may earn an affiliate commission when you buy through links on our site.
---
Can a Tankless Water Heater Get Dirty?
Yes, tankless water heaters can get dirty. But we aren't just talking about dust here.
These water heaters suffer from the same issue as storage tank heaters — mineral deposit build-up.
Over time, minerals such as calcium and magnesium — found in water — build up within the components of these water heaters. Over time, this build-up will have an extremely detrimental effect on the system's efficiency.
---
Gas Burners
A tankless water heater's gas burners are also susceptible to dirt. The burners can get so dirty that they fail to ignite.
If you'd like to learn more about burner cleaning, check out this comprehensive video:
---
How To Clean Your Tankless Water Heater In 10 Steps
u003cstrongu003eWarningu003c/strongu003eu003cbru003eu003cbru003eRemember, you're working with a tankless water heater. These units heat water rapidly, and the water coming out of the unit will get very hot. So make sure you're very careful when you spray the water into the bucket and rinse everything out. Additionally, remember that the water has chemicals in it. So please make sure that you take all necessary precautions to protect yourself while working with such chemicals.
---
What You'll Need:
| Tool | Information | Purchase |
| --- | --- | --- |
| | Pliers: to open and close your system's valves. | Buy Now |
| | Submersible pump: you're going to have to shut off the water to the water heater to isolate it from the rest of your home. After doing this, you'll need a device to circulate the fluid through your tankless system. | Buy Now |
| | Cleaning agent: this will help you clean the mineral build-up present in your system. | Buy Now |
| | Bucket: to act as a reservoir for your cleaning agent and water. | Buy Now |
| | Hoses: these will help transport the cleaning solution between the water heater, pump, and bucket. | Buy Now |
Alternatively, you can purchase an all-in-one tankless water heater cleaning kit (you will find a product link later in the article).
---
Step 1.
Before you do anything, make sure there are valves for flushing; look for an inlet and an outlet valve.
---
Step 2.
Next, turn off the isolation valves; this ensures that the tankless water heater is isolated from the rest of your household's water heater.
---
Step 3.
Now it's time to connect your hoses up to your tankless water heater — you can use washing machine hoses for this purpose.
u003cstrongu003eNoteu003c/strongu003e: Some people will tell you to drain the water out of your tankless water heater before you flush it. However, you can actually leave the water in there so that you don't have to add as much water to your bucket to mix the chemicals.
---
Step 4.
Take the other end of the cold water inlet hose and attach it to the discharge side of the submersible pump. Once you connect and tighten the hose, you can put the pump in the water bucket.
Be sure to connect the inlet hose to the correct side of the circulation pump. The inlet side of the circulation pump will have a filter attached to it — do not attach the inlet hose here.
---
Step 5.
Grab the hot water hose and drop it in the bucket — by doing this, you're creating a closed-loop system for the cleaning agents to work. The chemical mixture moves through the heat exchanger, cleaning calcium and magnesium build-up as it works its way through the system.
---
Step 6.
Add your chemical cleaning agent to a gallon of water. Next, open up the inlet and outlet pipes to initiate water flow.
---
Step 7.
Now it's time to plug the pump in and circulate the chemical mixture for 30 – 45 minutes.
Once the time limit is up, you can unplug your pump so that there's no more chemical agent going through your tankless water heater.
---
Step 8.
Take your pliers and shut off the valve on the cold side. Doing this will stop the flow of chemical agents into the system. Then, loosen the hose to drain the remaining cleaning mixture into the bucket.
---
Step 9.
With the cold water inlet open, flush your system out with fresh water. Do this three-four times, following up with a pH test to ensure correct water quality.
---
Step 10.
Now, close the control/isolation valve, turn the water back on to the house, and voila, your water heater for action!
u003cstrongu003ePlease noteu003c/strongu003e: some water heater manufacturers will tell you to turn the power off to the unit, while others will tell you that if you leave it on where it heats it as it goes through, it'll help clean it better. Choose what you think works best for you – contact the manufacturer if necessary.
---
Why Do I Need To Clean My Tankless Water Heater?
A tankless water heater — much like a conventional tank water heater — requires that you undertake maintenance over its lifespan.
Regularly flushing your tankless system will help prevent mineral buildup within the components of the system. Ultimately, this will increase the lifespan of your water heating system and ensure that it continues to operate optimally.
u003cstrongu003eRelated Readingu003c/strongu003e: u003ca href=u0022https://climatebiz.com/tankless-water-heater/u0022 target=u0022_blanku0022 rel=u0022noreferrer noopeneru0022u003eA Guide To Owning A Tankless Water Heateru003c/au003e
---
How Often Should a Tankless Water Heater Be Cleaned?
You'll need to flush/ clean out your tankless water heater every 12 – 18 months.
If you have hard in your area, you'll need to ensure that you're flushing your tankless system every 12 months due to the excess amounts of calcium and magnesium present in hard water.
---
What Happens If You Don't Clean a Tankless Water Heater?
First and foremost, you need to clean your tankless water heater to maintain its integrity.
Sediment, magnesium, calcium, and other minerals will build up in your system over time. If you neglect to remove this build-up regularly enough, you'll compromise the components and, therefore, the heating efficiency of your tankless heater.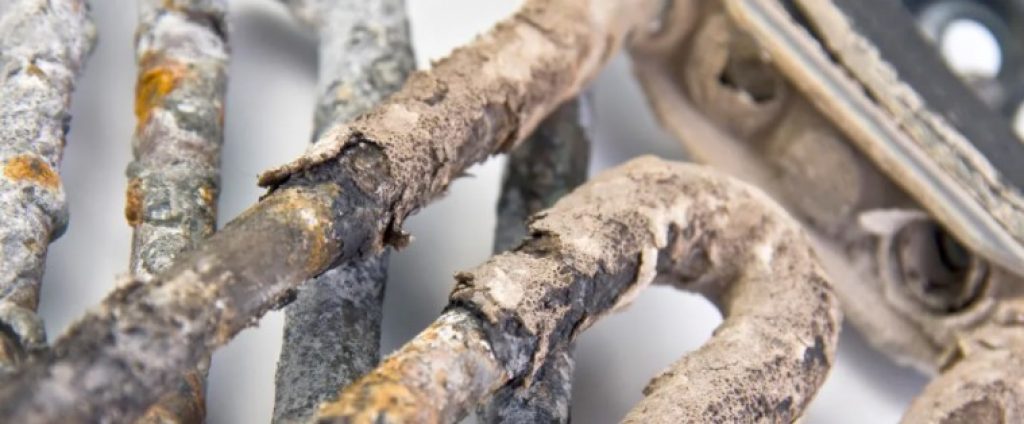 This is because calcium and sediment prevent the various elements from heating your water efficiently.
Additionally, the build-up can block your pipes, reducing your water heater's flow rate while causing leaks.
---
But There's More
Neglecting to maintain your tankless water heater can also have consequences for your entire house. The sand-like calcium particles will travel through your household's water lines and collect behind aerators and valve screens.
---
Can I Use Vinegar To Clean My Tankless Water Heater?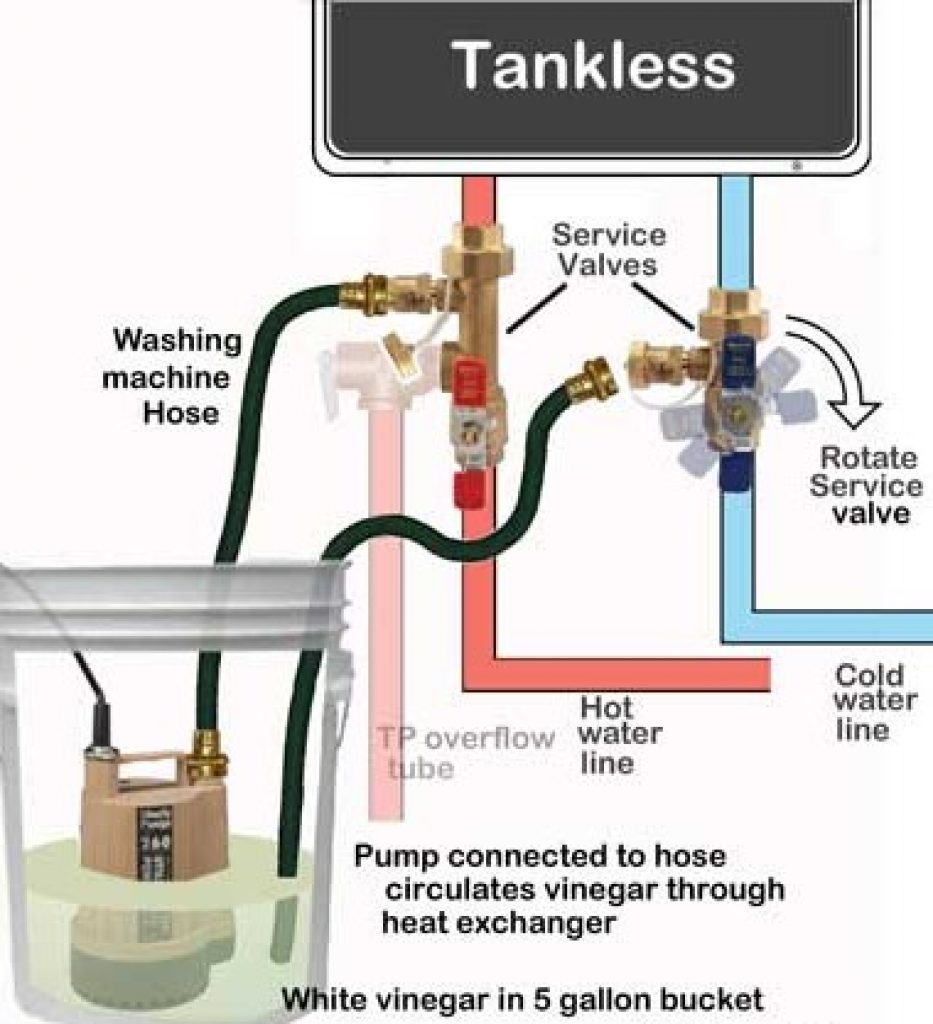 Yes, you can use vinegar instead of a chemical to flush. However, if you choose to do so, you'll need to flush your system for about one and a half to two hours. You'll also have to turn the unit off when using this method.
With vinegar, you'll need to use 3 to 4 gallons as you'll have to empty the water out of your tankless water heater.
You're going to clean the filter on the inlet side, pump it full of vinegar, and let it circulate through the unit.

---
3 Best Products You Can Use To Clean A Tankless Water Heater
Kelaro Tankless Water Heater Flushing Kit
Includes: 1/8 HP utility pump, 6 ft color-coded hoses, 3.5-gallon bucket with EZ open lid, and instructions for using vinegar.
Connection: easily connects to tankless isolation valves using supplied 6′ Color Coded Hoses.
Compatibility: works with Rheem, Bosch, Noritz, Rinnai, Takagi, Navien, Stiebel, Atmor, Ecosmart, Eccotemp, Marey Power, Tempra, Trutankless, and others.
Additional Requirement: kit requires 2 gallons of white vinegar
---
Premium Stainless Steel Washing Machine Hoses
Amount: one pair of 304 stainless steel braided premium washing machine hoses 6ft long each with 3/4″ 90-degree elbow connection. Red-lined for hot water and blue-lined for cold water.
Burst Proof: designed to last — these hoses use 304 stainless steel for braided outer protective cover, which last an incredibly long time for adequate protection against rust and burst.
Industry Standards: these hoses comply with the following standards: ASME A112.18.6-2017/CSA B125.6-17, NSF/ANSI 61,372
Universal Fitting: the hoses connect to all washing machines with industry-standard 3/4″ 90-degree elbow FHT(Female Hose Threaded) or FGH(Female Garden Hose) connector fittings.
---
Superior Thermoplastic Submersible Utility Pump
Gallons Per Hour: 1/5 HP Utility pump moves up to 1,560 gallons per hour; the pump will lift water up to 25′ of vertical height.
Rugged: tough thermoplastic construction; 10′ cord length.
Sizing: large 1-1/4 inch NPT discharge for high capacity pumping; includes 3/4 inch garden hose adapter.
Suction Screen: removable suction screen; handles up to 1/8 inch solids.
---
Final Thoughts
We've all been guilty of neglecting an essential piece of equipment that we rely on at some point. Sure, maintenance can be tedious, and it certainly doesn't help if you have a busy schedule.
But, honestly speaking, flushing your tankless water heater doesn't have to be (and certainly shouldn't be) one of those maintenance chores you put off.
Yes, it'll take up a little bit of your day, but the pros of having such a system far outweigh the cons.
We can confidently say that you'll be a tankless heater maintenance pro in no time if you follow the steps in this article!
Should you have any further questions, opinions, or insights into tankless water heaters, please share them with us by joining our community!