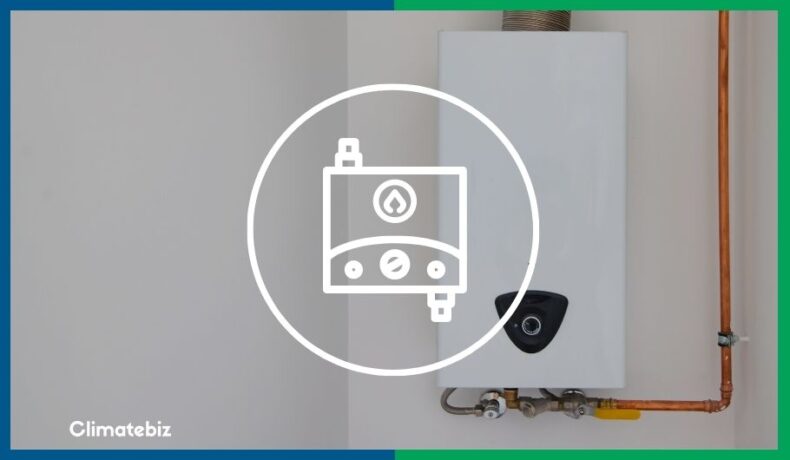 Tankless water heaters are an efficient and cost-effective replacement for storage tank water heaters. Like your standard geyser, tankless water heaters can be powered by either propane or electricity. But, what are the best gas tankless water heaters out there?
Gas tankless water heaters (GTWH) heat water using a pilot flame. When you turn on your faucet, water enters the heater and flows through a copper coil. The pilot heats the coil, heating the water.
GTWHs are more efficient than their electric cousins, reaching energy efficiency ratings of 9.5 or higher. However, choosing the best gas tankless water heater can be overwhelming, especially if this is your first time purchasing one. So, to make things easier, we've curated a list of the best gas tankless water heaters to buy in 2022.
Best Gas Tankless Water Heaters – Climatebiz Picks
---
How To Choose The Best Gas Tankless Water Heater
Here are several factors to consider when choosing the best gas tankless water heater for your home:
Types Of Gas Tankless Water Heaters
The Rate Of Flow (GPM)
Temperature Rise
Efficiency
---
Types of Gas Tankless Water Heaters
You need to consider the physical size of your GTWH. Do you want to install a POU (point of use) or a whole-house system? A POU system will use less gas and produce hot water at a lower flow rate. A whole-house system will use more gas and deliver water at a much higher flow rate.
There are two main types of gas tankless water heaters:
Point Of Use Gas Tankless Water Heaters
A point-of-use system, also known as a single point unit, can either be installed at each plumbing point or in series if you need a more significant flow rate with a higher temperature rise.
The average flow rate for a POU system is between 1.5 and 3 gallons per minute. Therefore, single-point systems are the best gas tankless water heaters for new homes or guest flats.
Whole-house Gas Tankless Water Heaters
A whole-home system involves water flowing through one large GTWH, supplying your entire plumbing system. These are the best gas tankless water heaters for existing homes as they can replace your current geyser.
The average flow rate for a whole-house system is between 6 and 10 gallons per minute. So they'll produce enough hot water for at least two showers and a sink running simultaneously.
Whole-home systems are larger — you won't be able to hide one under your kitchen sink. You'll typically install one in your garage or outside. If you're replacing your geyser, you can install it in the same spot.
---
Gas Tankless Water Heater Flow Rate
The flow rate of your GTWH determines how much water it can heat to the desired temperature; this rate is measured in gallons per minute and determines which gas tankless water heater is best for your home.
Each hot water fixture in your house has a different flow rate. For example, a shower requires 2 GPM (gallons per minute) while a bath requires 4 GPM.
To determine your overall flow rate, you'll need to add up the GPM of your hot water fixtures. You probably won't be using all the appliances simultaneously — choosing regular fixtures will give an accurate GPM.
For example, it's most likely that a household of four will only run two showers and two sinks simultaneously.
Let's walk through it.
Average GPM of Hot Water Fixtures
Below we've included a table of the average GPM for hot water fixtures.
Here are things to consider:
Sinks or shower heads with aerators have lower flow rates.
Sometimes dishwashers or washing machines require a hot water inlet.
Be sure to include a utility sink if you use one.
Include guest houses or garden cottages unless you plan to put them on a different system.
Calculating Your Required GPM
This step is easy; you just need to add up the flow rates of fixtures you'd use simultaneously.
Here are a couple of examples:
If you use two showers – 4 GPM
Two showers and a sink – 1.5 GPM
Two showers, a bath, and a sink – 9.5 GPM
---
The Temperature Rise
Finally, you'll need to consider the temperature rise your gas electric water heater will need to handle. The temperature rise is the difference between outlet and inlet temperature; this is the value your GTWH will need to heat the water by (per minute).
Different climates have different temperature rises. For example, a hot climate will have a higher inlet temperature of up to 62ºF. That means that the water only needs to rise by 58ºF at most. However, the average water inlet temperature is around 40ºF. You can use the image below to determine your area's inlet water temperature.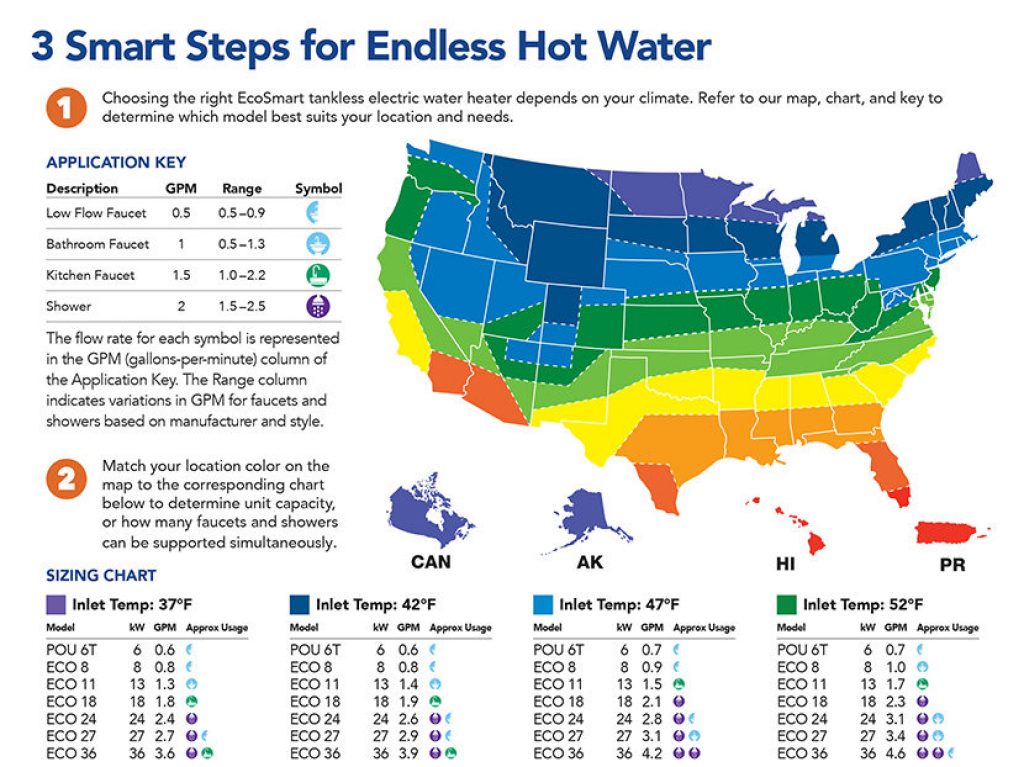 According to the U.S. Consumer Product Safety Commission, your water temperature should be between 104ºF and 120ºF.
If the average inlet temperature is 40ºF, and the outlet needs to be 120ºF, that's an 80ºF temperature rise.
British Thermal Units
A British thermal unit, or Btu, is a measurement of heat. Its the amount of heat required to raise the temperature of a pound of water by 1ºF. Often, gas tankless water heaters have a Btu rating, which tells you how hot the heater can get. The higher the Btu rating, the higher the GPM.
To calculate the required Btu, you can use the following formula. While it's not necessary to buy a GTWH, it's interesting to know.
Btu = GPM x ∆t x 500
GPM – Flow rate in gallons per minute
∆t – Temperature rise required
500 – The Btu multiplier is 8.66 pounds of water (1 gallon) x 60 minutes.
It's also interesting to note that Btu is used to measure heat transfer in a room. So, for example, air heat exchangers also have a Btu rating. And if you think about it, tankless water heaters are a type of heat exchanger.
---
Efficiency
Lastly, the efficiency of the gas tankless water heater is something to consider. The efficiency is rated between 0 – 1. However, no heater will be 100% efficient, and the best gas tankless water heaters have a rating of around 0.93.
Efficiency is measured using the energy factor (EF). It's a standard that shows a heat loss ratio to fuel used. For example, most tankless water heaters have an EF rating of 0.8 – 0.9.
The average universal energy factor of our best gas tankless water heaters is 0.89.
---
11 Best Gas Tankless Water Heaters
Without further delay, here's our list of the top 11 best gas tankless water heaters, according to our experts.
---
01. Rinnai RU SENSEI™ RU199eP
---
02. Rinnai V Series V94eP
---
03. Noritz NRC66-DVNG
---
04. Takagi T-H3-DV-N
---
05. Am. Stan. TCWH-199S
---
06. Noritz EZ111 EZ Series
---
07. Rheem Performance Plus® ECO200
---
08. Noritz EZ98 EZ Series
---
09. Rinnai RL75eP RL Model Series
---
10. Rheem Professional Prestige Series: 9.5 GPM Indoor Tankless
---
11. Eccotemp L5
---
Final Thoughts
The best gas tankless water heaters can be installed inside or outside and adapted to any family size.
You can connect POU systems in series to deliver hot water to your shower without breaking the bank on whole-house systems.
That said, many gas tankless water heaters can reach up to 11 GPM, which is perfect for larger families.
To create this list, we looked at the tankless water heaters' efficiency ratings, flow rates, and environmental impacts.
We hope you found this helps you choose your next GTWH!
Join our community if you have any other questions or chat with us on Twitter.