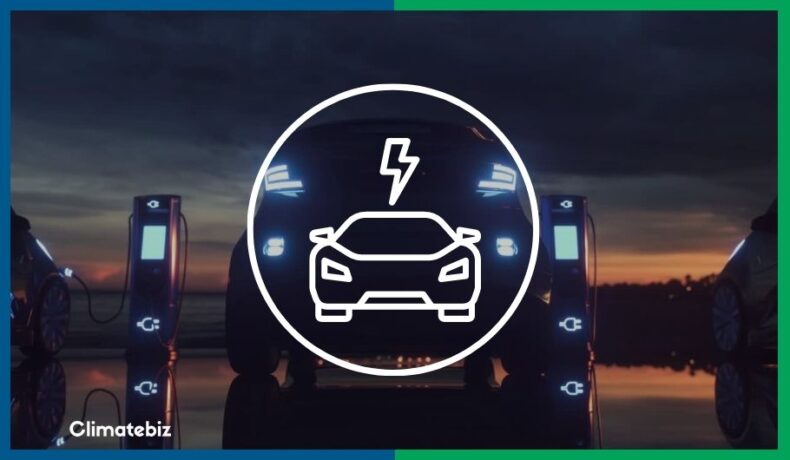 Many people wrongfully assume that EVs are expensive and only reserved for those whose pockets run deep. We're here to prove that assumption wrong with our list of the seven cheapest electric cars on the market; they're sure not to break the bank!
Currently, the US Federal Government offers a grant of up to $7500. Individual US states provide varying grants, though the highest tend to be in California. As such, buying an electric car in the USA has never been cheaper or easier.
While these cars may be more affordable, don't make the mistake of thinking they'll be terrible. These seven cars are some of the best electric cars you can buy today, regardless of price.
Foreword
Climatebiz experts design, research, fact-check & edit all work meticulously.
Affiliate Disclaimer
Climatebiz is reader-supported. We may earn an affiliate commission when you buy through links on our site.
Cheapest Electric Cars
Here are the cheapest electric cars you can buy today:
| Car Name | Price |
| --- | --- |
| Chevrolet Volt EV | $31,500 |
| Nissan Leaf | $27,400 |
| Mini Cooper SE | $29,900 |
| Hyundai Ioniq 5 SE RWD | $39,950 |
| Hyundai Kona electric | $34,000 |
| Mazda MX30 EV | $33,470 |
| Ford F150 Lightning | $39,974 |
---
7 Cheapest Electric Cars
7. Chevrolet Bolt EV – $31,500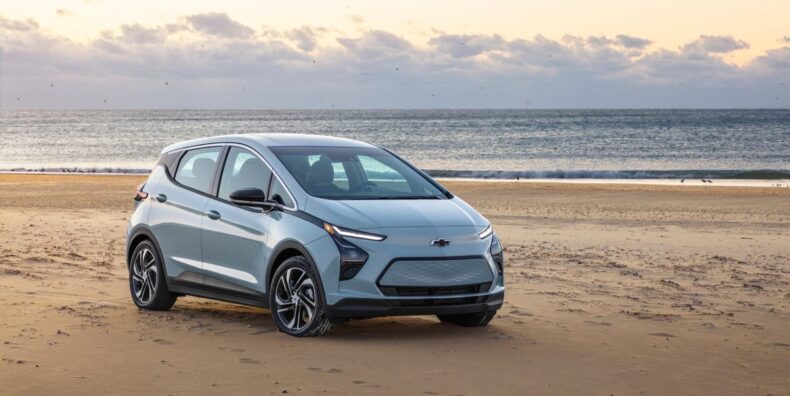 Price: $31,500
Range: 259 miles
Battery Capacity: 66 kWh
Seats: 5
The Chevrolet Bolt EV may be the best value electric car on sale today. It's a small but practical hatchback that is very popular amongst those who live in the city. The Bolt EV is a popular electric car, especially among Hollywood celebrities.
The Bolt EV starts at $31,500; for that, you get a lot of features as standard, including voice control, sat-nav, five-seats, alloy wheels, and more. The range is 259 miles, making the Bolt one of the highest-range electric cars for the money.
The Bolt EV is unique because it offers something for everyone. Whether you're a family man or a busy student at university, it's a straightforward car, making it perfect for most people.
Overall, the Bolt EV is a fantastic little car. It might be far from stylish, but it's practical and, best of all, reasonably priced.
The range is decent, plus fast charging is available.
---
6. Nissan Leaf – $27,400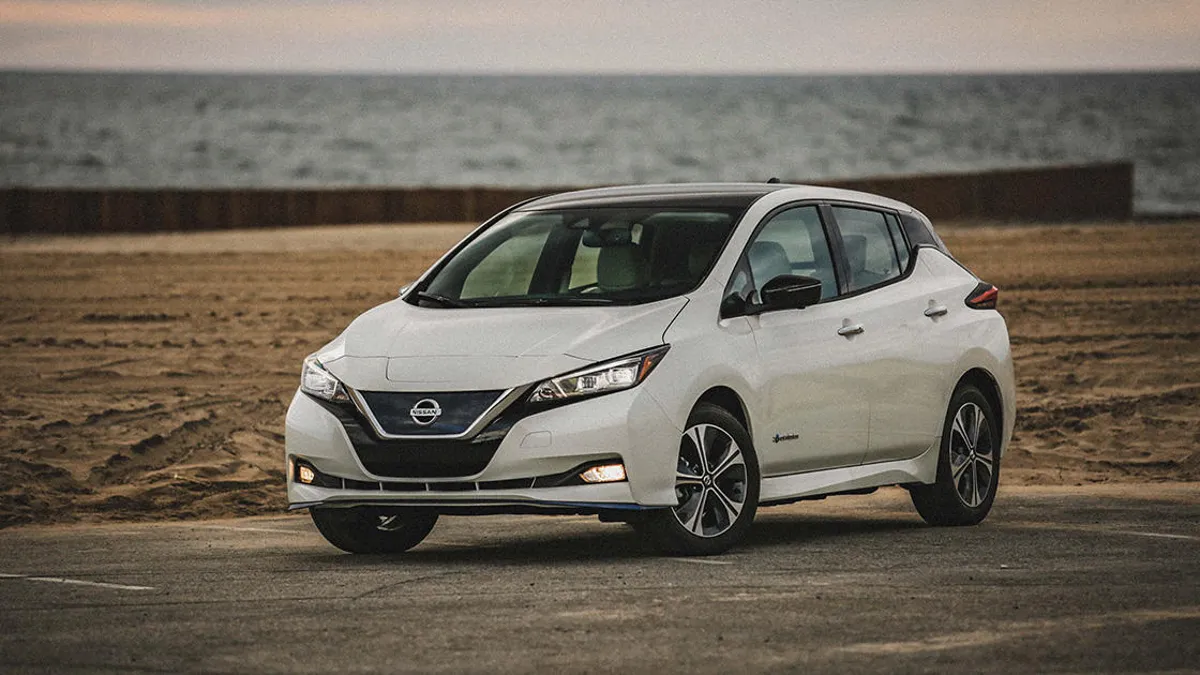 Price: $27,400
Range: 226 miles
Battery Capacity: 40 kWh
Seats: 5
The Nissan Leaf is one of the most popular electric cars ever made. It was also one of the first mainstream electric cars launched a decade ago.
The Leaf is now in its second generation; its current iteration is a significant improvement over the original Mk1. Looks wise, it's far more modern inside and out, plus it offers better value for money.
The Leaf starts at $27,400. For that price, you get a car with a 40 kWh battery pack, 226-mile range, and a 5-passenger carrying capacity. Spend a bit extra, and you'll find yourself with a 62 kWh battery pack and a charge time on ultra-fast DC of just 31 minutes.
The Leaf is one of the cheapest electric cars on sale today; that's what makes it so popular. It has similar dimensions to a regular family hatchback, making it ideal for most people. The range, at 226 miles, is pretty decent too, so the Leaf is suitable for those who suffer from range anxiety.
Overall, the Leaf is a very comfortable and affordable electric car. It's very stylish, and it offers a decent range. Furthermore, it's well-built and reliable, as you would expect with any Nissan model.
---
5. Mini Cooper SE – $29,900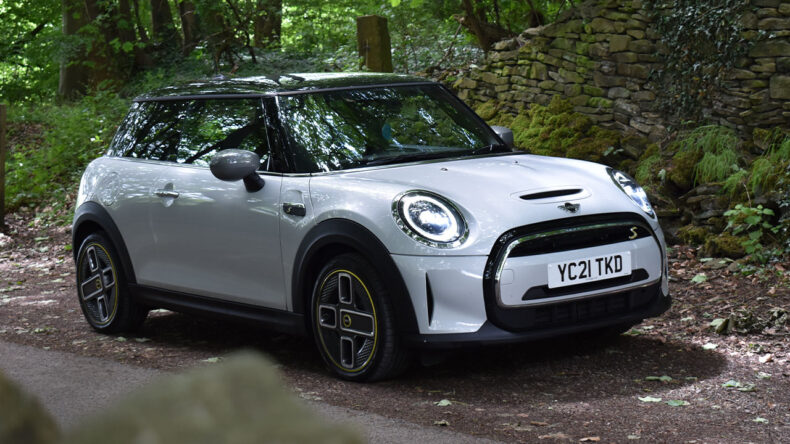 Price: $29,900
Range: 114 miles
Battery Capacity: 32.6 kWh
Seats: 4
The Mini Cooper SE is one of the most enjoyable electric cars to drive. It's also one of the cheapest electric cars. The Cooper SE is the first-ever new electric Mini, and it's a car that is more suited to the city than highway driving.
The Cooper SE starts at $29,900. For that, you get 4-seats, a 32.6 kWh battery pack, some trendy alloys, and a minuscule 114-mile range. So, if you need an electric car that has a long-range, then avoid this car at all costs. However, if you want a stylish, affordable electric car, look no further.
People love just how easy to drive and agile these vehicles are. The SE takes the whole driving thrill of the Mini to the next level, thanks to its instant power delivery. It now feels like a big go-kart for the road.
Overall, the SE is a very impressive little car that is bound to put a smile on your face. It may not have the range of other vehicles, but it is suited for city driving. The Cooper SE can easily navigate the city due to its size, and the instant power delivery makes it perfect for junctions.
It's not just one of the best small electric cars on sale today but also one of the best and cheapest electric cars on sale today.
---
4. Hyundai Ioniq 5 SE RWD – $39,950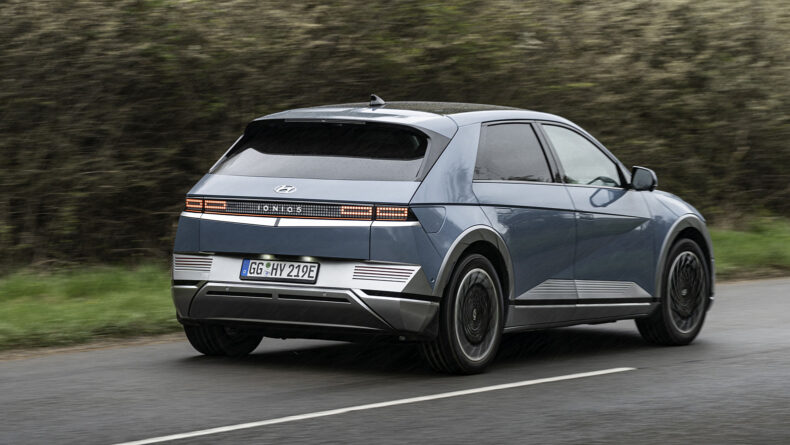 Price: $39,950
Range: 220 miles
Battery Capacity: 58 kWh
Seats: 5
The Hyundai Ioniq 5 is the World Car Of the Year 2022. It may seem costly compared to the other cars on this list, but it's worth the money since it offers everything you need: space, speed, comfort, and technology.
The SE RWD is the cheapest Ioniq 5 model. At $39,950, you'll have an EV with a 58 kWh battery and a 220-mile range. You also get a lot of tech, including sat-nav, Apple CarPlay, and more.
The retro-inspired Ioniq 5 is quite a large car; it's only a few inches shorter than the family-sized Tucson SUV. It seats five comfortably, and the trunk size is decent too. What's more, the Ioniq 5 is very comfortable, ideal for those who want an EV that'll stand out but won't break the bank.
Overall, the award-winning Ioniq 5 is a great-looking retro car and offers quite a lot for the money.
---
3. Hyundai Kona Electric – $34,000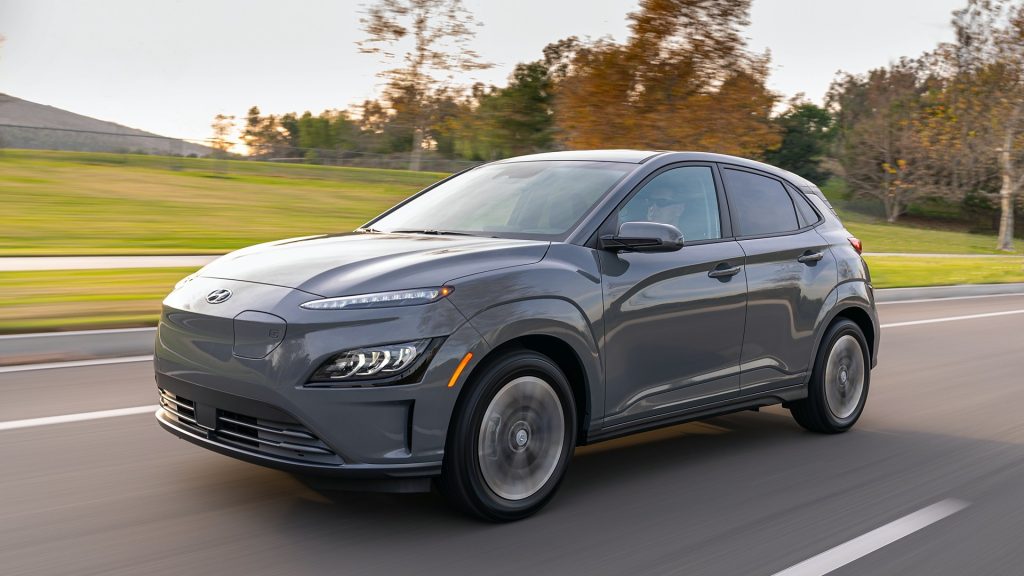 Price: $34,000
Range: 258 miles
Battery Capacity: 64 kWh
Seats: 5
The Hyundai Kona is popular worldwide thanks to its practical and comfortable nature. It's also one of the cheapest electric cars on sale today, making it a near-perfect car for most people.
The Kona is a funky-looking car inside and out, and it sure does stand out compared to its rivals. This EV starts at $34,400, a bargain for such a good car. You get a 64 kWh battery and a range of 258 miles.
Driving-wise, this EV is an easy-to-handle city dweller that's also comfortable on the highway.
Overall, the Kona Electric is a great little SUV that offers practicality, long-range comfort, and style. It's one of Hyundai's best-selling cars, and the electric model is becoming increasingly popular.
Truly, one of the best and cheapest electric cars on sale today.
---
2. Mazda MX30 EV – $33,470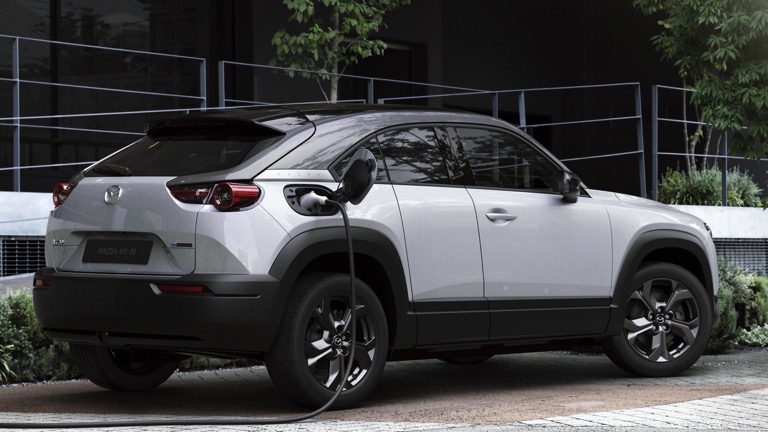 Price: $33,470
Range: 100 miles
Battery Capacity: 35.5 kWh
Seats: 5
The MX30 Mazda is a unique SUV; it's also Mazda's first-ever electric car.
Mazda takes a different approach to the electric car world with the MX30 as it includes clamshell doors, last seen on the Mazda RX8 sports car from the 2000s.
The MX-30 costs just $33,470 — not bad for a sporty little electric SUV. However, there are some issues with it. At just 100 miles, the range is horrendous. The battery capacity is also far too small at a meager 35.5 kWh.
This EV seats five people, though getting through its rear doors may be tricky. Despite all this, the MX-30 is enjoyable to drive and look at. Mazda has a reputation for thinking outside the box, and that's precisely what they've done with the MX-30.
Overall, the MX-30 is one of the cheapest electric cars on sale today. It may not be as practical as other electric cars, nor does it have a very long range, but it's stylish and rather unique.
If you're after an EV that stands out among the crowd, then the MX-30 is perfect.
---
1. Ford F150 Lightning – $39,974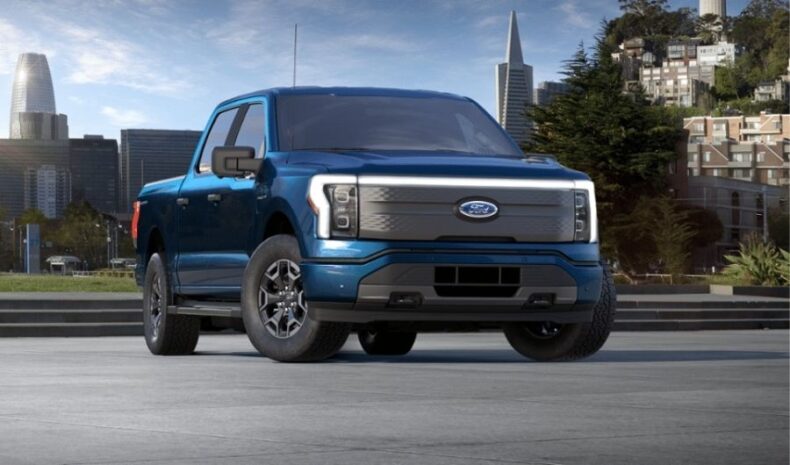 Price: $39,974
Range: 230 miles
Battery Capacity: 98 kWh
Seats: 5
The Ford F150 Lightning is the first-ever electric F150 truck. It's an absolute monster offering the best practicality, comfort, and space.
The company has gone above and beyond with the F150 Lightning — an interior table, multiple storage spaces, a front trunk, and the ability to provide enough electricity to power a house for a day or two. You name it; it's got it!
Ford's F150 Lightning starts at $39,974, offering a range of 230 miles with a massive 98 kWh onboard battery pack. It's a very rugged truck that seats five people and can tow up to 7700 lbs. Essentially, it's the ultimate electric car for those who want to explore the outdoors.
Ford has placed a premium on usability with this truck. You can also plug power tools into the F150 when you're on the go, making it perfect for those in construction. Furthermore, this car is ideal for road trips with two trunks and space available for an ice-cooler box.
Overall, the best-selling F150 is better in electric form. It's more practical, fun to drive, faster, and more comfortable. It offers excellent value for money and is ideal for those who want something electric that is a little more rugged.
---
What Factors Affect An Electric Cars Price?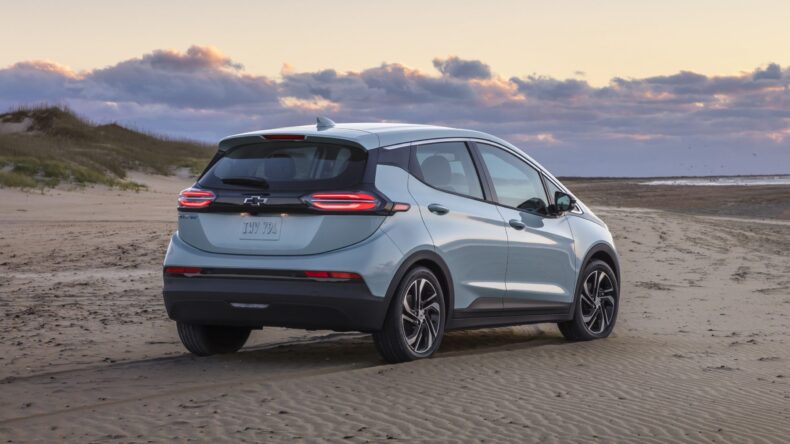 Many factors affect any car's price, whether electric or gas-powered.
Generally, electric cars are more expensive as the technology used in them is far more advanced and costly compared to the technology used in gas-powered vehicles.
---
Increasing Regulations And Customer Demands
With newer, stricter safety regulations and increasing customer demands, all cars are becoming increasingly expensive. Car safety boards now expect all vehicles to be fitted with features like lane change assist, blind-spot monitoring, recording cameras, vehicle data loggers, etc. These features cost a lot of money for manufacturers, so to maintain profits, they must increase the cost of the car.
Customers want more and more from cars, from Apple car play to high levels of build quality. Furthermore, many customers desire higher-riding vehicles which cost more to manufacture and develop. Again, these ever-increasing demands raise vehicle prices.
Supply shortages are among the more recent causes of vehicle price increases (especially with EVs). In fact, it's so bad that manufacturers are beginning to raise car prices significantly or stop taking new car orders altogether.
There's no doubt that high demand and low supply drive up prices in the new and used market.
---
Badge Value
Electric cars are just like any other product; brands with more traction will be more expensive.
All the cars on this list are from mainstream brands rather than luxury brands; therefore, they will be cheaper.
If you want a luxury gas-powered car, you will have to pay a lot more than the equivalent car made by a mainstream car manufacturer. The same goes for EVs.
This is likely the main reason some electric cars are cheaper than others — they may be great cars, but their brand value isn't as high.
---
What It Offers
Some electric cars are more expensive than others because they offer more. Whether it's a higher range, more space, more speed, etc., these factors increase the price of an electric car.
This is why a large electric SUV from the same brand will usually be more expensive than a small electric hatchback. Furthermore, different trim levels are more expensive than others. Optional extras are something to consider too. The more you add, the more you will spend.
If you want a cheaper electric car, you will have to purchase one that isn't as well equipped as other cars.
All of the prices on this list are for the base models of each electric car. However, most electric cars come with many features as standard anyway, so think carefully before adding optional extras.
---
Final Thoughts
These are the seven cheapest electric cars on sale in the US currently. They all offer something different; however, all of them are excellent cars.
Electric cars are not cheap compared to gas-powered ones, mainly due to the technology. Despite this, they're a lot more affordable than you may think, and with Federal tax credits, owning one is easier and cheaper than ever.
The Chevrolet Bolt EV is an excellent example of what a cheap electric car should be. It is affordable, practical, safe, and comfortable. It might not be super stylish, but at least it won't draw any unwanted attention as it simply blends in with other cars everywhere it goes.
Ford's F150 Lightning is probably the most impressive vehicle on this list. It offers so much for so little. You can easily take it off-road, use it as a work or family truck, tow heavy things, and more.
The next few years will be exciting since there will be many cheaper electric cars on the market. So keep an eye out; we sure will.