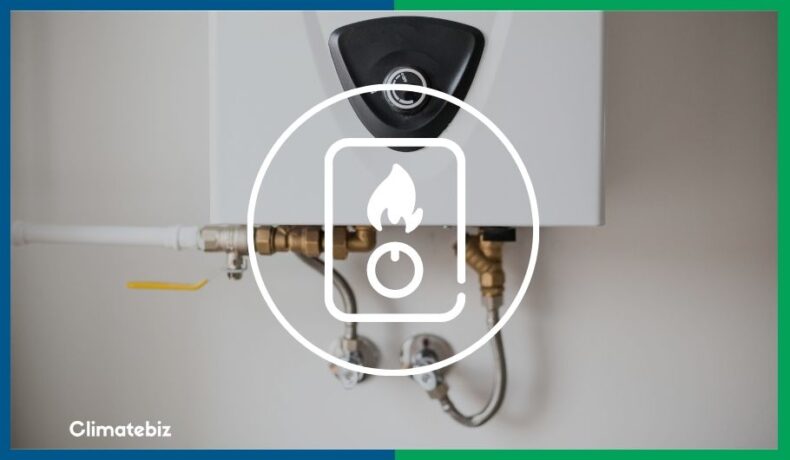 The best electric tankless water heaters are a great alternative to your energy-guzzling geyser. They use less power, saving money and lowering your carbon footprint.
However, searching the market for an efficient ETWH can be frustrating and confusing. Most manufacturers use jargon you might not understand, or perhaps you're unsure which size is best for you.
Well, worry not; we've compiled this list of the 12 best electric tankless water heaters to help you out! Our experts have gathered all the information you'll need and packaged it into a helpful buyers guide.
Best Electric Tankless Water Heaters – Climatebiz Expert Choice
Below are the best electric tankless water heaters:
EcoSmart ECO 36
Thermoflow Elex 12
EcoSmart POU 6
Stiebel Eltron Tempra 36 Plus
EcoSmart ECO 11
---
How To Choose The Best Electric Tankless Water Heater
When choosing the perfect ETWH for your home, you must consider the flow rate.
The flow rate refers to the amount of hot water (in gallons) flowing through the ETWH per minute. Each plumbing fixture in your home has a different flow rate. For example, a bath requires 4 GPM (gallons per minute) while a sink requires 1.5 GPM.
The other factor to consider is whether you'd want to install a point-of-use or whole-house system — we'll dive into the differences between the two shortly.
You may be worried about an ETWHs insane electrical consumption; they can consume 25 kWh of electricity when in use, which is a 400% increase over a tank storage heater. While this may scare you, ETWHs use 30% – 50% less electricity in the long run than a conventional geyser. Why? Because an ETWH only uses electricity when the faucet is open, whereas geysers continuously keep the water warm.
Now let's determine the best electric tankless water heaters for your home and what flow rate you'll need.
---
Electric Tankless Water Heater Types
A point-of-use system, also known as a single-point unit, is installed at each plumbing point or in series. For instance, you may have one ETWH for each bathroom, one for your sink, and one for any other hot water outlet, or install them together.
Single-point electric tankless water heaters are particularly good at supplementing your current water heating system.
A whole-home system means water flows through one larger ETWH and supplies your whole plumbing system. These are the best electric tankless water heaters for existing homes as it replaces your current geyser.
Key Difference Between The Two
Single-point units are much smaller than whole-home systems. Point-of-use systems are physically smaller and can be installed anywhere. Whole-home systems are larger and require more space – you won't be able to hide one under your kitchen sink.
---
Electric Tankless Water Heater Flow Rate
The flow rate of your ETWH determines how much water it can heat to your desired temperature. The rate is measured in gallons per minute and determines which electric tankless water heater is best for your home.
Here are the steps you'll need to follow to work this out:
Determine which fixures require hot water
Figure out your maximum GPM requirement
Establish your temperature rise
It's not like us to throw you into the deep end so let's walk you through this process.
Step 1: Determine Which Fixtures Require Hot Water
Time to do a plumbing check on your home. Which fixtures require hot water? The obvious ones include shower heads or a kitchen sink.
Here's a list of common fixtures that require hot water:
Showers
Baths
Kitchen Sinks
Bathroom Sinks
You'll need to check whether your clothes washing machine uses hot water or not. Newer models only use cold water and heat the water internally. The same goes for dishwashers.
In our example, we'll use a large home for a family of four with the following fixtures:
2 x showers
1 x bath
3 x bathroom sinks
1 x kitchen sink
1 x Laundry Basin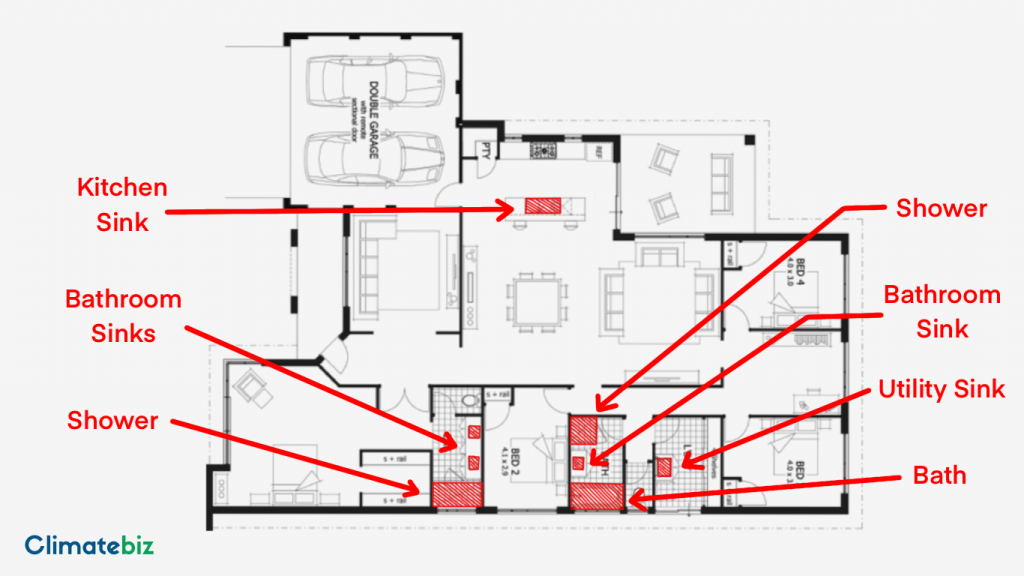 Step 2: Figure Out Your Maximum GPM Requirement
Now let's calculate how much water your home will use. Remember that you must overestimate your amount of water usage. Working with minimums might lead you to having no hot water at peak usage.
Here are some gallon per minute values from the U.S. Department of Energy:
If you have washers that use hot water, here are the values you'll use:
Now let's apply these to your example home. Let's say that you'll use two showers, the kitchen sink, and a dishwasher simultaneously at peak usage.
Shower 1 (2) + Shower 2 (2) + Kitchen Sink (2) = 6 GPM
This means that your ETWH needs to heat 6 gallons of water per minute during peak usage. However, this only applies if you have a whole-house system. Single-point system usage will be determined per room.
For example, a single-point unit for the one bathroom would only need to heat 2 gallons per minute. Additionally, a single-point unit for the kitchen would need to heat 2.06 GPM (Sink + Dishwasher).
Calculating the difference between the systems is helpful if you cannot find or afford a whole-house system.
Step 3: Establish Your Temperature Rise
The last step is to find the difference between the groundwater input and the hot water output. The temperature rise will tell us how much the ETWH needs to heat the water to reach your desired temperature.
According to the U.S. Consumer Product Safety Commission, your water temperature should be between 104ºF and 120ºF. Therefore, we'll use 110ºF as the average in this example.
The average water inlet temperature is around 40ºF; your geographical location will determine your groundwater temperature. For example, areas in the southern U.S. will have warmer groundwater temperatures, whereas colder places like Alaska have inlet temperatures of just above 32ºF.
The temperature rise is the difference between the output and input temperatures. Using the average inlet temperature, our household that desires a 110ºF output temperature requires a temperature rise of 70ºF.
---
Summary
Our example home uses 6 gallons per minute at peak capacity. And we've now calculated that our ETWH will need to warm the water by 70ºF.
In conclusion, you'll need a whole-house ETWH that can produce a 70ºF rise in temperature at 7.03 GPM.
---
12 Best Electric Tankless Water Heaters
Without further delay, here's our list of the top 12 best electric tankless water heaters, according to our experts.
---
01. Stiebel Eltron Tempra 36 Plus
---
02. Bosch Tronic 3000
---
03. Thermoflow Elex 12
---
04. Stiebel Eltron DHC-E
---
---
06. EcoSmart ECO 11
---
07. EcoSmart ECO 36
---
08. Rheem Professional Classic Series: RTEX-36
---
09. Rheem Professional Classic Series: RTEX-27
---
---
11. Atmor Thermo Boost
---
12. Eemax EEM24027
---
Final Thoughts
We've chosen the 12 best electric tankless water heaters based on their flow rate and temperature rise. We also considered their kWh, knowing that most ETWHs are heavy on electricity when active.
Our five best ETWHs were no exception. For example, our best ETWH for RVs – the EcoSmart POU 6 – only uses 12 kW. That's roughly 1.9 kW per shower.
We hope this article has shed some light on choosing the right electric tankless water heater for your home. You can join our community to start a conversation or follow us on Twitter.